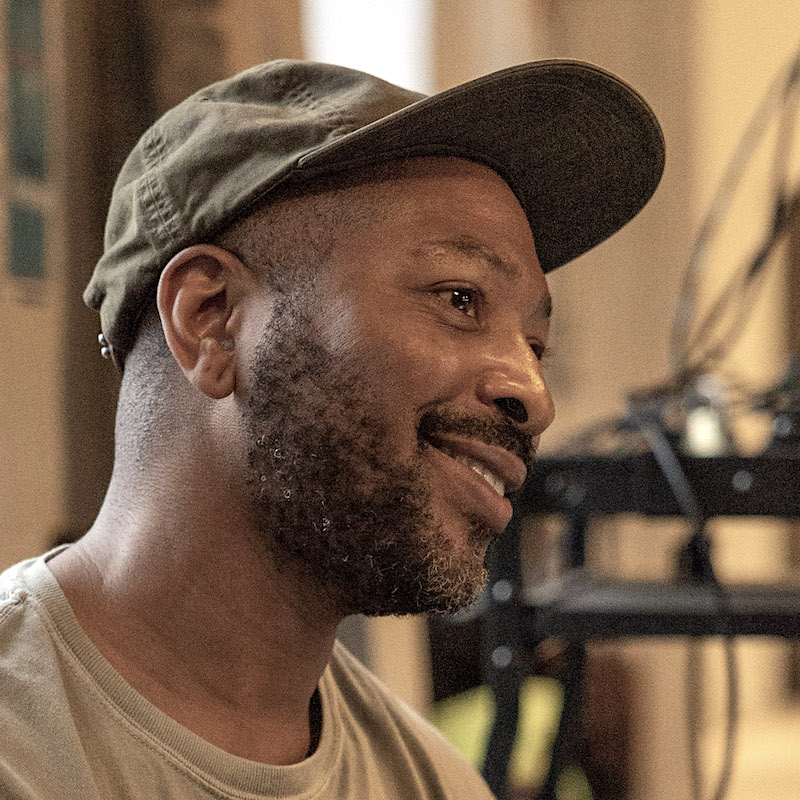 Jo Reed: From the National Endowment for the Arts, this is Art Works, I'm Josephine Reed.
Choreographer Kyle Abraham has expanded the vocabulary of dance—whether creating work for his own company A.I.M by Kyle Abraham or choreographing commissioned work for companies like Alvin Ailey Paul Taylor, New York City Ballet or the Royal Ballet. Abraham seamlessly meshes different styles of dance and music to create an unexpected and coherent whole.  He creates dance with purpose: as the founder and artistic director of A.I.M. he has made body of dance-based work that is animated by Black culture and history, work that is informed by and made in conjunction with artists across a range of disciplines that explores the relationship between visual art, music and dance.
He often draws from his personal experiences as a gay Black man and the struggles, past and present, of being Black in the United States-- confronting issues like police brutality, the generational impact of mass incarceration, and gang violence through dance. But Abraham also finds inspiration in the vitality, joy, and cultural creativity that's found in Black communities; in fact, he relies on a sense of community to inform his style of movement, which he calls "a hybrid of gritty and a bit of elegance." His dances are propulsive and deeply musical. He has been praised by the New York Times "for his unique talent for finding the person within the dancer and the bodies within a body."
Kyle Abraham has won more honors that I have time to name—but they include a  Princess Grace Statue Award, a Doris Duke Award, and a MacArthur Fellowship.  In 2022, Abraham was selected to be an inaugural member of the Black Genius Brain Trust and was chosen by the Kennedy Center as one of their Next 50 Cultural Leaders, an honor celebrating individuals "who are lighting the way forward through art and action."  That, Kyle Abraham does as anyone lucky enough to see his work can attest to. I count myself a huge fan and last year was lucky enough to see his evening-length work "An Untitled Love" and that was where I began my conversation with Kyle. A word before we go to the interview: the audio can be a bit echoey in parts but Kyle's humor, intelligence, charm, and heart comes through clearly. Here's our conversation.
Jo Reed: Okay, Kyle Abraham, I'm going to begin at the end, <laughs> which is I was fortunate enough to see your beautifully compelling celebration of black joy called "Untitled Love" last year, and you can see me bowing.  You can't, but I am.
<laughter>
Kyle Abraham: Thank you.
Jo Reed: And I would just love to have you tell us about that dance and what inspired it.
Kyle Abraham: Yeah, sure.  Thank you.  So "An Untitled Love" is a work that in 2018 I started just thinking about, and in the early part of the concept I was just thinking about, "Yeah, how can I make something that really kind of is celebrating ideas of really black love but also self-love in a way, and through the music of D'Angelo?" and the through line for me was thinking about my first year in college, going to Morgan State in Baltimore, Maryland, and D'Angelo's first album, the Brown Sugar album, coming out at that time, and then thinking about my parents, who met at a historically black college in Wilberforce, Ohio, Central State University, and trying to just kind of think about what their experience was like, think about the beautiful kind of lineage of love throughout our culture that I wanted to find a way to embrace and celebrate in a way that also acknowledged the music and kind of like soulful generational history and kind of like time capsuling that you can get from D'Angelo's music.
Jo Reed: Well, let's go back to that beginning, and tell me about your upbringing, and I'm also curious how art factored into it.
Kyle Abraham:  I'm from Pittsburgh, Pennsylvania, originally, and I grew up with parents who worked for the Pittsburgh Public School system and wanted my sister and I to really just be exposed to art and culture to the utmost.  You know, they would give us private piano classes at the YMCA in Pittsburgh.  We would go to jazz brunch in the city, where we'd just hear live jazz musicians playing over a brunch, a special treat whenever we could do that, but I grew up playing a lot of different instruments.  I played the cello, the French horn, the piano, did chorus and choir for a while, So all of that was definitely impact, and they definitely tried to encourage just learning in all its forms, they definitely had an appreciation for all things art.  But ironically, I didn't see a dance performance until I was probably like 15 or 16 years old.  That was seeing the Joffrey Ballet perform program called "Billboards," which was all set to the music of Prince.
Jo Reed: Wow! I bet that opened up doors for you!
Kyle Abraham: Yeah! My friends saw how excited I was, my friends that I went to high school with, and they convinced me to audition for a high school musical that we had in our public school.  And then the teachers there gave me a scholarship to study dance over the summer to get better for the musical the next year, and I winded up spending half day my senior year going to Pittsburgh, their performing arts high school, CAPA, so I went half day to CAPA and then the other half a day I went to a high school called Schenley, which is where Andy Warhol went to high school.  So it was great to kind of have both of those lives, and I was able to play the cello still at Schenley while studying, you know, all my academic courses and then study dance in the afternoon at Creative and Performing Arts high school, CAPA.
Jo Reed: Do you remember-- and this is a hard question--
Kyle Abraham: <laughs>
Jo Reed: --but I wonder if you remember what it was about dance and seeing that and seeing the Joffrey that just sort of made your body explode?
Kyle Abraham: Yeah.  I do remember, because I think the thing for me is, you know, I was a big rave kid.  I was heavily into social dance, but the thing that I saw on that stage in Pittsburgh was I saw dance in a way that I had never seen it before, and I wanted to learn more about it.  You know, me, like every person I can think of, has at some point gone into their room and made a dance to emote <laughs> in some kind of way, and seeing the vocabulary that those dancers were using, it made me that much more curious, and different from me playing my cello, where I could sit in my room, regardless of its size and play, dance was something I felt like I needed more space to be able to explore, and there was a lot that I needed to just learn that I couldn't do on my own.
Jo Reed: And you went to SUNY Purchase and studied dance there and got a BFA.
Kyle Abraham: Yes.
Jo Reed: And then you got an MFA from NYU, and you go on to dance with David Dorfman's company and Bill T. Jones, but you quickly move to choreography.
Kyle Abraham: Right. <laughs>
Jo Reed: And I'm curious about what went into that decision.
Kyle Abraham: Well, you know, I think maybe because I started dancing so late, you know, by the time I was taking more than like a class, I was probably, like, probably turned 17 already.  So by the time I get to Purchase, and even that first year of studying dance in that way, I thought about myself being a choreographer, and I think what happens to a lot of people when you're going to a conservatory program, even if you go to school to be a choreographer it's very easy to get caught up your senior year in particular with what your friends are doing and, you know, for a moment there I think I lost what my goal was in being choreographer and winded up getting a dancing job with Bill T. Jones, which didn't last long at all. <laughs> Y ou know, for a bunch of reasons.  But I think what I realized, after getting fired from that job, <laughs> is that I wanted to be in the room but I didn't necessarily need to or want to be a dancer in the room.  I just wanted to be in the room because I loved, and still to this day, love Bill T. Jones so much and I love that work, but it was more about me wanting to be in the room.  I think the beautiful thing about me getting to work with David Dorfman several years later is I learned that I wanted to be around people who wanted to make work with a certain kind of social conscious effort and people that were really interested in that kind of commentary, and I didn't want to be in a company that was like a full-time situation, and so working with David was amazing in every way.  He is the most kind of considerate, kind, supportive person to work with and was so encouraging to me as a dancer and as a dancemaker.  We were given a lot of different tasks in the room, and those tasks sometimes when I realized it wasn't going to be in his piece.  I was like, "Aw, I'm just going to save that for myself."
<laughter>
Kyle Abraham: You know, I feel like he always was encouraging.  And yeah, I think that was part of that journey and a way that led me to focus that much more on my own work.  And while I was working with David I was making my own work as well, but not necessarily at the same kind of capacity.  I think it was, ironically, at the time while working with David, that my work started to gain more exposure and opportunity, so much so that I had to make a choice.  Either my company could tour or I would be touring with David, and knowing that I was employing other people, I felt like I needed to kind of part ways in that way.
Jo Reed: Okay.  I got to get into your own company, because man, you started one really quickly.
Kyle Abraham: <laughs> Ah.
Jo Reed: You know, it was called A.I.M, Abraham In Motion, originally.  What was the thinking here?
<laughter>
Kyle Abraham: Well, you know, I think, hm, what can I say?  Well, yes, I always loved making work.  So there's that.  That's like the easy part.  I think without even realizing it I wanted to in some ways make work that was very much from my perspective connecting to different aspects of my background, albeit either my background in playing classical music or growing up within hip hop and rave culture.  It's kind of one and the same, but I wanted that to find its way in a dance company setting and I felt like what was happening for me basically from graduate school which I finished in 2006, to 2010, which is when the company had its big breakthrough.  In that four-year time in between those things, I was given a lot of opportunities to perform as a solo artist, and they were great opportunities, but then I would say, "Okay.  Well, you should see the group.  You should see my dancers," and tried to make opportunities like that because I did feel like in a lot of cases the group work spoke to me that much more about the kind of social commentary that I was interested in addressing.  So that's a big part of it.  Trying to acknowledge and understand that in some cases, not all, I do love to have an ensemble to tell a bigger story and get a bigger message across than I can sometimes do in solo form, either myself dancing or me making a solo for another artist, like a Wendy Whelan or a Misty Copeland or a Calvin Royal.  Working with those dancers on solos is real exciting and fun but it's different than working with a larger ensemble that I have kind of like honed and can kind of cultivate and curate in a particular way, which of course is different from those commissioned works with those larger companies as well.
Jo Reed: Oh, I can absolutely understand that.
Kyle Abraham: <laughs>
Jo Reed: But man, you're also starting a business. <laughs> I mean...
Kyle Abraham: Yeah.
Jo Reed: And that has its own particular tedium involved, I would think. <laughs>
Kyle Abraham: Yeah.  Well, you know, I always thought that I was going to kind of either be a business major or business minor in some way.  You know, I always had a love for business.
Jo Reed: Oh.  Well, there you go.
Kyle Abraham: So... <laughs> Yeah.
<laughter>
Kyle Abraham: It's like while some kids are like building like toy houses or whatever, I used to build banks.
<laughter>
Kyle Abraham: It was just fun for me.  I don't know.
<laughter>
Jo Reed: Well, your work is so personal and it's exciting, and it's unexpected, and it's work with purpose.  Themes of social justice, themes of community, recur throughout your work, all the way back to "Pavement," which is a really early work that you did with the whole company.  Can you talk about how that piece came together?
Kyle Abraham: Sure, yeah.  So "Pavement" is a work that premiered in 2012. It's premiere was at Harlem Stage in New York, ironically during Hurricane Sandy.  It <laughs> premiered that same time. In 2010, I was talking to one of my former dancers, Amber Parker, and said, "Amber, I feel like I want to make a dance about the film 'Boyz n the Hood,' and I want it to be—" I don't know why I said this-- "but to, like, music written for a contralto singer." <laughs> Just like random, obscure thought. And I started just thinking about what that meant for me and where we as a nation were at in 2012.  I was going back home to Pittsburgh-- at that time I was still a Pennsylvania resident-- and voting there and thinking about, you know, Obama and what his election meant for not only our nation but for our community, as, like, growing up in a historically black community.  And then thinking, of course, about just the ebbs and flows of my community.  Looking at the buildings in my community and thinking, "Okay.  This building right here has been dilapidated for the last 15 years.  How do we as a neighborhood, as a community, how do we feel?  Does it make us feel like leaving home and our community?  Does it make us feel like coming back at some point and making a change?  Or do we feel like this is the best we got?"  And it made me think about my experience growing up and getting on the bus in a time of a lot of gang violence in Pittsburgh, which, ironically, happened around the same time as a film by John Singleton, "Boys n the Hood," and trying to draw these parallels for me between the time capsule that is very clearly established in Singleton's film but also reading W. E. B. Du Bois, "Souls of Black Folk," and thinking about moments of hope that you can find in his writing, and ways in which I then could draw parallels to where those historically black neighborhoods in Pittsburgh of the Hill District and Homewood where they would've been in the '20s, and thinking about all those theaters, which were now boarded up, how thriving they were at a certain point in time.  So the work for me was addressing all of those things while <laughs> at the same time, ironically, (I was) making a work for Alvin Ailey American Dance Theater, which premiered that same year, called "Another Night," set to Art Blakey's version of "A Night in Tunisia," and for me it was kind of making these works in a parallel way where "Pavement" is very much the drama.  It is very much addressing the kind of darkness of the time, the influx of HIV and AIDS on black communities in particular, of the crack epidemic in our community in particular, and knowing that is a powerful part of Americans' history because there's a whole other political conversation we could get into with the lack of resources that went into addressing those things, especially at that time.  But then also wanting to make a work at the same time, for Ailey in particular, that addressed the vitality in those communities previously.
Jo Reed: You are an interdisciplinary artist in that you use multimedia in your work.  You have a broad range of movements, and you're someone whose dances are set to an extraordinary range of music.
Kyle Abraham: <laughs>
Jo Reed: From classical to urban to R&B to jazz, to hip hop, and I know I'm leaving a lot out.
Kyle Abraham: <laughs>
Jo Reed: So you have a very wide palette to draw from.  Can you kind of walk us through your aesthetic, how you describe your work and what animates it?
Kyle Abraham: Sure. I already kind of tried to give my parents their flowers, I definitely am very, very grateful to all that they've exposed me to and encouraged me to do and to be aware of just growing up, but I think in a lot of ways, in a lot of conversations I've been having over these past two years as you, you know, so many of us have had these Zoom, you know, <laughs> Zoom talks, et cetera, is me kind of unpacking how I saw an artist like Prince, and how in some ways on the dance side of things you could say that maybe I fashioned aspects of my career in a certain type of likeness, because Prince is someone who would've had a single on the R&B charts and at the same time a totally different song on the pop charts, and I don't think he was ever ashamed to do that.  I felt like he not only felt empowered to do that but was like, "Yeah, this is just who I am.  This is what I want to be doing," and maybe in seeing that, in seeing this black man be able to do this in that way, it made me feel like, "Yeah, of course this is what I want to do.  I can make a ballet for New York City Ballet, and I can make a piece for my predominately black company or for Alvin Ailey American Dance Theater or wherever else, and speak to different topics," because as black people we do not need to be monolithic.  So I can make a work for Alvin Ailey American Dance Theater called "Untitled America" that looks at the cyclical nature of families in and out of the prison system, and then I can go to New York City Ballet and make a work like "The Runaway," which I've never addressed what it's about, but <laughs> that's a whole other conversation for another day.
Jo Reed: <laughs>
Kyle Abraham: But working with dancers on pointe and going from the classical music of Nico Muhly to the music of Watch the Throne to James Blake, et cetera, and know that it is all valid and it is in no way lessening who I am or who I want to be as an artist.  Yeah, all of it's welcome.  I think I also like to think about sound, and any visual element as well, as these other players in the space. And I do love it when I can get to collaborate with different artists.  If it's not my long-time collaborative partner in Dan Scully, who does a lot of my lighting and scenic designs, or Karen Young, who's a good friend of mine who's collaborated with me on works like "An Untitled Love" or "Untitled America," both of those two artists being collaborators of mine for those works, but it's also thinking about how can I connect with artists like Titus Kaphar when making a work for A.I.M called "Meditation: A Silent Prayer," thinking about and honoring, kind of commemorating, all of the losses that we've had unjustly to black and brown bodies over the course of time, with text by Carrie Mae Weems?  So, it's great to find space to bring in other artists as collaborators to reach not only a broader audience but reach the message that much more potently.
Jo Reed: I'm sure every piece is different--
Kyle Abraham: Yeah.
Jo Reed: --but I'm curious about your creative process, if you could walk us through it and what you're thinking about in terms of the narrative as well as movement and how the pieces evolve and how they even get started.
Kyle Abraham: <laughs> Sure.  I mean, the process, I feel like it's never the same really. But a lot of it, I think, in a lot of ways, maybe it's the science nerd in me, it's always starting, probably for a lot of choreographers, it's starting with that bit of a hypothesis, right.  Like, how do these things play together, you know, in the case of a "Pavement"?  How does it work to take this kind of music written for a contralto singer and think about the writing of W. E. B. Du Bois and "Boyz n the Hood" and bring those things together in a modern-day work. So I think all of the works start with that bit of hypothesizing but then from there there's space for me to explore in a way that, I don't want to sound too esoteric, but maybe in some cases it's creating phrase work.  So (it's) me creating a series of steps that I either then teach to the dancers or keep for myself, or recording myself improvising over a period of time, and maybe I'll have dancers learn those improvisations, and sometimes it's task-based.  Maybe I will give the dancers a different series of prompts and those prompts will lead to something that I then will direct and try and find a way to make sense of.  But then there's always a point in the process where I have to go back to what I wrote about and whatever kind of project narrative I would've constructed to kind of hypothesize this work in some way, and that's the part that, I think, holds me accountable to what it is that I'm making.
Jo Reed: Let's talk about the dancers.  How do you choose company members?  What's the process for trying to identify people you want to work with?
Kyle Abraham: Yeah.  We're <laughs> planning auditions right now, which is pretty daunting, hm, how do I get into it?  Okay, yes.  So one of the big things that I'm personally interested in, and what people may not know who aren't in the dance world, maybe they just know the kind of cliché of a dancer being one of thousands or whatever in a room to get a singular job, but what I've been interested in doing definitely over the last 10 years is changing how that might be for a dancer and for a choreographer.  So I will invite maybe a handful of other choreographers in the room with me who hopefully are looking for dancers as well, collaborators, and do a bit of a shared audition. So that's one thing.  But to get more to the question itself is: I'm looking for what I don't have in the room.  You know, if I have a lot of dancers who can replicate material to do it exactly like I do it, that's great, sure.  But I also need some dancers and collaborators who can generate and create movement on their own because at times it can be a bit redundant if it's just my voice over and over again for an hour.  Hopefully your listeners don't feel the same way. <laughs> But that's part of it. And I think the other thing is just sometimes finding someone who doesn't do anything like me at all and looks so unique that I have to have that person in the room, and those people sometimes are tricky because now as the company expands and the opportunities for us to expand as a company and to present repertory works, so works that are shorter in length and sometimes works that were previously choreographed and created by another choreographer, I have to think about those artists and whether or not they're able to do those works as well because the dancers in our company are salaried 52 weeks out of the year and we want to make sure everyone is working and feeling seen and feeling respected in all the things.  So it does get that much more complicated, but in that audition process it may start off with, yes, this large number of people in a room that then gets whittled down to a callback. But it slowly over the course of a week starts to whittle itself down and I start interviewing people, because I realize, especially in these pandemic years, just how important it is to get to know the people that we're going to be spending time with intimately and making sure it is the right fit.  So that's the-- maybe one of the other major puzzle pieces to the equation.
Jo Reed: And how do you actually work with them?  I mean, we often hear about choreographers making a dance on someone.  How much of a collaborative effort are the dances that you create with the company?
Kyle Abraham: I'm so glad you're asking me that question because I think that there needs to be just a real clear understanding for everyone to know that in what we do as dancers with choreographers it is innately collaborative.  Even if I've generated every step as a choreographer and the dancer is taking that step and putting it on a stage, that in its own right is worthy of that person being listed as a collaborator because there's so much trust that goes into that transfer of information and the embodiment of the information that you're sharing.  So there's that for sure, but aside from that, I'm someone that wants to make sure that we can have conversations about what we're making.  How does it feel?  You know, what is it saying to you as a person who's actually having to embody this movement?  You know, a lot of times I'm not performing anymore, especially when I'm making commissioned work, I'm definitely not performing with those dancers, so I want to know what that movement feels like for them, and if it doesn't feel good, we should change it. <laughs> You know, it's like it's not that deep.  We can change the set. Depending on the themes of the work, sometimes we might spend more time talking than actually moving because I want to kind of maybe get to the depths and the crux of what is driving me, and for those artists and collaborators, hopefully it's a bit of therapy but there's a bit of it where we're really kind of trying to unpack a lot of things that are kind of bubbling up for us on both sides, and I think "An Untitled Love" is one of those really beautiful examples of that type of process because very early on in the process I asked the dancers to bring in photos of like a couple that they thought best represented like love for them, and because it was so early on in the process, there were a lot of dancers that I'd just hired who were in that room and that sharing and that level of vulnerability I think instantaneously helped to create a very not only safe space but a free space for us to feel loved, supported, seen and celebrated as an ensemble.
Jo Reed: And what about when you're commissioned to do a work, Kyle, like for Alvin Ailey?  You just premiered a work in December there for Alvin Ailey, "Are You in Your Feelings?"  Is it different for you to create a commissioned piece as opposed to one that you create for your own company?  And I'm also curious, piggybacking on that, how you create a work for dancers you don't really know.
Kyle Abraham: Hm.  Yeah, yeah.  It could be very different.  I mean, Ailey is an exception to the rule, in a way, because they definitely feel like family.  Yeah.  And every time I'm there I'm thinking, "Okay.  Well, if I come back, this is what I want to do next," you know.  I also knew going into "Are You in Your Feelings?" what the experience of "Untitled America" was like for those dancers.  That dance, in particular, required such a level of vulnerability and presence that at times I think it could've taken a toll on them.  Also knowing the reach and the impact that a work like that could have on a audience, I wanted to make something that felt that much more celebratory in a way that they could feel uplifted and just find joy.  So that was really important, and overall with Ailey in particular I'm always thinking about their reach and their audience.  The Ailey audience is such a exciting and vibrant audience unto itself, and so I think about things like the kind of like signature Ailey walk at times or knowing that sometimes that audience is coming from church and they're going to go see "Revelations," you know.  (laughs)
Jo Reed: <laughs>
Kyle Abraham: You know, it's just part of the culture.  It's part of our culture, and it's part of what excites me.  You know, I also, of course, think about the lineage of Mr. Ailey and just the brilliance and the generosity of Robert Battle in the way that he looks at programming for the company.  You know, thinking about the amount of inspiration that you can clearly see from Mr. Ailey's works that delve into theater and his love of jazz music, I like to find those parallels in what I get to create for that company as well, and sometimes maybe mix that up and play with it in a way that is unexpected, but that's one of the ways in which, for Ailey in particular, I'm approaching it.  Now, when I'm going to a company that I don't have as much of a history with, it is that much more challenging because it's kind of like, you know, being, like, for a food reference, like, what do you call it, like sous vide, <laughs>
Jo Reed: <laughs>
Kyle Abraham: You don't really know how it's going to turn out, you know.  It could fail, <laughs> but you never know.  Because it's a bit of a vacuumed process, and you're hoping to build some genuine connections. Working at a institution like The Royal Ballet in London was really exciting and challenging for a lot of reasons.  You know, some of those ballet institutions in particular have so much going on at one time that it's hard to kind of get deep with a dancer in the creative process. And it's also hard to do the prep work, to know, "Okay.  Well, what am I going to bring to this institution that they've never seen before,?" and maybe that's not important.  Maybe it's not about what they haven't seen before but, like, "What is the most honest thing that I can make in a way that feels authentically me while challenging their dancers and introducing their dancers and introducing their audience to me?"
Jo Reed: You know, you were an outlier in more ways than one during the pandemic.
Kyle Abraham: <laughs>
Jo Reed: You kept those dancers on the payroll and with their health insurance, and that deserves a great shout-out, so I'm shouting that out.  And you didn't do Zoom rehearsals.
Kyle Abraham: <laughs> No.
Jo Reed: I mean, even though you're working on "Untitled Love" and "Requiem."  Tell us what you did instead.
Kyle Abraham: Sure.  Well, you know, thank you for that first, just the first mention about keeping the dancers employed and everything, but I can't take credit for that entirely.  I definitely need to give the majority of the credit to our company's executive director, Sydnie Liggett-Dennis, who just did such an amazing job not only over the pandemic but continues to kind of build and support ideas around community within a working place.  For the company, you know, I think thinking about Zoom and rehearsals-- it was really challenging for me, and I don't want to say in a way that comes off with a certain type of privilege to say that I couldn't rehearse, but I think there's a whole other thing that wasn't fully being addressed, is that, like, it could have and should've been okay for people to not be okay.  You know, like if you felt like you couldn't work during the Zoom era in particular, that should have been acceptable, because it was really daunting and challenging emotionally for a lot of people. But I thought with everything that I was doing over the pandemic, whether it's making several dances or focusing in particular on the ways in which we could work, my goal was to focus in on what we could do, not what we couldn't do, and knowing that space in New York <laughs> in particular is so expensive that we don't always have the time to sit and talk and unpack a work the way in which I really love to do and the way which we do when we're in a residency around the world really.  I thought, "Okay.  Well, this is something we can do."  So the dancers and I would get together and we would watch a different film or different TV episode or maybe someone would have suggested reading, and we would talk about what we saw and find ways in which it connected to either the characterization that people wanted to evoke or employ in "An Untitled Love," or how those themes find their way in everyday life and the experiences and struggles that people might've been going through in the present.
Jo Reed: "An Untitled Love" is filled with joy as it celebrates black culture, black community, self-love, and it was created during a time of heightened awareness of the long injustices endured by black people. But you had been looking at that for years, and you chose at that moment to focus on something else and which is the joy that exists in black communities as well.
Kyle Abraham: Yes.  That is very true.  I think-- I don't know if it's just where I'm at or what's going on but I want us to feel celebrated.  I think it's just as empowering or it's just as much an act of activism to find ways in which I can uplift us and celebrate us.  It is still just as important for a lot of people to wake up to the injustices that we face or make works that show a body on the ground as a way of just addressing what's happening all too often, but at the same time we also need to feel uplifted and we need to make sure that not only our youth but also our seniors can feel loved on and celebrated and find hope because that is so important for all of us, for all people, but especially those of us who have felt discouraged, disenfranchised for way too long.
Jo Reed: We've talked about a lot.  What is the most demanding part of your work?
Kyle Abraham: You know, <laughs> if I'm super open and honest, which I hope I've been throughout this call...
<laughter>
Kyle Abraham: I think I'd say it's really the personal toll of things.  I do lead a very lonely life.  You know, I live a bit of a bicoastal life teaching-- currently teaching at USC in the Glorya Kaufman School for several weeks out of the year, and other than that I'm with the company, with A.I.M, my company, or I'm doing commission work, and it can be hard to find not only friendships that can keep getting deeper but also establish, create, like, romantic <laughs> relationships, because it's hard to go into a, you know, a first or second date and say to someone, "Oh, yeah, I live here part of the year, and I travel most of the year."  It's hard to say that to someone and know that they're still going to be interested, and it's hard with friends to be in and out of town and then pick up a conversation or get deep in a way with something, leave for six months, and then think that you're going to continue to be invited to all the things, even as simple as a dinner.  So that's definitely my biggest challenge for sure.
Jo Reed: And what's the most joyful?
Kyle Abraham: Oh. <laughs> Thanks.  That's what I should be focusing on.
<laughter>
Jo Reed: I thought I'd end with that one as opposed to demanding.
Kyle Abraham: Yeah.
<laughter>
Kyle Abraham: I appreciate it.  I appreciate it.  My therapist thanks you too.
<laughter>
Kyle Abraham: Hm.  Honestly, it's probably so many things.  I had a really exciting call just before this one with Judy Hussie-Taylor at Danspace Project just thinking about ideas around programming and curation and thinking in a way that  goes beyond a stage.  Of course, I love thinking about all of the aspects of what we can put on a stage and I definitely love that.  I also love, I just came from the APAP conference in New York just this last week where we're sharing work in some cases for the very first time.  We were presenting one of our new works, "Motor Over," a work that I made during the kind of earlier stages of pandemic, and I realized as the audience is watching it, I was like, "No one's ever seen this live before."
<laughter>
Kyle Abraham: "This is the first time.  Oh, my God."  So seeing that exchange is really beautiful.  Teaching.  I mean, I can be the biggest geek in the studio when I get an opportunity to teach because I love seeing what can happen in real-time and I love-- you know, humbly speaking, I love the reciprocity that you can get with students because they're, like, just honest and thankful for the investment that hopefully all teachers are giving them. I see the dedication from faculty to students and I love that, and I love getting to know students and know how I can kind of in some ways be a matchmaker for them with jobs on the outside or just help them find their way.  Yeah, I'd definitely say teaching in particular is one of them, and I could say the camaraderie that can exist in the studio with my dancers as well, just going in and like just having a moment where we can in the studio play, laugh, cry, dance, and when I say dance I don't even mean the five, six, seven, eight.  Not like I count, but... <laughs> Not in the steps but in the way that is honest and communal and connects to my background and origins in social dance.
Jo Reed: And then finally, what's next?  What's next for you?  What can we look forward to?
Kyle Abraham: Zoiks.
<laughter>
Kyle Abraham: There's just so much a'brewing.  A.I.M goes back on tour. They're on tour pretty much all throughout the year, but we're getting ready for a new season that-- we'll be going up to The Joyce Theater in April, but there's several tours that happen before that.  A large West Coast tour. And then international touring that will happen over the summer.  There's lots of new commissions that we have in the works for other choreographers to come and work with the company, which is something I started in 2018, and I'm really happy to be too, to kind of think about bringing in artists, some cases artists from a generation younger than mine and in other cases maybe the same generation.  In other cases bringing in some of my elders to make work and/or restage works that audiences need to see that maybe haven't seen in, you know, 20, 30 years, so all those things are happening and I'm trying to wrap my head around some of the next works for me to be making for 2024 and beyond.  Just putting some of that together in a way that I can't announce yet. <laughs>
Jo Reed: Okay.
<laughter>
Jo Reed: Well, Kyle, thank you.  Thank you for giving me your time.  Thank you for the wonderful work that you do.
Kyle Abraham: Oh, thank you.  Thank you so much, and thanks for seeing everything and like really seeing it, like, beyond the stage, really kind of seeing where my heart is.  So thank you.
Jo Reed: Ah, thank you.
That was choreographer and founder and artistic director of the company A.I.M. Kyle Abraham—you can keep up with Kyle and the company,and learn more about the dances and find out where they are performing at AIMbykyleabraham.org. You've been listening to Art Works produced at the National Endowment for the Arts. We'd love to know your thoughts—email us at artworkspod@arts.gov. And follow us wherever you get your podcasts and leave us a rating on Apple, it helps people to find us. For the National Endowment for the Arts, I'm Josephine Reed. Thanks for listening.
Kyle Abraham is an acclaimed choreographer and company director who is the recipient of many awards, including a Doris Duke Performing Artist Award and a MacArthur Fellowship. In this podcast, he talks about growing up in Pittsburgh in a home that encouraged music and art, his life-changing experience when he first saw professional dance at the age of 15, his brief career as a professional dancer, and his early entry into choreography. We discuss his dance company A.I.M by Kyle Abraham, which creates work that is draws from Black history and culture as well as Abraham's personal experiences as a gay Black man. We discuss his use of multimedia in his work and some of his notable pieces like An Untitled Love, Pavement, and Another Night—which he created for Alvin Ailey American Dance Theater, a frequent collaborator. He also talks about how he makes dances for his own company and for classical ballet companies like New York City Ballet and the Royal Ballet. We discuss his "strategy" during the pandemic—all dancers were kept on the payroll full-time, but there were no zoom performances or rehearsals: instead he and the dancers zoomed weekly to talk about films, TV shows, or books they had watched or read together. Finally, he shares how he finds his own joy through choreography and teaching.
Let us know what you think about Art Works—email us at artworkspod@arts.gov. And follow us on Apple Podcasts.