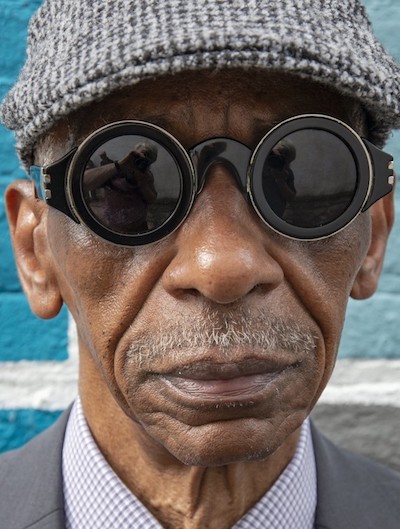 Music Credits: "Nonaah, (Pori, Alto)" from the cd Roscoe Mitchell, The Solo Concert.
Old Time Southside Street Dance" written and performed by theArt Ensemble Of Chicago from the CD, Full Force.
VPA" composed and performed by Roscoe Mitchell And Thomas Buckner from the album 8 O'Clock: Two Improvisations
Madison Recording, 12/15/2019," composed by Roscoe Mitchell, performed by Roscoe Mitchell with Vincent Davis and Junius Paul
Jo Reed: This is Art Works, the weekly podcast produced by the National Endowment for the Arts. I'm Josephine Reed. On April 2nd, we were supposed to celebrate the 2020 Jazz Masters in San Francisco. Of course, it was postponed because of COVID-19 but I wanted to bring the spirit of the jazz masters to listeners by posting an interview with saxophonist, composer and 2020 NEA Jazz Master Roscoe Mitchell. Mitchell is considered one of the key figures in avant-garde jazz, blending influences from everywhere, road music, funk, rock, classical to create a complex and textured sound that is utterly his own. He was one of the original members of the Association for the Advancement of Creative Musicians, AACM, a Chicago nonprofit organization founded in the mid 1960s that has been a major influence on modern music continuing into the twenty-first century. The Roscoe Mitchell Sextet became the first AACM group to record. This group eventually turned into the Art Ensemble of Chicago, which took Europe by storm in the late 1960s and continues to perform, just celebrating its 50th anniversary. Roscoe Mitchell established the Creative Arts Collective in the mid 1960s and as an outgrowth of that the Sound Ensemble. Mitchell also began releasing more albums as a leader and experimenting with new ways to make music. He's performed on more than 85 recordings and has written more than 250 jazz and classical compositions. Roscoe Mitchell has taught at universities throughout the country, passing down his musical knowledge of composition and improvisation. He recently retired from his endowed chair at Mills College in California, returning to Madison, Wisconsin, where he continues to compose, record and experiment. We spoke there in early December on my birthday in fact. As always I wanted to begin our conversation at the beginning. I wanted to know if music had an important place in his family life when he was growing up.
Roscoe Mitchell: Music had a large part in my family. Of course back then I always went to church and so on like that. I always enjoyed the music in the church. Back then our radio station would play us a variety of music, not to mention that if you went to a restaurant or something like that there were those small jukeboxes where you could put money in and we listened to a wide variety of music growing up.
Jo Reed: When did jazz come into your life?
Roscoe Mitchell: Jazz came into my life through my older brother, Norman. He would sit me down to listen to music and he had these 78 recordings and we would listen to so many great artists, Charlie Parker, Miles Davis, on and on and on. That's when I think I became more focused on jazz and my brother he knew some of the prominent musicians, he knew all the solos that everyone played and so on so he was a perfect kind of mentor for me at that point in my life.
Jo Reed: I know you were young but did you ever go out to clubs and hear people? I'm just so curious what Chicago was like as a jazz city at that time.
Roscoe Mitchell: Oh, yeah, I did but even-- I did go out to clubs and I mean if you went to the Regal Theater to watch a movie the movie's over and then all of a sudden Duke Ellington's band is on the stage or Count Basie, Ella Fitzgerald, so on and so forth. Yeah. We had that kind of experience and then of course later on McKee Bichou had his club out there on 64th and Cottage Grove and during the off-nights of the week there would be all these jam sessions and so on and then on the weekend and that then you'd have these major stars and stuff coming in there, Coltrane, Dexter Gordon and all of these great people so there was a lot of live music.
Jo Reed: Fabulous. When did you start playing?
Roscoe Mitchell: Well, I consider myself a late starter; I started clarinet when I was like 12 years old. I wanted to play saxophone but back then people would always say that "Well, you need to learn how to play the clarinet first and then move on to the saxophone" so that was my first instrument in high school so that's a late starter.
Jo Reed: You went into the army and you were in the military band in the army.
Roscoe Mitchell: I was in the military band in the army.
Jo Reed: And in Germany.
Roscoe Mitchell: And in Germany, yes, in Heidelberg, Germany. Back then there was a place there The Cave 54 and then any time that any of the major musicians were in-- if they're in Frankfurt or Mannheim or something like that they would end up down at The Cave and they'd have all of these jam sessions and so on going on there. I think for me the army was where I made my decision that I was going to become a professional musician.
Jo Reed: When you were there, Oscar, you were also taking lessons from the first clarinetist at the Heidelberg Symphony. Tell me what you were thinking about musically about playing jazz and also playing classical music and how they were working together for you.
Roscoe Mitchell: Well, I've always been a person that wants to learn about music. It's a vast subject; I understand that I will never be able to learn as much as I would like to know with one lifetime. If I hear somebody doing something that I don't know anything about, I'm going to try to figure out what that is and especially if you want to be an improviser, which I'd like to be, you have to in order to be able to speak in any conversation. So I'm retired from Mills College now after being out there for 12 years and now I'm back in my home in Wisconsin and so I'm looking forward to have that kind of time where-- I can devote to practicing and writing music over a long period of concentrated time.
Jo Reed: I definitely want to talk about that obviously but I want to just go back a little bit to after the army you went back to Chicago and you started studying with Muhal Richard Abrams. Can you talk about his influence on you as a teacher but also as a co-musician?
Roscoe Mitchell: Well, yeah. I mean when I got back to Chicago I felt that-- like I was kind of behind them when I got to Chicago because they were already-- Muhal and his Experimental Band they were already studying different ways of approaching music and concepts and he rehearsed his Experimental Band at C and C Lounge on 65th and Cottage Grove every Monday night. And I went there, they welcomed me with open arms, and they invited-- Muhal invited everybody to write for the band, bring your piece in and listen to it, don't like it, take it back home and keep working on it until you like it. So it was not only that; it was a whole philosophy. We were all in Wilson Junior College at that time. Jack DeJohnette was there, Joseph Jarman, Malachi Favors, Anthony Braxton, so on and so forth. So after we would leave school we'd go over to Muhal's house and bother him until late in the evening and then he would still show up on Monday with a new piece for the band and totally inspiring Muhal was. I mean even after we moved to different cities and stuff like that every time we got together it was almost like we just picked up from where we left off the last time. So yeah, he was a great teacher to many of the young people that were coming in to what became the AACM.
Jo Reed: That's what I'd like to talk about of course, the AACM, the Association for the Advancement of Creative Musicians, just one of the most instrumental organizations in modern music and certainly in the United States, and you were one of the original members. Can you talk about what the vision was around the AACM and what it was that you were doing there?
Roscoe Mitchell: Yeah. The AACM had very good vision. Different things started to get talked about. People wanted to have more control over their destinies. They wanted also to foster educational program in the community for young aspiring musicians. They wanted to create employment for themselves. They wanted to create exchange programs between other cities. We'd send AACM members down to St. Louis and the St. Louis musicians would come to Chicago to present concerts. Later on when I moved to Michigan I established the CAC, the Creative Arts Collective, there and I just carried forward with me the same basic fundamentals that we had. What I found back then is that you were amazed at who would help you if you had a good idea and back then the University of Chicago opened its doors to us with all of these performance spaces. That's what I found amazing.
Jo Reed: Was there a particular kind of musical aesthetic do you think that came out of AACM or that AACM was working within?
Roscoe Mitchell: Well, I would say yes, it was. I mean we were encouraged to be individual.
<music playing>
Roscoe Mitchell: And I think when people are able to well, let's say tap into that part of themselves all of a sudden they have a endless sea of choices that they can choose from in creating their own way in music. I've always been impressed by people who have done that. It's easier to be yourself than somebody else because if you're trying to be someone else then you're always behind because you're always waiting to see what someone else does and then you're going to come and do that not as good as them. So that's something that I also carry forward when I'm working with students and now I see there's a whole generation of young musicians and so on that are-- have been inspired by the Art Ensemble and so on and people come to me and "Oh, my dad brought me to the Art Ensemble concert when I was five or six" and all of this kind of thing. So it's a whole kind of history that's being followed and I'm grateful that I'm still living, that I can realize and see some of these things and I'm more inspired about learning right now than I've ever been in my life.
Jo Reed: In AACM people would form their own groups and come back; it was very fluid. And your sextet actually became the first to record out of AACM and the Roscoe Mitchell Sextet eventually became the Art Ensemble when you went to Paris. What year did you go to Paris?
Roscoe Mitchell: We went to Paris in 1969; that's when the Art Ensemble became the Art Ensemble of Chicago and then that's why 2019 is our 50th anniversary.
Jo Reed: And many congratulations on that, half a century; that's pretty cool.
Roscoe Mitchell: Thank you.
Jo Reed: I have so many questions about the Art Ensemble. When you first went to Paris you didn't have a percussionist so all of you sort of took on timekeeping. I'm so curious about that and how you managed that and what you would use but also how that affected the music you played.
Roscoe Mitchell: Yes, we did become timekeepers, the band that we had before we went to Europe with Phillip Wilson on drums, but he left the band and went with Paul Butterfield so we never went out looking for people. What we did was we worked on our music and let everything else work itself out. We had met Famoudou Don Moye in Detroit and so we ran into him again so we made the decision to bring him into the band as the drummer.
Jo Reed: Before Moye came in, how was the music affected by not having a percussionist?
Roscoe Mitchell: For me I've always wanted to explore sound and I hear all of these different kinds of things. I might hear one note on the saxophone and the next note might be a bell or something like that, interested just in the color so that's definitely affected me, but then also in Chicago you had all of these people that created these highly individualistic percussion setups and so on, hence my recording "The Maze." Henry Threadgill had this setup of all these hubcaps of older cars and stuff that he put together; Anthony Braxton had his garbage cans and so on like that. Yeah. You see this whole thread of individualism moving through this whole thing that we're talking about right now.
<music playing>
Roscoe Mitchell: So everything was always a learning experience for me. If I'd go to an AACM concert and it was Anthony I'd go there and I'd be overwhelmed and I'd go home and try to work real hard to come back and do my concert like that. Yeah. It was like going to school and it was always like that with Muhal right until our-- the time that he left.
Jo Reed: Back to the Art Ensemble. There are such innovative approaches in the instrumentation of the music that you perform.
Roscoe Mitchell: That's true. That ties into just the exploration of sound and so on. I'm very interested now in becoming a person that can really develop improvisation in real time and so that involves a lot. When Ilan Volkov invited me to Glasgow, Scotland, to premiere the full orchestral version of my composition "Nonaah" that to me is a main marking point because a piece that I started off as a solo saxophone piece and carried through many different variations now is a piece for a full orchestra. When he invited me back to his Tectonic Festival in Rykjavik, Iceland, I didn't really want to go there with the same piece so I wanted to come up with a way of being able to generate several pieces so I talked to Paul Steinbeck and I asked him if he could recommend people that could transcribe some of the improvisations off of my "Conversations" records with Craig Taborn and Kikanju Baku and he did and so I was able to premiere I think five or six works there. And in some cases like my students that wanted to orchestrate I took them with me to Rykjavik, Iceland, so they could have the full experience of working with the great conductor Ilan Volkov. So to me what that does is that helps me study more closely the relationships that exist between composition and improvisation. It's kind of a thing where I recommend people to study as parallel and a lot of information comes from knowing about composition and following those rules in real time.
Jo Reed: Did you start composing back in Chicago at AACM or even before that when you were with Muhal?
Roscoe Mitchell: Well, you hit it exactly right. Muhal encouraged all the members of the band to write. He said, "Hey, just write down some of that stuff you're playing on your horn," this kind of thing, and so that's where I really started to write music and then having that facility of being able to get it heard was just very important. And then what it does also in terms of your publishing and stuff like that then you can get paid for your compositions; that's also a good business move. So it has a lot of a good side about it and, back to what I said earlier, I'm excited. There's so much to learn right now it just inspires me and I think that maybe now I've finally figured out how to go directly to what I'm after in a more efficient way.
<music playing>
Jo Reed: I do want to talk about composing. Can you walk me through the process of how you compose? Do you compose on an instrument? What do you do?
Roscoe Mitchell: Well, I'll go back to this whole transcription of my improvisations. What I do is I regard that as an ongoing improvisation. If I say to you, "Well, I'd like you to come and be the improviser on this particular composition" if it were for my "Conversations" series recordings I would be saying to you, "I'd like you to come and improvise with Craig Taborn, Kikanju Baku and myself." What that does is that it allows me to see exactly what everyone was doing and it also allows me to readjust those materials in any kind of way that I would want to do it. If you do the piece twice, you're probably going to do a different improvisation; the piece has changed a little bit so it's always-- constantly growing all the time. When I look at "Sustain and Run" now what I've done with that is I've taken the first transcription, which was in 2/4, and then I made another version of that in 4/4 and then in 8/4 so that's given me the opportunity to move in-- from one tempo to the next and arranging the materials in that way. It helps me because a lot of people in orchestras they want to know how to improvise; it's a helpful thing to people that want to cross over into that process. There's a lot of interest and people want to know that. The thing about improvisation: It's not new. All the great composers were great improvisers, Johann Sebastian Bach, Beethoven, Charlie Parker, John Coltrane, just look at some of their transcriptions, so most exciting for me to be involved in that process and moving it forward.
Jo Reed: How many instruments do you play?
Roscoe Mitchell: Well, let's see now. I'll just talk about it in categories a little bit—
Jo Reed: Okay, because there are many.
Roscoe Mitchell: --and let's just say I'm a little rusty after teaching for 12 years but I play the saxophones down-- from sopranino down to bass saxophone, okay. I'd like to get back to my clarinets and I'm going to do that. I've become very interested in early music. I play the transverso,[ph?] which is a Baroque flute, six holes and one key at the bottom, the recorders and of course the regular flute; yeah, I'm working on that also and the piccolo. The percussion stuff we talked about that a little bit earlier where I've developed putting all these different sounds together. The larger instrument that I carry around with the Art Ensemble the last time that was used was at the exhibition in Chicago for the AACM's 50th anniversary. So hence I've started to make all of these smaller instruments now so that I can take those along with me when I'm traveling so I can keep my hands in it.
Jo Reed: You're always moving and pushing and that's also expanding the sounds of the instruments that you play. I think more than once in interviews that I read you refer to the sounds of nature, when you talked about your playing that you were looking to create something like that. Can you talk a little more about that? I was really intrigued by that.
Roscoe Mitchell: Yeah. That's another big challenge, try to fit in with nature, it's always correct, so trying to find your place in that. I mean once in France I went to this one place where there was this pond and all these ducks and birds and different animals and stuff gathered there and I took the flute that Rafael Garrett-- Donald Rafael Garrett made for me, the bamboo flute, and just tried to fit in with that and that's a challenge. So yeah, those are things that are there and they're perfect and that's what we try to get back to. My daughter when she was first born I mean the notes that were coming out of her mouth were just perfect and very high notes and sounds and so we're trying to get back to that; that's what I'm trying to do is to get back to that. If I'm playing the saxophone, sometimes I'm going to sound like an orchestra or something where I'm playing several part of the saxophones. I think that a lot of that came from my relationship with David Wessel who was one of the first people to establish the computer music festivals in the United States. He later went to Paris to work with Pierre Boulez at IRCAM. One morning he called me and he insisted that I get up immediately and run over to his house because he'd done something that I had to hear and so I went over there and he played one note for me on the computer. I said, "David, that's interesting. I'll keep working on the saxophone and try to create a language that I can converse with the computer." And back then you'd go to a concert and the computer people were there and they- they're on the stage talking to themselves, who know if their program was going to crash, but we followed through that process all together. I've always been fascinated about electronic pieces and then I have tried to imagine what instruments I would take to re-create that as a-- an acoustical work. So from that standpoint of view I'm able to watch all of that being realized. Yeah, you really have some people who are geniuses with electronic music.
Jo Reed: Silence is really an important part of your work wouldn't you say?
Roscoe Mitchell: I would say silence is an important part of my work and the reason for that is silence is perfect so every time you interrupt silence you have to approach it on its level else you're the one that's going to sound bad. It allows for all kinds of other things to happen.
Jo Reed: I want to talk for a little bit about your playing technique like circular breathing. Can you describe what that is and what it allows you to do?
Roscoe Mitchell: Okay. Let's see now. Circular breathing for me-- it took me a year to learn it; some people that I showed it to they could get it fairly rapidly. The thing about it is like back in the '60s I heard this constant flowing of notes. When I learned how to circular breathe then I could actually do that; I could play these long lines of connected notes moving.
<music playing>
Roscoe Mitchell: Certainly, it allows me to be able to sustain a note and play moving lines up under it and so on, and I was doing a concert with Pauline Oliveros and I had this high note going and she said, "Well, where does this high note come from?" and I said, "Pauline, I happen to own it and I decided to keep it" and I'm glad that I did in a way because I didn't know at that time that it would lead me into some of these textures that you're talking about now.
Jo Reed: Can you explain multiphonics and how that works in your work?
Roscoe Mitchell: Yeah. That's like being able to produce more than one note at the same time. I mean a lot of people will do multiphonics and singing along with that.
Jo Reed: Anthony Braxton.
Roscoe Mitchell: Yeah, Anthony Braxton does that; he definitely does that, yeah, yeah. Robert Dick can play the "Bach Chaconne"-- I believe Thomas Buckner told me that-- by employing all of these different methods of multiple notes so yeah, it's certainly something that interests me.
Jo Reed: Speaking of Thomas Buckner, can we talk a bit about your work with him? He was in a trio with you. You've done a number of projects with him.
Roscoe Mitchell: Okay. I guess our first recording was "New Music for Woodwind and Voice" and the second one was "An Interesting Breakfast Conversation," which was total improvised music.
<music playing>
Roscoe Mitchell: And then we just kept going throughout the years. I like that. I like long-lasting musical relationships because we don't know anything about music; it's going to take a while to learn all of that. If you don't stay there and exhaust those possibilities, you miss out on a lot.
Jo Reed: You've talked about the super musician and I'd like you to explain what you meant by that. I'm very curious about that; I like that term.
Roscoe Mitchell: Yeah. Well, I mean that's what the world wants to see. I'd like to be that so one that is one with music close as I can describe it, I mean that you serve music enough that it's your friend because music can lift you up in a way that nothing else can and stimulate you and inspire you into self-listening.[ph?]
Jo Reed: You talk about the difference between your solo performances and then performing with an ensemble whatever the size or even in orchestra and the differences for you as the performer.
Roscoe Mitchell: I'm a big studier of opposites; I think if I do that then it helps me figure out what happens in the middle. So I always encourage my students, "If you want to be an improviser, then go out and do some solo concerts where you're the only person out there responsible for every note that's being played." That helps you. That helps you learn how to develop and then of course on the other end of the spectrum is the big ensemble the world is waiting to hear, that big improvising ensemble that can actually go out there and sound like they know what they're doing in a real convincing way. And what I'm enjoying also about this period is that this is an opportunity to pull those kind of people together and to learn about that.
Jo Reed: Roscoe, you've won so many awards, too many for me to list, but you've been named a 2020 NEA Jazz Master and I wonder what that particular award means for you.
Roscoe Mitchell: Well, that means so much to me, I mean having the recognition of the NEA. You've helped me out before with different grants throughout my career. For me it gives me time to do my work; that's what I need now is time so I really appreciate the award and it couldn't have come at a better time. And yeah, so many things can happen when you keep yourself open and try to remain positive. That's a nice environment to exist in.
Jo Reed: I agree and you sure have and do, and thank you for everything including giving us your time right now. Thank you.
Roscoe Mitchell: Well, thank you so much for asking me.
Jo Reed: Not at all.
Jo Reed: That's saxophonist, composer and 2020 NEA Jazz Master Roscoe Mitchell. As I mentioned, we were supposed to celebrate the 2020 Jazz Masters the first week of April in San Francisco but because of the current health crisis we postponed. The concert will be rescheduled. Keep checking arts.gov for updates. You've been listening to Art Works produced with the National Endowment for the Arts. Subscribe to Art Works wherever you get your podcasts and leave us a rating on Apple if you can because it really helps people to find us. For the National Endowment of the Arts, I'm Josephine Reed. Stay safe, be kind, and thanks for listening.
Saxophonist, composer and 2020 NEA Jazz Master Roscoe Mitchell is a musical seeker. He's interested in sound and its colors. He is one of the most influential (and prolific) jazz musicians around who nonetheless says he has never been as excited or inspired as when I spoke with him in December 2019. And this from one of the original members of the Association for the Advancement of Creative Musicians and one of the founders of the Art Ensemble of Chicago! Our interview was on my birthday—and it was the best present I could have received. Roscoe Mitchell—aside from being a fabulous musician--is an eloquent philosopher about music. Speaking with him was a true pleasure and I hope you'll feel the same listening to this podcast.