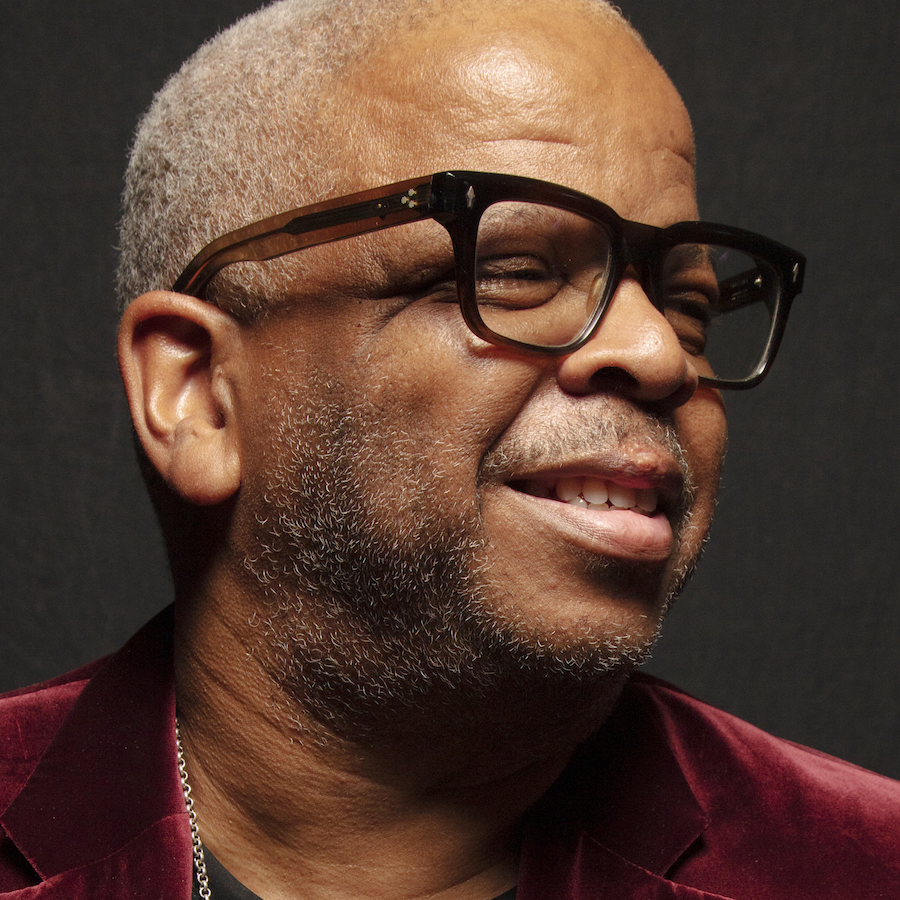 Music Credits: "Peculiar Grace" and "Bend Don't Break" from the opera, Fire Shut Up in My Bones,  Kasi Lemmons- librettist, Terence Blanchard composer. Performed by Will Liverman and Angel Blue from the Metropolitan Opera production co-directed by James Robinson and Camille A. Brown.
"Oh- By The Way" from the album Oh-By the Way, composed by Terence Blanchard, performed by
Art Blakey and the Jazz Messengers.
Main theme from BlacKkKlansman, composed by Terence Blanchard, featuring The E Collective.
"Breathless" from the cd Breathless, composed and performed by Terence Blanchard and the E Collective.
Jo Reed: From the National Endowment for the Arts, this is Art Works, I'm Josephine Reed
You're listening to Will Liverman—singing the role of Charles in the opera Fire Shut Up in My Bones.   It's based on the memoir by NY Times writer Charles M. Blow; the lyricist is Kasi Lemmons and the composer is the six-time Grammy Award winner jazz trumpeter and music artist Terence Blanchard. The opera, which just aired on the PBS series Great Performances, premiered at Opera Theatre of Saint Louis in 2019 and opened the season at the Metropolitan Opera in 2021 becoming the first opera by a Black composer performed at the Met.  
The National Endowment for the Arts supported the commission, development, and premiere of Fire as well as its opening at the Met.
Fire Shut Up in My Bones tells the story of Charles, a young African-American man who grew up in a hard-working but poor family in Louisiana. When he comes of age, he confronts the sexual abuse he suffered as a child at the hands of his cousin and grapples with the decision to take revenge or not.
It is a moving story of struggling to belong, to overcome trauma and to make a new life. While the score has its roots in Italian opera, it very much embraces elements of gospel and blues choruses, and, of course, jazz.  Jazz is very much at the root of Terence Blanchard's musical life. He began his career in the Lionel Hampton Orchestra before moving to Art Blakey's Jazz Messengers. He then formed a quintet with 2022 NEA Jazz Master Donald Harrison, went on to a solo career, and now leads the E Collective.   He's been deeply involved with jazz education and currently occupies the Endowed Chair in Jazz Studies at the UCLA. 
Terence Blanchard has also composed more than forty film scores. He and Spike Lee are long-time collaborators working together on some 17 films , and received academy award nominations for two of them BlacKkKlansman  and  Da 5 Bloods. Fire Shut Up in My Bones isn't Blanchard's first opera—that would be champion which also had its premiere at Opera Theatre of Saint Louis in 2013.  So how does opera fit into Terence Blanchard's rich musical life? It seems so unlikely until you know Terence's father was passionate about opera and sang it non-professionally. It was the music that filled his childhood so writing opera was a bit like coming home.
Terence Blanchard: That's the weird thing about it, Josephine. It's bizarre because it made me realize how much of an effect my father's passion for opera has left an indelible mark on my musical personality because once I started down this road of writing opera, a lot of those memories started to come back, a lot of those emotions of hearing that music started to come back. I was just in a rehearsal a couple of days ago with the guys at The Lyric, and I was telling a few people-- I said, "Man, for some reason, whenever I hear these baritones, it brings me back to the days of when my father would be in rehearsal every Wednesday night with these guys singing just because they loved operatic music so much."
Jo Reed: How did you come to write opera?
Terence Blanchard: <laughs> Yeah, that's a question I'm still trying to get around myself. Jim Robinson, Timothy O'Leary, and the staff at Opera Theatre Saint Louis wanted to increase their audience by doing a jazz opera. They reached out to a guy named Gene Dobbs Bradford, who at the time was running Jazz St. Louis. Gene and I had been friends for a number of years, and he remembered a conversation that I had with him where I told him about my father loving opera. So he brought my name up to Opera Theatre Saint Louis, and Jim Robinson came to meet me in New York where I was doing a gig and sat down with me and asked me to write an opera, and I thought he was delusional and off his rocker and said, "This crazy man has just come to ask me to write an opera. I need to get out of this really quick." But I quickly realized that he was serious, and I've always been up for a challenge. I mean, obviously, I could have easily said, "That's not my thing." But I love challenges, I love learning, growing, so I thought I would take a stab at it, and my thinking was that if it didn't work, I had a career that was going fine, and I would be okay.
Jo Reed: What appealed to you about Charles Blow's book "Fire Shut Up in My Bones"?
Terence Blanchard: Well, I think-- there are a number of things about the book that really appealed to me. First of all, just the overall power of the story given who he is and the level of successes he's achieved. A lot of times when we see people who have reached a certain level of achievement, we don't see the grind. We just see the polished entity at the end, and reading the book, there was so many things I related to. I related to him being from the south, obviously, being from Louisiana, being a little different in his neighborhood. I went through that too. I wasn't molested by a family member or anyone, so that part of it was really powerful and hurtful for me to read. But to think about him coming through all of that and being the brilliant writer that he is a testament to his resilience, and I thought by doing his story, we could really help a lot of people and draw some attention to some of these issues.
Jo Reed: Collaboration is key to all your work as a musician and composer, from your band The E-Collective to composing for film to composing an opera, and I really would like to talk about these different collaborations and what each require from you, and let's begin with "Fire Shut Up in My Bones." How did you work with Kasi Lemmons, the librettist, whom you worked with previously? How did you even begin?
Terence Blanchard: It's so interesting when you ask me about Kasi because I remember when we did our first film together, it was "Eve's Bayou", and in having a conversation with her, I remember her telling me how she really loved opera. So in a weird way, I became her Gene Dobbs Bradford because I remembered that conversation about her wanting to write a libretto, and I've always loved her writing because we've done a number of films together. So I called her and asked if she was interested, and of course she was. Opera Theatre Saint Louis flew Charles, Kasi, and myself to St. Louis. Charles at that moment was extremely generous not only with his time but with just information. He was giving us a lot of great insight into his life and what was going on and stuff that wasn't in the book, and Kasi is just like a person who absorbs everything, and she doesn't miss anything. So in one of their conversations, Charles said, "I always was a boy of peculiar grace," and-- which is not in the book, and she remembered that, and she wrote this aria based on that "I once was a boy of peculiar grace," and that has become one of the main aria in the opera. You hear it about three or four times. So once she started to write the libretto, then I just took it from there and just started whittling away at reading the libretto out loud and trying to get a rhythmic sense for what was happening in the libretto and then just moved from there.
Jo Reed: What about writing for voices, which has to be different than writing for instruments?
Terence Blanchard: It's extremely different writing for voices than writing for instruments because there's so many variables you can't really put your finger on unless you're writing for specific voices. So if I'm writing for cello, I'm writing for cello. If I'm writing for brass, I'm writing for brass. There's a certain range of notes that you know all of those instruments will be able to produce. Writing for voice is different because even if I write for a baritone, each baritone is very different. Some baritones have-- can produce more sound in upper register. Some can produce more sound in the lower register, and that becomes the thing where the workshop process is paramount to solving some of those issues.
Jo Reed: And do you give room to the singers similar to the way you do with your band, for example? Is there room to improvise? Is there room in the music that you make?
Terence Blanchard: Of course. One of the things that's been interesting about this process is that even from my first opera, "Champion," having conversations with the late Arthur Woodley, Karen Slack, and some other great opera singers, one of the things we-- that they really made me aware of is how many African American singers grew up in the church or probably sang R&B or jazz. So my thinking was to allow them to bring all of that part of their musical background to these pieces because these are current pieces. Puccini wrote at a time where there wasn't blues or R&B, so I get it. But now I would really love for them to just encompass everything that they can bring to bear on telling these stories. So there's room for them to improvise in certain spots, and they can always take liberties with melodic content. After all, I am a jazz musician, and that's what we do all the time. So in giving them that freedom, it was kind of comical to watch at first because they weren't used to it. <laughs> So it was almost like they would take baby steps just to try things, but then as they became a little more comfortable with it, then it became really beautiful to see everything that they would add.
Jo Reed: You know, it's interesting before "Fire" opened, I had an interview with the soprano Angel Blue who, as you know, sings Destiny in the opera. And while she's certainly trained in opera, she also has a background in gospel.
Terence Blanchard: Oh, okay.
Terence Blanchard: She was amazing.  As a matter fact, when you talk about what people bring to the music, I never forget, <laughs> she's so sweet.  She walked over to me.  She says, "Terence, I heard what you said about bringing your background to it.  Do you mind if I--" I said, "Please.  By all means," and in rehearsal when she sang "Peculiar Grace" for the first time and she started to give the inflections from her church background. There wasn't a dry eye in the room
Jo Reed:  Often with jazz, with opera, that they're traditions, and there's honoring the tradition, but that doesn't mean it's calcified. You can honor the tradition and grow it.
Terence Blanchard: Yeah. And that's the thing that I hope that we are doing with this because I've always viewed opera to be the original form of theater that was created for the masses, and in doing so, we can't ignore the culture from the masses, especially if we're doing these current stories. So I think it's paramount for us to bring all that we can to bear just like Puccini did, just like Verdi did, all of them, just like how they had the capacity to look at their communities and create these very brilliant, moving musical stories by encompassing their culture and the folklore and bringing all of the folklore into play when creating these stories.
Jo Reed: Exactly. Yeah. Terence, there's so many moving parts to opera. Camille Brown choreographed the work and co-directed with James Robinson. So you have dancers, you have chorus, you have singers, you have a full orchestra. Was that daunting?
Terence Blanchard: Only when you get to rehearsal, <laughter> you know, because when you having the meetings, you're like, "Oh, that'll be great. Oh, that'll be awesome." And then you get to rehearsal, and it's over-- it's almost 100 people there. You go, "Oh, okay. This is kind of huge," so-- but the thing about it is that, man, I've been so, so blessed working with true professionals and brilliant minds. So in the same way that I give the singers room, I have to give Camille and Jim and all of those people room to do their thing, and it's been beautiful because we're all on the same page. Artistically, we're of like minds, which I think is a true blessing and a miracle because that doesn't necessarily have to be the case. But in saying that, it's allowed us to create something that we think is a little unique, a little different but still very powerful and still very much a part of the genre.
Jo Reed: Well, when "Fire" opened the season at the Met, it was after a long closure due to COVID, and then, as we know, it was the first opera by a Black composer to be staged at the Met, which I think surprised many people and...
Terence Blanchard: Me being the first.
Jo Reed: Yeah.
Terence Blanchard: Yeah.
Jo Reed: And for you, that had to have been, obviously, gratifying on one hand but also, I don't know, bittersweet, shocking.
Terence Blanchard: Yeah. It was filled with mixed emotions because when the journalist asked me the question at first, I thought he had it wrong. I'm like, "No, can't be." He goes, "I believe so." He said, "I'll double check, but I believe so." And once he said it, I started having all of these weird thoughts about that can't be, not in a city like New York where all of the things that we experienced in the art world for generations have emanated from that town, and to the think that the Met would be a place where that hasn't happened yet was just something I couldn't imagine. So I-- and here's the wild part about it. The summer right before the premiere of my piece at the Met, I was in St. Louis, and they were doing a piece by William Grant Still, and I remember listening to it going, "Man, that's kind of cool. Really unique. It's beautiful. That's something--" and I kept thinking for when this piece was written, that had to be cutting edge, and then to think that he had been rejected by the Met three times just-- it blew my mind, and it hurt my feelings. So my quote has always been is that I may be the first, but I wasn't the first qualified, and understanding that-- we brought all of that information to everybody that was a part of the production. So everybody knew what was at stake, what we were trying to do by making a statement with this piece, and it just fueled the fire for everybody to work even harder.
Jo Reed: I know you've said, "I don't want to be the token. I want to be the turnkey."
Terence Blanchard: Yes.
Jo Reed: Do you feel that key is turning?
Terence Blanchard: Oh, yes, yes. Peter Gelb has already gone out and commissioned people to write pieces that they're going to produce at the Met. They're going to do "Malcolm X," obviously, and they're going to do those two pieces along with Anthony Davis's "Malcolm X." So for me, right there, that's a sea change in what can happen at the Met, and I just hope that it continues from there.
Jo Reed: When fire premiered at the Opera Theatre of Saint Louis, that's a pretty intimate hall, and the Met is so much bigger.
Terence Blanchard: Oh, my God. Mm-hmm.
Jo Reed: What kind of adjustments did you have to make to adapt "Fire" for this bigger place?
Terence Blanchard: Well, the first adjustment I had to make was to control my own breathing once I stepped into the hall <laughter> because I was sitting there, saying to myself, "This place is massive." It's actually four times the size of the place in St. Louis. St. Louis holds 900 seats, and I think the Met is close to 4,000. So the adjustments that we had to make initially was just to beef up the production itself by adding more dancers, having a larger chorus and beefing up some of the orchestrations, but most of that was just maybe having double winds and then having a little more strings. I didn't really have to write anything for that. Some of the things that I did have to write were in St. Louis. We had a lot of spoken word portions, and we didn't think that that would go over too well in the Met because some of those voices can be clearly heard and can be better heard singing than speaking. So I had to go in and write a lot for those parts, and then the rest of it was just production. Allen Moyer, who does the set design-- it was so funny. We have this box that we use on the stage and it's used in a lot of different ways, and in St. Louis, it was a modest-sized box, you know? <laughs> And when I walked onto the set of the Met and I saw how huge that box was, I just cracked up laughing because I said, "Wow." I said, "I wonder long it took you to make me that." <laughs> But the thing that was really beautiful about it-- Allen is brilliant in terms of his vision for creating these effects. It made the stage intimate, even though that stage is massive. I remember standing on that stage just for a photoshoot, and I almost got vertigo. I just-- it was so huge. I'm like, "This is crazy to think that people can sit-- stand here and sing without microphones and be heard in the back of this hall is just incredible."
Jo Reed: I know. It's amazing, right, without microphones no less. Whew.
Terence Blanchard: Yes, it is amazing.
Jo Reed: I want to take a step back, if you don't mind, and just talk about you and music. You started, if I'm right, on the piano, correct, and then you moved to trumpet.
Terence Blanchard: Yeah, but all of that happened when I was a kid. I started on piano-- I was about five years old-- because I used to go to my grandmother's house and bang on the piano, trying to sing "Batman," the theme from "Batman," and they got tired of me just doing that. They said, "If the boy's going to do that, can he learn how to play something we can listen to?" And my first piano teacher lived in the house right behind mine, so I could never miss a lesson. I started playing the trumpet when I was in fourth grade, elementary school, so all of this happened when I was relatively young. Well, really young, and I kept up with my piano lessons all the way through high school. Even in college, my first year in college, I studied with Kenny Barron, great jazz pianist.
Jo Reed: And what was it about the trumpet, Terence, that just drew you?
Terence Blanchard: There was a guy named Alvin Alcorn who had come to my elementary school. Mary Dora Coghill, that was the school I went to, and he gave a demonstration, like a little presentation about New Orleans-style jazz, and I just remember hearing the trumpet, thinking, "Man, the piano can't do that. The piano can't bend notes like that. The piano can't-- doesn't have vibrato like that." The way he played the trumpet was more closely related to a vocal performance than anything for me, and I remember going home, telling my dad that I wanted to play the trumpet. The funny thing about that, my dad had just rented a piano for us to have at our house so I could practice. So that was interesting. <laughter>
Jo Reed: An interesting conversation, eh?
Terence Blanchard: It wasn't much of a conversation. It was <laughs> an interesting lecture that I got. Yeah. So...
Jo Reed: You worked with Art Blakey early in your career, and I'm curious about the influence of Art Blakey on you, on your approach to music because you quote him a lot.
Terence Blanchard: I quote him all the time because there's so many things that he gave us that ring true in my life. He always used to tell us, "Never speak above your audience. Never speak beneath then. Just speak straight to them." That's one thing he always used to say. He always used to say, "Never try to be too hip," he said, "because two hips make a butt," even though-- <laughter> you know what I mean? So there were a lot of little things like that, and when he would talk to us about playing certain tunes-- if you're going to play a ballad, he would say, "Play the ballad. You'll get a chance to do something else on another tune. Don't try to play everything on every tune. Let each piece of music be what it's supposed to be." And those things are things that I live my life and I create my music by. So I've been blessed, man, with being around great musicians who have helped me a great deal and helped kind of set my musical ideology.
Jo Reed: I'm curious how you compose and perform and make music with your band, The E-Collective.
Terence Blanchard I do for them what Art Blakey did for me. It's just to give them room to grow, and I always encourage all of the guys in the band to create and write because it also helps me grow. I don't want to be the lone voice of the group. I want everybody to feel like it's a workshop in process. We're a work in process.
Jo Reed: How is the collaboration with the E Collective similar to and different from the way you worked with the collaborators in "Fire Shut Up in My Bones?"
Terence Blanchard: Well, the similarities are is that everybody has room to bring their personal musical taste to whatever it is that I do, right.  The differences are with my band, you know, the guys have more of a say because they are creating music for a project.  All of those guys have input into it, while I am also writing and arranging stuff myself.  Obviously, that's impossible to do for an opera.  You need to show up with the entire story intact so you could get the work of fine-tuning it and workshopping it and making it better from that point.  So having said that, even though those are two very different approaches, the end result is the same in terms of performance, where everybody has a chance to give their own input about how they feel about what it is they're performing.
Jo Reed: Terence, how did you begin to score movies?
Terence Blanchard: Man, totally by accident.  You know, we were doing the prerecorded music for "Mo' Better Blues," Spike Lee's movie, and we had taken a break, and at the same time that we were doing that I was getting ready to record my first solo project for Columbia Records.  So I remember sitting at the piano and playing a tune that I had written for the album and Spike walked by and heard it and he said, "Man, what is that?" and I said, "Well, something called "Sing Soweto."  He said, "You wrote that?" and I go, "Yeah," and then he goes, "Man, can we use that in the film?"  I went, "Sure," and we recorded it just as a solo trumpet piece that day and then after he shot the scene he asked me to write a string arrangement for it and the rest is, as they say, history.
Jo Reed: So you and Spike Lee have been working together for, what, 30 years, 17, 18 films?
Terence Blanchard: It's been crazy because we didn't realize it was that long, <laughs> you know.
Jo Reed: And music is so important in his films.
Terence Blanchard: Yes.
Jo Reed: And he uses it deeply and wisely.
Terence Blanchard: I've been very aware of that from the beginning with Spike.  You know, that's why when I'm writing music for his films I try to make sure that I take care of what it is that I bring to the table, because I know for him it's going to be something that's going to have presence in his films.  It's not going to be something that just sits in the background.
Jo Reed: Yeah.  How does the process of working on films with Spike Lee, how has that evolved?  How do you start composing?  Does he send you a script, give you an idea?  How does that work?
Terence Blanchard: You know it's always interesting about that, because I've worked with other people and they said, "Man, I really like what you and Spike come up with.  I want to work with you the same way that you work with Spike," and when I tell them how it's done they really don't believe it, you know.  Because really what happens is:  Spike, he will send me a script and he wants me to start really thinking about the story even before he shoots.  You know, I get the script the same time the preproduction people get the script, and once he starts to shoot, sometimes he'll send me video or sometimes he'll send me still pictures from a production, and then I can just start to get to work, and once I start working the main thing for me to do at first is just to come up with thematic ideas.  It's not even to score any scenes.  Just to come up with thematic ideas only played on the piano.  He doesn't want to hear any synth mockup with samplers or anything like that.  He just wants to hear it on the piano, and I'll send him sometimes up to 12 musical ideas, and what he does is he'll listen to them and then he starts to assign them to characters.  He'll say, "Oh, I think this is So-and-So's theme."  "Oh, this sounds like her theme," and then we have a spotting session and we go through the film in the spotting session and spot where the film needs music, where the music should start, where it should come out, things like that. And then after we have that we may have a conversation about tone for the film.  Like with "BlacKkKlansman" he said, "Man, I think we should have like a R&B band inside the orchestra," and I said, "Perfect," because I had the E-Collective at the time, and I said, "Well, that's perfect."  Other times he says, "Well, what about if we feature this instrument."  I'm like, "Okay, fine," and then once we have those general conversations and that spotting session, Spike doesn't hear any music until we get to the studio, and I think he does that on purpose because he wants to hear it and feel it the same way and audience is going to feel it for the first time.  But me knowing that, I go the extra-- and that's the thing I try to tell young filmmakers.  Having that type of trust makes your composer go the extra mile, you know, because you don't want to give up.  You don't want to betray that trust, you know? So it makes you work harder.  But at the same time, you know, it allows you to be free, you know, and I think there's maybe one or two times that I had to rewrite a scene for Spike.  I remember on "Miracle at St. Anna" I had to rewrite the opening because it was a war picture and it was first time I had done one of those and I was so excited about that action in the front that I had written all of this type of action music in the front, and that's not what Spike wanted.  He wanted more melodic, oddly enough to say, operettic approach to scoring that scene. But other than that we've been really in sync in terms of what his films need and what it is that I need to provide.
Jo Reed: Did film scoring give you some of the tools you needed to be able to write an opera?
Terence Blanchard: Oh, <laughs> man, it's funny that you ask me that question.  I was just having this conversation with Jim Robinson yesterday.  No, two days ago.  Because I was telling him, I said, "Man, if it wasn't for film I wouldn't be able to do this," because I know if it weren't for film I'd probably go back to that thing Art Blakey was telling us about about not trying to be too hip.  I would've been too hip.
<laughter>
Terence Blanchard: You know what I mean?  Because I would think about how to push the envelope forward musically and technically, whereas film has allowed me to understand is that your musical personality's going to shine even if you're just writing a single note just to enhance a scene, you know.  There's no need to really think that you have to prove anything.  What you need to do is to tell a story the best way you see fit, and I think when you do that your musical personality gets a chance to shine in a natural way, not in a more contrived fashion.  So film has helped me with that immensely, and I know I wouldn't be doing this if I didn't have a film career first.
Jo Reed: And how are the two different?
Terence Blanchard: Well, the two are different in that film, there's so many other elements to it that don't need me, and that part of it allows me to take a break and to figure out how the music should play once it comes in because we haven't heard music in a while, whereas in opera there's music going on all the time, and you have to be judicious in how you use certain things because I'm not trying to wear out an audience's ears.  I understand that they're going to between sitting down listening to music for two and a half hours.  So there are moments where the music can be complex and really challenging.  Then there're other moments where the music needs to relax and fall back and give the audience a break.
Jo Reed: You know, you said that film requires you to put aside your ego.
Terence Blanchard: Yes.
Jo Reed: And I wonder what opera requires?
Terence Blanchard: Same thing.  You have to put aside your ego because  it goes back to what I was just saying.  It's not about proving how complex you can be rhythmically, how dense you can be harmonically or with your orchestrations or how difficult of a melody line you can write.  It's not about all of that.  It's really just about telling a story, and once you put your ego aside and understand that that's your job, then everything starts to fall in line, you know.  For example, when I read the librettos, you know, I can easily create some musical line that has some complicated rhythm to help tell a story, but that's not what I want to do.  For me, I try to find a story in the libretto in that I will read the libretto over and over again.  I will read the libretto over and over again and I will try to get my rhythms from that, <"dah-dahs" the rhythm>.  So you start to get that sense of what the story is from the rhythm of the libretto as I'm reading it and then it just kind of builds from there.
Jo Reed: I'm curious what composing for opera gives you that your other musical work doesn't.
Terence Blanchard: Whoo.  Well, first of all, it allows me to write for voice, and I'm a failed singe myself, so, you know, when my dad was singing in church, he has a beautiful baritone voice that they thought he passed on to me. <laughs> No.
<laughter>
Terence Blanchard: I think they heard me in church one Sunday and they said, "That's so-so.  But doesn't he play the horn?"
<laughter>
Terence Blanchard: So, you know, that's the first thing.  It allows me to write for voice and allows me to kind of sing through those voices on stage, but here's the main thing about opera; I've been thinking about this.  I've been thinking about this a lot.  You know, opera seems to be-- and maybe I'm wrong, I don't know-- but opera seems to be the one vehicle artistically where you just about have all of the art forms coming together tell a story.  Visual in terms of painting or digital paintings, set design, lighting, acting, dancing, singing, music orchestrations, and that to me is something you can't get anywhere else.  The whole idea of putting all of these elements together to tell a compelling story in a live theater, film doesn't even do that, because film, it's a highly produced piece of art that is still beautiful.  Don't get me wrong.  It's powerful and compelling in its own way, but the theater is live and it's different every night.  You actually are in the room with the artist, you know, whereas in film you're looking at them up on a screen.  But in opera, they are right there in front of your face.  You can feel the power of their voices.  You can feel the power of the orchestra when a orchestra blooms and plays a triple forte. All of those things come together to create an experience that I haven't had in any other art form.
Jo Reed: And what experience do you get when you're performing with E-Collective that you don't get anywhere else?
Terence Blanchard: It's the immediacy of allowing myself to speak my own truth, whatever that is for that day, and sharing that with great musicians on stage.  Being pushed by them.  Being inspired by them in a blink of an eye.  That part of it is something I haven't found anywhere as a performer.  Opera is different because I'm not performing.  I'm more of a spectator <laughs> in, you know, the operatic world, but when it comes to live performance, playing with my band, playing with great musicians, man, there is nothing that compares to that.  I can't explain it because it's the type of thing where you think the show is going to be a certain thing one night and somebody'll play something and it inspires everybody else to do something else and next thing you know the show morphs into something that was unexpected but still yet beautiful and powerful.  That part of it excites me every night about playing with great musicians.
Jo Reed:  You've written and performed music that speaks directly to gun violence, racial justice, and Black Lives Matter and I'm thinking specifically of your cds Breathless and Live.  
Terence Blanchard: Yeah.  Well, you know, when we first put the E-Collective together, my intention for it was to inspire some young kids who were producing music but not necessarily playing, you know, and what I mean by that, producing by using drum machines and samplers and stuff like that.  I wanted to encourage young kids to play instruments, so initially the E-Collective was put together because of that, but while we were in Europe on our first tour, we hadn't made the record yet, the first record yet, but we were touring in Europe and Mike Brown was shot. Tamir Rice was killed.  There were so many things that were going on and I just couldn't fathom myself doing a feel-good record, you know, so we started to try to find a vehicle that would allow us to have conversations about gun violence in our country, and that's where the idea of Breathless came along, because my daughter, Sidney, she gave me the title for the album, because it was literally supposed to be about all of those shootings, but when we started talk about "I can't breathe, I can't breathe," she said, "Just call it Breathless," and once we did the first CD, when it came time to do the second one, we couldn't leave the topic alone because we felt like we just needed to continue the conversation about this, and it's been like an extremely powerful experience because I'll never forget, we were in Cleveland and we were playing the music and this gentleman walked up to me afterwards and he says, he loved my album When the Levees Broke, which is the music from... "When the Levees Broke."  And he said he was expecting to hear that but when he heard me play he said, "The music just sounded so angry."  He said, "But then you told us what the music was about," and he said, "It made me rethink my position on gun control," and that was a very powerful moment for me because that's literally why we were making those records, and moving forward, you think you made progress and then all of a sudden George Floyd is killed, and when that happened, you know, that was a sea change, because I have a lot of friends who aren't African-American who were calling me up and apologizing, and I didn't know why they were calling me at first.  They kept asking me if I was okay, and I didn't get what they were talking about until we would get into the conversation, and it made me realize that it was the first time that America really saw what African-Americans had been talking about for generations, and that had a powerful effect.  It's the reason why I think I was at The Met, you know.  It had a powerful effect on this country, and we're trying to seize the moment to make sure that we keep this door wide open for all people.  Not just African-Americans but for people of all walks of life, all genders, all sexual orientations, because life's too short to be tripping on something like that.  So while I'm heartbroken that George Floyd's family and Mike Brown and all of those families have lost loved ones, you know, we can't let those deaths occur without taking advantage of being able to affect change in our communities and hopefully open up some hearts and minds.
Jo Reed: And of course, art is one way to do that.  I mean, art demands empathy and has the ability to show us to ourselves.
Terence Blanchard: It does.  It does, and that's one of the things that I love about "Fire Shut Up in My Bones."  While it's not a story that deals with police violence, this story does deal with intolerance and, you know, I think that's something we really need to pay attention to, and I think art and these projects can shine a mirror on those things and hopefully affect some change in people's minds.
Jo Reed: And finally, Terence, we don't have time to talk about your teaching and mentorship, which you have done and have been devoted to for many, many years, but I wonder if you had to think about just a couple of things you really try to impart to your students, what are they?
Terence Blanchard: It goes back to Art Blakey. <laughs> You know, I hate to say it, man, and, you know--
Jo Reed: <laughs>
Terence Blanchard: --what's so funny about you asking me that question, there's so many times when I'm teaching I go, "I know y'all get tired of me saying this, but I'm telling you, Art Blakey used to tell us."
Jo Reed: <laughs>
Terence Blanchard: But it literally goes back to that.  It's about being honest at the end of the day.  That's really what it is, because you have to confront your own bias, you know, in being an artist, and in doing so hopefully you can help heal other souls.  That's the thing, you know.  So that's the thing I try to tell my students all the time.  "Don't lie to yourself.  Don't lie to yourself."  You know, if there's something you need to work on, you know you need to work on it, you know you're deficient in this area, work on it.  It's not going to magically all of a sudden heal itself.  You need to put an effort into it, and I said, you know, when you deal with Christianity, you know, people out there, there's a phrase that comes up and says, "Seek and ye shall find," and I said, "Well, the first word in that phrase is the most important.  Seek."  It doesn't say "ye shall find."  It says, "Seek and ye shall find."  So you got to put some effort into whatever it is that you do, and as long as you put effort, don't lie to yourself and work hard, you'd be surprised what can happen in your life.  The career is one thing, but just in terms of your development as a person and as a human, you'd be surprised what can happen for you if you just put forth the effort to do the work.
Jo Reed: And I think that's a good place to end it.  Terence, thank you so much for giving me your time, for writing this amazing opera.
Terence Blanchard: Thanks for saying that.
Jo Reed: That was jazz musician and composer Terence Blanchard. You can keep up with him at terenceblanchard.com.  Fire Shut Up in My Bones recently aired on the PBS series Great Performances check your local PBS station for details or go to PBS.org and search for Great Performances. You've been listening to Art Works, produced at the National Endowment for the Arts. Follow us on Apple podcasts or Google Play and leave us a rating—it helps people to find us. I'm Josephine Reed, stay safe and thanks for listening.
###
We're celebrating Jazz Appreciation month with an in-depth conversation with composer and jazz musician Terence Blanchard.  Terence Blanchard has a long list of exceptional jazz credentials, but  most recently he's found acclaim as the first Black composer to compose an opera—Fire Shut Up in My Bones—presented by the Metropolitan Opera. In this podcast, he discusses how he came to write Fire Shut Up in My Bones (which was funded in part by the Arts Endowment), the bitter-sweetness of its Met premiere, how he works with collaborators in jazz, in opera and in film—especially his long collaboration with Spike Lee, how composing for film enabled him to write opera, the influence of Art Blakey on his music, the impact of Black Lives Matter on his work, and the joy of playing live with his group the E Collective. Terence Blanchard is thoughtful, eloquent, and gracious  with a deep sense of history and a great sense of humor.
Follow us on Apple Podcasts!