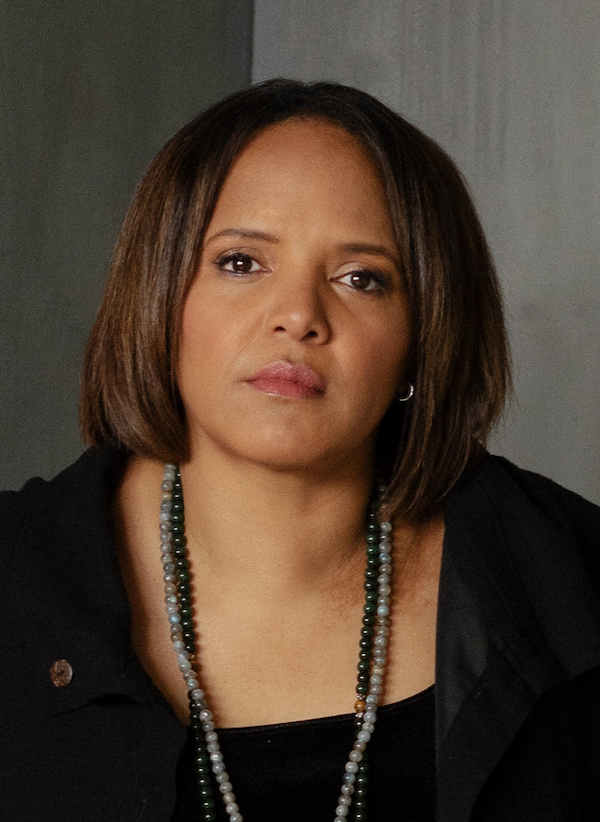 Music Credits:
"NY" composed and performed by Kosta T from the cd Soul Sand, used courtesy of the Free Music Archive.
"Hobo's Flat" written and performed by Terri Lyne Carrington, from the album Real Life Story.
"Monkey Jungle" written by Duke Ellington, performed by Terri Lyne Carrington, from the album, Monkey Jungle: Provocative in Blue.
"Waiting Game," written by Terri Lyne Carrington, performed by Terri Lyne Carrington and Social Science from the album Waiting Game
"Masqualero"  written by Wayne Shorter; performed by the ACS Trio, recorded live at SFJAZZ, November 2015.
<music playing>
Terri Lyne Carrington: I think that an opportunity arises in the face of adversity. I think creative people, which jazz musicians are, are finding ways to still be creative and still do what they're going to do and do what is important to them and I think that most of us have a mission even if we're not able to articulate it. I think that we don't just play because it's fun; I don't think that we play because we think we'll make a lot of money. So I think that it's driven from a place far deeper and these times have made us really buckle down and focus on that more, which I'm grateful for.
Jo Reed: That's drummer, educator, producer and 2021 NEA Jazz Master Terri Lyne Carrington and this is Art Works, the weekly podcast from the National Endowment for the Arts. I'm Josephine Reed. Terri Lyne Carrington has been an innovative and dynamic drummer in jazz since the 1980s. She's known for her versatility as a drummer and the ease with which she can play different genres of music while maintaining a foundation in jazz. We see the same versatility in the many roles she plays throughout music as a composer, a bandleader, a producer and an educator and she's an advocate for social justice and gender equity. To that end, she's the founder and artistic director of the Berkeley Institute of Jazz and Gender Justice. Carrington is also a multiple Grammy Award winner including a 2014 Grammy for best jazz instrumental album for "Money Jungle," becoming the first woman to win as a leader in this category. In addition to producing and performing on her own albums, she's also an in-demand drummer playing on more than 100 recordings. Terri Lyne Carrington has accomplished a great deal artistically as well as professionally and given her age she enjoys an extraordinary career that people far older would envy, but she started young, playing her first professional gig when she was just 10 years old with Clark Terry no less. It helps to have grown up in a house filled with music.   
Terri Lyne Carrington: My father played saxophone and drums and my grandfather was a drummer as well; he passed away about six months before I was born so it just kind of runs in the blood.
Jo Reed: Tell me about music in your house. What would your family be listening to? What were you listening to when you were growing up?
Terri Lyne Carrington: My father played music really loud so I was joking around that I came out of the womb with rhythm but he played mostly blues-oriented jazz, people like Jimmy McGriff, Jack McDuff, a lot of organ trios and things that were easy for a young person to grasp.
Jo Reed: The drums weren't your first instrument even though you started playing them when you were really, really young.
Terri Lyne Carrington: I started playing alto saxophone first, trying to be like my dad I guess. <laughs> Then I switched to the drums when I lost my first set of teeth and started playing drums at seven.
Jo Reed: Do you remember why the drums, Terri Lyne what drew you to them?
Terri Lyne Carrington: I think I started playing the drums because they were there. I was exposed to them at a young age and my father had them set up so I was curious about them and I think that's really key for any young person to have exposure to things that they may find interesting or that they may be curious about. And both my father and my mother were very supportive.
Jo Reed: How influential was your father not just to your musical style but your approach to music, the way you thought about music?
Terri Lyne Carrington: My father was pretty much my first mentor, he's probably my biggest influence especially back then, and of course I grew to have my own opinions and my own thoughts about music but even to this day we agree on a lot because he raised me and he was the person that I tried to be like I think in many ways.
Jo Reed: You played with Clark Terry when you were very young; I think you were 10. Can you tell me about that experience and how that happened?
Terri Lyne Carrington: When musicians would come through the Boston area my father would take me to the clubs to see them often on Sunday afternoons for the Sunday jam sessions and because he knew so many people he would tell them that I played the drums and that I could keep time; I could do something that would warrant them to invite me to sit in with them because I think they either didn't believe him or they just had to hear it for themselves. And so Clark was one of those people and when he heard me he offered me to go to Wichita, Kansas, and that was my first professional gig at 10 years old where I was a guest with his East Coast, West Coast Jazz Giants and that's the first time I ever got paid and flew anywhere. <laughs>
Jo Reed: Shortly after, I think at the ripe old age of 11, you were given a full scholarship to the Berklee College of Music and I think that needs some backstory. How did this happen?
Terri Lyne Carrington: When I was 11 years old I went to a festival where Oscar Peterson was playing; also on the bill was Count Basie and Ella Fitzgerald. Because I met Ella Fitzgerald before I sat with her on the side of the stage to watch Oscar Peterson play and when he came off the stage she grabbed me by the hand and introduced me to him and said I played drums and that he should hear me. I had played with Clark Terry actually the night before. He couldn't believe that so he said, "This I have to hear" and we started playing. The president of the college at the time, Lawrence Berk, and his wife, Alma, were there and they hadn't left the theater yet and they heard me play and offered me a scholarship to the college. So it was actually Oscar Peterson and Ella Fitzgerald that are responsible.
Jo Reed: Not bad musical godparents. Were you going full time? Were you also going to school? How did this work?
Terri Lyne Carrington: I attended Berklee College of Music when I was 11 years old part time until I graduated from high school and then I started going full time, but I went once a week, studying piano and drums and taking some ensembles and also studying African percussion with master percussionist Pablo Landrum and basically I could float around to some different classes and check things out until I got there full time.
Jo Reed: I want to ask you about a couple of your early teachers, mentors, and one of them is Alan Dawson and the other is Jack DeJohnette. I'm curious how they helped you shape your approach to drumming.
Terri Lyne Carrington: Alan Dawson was really important to my development not only because he was my teacher but he was the teacher to my previous teachers and I started with Alan around 14. Somehow between the ages of 14 and 16 I can really see the influence that Alan had on my playing. My technique got much better, my musicality got much better, and I think really he polished my raw abilities better than anybody else.
Jo Reed: What about Jack DeJohnette? I know he was another important mentor to you.
Terri Lyne Carrington: I met Jack DeJohnette when I was about 17. He and his wife, Lydia, were like surrogate parents to me and the coolest thing was they opened me up to so many other styles and genres and just ways of looking at things philosophically, musically, and he never sat down and gave me a drum lesson so to say but he influenced my ideas about music and the direction I wanted to go on instrument and career-wise. So Jack is probably my biggest influence especially as a drummer because the way he played really spoke to me and I had to work hard to find my own voice because I didn't want to just copy him.
Jo Reed: When did you first move to New York City?
Terri Lyne Carrington: I moved to New York when I was 18.
Jo Reed: What was the music scene like in New York City during that time?
Terri Lyne Carrington: When I first got to New York I of course had friends that I had met at Berklee and people I played with in Boston so of course you gravitate to those people. I met Cassandra Wilson and Steve Coleman and the movement that formed that's attributed to M-Base those are the people that I started hanging out with and playing some with, but when I would leave town to go work those gigs were with people like Clark Terry, Pharoah Sanders, people that were from a previous generation, so a lot of my work really came from people that were old enough to be my father or my grandfather and it took a while I think for me to start playing more with people of my generation. And then at 21 I auditioned for Wayne Shorter's group and miraculously got that job because I wasn't sure how I played at the audition, but Wayne said that he felt safe playing with me and I'm not sure what that means still to this day but whatever it was I was grateful for the opportunity to work with him at such a young age and he helped to really shape my ideas about music as well and about life. It was a breakthrough moment for me getting the job with Wayne Shorter. Then when I moved to L.A. in 1989 I got "The Arsenio Hall Show" and that was another breakthrough in a different way and I could see a different direction for my career.
Jo Reed: Since you mentioned it, let's talk about "The Arsenio Hall Show." I was so surprised that you were there for four months; I thought it was much longer. And I would also imagine "The Arsenio Hall Show" would really call upon your musical diversity and really would encourage that kind of versatility.
Terri Lyne Carrington: In 1989, I got the gig to be the house drummer for "The Arsenio Hall Show" and those shows really do take a versatile musician on every instrument and I am-- at heart and my foundation is jazz of course but I always liked blues music and popular music too so my love for those other idioms helped me get that job but I've always considered myself a jazz musician that plays these other things sometimes opposed to the other way around. I was only on "The Arsenio Hall Show" for four months but most people think that it was a lot longer than that. People to this day still remember me as the drummer on "The Arsenio Hall Show" and I'm very proud of that. I had to leave the show because I had an album out and I had to make a choice between supporting the album, which was nominated for a Grammy, or staying on the show and I was led to believe I could do both but it didn't work out that way but I do believe that everything works out the way it's supposed to.
Jo Reed: Let's talk about that album, "Real Life Story," your first album as a leader released in 1989. You were really young. Can you tell me about that experience?
Terri Lyne Carrington: I had a lot of amazing artists on that album, Carlos Santana, Grover Washington Jr., John Scofield, Patrice Rushen, Greg Osby, Dianne Reeves, Keith Jones, Don Alias, Hiram Bullock, but it was more in the style of the music I was playing at the time with David Sanborn and Wayne Shorter, which was electronic, so it was nominated in the contemporary jazz category.
<music playing>
Jo Reed: It was a long time then before you released your second album.
Terri Lyne Carrington: Done some homework. <laughs> That's good. <laughs> Yeah, almost 20 years.
Jo Reed: It was a really long time and in fact you went to Europe to bring out your second album. You went to ACT Music in 2002. It was 2006 before you got a U.S. label. That's a long time between albums as a leader. I wonder if it wasn't because of your versatility that there was this gap in you bringing out records as a leader because record companies couldn't put you in this little column; you couldn't be in this particular slot of a record label.
Terri Lyne Carrington: I think my versatility did not work in my favor as an artist though it seemed to work in my favor as a drummer, and a phrase that kept coming back is, "She's all over the place" and I kept trying to find a focus or a center to make records because it seemed like you need to be in a nice, neat box for labels and for marketing and for the system that puts out music, but gradually independent music became more and more necessary as streaming happened and labels changed and people were able to control their own destiny a lot better. So I decided to make an album, it was called "Jazz is a Spirit," and I decided to use my frequent-flyer miles and pay for the album myself and it ended up being released on ACT Music, a European label, but it was at least my return to being an artist or a leader. And the important lesson for me there is that once I invested in myself my career took off again as an artist-- as a solo artist.
Jo Reed: I wonder, Terri Lyne, if you had women who mentored you. We've mentioned Jack DeJohnette, certainly Wayne Shorter, but were there also women who were helping to guide you?
Terri Lyne Carrington: There were certainly women that I talked to and got advice from, Bernice Johnson Reagon from Sweet Honey in the Rock, Angela Davis and of course people that I worked with like Dianne Reeves, Cassandra Wilson, Dee Dee Bridgewater, but there were not very many women instrumentalists that were able to serve as a mentor because there just weren't that many there. There were many women that I played with and talked to and developed with like Geri Allen and Ingrid Jensen and Renee Rosnes but they were more peers; there weren't so many women from another generation that could show us the ropes. So my mentors were mostly men and they understood gender equity back before people were even talking about it. Wayne Shorter always had a lot of women, Clark Terry too. I think that it's important to give credit to the older-generation musicians that grew up and came through the music in a certain way and recognized that it needed to be different so they took it upon themselves to really foster talent in young women.
Jo Reed: I just don't think having women who were peers to be there with you can be overstated.
Terri Lyne Carrington: Oh, absolutely not. <laughs> One of the problems with gender equity is that women end up playing together and helping and encouraging one another because they don't usually have apprentice relationships, they don't have mentoring from people that have made it, and so they end up playing together, which creates these silos so to say and then you're pigeonholed as a woman musician.
Jo Reed: You had said that you had resisted playing with women-only band for a really long time because you didn't want to be put in a box but then you created "The Mosaic Project," which was all women.
Terri Lyne Carrington: Right.
Jo Reed: You brought in a lot of women musicians who you had played with in the past in various projects and you created one big project, an amazingly successful, wonderful album. What's the backstory there? What made you decide to turn that corner?
Terri Lyne Carrington: A lot of people had asked me to do all-female projects or play all-female festivals and I shied away from that because I didn't want to be stereotyped or pigeonholed, but at a certain point I realized I had been playing with a lot of great women instrumentalists and of course vocalists too and I decided to celebrate that on an album called "The Mosaic Project" and I did it on my own terms and when I was ready and I think that's the key to the success of the project. I wasn't doing it because I wanted attention or because I wanted to bring women's issues to the forefront necessarily; I just wanted to celebrate these amazing women that I had been working with all along.
Jo Reed: I'm really curious, and this is no dig on any male musician at all that you've played with, but what shifted when you were in the studio with all women or when you were on the stage and it was all women?
Terri Lyne Carrington: It took me a long time to recognize any kind of difference playing with all women opposed to playing with all men and I think that's because I'm very comfortable playing with all men; it felt very natural to me. I was always about just however the music sounds and feels and not thinking about gender at all, and then when I was in this trio with Geri Allen and Esperanza Spalding they started talking about their guard being down and feeling something different and that made me look at that and acknowledge it in my own way too. I think for me it was probably not feeling like I had to prove anything and that's the biggest difference because musically I don't really hear gender, I don't hear a difference, but it's all the other things that you feel when you're on stage, when you're off stage, when you're at dinners, all the things that you feel that create trust with people and create an environment that you can really be your authentic self.
Jo Reed: You mentioned Geri Allen and Esperanza Spalding and I'd love to have you talk about playing with both of them.
Terri Lyne Carrington: When I first came to Berklee to teach in 2005 I was introduced to Esperanza and there was something about playing with her that felt like some kind of mystic, cosmic circle had been completed and I think it's that bass-drum connection that I hadn't felt with another woman before on the bass. And I did a gig in Israel where I invited Esperanza and Geri and Tineke Postma to play and there was something magical about that union and that became the seed for "The Mosaic Project," but after we made that record Geri and Esperanza and I formed a trio that was called ACS, Allen, Carrington and Spalding Trio, and I think just that like-mindedness that I have with both of them made it very easy to play and easy to find those zones that you want to find when you're playing.
<music playing>
Terri Lyne Carrington: With Geri being from an older generation than Esperanza, there were certain rhythmic phrases and things in the vocabulary that she used that was very natural to me so we were always connected rhythmically and with Esperanza we were connected rhythmically too; it's just different because the way the bass breaks up the time with the drummer you have to sort of be like-minded with what you think is hip or not. And we never had to have conversations about it like I have had to have with other bass players. <laughs> We just liked all the same things and that made it easy to play with both of them.
Jo Reed: "The Mosaic Project" won the Grammy Award in 2012 for best vocal album. Congratulations.
Terri Lyne Carrington: Thank you.
Jo Reed: And you followed "The Mosaic Project" with "Money Jungle: Provocative in Blue," which was this radical rendition of the '63 recording by Duke Ellington and Max Roach and Charles Mingus. You know what this question is going to be. What compelled you to do that?
Terri Lyne Carrington: I'm so happy to hear you say "radical"; that's a big compliment <laughs> because those are radical musicians. <laughs> I think that if you're going to cover an album you have to do it differently so when I did "Money Jungle: Provocative in Blue" I knew that I couldn't do anything that sounded really like the original album and those are three very strong personalities, very radical musicians so I wanted to just really bring my own spin to that music. And I heard a lot of interviews and read interviews of Duke Ellington's where he was really about the future and not really hanging onto the things of the past like most jazz musicians, and in fact he said that his music was freedom of expression and that he had stopped using the word "jazz" so when I heard that I felt like he wouldn't be offended by the arrangements I did on his songs.
<music playing>
Terri Lyne Carrington: The casting for that album had to be very special too because it had to be people that understood Duke Ellington and Charles Mingus but also understood jazz of the time and of the future and Gerald Clayton was the perfect pianist for that as well as Christian McBride on bass.
Jo Reed: In general, I'm curious how you approach things in the studio. When you're in the studio and you're going to record do you rehearse a lot? Are there a lot of takes? Just tell me how you typically approach recording.
Terri Lyne Carrington: For "Money Jungle" I didn't have a whole lot of time to do the basic tracking, two days, and I sent all the music to Christian and Gerald early and they both really practiced it and came to the studio totally prepared, which was great because that's the last thing you want to happen is to get there when you only have two days and people hadn't looked at the music, which does happen, so for me the easiest way to explain to them what I'm hearing is to demo everything as thoroughly as possible. So I played all the arrangements, sequenced them all, and took some really bad keyboard solos to show where the solos would go, some really bad bass solos on maybe, and I think that doing that really at least helps the musicians see my vision and then take it from there, and of course they can improve upon it but I do think it's good to show them as much information as possible from the beginning.
Jo Reed: "Money Jungle" won the 2014 Grammy for best jazz instrumental album and you were the first woman to receive an award for this and I'm sure you are tired of talking about it but no other woman has won since you won in 2014. Honestly, I had no idea you were the first and only woman to win this. Were you aware of that when you were nominated that no other woman had won before?
Terri Lyne Carrington: I was aware of it when I was nominated because I looked it up. I was the first woman to win a Grammy in the jazz instrumental category and I was also the first woman to be nominated as a leader and it was kind of bittersweet because as happy as I was to win I also realized that there was a lot of work to be done in this area so these victories really inspire me to work harder for gender equity.
Jo Reed: I think because jazz is such an expression of freedom it can be difficult to fully realize it and critique it as part of the same system. It's part of the patriarchal system that we're all in. It doesn't exist outside of it anymore than anything else does.
Terri Lyne Carrington: The idea is-- yeah-- freedom is something as far as I knew that was supposed to be for everybody. We can't continue to have conversations around one set of oppressions and not include the others so we can't continue to speak about race without speaking about gender and vice versa or we're still supporting the same patriarchal structure which is the root cause of all of it, and it doesn't make sense to talk about any of those without talking about environmental justice or animal justice because without a planet none of these other things will matter anyway. So I think that we have to all become more inclusive with our justice consciousness and our justice struggles because they're really all connected and that's what I've grown to understand over the last several years.
Jo Reed: You're responding not just artistically to inequities; you're also responding institutionally. You teach at the Berklee College of Music and you're the founder and artistic director of Berklee's Institute of Jazz and Gender Justice. Can you tell me what your hope is for this institute and for the students who go through it?
Terri Lyne Carrington: A couple years ago I founded the Berklee Institute of Jazz and Gender Justice and so many stories that I had heard from young women was that they didn't feel comfortable in their ensembles, they didn't feel comfortable trying things because they felt ridiculed or criticized by either their teacher especially in high school or their peers so I felt like that was the reason to start the institute so that there was a place where they didn't have to feel those things. I do think we're moving in the right direction. I do think recent times have made people even more conscious and more aware of issues of inequity with race and gender. Over the last five years or so, I've really seen more change and more hope for a better teacher in regard to gender equity. I've seen it not just at Berklee but also at other institutions that I've visited and it seems that people have finally gotten the message that we need to make these kinds of shifts in order for the music to fully develop. There are more women students, there are more women teachers, and there are more male students and male teachers that are concerned with this issue and that's the most important thing to me because nothing will really change if women are the ones advocating for women and it really needs to be across the board; we all have to advocate for each other.
Jo Reed: That leads me right into your recent album with Social Science, which is "Waiting Game." That was nominated for a Grammy Award and "Waiting Game" explicitly deals with themes of social justice. It is an extraordinary synergy of musical language. I want to hear the backstory of "Waiting Game" and your work with Social Science with Matthew Stevenson and Aaron Parks.
Terri Lyne Carrington: Both Matthew Stevens and Aaron Parks would tour with me in different projects and I started to really enjoy the conversations that we got into involving issues and problems that we feel affect us as just human beings in the world but also as Americans so we got together and started writing some music and we got a gig; then we had to round off the band and we pulled in Morgan Guerin and then Debo Ray and then Kassa Overall and once the band was formed after about two years we went in the studio and started cutting the album, which took almost another two years. So it's been a long process but I'm very pleased with the results because I think we were thoughtful with how we wanted to present this music. Most of the writing is between Aaron and Matthew and myself and we have a lot of guest artists as well that contributed spoken word and rap. The idea was for it to be a multigenerational band, a multiethnic band, people from different walks of life coming together, different cultural experiences coming together in unity about these causes and I think we've seen this past year that that's really what it takes for a change to happen.
<music playing>
Jo Reed: The composition of "Waiting Game" is so interesting because the first and second half are very different. The first half of the album is very focused, very produced, very poignant in its lyrical content about injustice, and then the second half Esperanza Spalding joins in and it's extended improvised music and Aaron Park said, which I really loved, that he thought the improvised music demonstrates the democracy in action that people are singing about and wanting and demanding in the first part of the album.
Terri Lyne Carrington: Yes, he did say that. He said it great.
Jo Reed: But when, how, why did you get the idea of doing an album that's a combination of these two parts?
Terri Lyne Carrington: For me, it's just ideas come. I'm grateful when they come, they just come, and there's a spark and that's the creative spark I think that happens. We came into the studio and we were cutting the other tracks and it just so happened that Esperanza was here because of a snowstorm and she was staying at my house and she wasn't even supposed to be here and she just came to hang out for the day, and I said, "Let's just go improvise for an hour without stopping, turn off the lights and not do a second take," and that's what happened. We only got to about 42 minutes because nobody was looking at a watch but that ended up being enough time.
Jo Reed: That was one take.
Terri Lyne Carrington: Oh, yeah.
Jo Reed: Holy moly. I was going to ask you that. That's amazing. What does instrumental music allow you to do that vocal music doesn't and conversely what do the vocals give you perhaps more explicitly than the instrumental part?
Terri Lyne Carrington: That's a great question. In general, I think instrumental music challenges your imagination. You can get hints about a theme and it can feel explicit in some instrumental music and in others you have no idea what the composer is trying to say, but the biggest and the most important thing is that it challenges your imagination and I think as artists that's our job to help you see a different future, to imagine something that's not there in your memory or ideas. With vocal music, it's more a storytelling I think that's inviting you into a scene that the artist wants to share with you; because of the lyrics I mean the story is obvious and it's right there. And I love both equally.
Jo Reed: You've also produced albums and I'm thinking most specifically about Dianne Reeves' "Beautiful Life," which won a Grammy. I'm curious how you approach producing. It's a very different hat to wear.
Terri Lyne Carrington: I think drummers make natural producers. So many of the drummers I know are used to being the leader-- or the de facto leader of a band because we control so many things, the dynamics, the tempo, the forward motion, if the piece feels relaxed or if it feels intense. There's so many things that we're controlling so I think that is a good foundation for producing music. It's just a place that I love to be, creating something from nothing, and so different from live performance; if I were to compare it to filmmaking then I feel like a director.       
Jo Reed: What does being named a 2021 NEA Jazz Master mean to you?
Terri Lyne Carrington: I was quite surprised and shocked to get that call to let me know that I was an NEA Jazz Master this year and at first I think I thought am I too young for this but when I looked at my career of over 40 years I felt like I can't help it that I started early, and I had to just feel good about it myself and I felt grateful that the NEA and the committee felt me worthy and the biggest thing I feel is it furthering my dedication to keep doing the work that I'm doing because you can't be an NEA Jazz Master and slack off. <laughs> It makes me work harder and not less.
Jo Reed: Even though you are young you think a lot about your legacy.
Terri Lyne Carrington: Yeah.
Jo Reed: I'd like to know at this moment in time what you would like your legacy to be.
Terri Lyne Carrington: Everything that we do is contributing one way or another to a legacy. I think creating value with all that we do is what's important and when I realized that my work started changing and I decided not to take gigs for financial reasons or thinking just about myself. When I needed to look at a bigger picture as a decision for the work that I took I realized that everything changed and the universe was supporting my desire to create value in the world, to be mission oriented, to do my part in having a society that I want to live in, to be connected to humanity in a way that makes a difference. So when I think about legacy I'm thinking really about the present moment because that's all we have anyway and I need to do everything I can in the present moment that will eventually make a worthy legacy.
Jo Reed: I think that's a great place to leave it, Terri Lyne. Thank you, and again many congratulations on being named a 2021 NEA Jazz Master.
Terri Lyne Carrington: Thank you. This has been great. Thanks for doing so much homework.
Jo Reed: It was my pleasure truly. Thank you. 
<music playing>
Jo Reed: That was 2021 NEA Jazz Master drummer, producer and educator Terri Lyne Carrington. Mark your calendars for April 22nd. You won't want to miss the celebration of the 2021 NEA Jazz Masters as the NEA in collaboration with SFJAZZ presents a virtual tribute concert in their honor with remarks from Second Gentleman and longtime jazz lover Douglas Emhoff. The fun takes place on Thursday, April 22nd, at 8 p.m. Eastern, 5 p.m. Pacific. The concert's free and available to watch online. You can get full details at Arts.gov and if you can't make it don't despair. You can find the archive at Arts.gov. You've been listening to Art Works produced at the National Endowment for the Arts. I'm Josephine Reed. Stay safe and thanks for listening.
Drummer, producer, educator and 2021 NEA Jazz Master Terri Lyne Carrington is not only a virtuoso musician, she's also a strong advocate for social justice and gender equity. She has spent her life in jazz. Coming from a musical family, she had her first professional gig at the age of ten (with Clark Terry, no less!). By the time she 11, she was a part-time student of the Berklee College of Music. And her career took off from there. In the 1980s, she worked with jazz luminaries like Pharaoh Saunders and Frank West; in the 1990s, she toured with jazz greats like Wayne Shorter and Herbie Hancock. She went on the lead her own groups, and in 2014, she became the first woman to win a Grammy Award as a leader for Best Jazz Instrumental Album with Money Jungle: Provocative in Blue. She brought together women instrumentalists and vocalists for The Mosaic Project tours and recordings. Her recent album Waiting Game with her group Social Science is the definition of artistic intersectionality in terms of race, gender, age, and style. And Carrington is deeply committed to empowering the next generation of musicians--founding and serving as the artistic director of the Berklee Institute of Jazz and Gender Justice. In this podcast, we talk about her early mentors, her development as a drummer and as a bandleader, some of the great musicians she's played with, and her advocacy for gender equity in jazz and society.