Back to NEA Timeline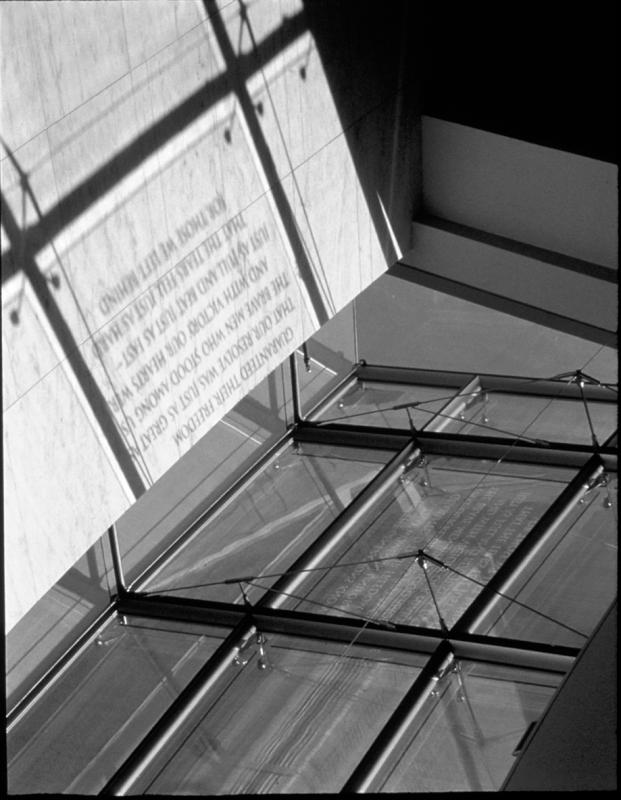 In 1972, NEA Chair Nancy Hanks developed the Federal Design Improvement program, a four-pronged plan for upgrading federal design. As noted in the Arts Endowment's 1972 annual report, the first part of the plan was that "the Federal Council on the Arts and the Humanities…will sponsor annual design assemblies for federal administrators and artists." More than 1,000 federal officials and designers attended the first Federal Design Assembly in April 1973. The Arts Endowment hosted four such assemblies to foster relationships between federal agencies and the design world.
The Federal Graphics Improvement program, active from 1972 to 1981, was a second component of the Federal Design Improvement program. A panel of prestigious graphic designers convened to critique the graphics of participating federal agencies. Ultimately, more than 45 government agencies, including the National Aeronautics and Space Administration and the U.S. Postal Service, revamped their graphics under this mandate.
A third component of the program was the Federal Architecture Project, spearheaded by the Task Force on Federal Architecture. Notable members of the task force included prolific mid-20th century designer Charles Eames and Harry Weese, the designer of DC's Metro stations. As a result of the task force's efforts Congress passed the Public Buildings Cooperative Use Act in 1976, which addressed the underuse of federal buildings and the need for those buildings to be better integrated into their communities. In 1983, President Ronald Reagan inaugurated the Presidential Design Awards program based on an earlier task force recommendation. These awards were for public-funded projects only and were awarded five times between 1984 and 2000. (In 1997, the NEA established a partnership with the U.S. General Services Administration to administer the awards.)
A fourth component of the Arts Endowment's plan for the Federal Design Improvement Program involved a review of the guidelines for "rating and employing artists for federal service." The NEA and the GSA convened a team of advisors, including architects Hugh Hardy and Margaret McCurry. The GSA's focus on design, initiated with the guidelines review, eventually grew into the GSA's Design Excellence program, which is credited with dramatically improving the quality of federal architecture.