National Endowment for the Arts Statement on the Death of NEA Jazz Master Curtis Fuller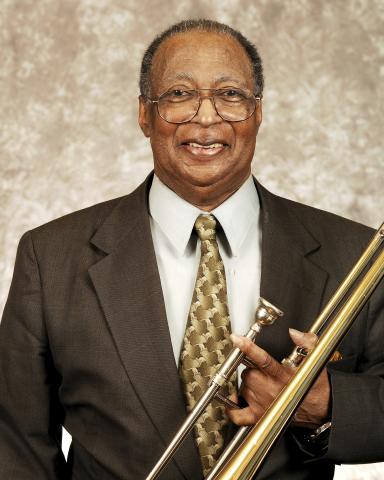 It is with great sadness that the National Endowment for the Arts acknowledges the passing of Curtis Fuller, recipient of a 2007 NEA Jazz Masters Fellowship, the nation's highest honor in jazz. A remarkably fluent trombonist, Fuller's impeccable sense of time and ambitious solos made him a mainstay of the hard-bop scene.
Fuller described finding his voice in a 2007 interview with the National Endowment for the Arts: "Music covers a lot. It's like math because of the different time signatures and things, and it's like English composition because, believe it or not, there's subjects, there's predicates, there's adverbs and verbs, you know. Statements. And you're making statements like that in a group. And it takes time to express oneself like that. To do it right, you know."
Fuller was born in Detroit, Michigan, where he spent a decade of his childhood in an orphanage. His interest in jazz was piqued when a nun at the orphanage took him to see Illinois Jacquet's band, which featured J.J. Johnson on trombone, and he soon took up the instrument. A stint in an Army band (where he played with Cannonball Adderley) helped him mature into a professional with virtuoso skills. After working in Detroit with Kenny Burrell and Yusef Lateef, he moved to New York, where he made his recording debut as a leader on Transition in 1955. He also became a strong presence on the Blue Note label, working with Clifford Jordan, John Coltrane (on the classic Blue Train), and his own The Opener (with Hank Mobley). Always in demand—he also played on late-1950s sessions for Prestige, United Artists, and Savoy—Fuller is the only trombonist to have recorded with Coltrane, Bud Powell, and Jimmy Smith.
In 1959, he became a founding member of the Jazztet with Benny Golson and Art Farmer, then joined Art Blakey's Jazz Messengers in 1961. For the next four years, working in a front line with Wayne Shorter and Freddie Hubbard, Fuller helped make this edition of the Jazz Messengers one of the defining bands of the hard-bop era. In 1968, Fuller toured Europe with Dizzy Gillespie's big band. During the 1970s, he experimented for a time playing hard bop arrangements in a band featuring electronic instruments, heading a group with guitarist Bill Washer and bassist Stanley Clarke. He concluded that phase with the 1973 album Crankin'. Fuller toured with the Count Basie band from 1975 to 1977; co-led the quintet Giant Bones with Kai Winding in 1979 and 1980; and played with Art Blakey, Cedar Walton, and Benny Golson in the late 1970s and early '80s. During the 1980s, Fuller toured Europe regularly with the Timeless All-Stars and performed and recorded with a reconvened Jazztet.
Later in his career, Fuller became known as a master clinician in jazz studies programs, having worked with students and young professionals at institutions including Duke University, Harvard University, the John F. Kennedy Center for the Performing Arts, the New England Conservatory of Music, Skidmore College, and Stanford University. He held an honorary doctorate from Berklee College of Music
Contact
NEA Public Affairs, publicaffairs@arts.gov