Curtis Fuller
Solo Instrumentalist (Trombone)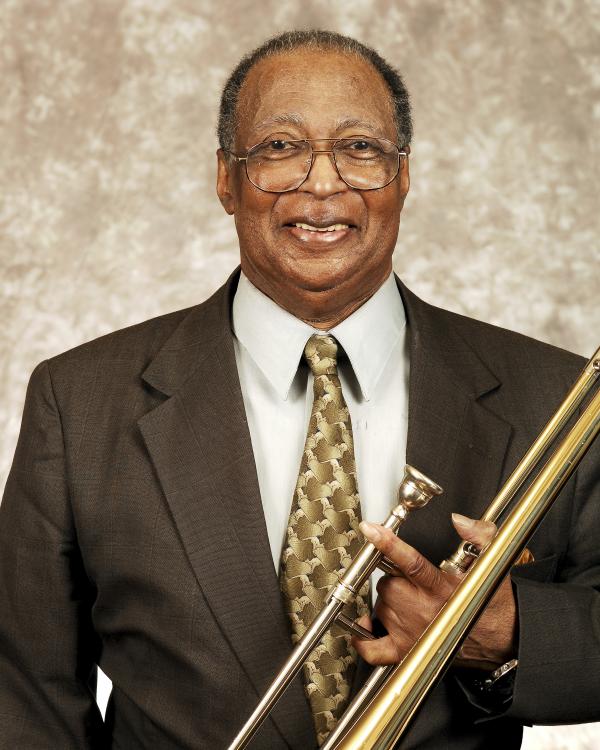 Bio
A remarkably fluent trombonist, whose impeccable sense of time and ambitious solos made him a mainstay of the hard-bop scene, Curtis Fuller was born in Detroit, where he spent 10 years of his childhood in an orphanage. His interest in jazz was piqued when a nun at the orphanage took him to see Illinois Jacquet's band, which featured J.J. Johnson on trombone. He soon took up the instrument. A stint in an Army band (where he played with Cannonball Adderley) helped him mature into a professional with virtuoso skills. After working in Detroit with Kenny Burrell and Yusef Lateef, he moved to New York, where he made his recording debut as a leader on Transition in 1955. He also became a strong presence on the Blue Note label, working with Clifford Jordan, John Coltrane (on the classic Blue Train), and Hank Mobley (on his own recording The Opener). Always in demand—he also played on late-1950s sessions for Prestige, United Artists, and Savoy—Fuller was the only trombonist to have recorded with Coltrane, Bud Powell, and Jimmy Smith.
In 1959, he became a founding member of the Jazztet with Benny Golson and Art Farmer, then joined Art Blakey's Jazz Messengers in 1961. For the next four years, working in a front line with Wayne Shorter and Freddie Hubbard, Fuller helped make this edition of the Jazz Messengers one of the defining bands of the hard-bop era. In 1968, Fuller toured Europe with Dizzy Gillespie's big band. During the 1970s, he experimented for a time playing hard bop arrangements in a band featuring electronic instruments, heading a group with guitarist Bill Washer and bassist Stanley Clarke. He concluded that phase with the 1973 album Crankin'. Fuller toured with the Count Basie band from 1975 to 1977; co-led the quintet Giant Bones with Kai Winding in 1979 and 1980; and played with Art Blakey, Cedar Walton, and Benny Golson in the late 1970s and early '80s. During the 1980s, Fuller toured Europe regularly with the Timeless All-Stars and performed and recorded with a reconvened Jazztet.
In more recent years, Fuller had become known nationally and internationally as a master clinician in jazz studies programs, having worked with students and young professionals at institutions including Skidmore College, Harvard University, Stanford University, the University of Pittsburgh, Duke University, the New England Conservatory of Music, and the John F. Kennedy Center for the Performing Arts. He received an honorary doctorate from Berklee College of Music.
Selected Discography
Blues-ette, Savoy, 1956
Art Blakey and the Jazz Messengers, Ugetsu, Riverside/OJC, 1963
Crankin', MRL, 1973
The Jazztet, Real Time, Contemporary, 1986
Keep It Simple, Savant, 2003
Interview by Molly Murphy for the NEA
January 11, 2007
Edited by Don Ball, NEA
THE EARLY YEARS
Q: I'm wondering if you had exposure to music, because so many musicians have some kind of pivotal childhood experience with music where they either heard a recording or heard a concert or something that made them really gravitate towards music.
Curtis Fuller: I did have some early experiences. My sister -- we were separated when we went to the orphanage -- she was this child prodigy. At an early age she was playing Franz Liszt and stuff like that. Beautiful stuff.
We were very close. We had to be, you know. Parents died very early. I never knew my father. My mother was carrying me and I never saw him.
Q: When did your mother die?
Curtis Fuller: She died right around the time of the second World War, the beginning of it.
Q: So how old would you have been?
Curtis Fuller: Maybe I was just six or something like that, you know. Seven -- maybe close to seven.
The only thing I could remember is that my mother paid for these lessons [for my sister]. I remember them costing four bucks a lesson. It was an older white teacher that used to come to our house. I just remembered the lessons, and when she forgot and left the piano overnight, I would go and practice. I remembered what the lady said, with the left hand it's 1-2-3-4-5, 1-2-3, and the right hand is 1-2-3, 1-2-3-4-5. And I would play up the scale and learn how to do that. My sister had no idea that I was sneaking these little exercises. I learned to play that and I loved music from that point on.
We used to do the Christmas series at the orphanage, and I remember the songs she showed me. She would read it and show me the words. I remember she taught me that as a kid, and I had this cute little kid voice at the time and she played, you know, the duet with me.
I got hooked on the music then, but I was one of the three ethnic kids in the orphanage. There was about 250 kids that were stuck. Parents going off to war, dying, whatever. The war just began. In some parts they were already fighting, but anyway there was a lot of orphans.
This sister there said I was so sad in sitting by myself all the time and said, "I will take you so you can see your people and what they do," and stuff like that. She took me to a theater and I got a chance to see J.J. Johnson with the Illinois Jacquet Band. I was at all-time low as a kid, you know, and I didn't have much pride. There was no such thing as Black Pride or anything then. The only thing we saw as a kid was going to see a Tarzan movie and you see the Africans. It was always something meek or inferior or something.
Q: So how long were you in the orphanage?
Curtis Fuller: Well until I got out, 16, you know, and you had to have working papers. That's why my age got mixed around. I put my age up to work at Kaiser-Frazer so I could get a job.
Q: And did you keep you in touch with your sister through all this time?
Curtis Fuller: Oh we were buddies. Unfortunately she died the same time as John Coltrane, who was my best friend. They both died about the same -- within months of each other. That got me. I left music. I took a job at Chrysler Corporation Import/Export Division, air-conditioning division. I went to this job-seeking place, you know, and they take your education, aptitudes, and whatever, and they stuck me in there as a trainee and I was successful at it and became a manager of our division. I did that until Dizzy Gillespie took me out of it.
Q: So how many years is that?
Curtis Fuller: Well from '67 until '69. Oh, just a couple years. And then Dizzy was putting a band back together, a dream band. Dizzy said, "Where is Fuller?" and everybody said, "Curtis is working on Wall Street. He's not playing anyways." And he sent the guy down and said he was going on a world tour. They wouldn't let me off at first. Then they found out it was Dizzy Gillespie, they said "Go!" and I went and never came back.
THE DETROIT SCENE
Q: So when you got out of the orphanage, did you immediately find yourself in the midst of that Detroit scene?
Curtis Fuller: I just met so many guys from school. Donald Byrd and Barry Harris and Pepper Adams, Tommy Flanagan, and Milt Jackson, but he left. Hank Jones. Hank had left too but Kenny Burrell was still there and I met him. Wardell Gray was still around there. Yusef Lateef. There was just so many guys there.
Q: It was either Tommy Flanagan or Elvin Jones, they were telling me about a club. Was it called The Blue Bird?
Curtis Fuller: The Blue Bird, yes, [owned by] Clarence Eddins. He was a relative of my mother's and he helped me when I got into school. He helped me with the money; he gave me a loan that I had to work off at the club. He put me with Barry Harris and Yusef Lateef, and Barry Harris took to me and said, "Come up my house and I'll show you some scales and stuff." I worked right in with them and then when Yusef left that group, he took me with him to Klein's Show Bar, which is the other club on the West Side. That was like a network in Detroit; we generally stuck together.
There was a lot of love and real closeness. I did make a mistake with the Blue Note people, the fact that I'd always want to use home boys on the records. They said, "Well, Hank Mobley said he wants to record with you." They go, "Why don't you get Hank Mobley?" I wanted to use the Detroit guys because I knew them.
Q: So when you went to New York, was it Alfred Lion you hooked up with?
Curtis Fuller: Well yeah, he came by to see me when Miles brought me to New York. I came with Miles Davis and John Coltrane. I actually came with Yusef Lateef to record and just went down to sit in with Miles, like we used to do in Detroit, and he remembered and he said, "I want you in the group." And so Yusef said, "Well, you got to come back to Detroit to give me a two-week notice so I can get somebody." And I did that and then Miles went into the hospital and then a series of things happened then. Dizzy Gillespie's band I went in. That broke up and then there was work with Lester Young and Billie Holiday. Then James Moody, who was coming out of Birdland. I was just going over there to see who was in there, you know, and then Moody was coming on and he said, "Trombone player?" "Yeah, yeah." So I went with his band, right on the road the next day. It's like God has always had his arms around me. You know, like I'm always just a hair away from the next move, every time.
ART BLAKEY
Q: Tell me about Art Blakey's Messengers. What were the dynamics between the musicians on the stage? Was there one person who was absolutely driving the group or was the magic in it that there was a real communication?
Curtis Fuller: There was a magic in it. Art Blakey would say that Wayne [Shorter] was the musical director but we all wrote music and arranged for the group, you know. You had to be in it for a minute to find out what fits what with what. I remember Benny Golson who became my friend like John Coltrane at the beginning of Blue Train. Little did I know he and Benny Golson came up together. Benny would say, "Curtis, you like to write? Why don't you try to write something for Art?" And I know Benny had did "Blues March," which was a very successful piece and I thought about it and I really wanted to write something with Art Blakey in mind, and I wrote "Buhaina's Delight," which became title of the album. I wrote it for him and it was a signature [song] for him.
Because he knew I had no family and stuff, he took me in to live with his family. I owe a lot to Art Blakey in so many ways. He never knew how much I really cared for him as a human being. Good points and bad points, I really respected him. He was very important in my life. We were all driven by the fact that he encouraged us all to write. There wasn't such a thing as a leader. He forced me to do the speaking for the band and I did all the introductions and payroll and everything and getting airline tickets, the whole bit. Wayne Shorter was laid back. Freddie [Hubbard], he didn't want to bother with that. I did that for a while, so he trusted me for that.
JOHN COLTRANE
Q: Can we talk a little bit about Blue Train? Can you tell me about that recording and your friendship with John Coltrane?
Curtis Fuller: Oh, yes. Yes. My best buddy. John accepted me for what I was, you know. He didn't put any demands and when I went to John during the recordings, he could've had any trombone player he wanted but he chose me. Just like Lester Young did; I said, "I don't think he really wanted me 'cause he always used a trumpet [player]." And Billie Holiday said, "He wouldn't have sent for you if he didn't want you." And that let me have more confidence in myself.
John was taking music another direction. You know, it wasn't just rhythm changes anymore, it was completely different. I made a comment on a record date: "John, you put this music on us on a moment's notice. We got three hours to rehearse this music and we're gonna record?" And that became the title of the song. He wrote "Moment's Notice." It wasn't trombone-friendly at the time, and I walked up to him and told him once "John, I'm uncomfortable, you know." He said, "Oh, you played it. I heard you, the way you played it."
Q: Well it must've been the pressure that lit a fire under you because people still talk about that.
Curtis Fuller: Well, a lot of people don't know that but Blue Train went gold, you know, and it's hard for a jazz album to go gold. It wasn't overnight. I was proud, but I hadn't played the music since that recording date.
THE MAJESTY OF THE TROMBONE
Q: Why did you choose trombone?
Curtis Fuller: I didn't really choose it. At the orphanage, for some reason the flutes, which I liked as a kid, they would give the girls the flutes and the violins. Actually, they gave me a violin first to fool around with, but a teacher told me, "Why are you playing this instrument? Black kids don't play violins." And I stepped away from it, you know, and I saw symphony orchestras, I didn't see anybody like myself. That's why when I saw J.J. [Johnson] in the Jazz Forum, I said, "I think I can do this." You know what I mean? It's a good thing I saw it, you know.
Q: So had you played trombone before you heard J.J.?
Curtis Fuller: No, no. I had a baritone horn. I liked that sound, you know, like from the symphony orchestra. I liked that sound. Later on in life, it really inspired me when I heard Frank Rosolino and then I heard Urbie Green and Carl Fontana with the Woody Herman Band. I just liked the trombone. That's all. It's majestic. It's the closest instrument to the male voice to me, you know. It's the same level you speak on, and I don't have to do the falsetto. I was never really a high person.
Q: For someone who is not familiar with a trombone, can you just briefly talk about what the challenges are specific to playing trombone, versus a sax or trumpet?
Curtis Fuller: The trombone is a position instrument. Well then, you would say so is a bass and a violin. But the bass and the violin, like a piano, is played with the fingers. So that means you have to feel the notes but still the fingers manufacture the notes.
[With the trombone,] you're playing a open-pipe instrument. Just think of the tubing wound around, the inner tubing of the slide. Separate those and put them back to back. That's how much air you're blowing through this tubing. And the enlarged portion is the neck of the bell, and that's what you're playing through. The music goes round and round and it comes out here.
Q: No buttons to push for the notes. I still don't understand how you have the accuracy to find the right note.
Curtis Fuller: Every two-and-a-half inches or something you can make another note, and in fact, you can make quarter tones on it if you wanted to get in the avant-garde plays like they do. They can make so many different sounds from it. Almost like a sitar, you know; the Indian instrument you can do so many things with and make so many different sounds. The way the [trombone] is laid out, the vertical and the horizontal have to be right in touch with each other. You have to coordinate that or you're not going to play a trombone.
Q: Did I hear you call the sound majestic?
Curtis Fuller: Yes. It's a brass thing. It always calls to attention, you know, and in the marching band the trombones were always in the front line because of the slide and that's what you hear.
THE FULLER SOUND
Q: Did you consciously try to develop your own sound or was it something that just evolved? How would you describe your sound?
Curtis Fuller: Well a sound that I heard that was applicable to my desire in what I felt the trombone should sound like. I'm into the sound that sort of implied my very thoughts and my way of expressing myself, you know? J.J.'s sound -- and method and clarification -- was so astute and so gripping that that's the sound I wanted to do. I did it so long that Miles Davis had mentioned -- well Clifford Brown mentioned it to me early on, too -- that I was imitating J.J. Johnson so much. Miles said, "You get your own identity, you know. Play yourself. I love Dizzy Gillespie but I couldn't play that stuff." Then Dizzy told me once, he said, "Right in the middle of that horn you got the sound." After a few comments like that, I began to believe in myself and other players began to acknowledge that I was coming into my own. Listening to Trane and Benny Golson and some people like that, that all helped my productivity and sound and stuff. Development, you know?
Q: I don't know if you can do this, but how would you describe your sound as you perceive it?
Curtis Fuller: Well, I try to be warm. Warm and effective, you know. And sometimes I'm cold and defective. So I'm cold. That's the way water runs. I'm not God, I'm not perfection. I'm just me. On good days I'm all right. Bad days I'm not.
Q: Do you aspire for your peers to perceive you in any particular way? How do you think that you are perceived by other musicians?
Curtis Fuller: Well at one time, I think that the older musicians were very, very kind and accepting me as a trombone player of note or whatever. But God gave me one of my biggest challenges in life when I had my right lobe removed. Just a step away from having cancer and the whole bit. They said if they went in and took it then, I could avoid the whole real deal because it was getting ready to manifest itself in my system. That was 1994. I didn't smoke but I did drink early on and that didn't help. Anyway I came home with that. I had to regroup and rethink the trombone. It made me return to where I was in my development -- early development. I had to relearn the trombone and that's what I'm doing now. I'm like an old student. Here I come again. I'm just trying to sort of get back where I was, a reasonable facsimile, yeah.
When I [first] came to New York I always tried to impress people, play long solos as fast as I could, lightning fast, and all of a sudden Billie Holiday said, "When you play, you're talking to people. So learn how to edit your thing, you know?" I learned to do that. Music covers a lot. It's like math because of the different time signatures and things, and it's like English composition because, believe it or not, there's subjects, there's predicates, there's adverbs and verbs, you know. Statements. And you're making statements like that in a group. And it takes time to express oneself like that. To do it right, you know.
THE STATE OF JAZZ
Q: Any advice for young musicians?
Curtis Fuller: Find your place, your sound, what you're doing. Don't waste time like I did trying to imitate someone or play at something. I think they should go back and research, you know. Just like the medical profession. They don't just give you a torso in the class -- they teach you. It's a process, you know. They teach you a little bit and start with a frog and whenever you do this, you work up to the body in a little bit. Well, you have to do the same thing with music. Go back and check out where you came from. You have to know where you come from in order to know where you're going or know where you've been. It's a learning process.
Q: One last question. Is there a way to describe what sets jazz apart from other kinds of music? What makes it unique?
Curtis Fuller: Ellington said it all very graciously: "It don't mean a thing if it ain't got that swing." The element of jazz: feeling in process and swinging. You can play a ballad in swing, and by that I mean in music generally; I get that feeling when I listen to Pablo Casals or Nadja or Itzhak Perlman. I recorded with the spring session of the New York Philharmonic and I did Cabin in the Sky, the musical, on ABC-Paramount Impulse. I got a chance to sit with the string section with that sound, and they had three hours to do this session and to see those guys stand up, you know, clack their violin with their bows made you feel as though you did a decent job, you know, to get through that.
I was glad that Marsalis came along when he did to show that you can be classical with jazz, and I hope that music evolves that way so we can all be thankful. Benny Goodman did it at a time when the country wasn't ready for him with a black ensemble. Lionel Hampton, Teddy Wilson. He's put his neck on the line, his whole musical career, and that by doing so, that put all of us together long before Martin King. That element of music has brought us together and music should free our spirit. And it will free the mind.
I used to hear this statement of music soothing the savage beast. Billy Taylor took an ensemble to Europe, the Jazz Mobile. And we played with the Russian Circus in tents. We traveled around different countries in tents. Circus and the jazz band. But our tents were set up close to these animals and the guys used to laugh because when I practiced the trombone, the lions, a whole pride of them, would sound like the Anvil Chorus and go, "Whooooo!" You understand where I'm coming from? They were laughing but I was really thinking to myself, "Boy, that's profound." You know, like, it really affected them in some way, that sound.