Artie Shaw
Clarinetist, Bandleader, Composer, Arranger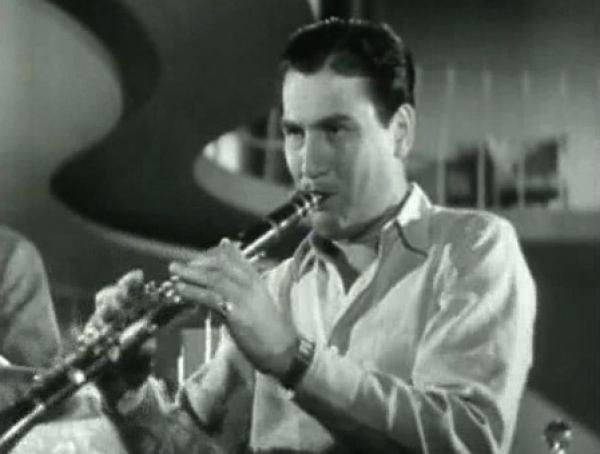 Bio
"Any such description of me as a Jazz Master should properly be made by others.  I am, naturally, pleased by the present appraisal of my work.  As I have often said, 'I did the best I could with the material at hand.'"
Immensely popular and startlingly innovative, Artie Shaw rose to prominence in the 1930s as a swing bandleader, master clarinetist, and boundary-crossing artist, who infused jazz with the influences of modern European composers.
Born in 1910, he left New Haven, Connecticut, at age 15 to tour as a jazz musician. Though based in Cleveland, where he wrote his first arrangements for bandleader Austin Wylie, he later made important road trips with Irving Aaronson's band. The band took him to Chicago, where he played in jam sessions and first heard recordings by Stravinsky and Debussy. Next, in 1929, the Aaronson band brought him to New York, where he played in Harlem jam sessions and came under the influence of Willie "The Lion" Smith. He decided to stay on and at age 21 became one of New York's most successful reed players for radio and recording sessions.
He made his breakthrough in his first appearance as a bandleader at a 1936 swing concert at Broadway's Imperial Theater. To fill a spot between headliners, he performed his chamber composition "Interlude in B Flat"––scored for string quartet, three rhythm instruments, and clarinet––which created a sensation. He then added two trumpets, trombone, saxophone, and a singer, signed a recording contract, and led his first orchestra into New York's Lexington Hotel. During 1938, with a more conventional swing band line-up (which briefly included Billie Holiday as vocalist), he recorded Cole Porter's "Begin the Beguine," which propelled him to the forefront of big band leaders.
After the United States entered World War II, Shaw enlisted in the Navy and was soon leading a service band throughout the Pacific war zone. Upon returning stateside, he organized a new band in 1944, with which he toured and made recordings that included the classic "Little Jazz," featuring Roy Eldridge on trumpet. Over the next 10 years, Shaw worked in Hollywood, toured extensively (including appearances at Carnegie Hall and a performance of Mozart's Clarinet Concerto with Leonard Bernstein and the New York Philharmonic), and continued to record, both with his big bands and with a small group named Gramercy Five.
Although he retired from music in 1954, Artie Shaw continued to enjoy popularity through his recordings and also through a big band fronted by Dick Johnson bearing Artie Shaw's name. The library of the University of Arizona holds his collection of scores.
Selected Discography
Self Portrait, Bluebird/RCA, 1936-54
Begin the Beguine, Bluebird/RCA, 1938-41
The Complete Gramercy Five Sessions, Bluebird/RCA, 1940-45
Artie Shaw at the Hollywood Palladium, HEP, 1941
The Last Recordings: Rare and Unreleased, Music Masters, 1954