Bob Dorough
Vocalist, Composer, Arranger, Pianist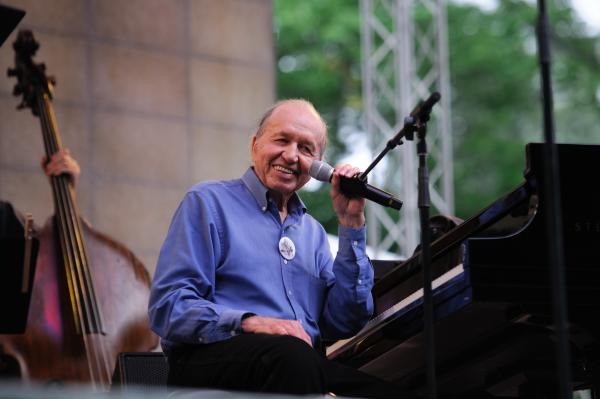 Bio
Although he will forever be associated with his compositions and vocals for the animation series Schoolhouse Rock!, Bob Dorough's career spanned more than 70 years in jazz as a singer, pianist, composer, and arranger. His distinctive vocals, clever lyrics, and strong melodies were well-known in the jazz world even before his jazz-flavored style and skills helped millions of kids learn their multiplication tables and other academic subjects.
Born in Arkansas and raised in Texas, he fell in love with music upon joining the Plainview Texas High School Band, and pivoted toward jazz after hearing Benny Goodman and Harry James recordings. During a three-year-stint in the U.S. Army from 1943 to 1945, he worked as an arranger and musician in a Special Services band, then earned a bachelor's degree in composition at North Texas State Teachers College (now known as the University of North Texas) in 1949.
Dorough relocated to New York City to continue his studies at Columbia University and immersed himself in the vibrant local jazz scene. In 1952, he met retired boxer Sugar Ray Robinson, who was looking to break into show business. Dorough became his musical director and they toured nationally and internationally until Robinson returned to boxing in 1955.
After spending six months working at the famed Mars Club in Paris, France, he returned to the U.S. and settled in Los Angeles, performing as pianist-vocalist in clubs and as supporting act between sets for comedian Lenny Bruce. Dorough's first album, Devil May Care, was released in 1956.
In 1962, Dorough was working on the East Coast when he received a call from Miles Davis, who he had met several years before in Los Angeles, asking him to write a Christmas song for him to record. Dorough composed "Blue Xmas (To Whom It May Concern)" and sang it with Davis as well as another track, "Nothing Like You," used as the closing track of Davis' album Sorcerer in 1967. In addition to Davis, many other performers have recorded Dorough's songs, such as Mel Tormé, Diana Krall, and Cécile McLorin Salvant.
In 1972, Dorough was hired by a New York advertising firm to set the multiplication tables to music to make them easier to learn. It was decided that the songs would make good animation, and Tom Yohe put artwork with the music to create Schoolhouse Rock! Dorough became the musical director of the television series, enlisting other well-known jazz musicians to help write and perform the songs. The animated educational series became a staple of the ABC network's children's programming for more than two decades, and was inducted in 2018 class of the Library of Congress' National Recording Registry.
In 2002, the Bob Dorough Trio was selected for the Jazz Ambassadors Program, a U.S. Department of State program designed to encourage cultural exchange, performing in six countries in the Caribbean as well as Central and South America.
Dorough unexpectedly passed away in April 2018, shortly after having been notified of his NEA Jazz Masters honor.
Selected Discography
Devil May Care, Bethlehem/Rhino, 1956
Various Artists, Schoolhouse Rock!, Rhino, 1972-1985
Bob Dorough and Dave Frishberg, Who's On First?, Blue Note, 1999
Phil Woods, The Children's Suite, Jazzed Media, 2007
But for Now, Enja, 2014