Miles Davis
Trumpeter, Flugelhornist, Composer, Bandleader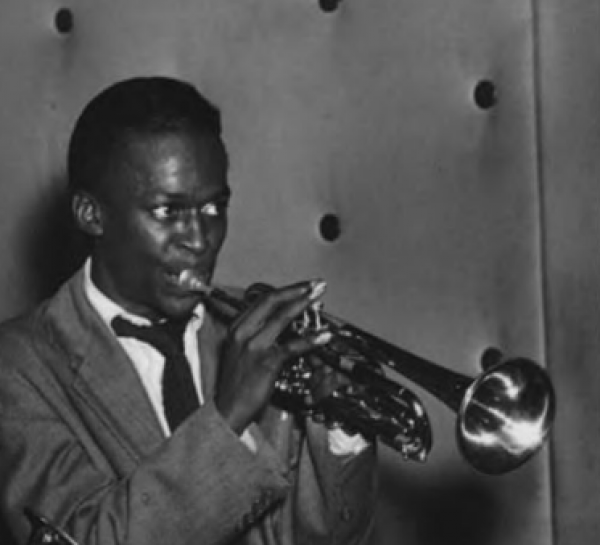 Bio
Miles Davis was arguably the most influential jazz musician in the post-World War II period, being at the forefront of changes in the genre for more than 40 years.
Born into a middle-class family, Davis started on the trumpet at age 13. His first professional music job came when he joined the Eddie Randall band in St. Louis in 1941. In the fall of 1944 Davis took a scholarship to attend the Juilliard School, a convenient passport to New York. It didn't take him long to immerse himself in the New York scene and he began working 52nd Street gigs alongside Charlie Parker in 1945. Soon, Davis found work with Coleman Hawkins and the big bands of Billy Eckstine and Benny Carter.
During the late 1940s, a number of musical contemporaries began to meet and jam regularly at the small apartment of arranger-pianist Gil Evans. Among them were saxophonists Gerry Mulligan and Lee Konitz, and pianist John Lewis. Out of this group of musicians, Davis formed the nonet to record his first major musical statement, Birth of the Cool. In addition to the standard piano, bass, and drums rhythm section, Davis' nonet horn section used French horn and tuba along with trombone and alto and baritone saxophones, lending the band a unique harmonic sound.
In 1955, Davis assembled his first important band with John Coltrane, Red Garland, Paul Chambers, and Philly Joe Jones, adding Cannonball Adderley in 1958. By this time Davis, influenced by George Russell's theories, had begun playing in modes rather than standard chord changes, which led to his most famous album (and the all-time biggest-selling jazz album), Kind of Blue, in 1959. Davis also continued an important musical partnership with Gil Evans, recording four releases in five years: Miles Ahead, Porgy and Bess, Sketches of Spain, and Quiet Nights.
In 1964, Davis assembled a new band of younger musicians, which became known as his second great quintet. This included Herbie Hancock, Tony Williams, Ron Carter, and Wayne Shorter. By this time, the Miles Davis Quintet was recording mostly originals, with all the band members contributing memorable tunes. Davis' horn playing also changed, increasing the spacing of notes to create more suspense in the music.
In 1968, Davis again changed direction, leading the way for electric jazz with the release of In a Silent Way. By the 1969 release of Bitches Brew, as he deepened the electronic elements and rock rhythms of his music, the transformation was complete. By the mid- 1970s, following the debilitating effects of a 1972 auto accident, Davis went into semi-retirement. He returned to the scene in 1980 and resumed touring in 1981, attracting newer fans. From then to 1991, Davis remained vital and popular, receiving the Grammy Lifetime Acheivement Award in 1990.
Selected Discography
Birth of the Cool, Capitol, 1949-50
Kind of Blue, Columbia, 1959
The Complete Live at the Plugged Nickel, Columbia, 1965
Bitches Brew, Columbia, 1969
Amandla, Warner Brothers, 1989