Bobby McFerrin
Vocalist, Composer, Conductor, Educator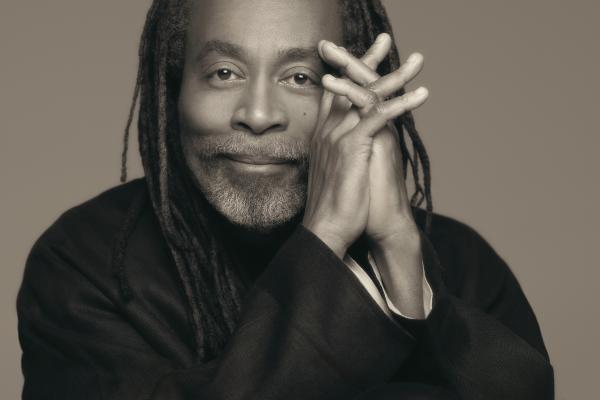 Bio
"My pursuit of music has always been about freedom and joy, finding inspiration in the folk traditions of every continent, composed music like Bach or Ives or James Brown or Bernstein, plus every sound I've ever heard or imagined. In the collective improvisations of jazz, to participate fully, each player brings their universe of influences, so we can listen, lead, and respond to each other in an ever-continuing real-time adventure. And, on top of all that, we actually get to play and to make up stuff for a living too! Thank you NEA for inviting me to be recognized with this honor, among so many of my dearest friends, influencers, fellow players, and some of the most imaginative beings on the planet."
Bobby McFerrin is a master of vocal improvisation, using his four-octave range in various techniques, from scat singing to polyphonic overtone singing to vocal percussion, working both unaccompanied and with instruments. Oftentimes he will sound like an entire band all by himself, sometimes using his own body as a percussion instrument. A ten-time Grammy Award winner, McFerrin has moved comfortably among genres, and has won awards in both jazz and classical.
McFerrin's influences started with his father, who was the first African-American male to play leading roles at the Metropolitan Opera (he sang the part of Porgy (portrayed by Sidney Poitier) in the 1959 film version of Porgy and Bess) and his mother, also a professional singer and teacher. Hearing a variety of music growing up, McFerrin began playing first the clarinet, then the piano, forming a high school jazz band and continuing to play piano in college. At 27, he realized his true calling was singing, and spent the next six years developing his style, with a performance at the 1981 Kool Jazz Festival leading to a contract with Elektra Records. His recordings for the label include The Voice (1984), considered the first solo vocal jazz album recorded for a major label with no accompaniment or overdubbing.
In 1988, McFerrin had a big hit with "Don't Worry, Be Happy," from his album Simple Pleasures. Although the song became an enduring global sensation (the first a cappella song ever to reach top 40 in America), McFerrin moved in a different direction, creating a ten-person a cappella group Voicestra and working with various artists in the classical and jazz fields, including Yo-Yo Ma, Chick Corea, and the Yellowjackets. He has also explored world music, such as on his 1997 release Circlesongs, which comprised spontaneous vocal improvisations on African and Middle Eastern themes.
In yet another turn in his career, McFerrin took up conducting in 1990 (on his 40th birthday) with the San Francisco Symphony after taking lessons from Seiji Ozawa and Gustav Meyer. "The conducting came up only because I was very curious about the art of it," McFerrin noted. Since, he has guest conducted symphony orchestras worldwide, and from 1994 to 1998 was creative director of the St. Paul Chamber Orchestra. During his time with the orchestra, he developed the educational program CONNECT (Chamber Orchestra's Neighborhood Network of Education, Curriculum and Teachers), which provides supplementary music education free-of-charge to local public schools, reaching as many as 5,000 students annually.
In 2009, he and musician, scientist, and author Daniel Levitin co-hosted The Music Instinct: Science & Song, an award-winning PBS documentary based on Levitin's bestselling book This Is Your Brain on Music that looks at how the brain reacts to music performed in a variety of ways. McFerrin continues to perform and tour internationally and participate in music education programs, making volunteer appearances as a guest music teacher and lecturer at public schools throughout the United States.
Selected Discography
The Voice, Elektra, 1984
Spontaneous Invention, Blue Note, 1986
Beyond Words, Blue Note, 2002
VOCAbuLariesS, Emarcy, 2010
Spirityouall, Masterworks, 2013