Chick Corea
Keyboardist, Composer, Arranger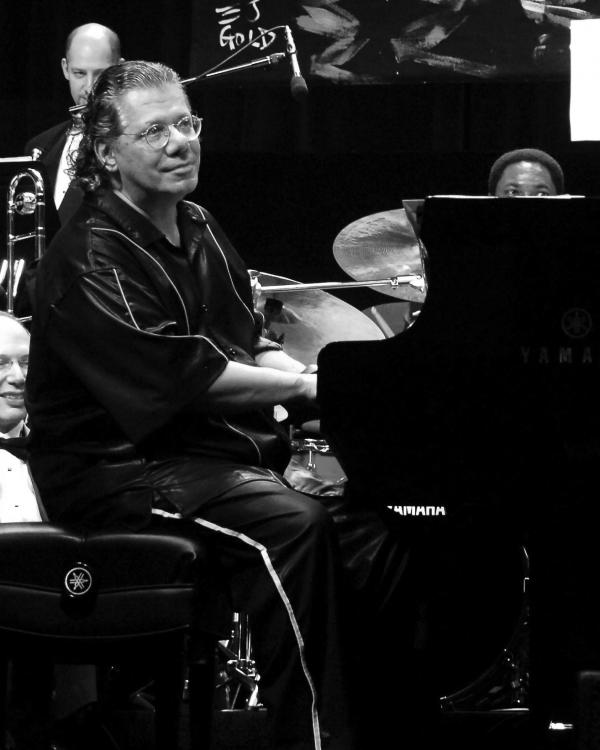 Bio
"I feel totally honored to be in such amazing and beautiful company. It inspires me to learn more and improve everything."
A groundbreaking artist both as a keyboardist (piano, electric piano, synthesizer) and as a composer-arranger, Chick Corea moved fluidly among jazz, fusion, and classical music throughout his long career, winning national and international honors including 23 Grammy Awards. He ranked with Herbie Hancock and Keith Jarrett as one of the leading piano stylists to emerge after Bill Evans and McCoy Tyner, and he composed such notable jazz standards as "Spain," "La Fiesta," and "Windows."
Corea began playing piano and drums at an early age and enjoyed a childhood home filled with the music of Bud Powell, Charlie Parker, Dizzy Gillespie, and Lester Young, as well as Mozart and Beethoven. From 1962 to 1966 he gained experience playing with the bands of Mongo Santamaria and Willie Bobo, Blue Mitchell, Herbie Mann, and Stan Getz. He made his recording debut as a leader with Tones For Joan's Bones (1966) and in 1968 recorded the classic trio album Now He Sings, Now He Sobs with Miroslav Vitous and Roy Haynes. Following a short period with Sarah Vaughan, Corea then joined Miles Davis' group, gradually replacing Herbie Hancock. Davis persuaded Corea to play electric piano on the influential albums Filles de Kilimanjaro, In a Silent Way, Bitches Brew, and Miles Davis at the Fillmore.
In 1971, Corea formed the ensemble Return to Forever with Stanley Clarke on bass, Flora Purim on vocals, her husband Airto Moreira on drums, and Joe Farrell on reeds. Within a year, the samba-flavored group had become an innovative, high-energy electric fusion band, incorporating the firepower of drummer Lenny White and guitarist Al DiMeola. Spearheaded by Corea's distinctive style on Moog synthesizer, Return to Forever led the mid-1970s fusion movement with albums such as Where Have I Known You Before, Romantic Warrior, and the Grammy Award-winning No Mystery. In 1985, Corea formed a new fusion group, the Elektric Band, and a few years later he formed the Akoustic Band. In 1992, he established his own record label, Stretch Records.
On the occasion of his 60th birthday in 2001, Corea put together an unprecedented musical gathering at the Blue Note in New York City. The three-week event resulted in a double CD, Rendezvous in New York, and a two-hour film of the same name. In 2008, he reunited Return to Forever and embarked on a world tour. In 2010, he was selected for the DownBeat Jazz Hall of Fame. In 2016, for his 75th birthday he doubled his stay at the Blue Note, spending six weeks and playing with more than 20 different bands.
Selected Discography
Now He Sings, Now He Sobs, Blue Note, 1968
Return to Forever, ECM, 1972
Live in Montreux, Stretch, 1981
Rendezvous in New York, Stretch, 2001
Chick Corea and Gary Burton, The New Crystal Silence, Concord, 2007