Jean-Baptiste "Toots" Thielemans
Solo Instrumentalist (Harmonica and Guitar)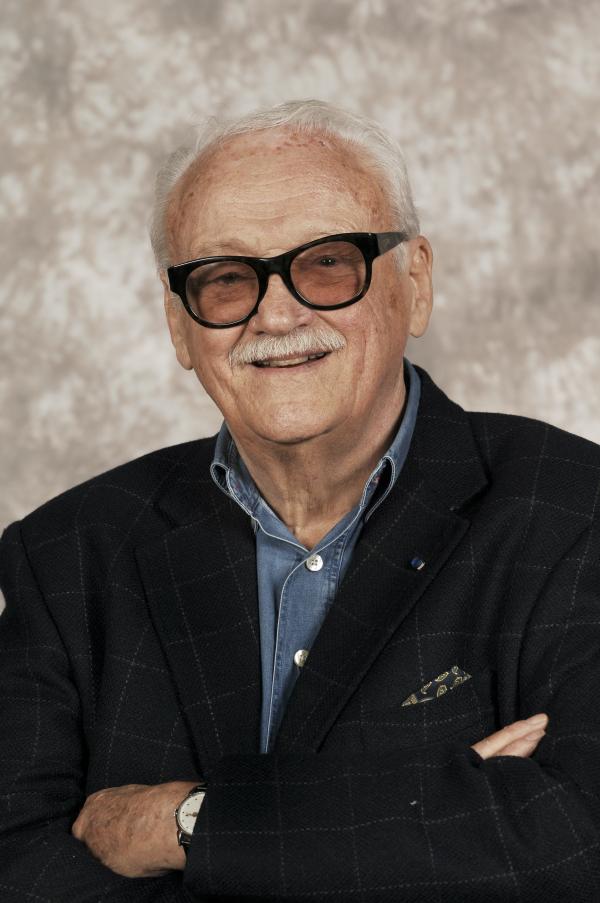 Bio
"I accept this distinction with pride and emotion. Born in Belgium 86 years ago, I played at music until I heard a Louis Armstrong record in 1940. That was instant contamination and Blue Note became my guiding antennae musically and personally."
Harmonica player, guitarist, and whistler Jean Baptiste "Toots" Thielemans was credited by jazz aficionados as being among the greatest jazz harmonica players of the 20th century, improvising on an instrument more known in folk and blues music. Thielemans was known to audiences young and old, his harmonica heard on the Sesame Street theme and his whistling heard in an "Old Spice" commercial.
Thielemans learned to play the accordion at the age of three, took up chromatic harmonica at 17, and taught himself to play the guitar. Influenced by Django Reinhardt and Charlie Parker, he became interested in jazz. In 1950, Thielemans toured Europe as a guitarist with the Benny Goodman Sextet. He immigrated to the United States in 1952, getting a chance to play with Charlie Parker's All-Stars. His performance so impressed George Shearing that he invited Thielemans into his band, where he stayed until 1959.
In 1961, Thielemans composed and recorded "Bluesette" using unison whistling and guitar, and ever since has been greatly in demand—particularly for his harmonica and his whistling—on pop records and as a jazz soloist. Thielemans began freelancing,playing and recording with Ella Fitzgerald, Quincy Jones, Bill Evans, Paul Simon, Billy Joel, Astrud Gilberto, and Elis Regina, among others. He also made prominent appearances on movie soundtracks, notably on The Pawnbroker, Midnight Cowboy, and The Sugarland Express.
Thielemans appeared as a leader of swing and bop quartets on recordings and at international festivals. At the Montreux International Jazz Festival, he recorded as a sideman with Oscar Peterson in 1975, then with Dizzy Gillespie in 1980. Thielemans' two-volume Brasil Project was popular in the 1990s and featured top Brazilian musicians.
A perennial winner of DownBeat readers and critics polls in the category "miscellaneous instruments," Thielemans was called "one of the greatest musicians of our time" by Quincy Jones in 1995. Thielemans received many awards and titles, including the French Chevalier des Arts et des Lettres and honorary doctorates from both universities in the city of Brussels. In 2001, Belguim's King Albert II bestowed on him the title "Baron," making him Baron Jean "Toots" Thielemans.
Selected Discography
Man Bites Harmonica, Riverside/OJC, 1957-58
Do Not Leave Me, Vintage Jazz, 1986
Only Trust Your Heart, Concord Jazz, 1988
East Coast West Coast, Private Music, 1994
Toots and Kenny Werner, Verve, 2001
Interview by Molly Murphy for the NEA
June 2008 Edited by Don Ball
FIRST HEARING DJANGO
Q: How did you first get interested in jazz?
Toots Thielemans: My first [connection] to jazz was, of course, during the German occupation in 1940, when I was a kid. I played accordion. I was born in Belgium in 1922. [When] I heard a Louis Armstrong record, the blue note [became] my guiding antennae. When I started to play, that was 1940. There was no Charlie Parker. And in Belgium, we had some 78s like here, the wax, with the needle and the phonograph. Then after the liberation, of course we heard [jazz] because we could take the English radio in Belgium.
During the war, we could still have musicians -- Django Reinhardt came. Then I won a guitar on a bet. Then I started to play Django Reinhardt and Stéphane Grappelli. In those days, there was not much to learn from American guitar -- no Charlie Christian yet. Django was perfect. The main tree of jazz has branches, what they call maybe today world music: the Arab world; the Indian, the French, the Belgians. That's Django.
Q: Did you first hear Django when he came to Belgium?
Toots Thielemans: No, we had the records. "Sweet Georgia Brown." I love to whistle, too, in unison. Like a flute. And [with] the guitar, you have two instruments playing in unison.
HEADING TO AMERICA
Q: The columnist and photographer William Gottlieb first brought you to America, right?
Toots Thielemans: Bill Gottlieb said, "Hey, I got this guy here from Belgium. And he plays the harmonica." They didn't want to hear about a harmonica. But Bill Gottlieb was trusted -- if Bill Gottlieb says, "Hey, I got this guy, he can play," they will say, "Oh, yeah, okay, let's give him a try."
In those days, shortly after the war in Belgium, we had all those 78s. We'd start with Charlie Parker and Dizzie Gillespie, Sarah Vaughan and I knew that that was the new language or the evolution of jazz, the new sort of grammar. And I was up to that, you know. Then [they] said, "Hey, this guy plays that." That was Percy Heath on bass, Hank Jones, J.J. Johnson. All those guys, the beboppers of those days. And I sat in on the piano. They said, "Hey, come and play, come and play." And then the alternating group was the Lennie Tristano trio. It was the last day I was in America. Before I had to go back to Europe. Then there was an agent who came. "Hey, you're good. Where are you from?" I'm from Brussels. "Oh, I know. That's in Copenhagen." Typical Hollywood, you know.
THE HARMONICA IN JAZZ
Q: I want to talk about the harmonica because I think a lot of people don't know very much about how the instrument works. Children get it and play it like a toy.
Toots Thielemans: See, there's a very interesting anecdote. We were living in Yonkers, New York, and near White Plains there was a school for the blind, the Lighthouse they called it. In those days, I was trying to do studio work and the height of the harmonica was Bob Dylan. I tried to make the jingle scene. I played the guitar and [harmonica], and they called me. "Mr. Thielemans, we know you're the great jazz man but can you play like Bob Dylan?" I said, "No sir." I knew some guys who did it for a studio for a jingle made a fast $37. That was 50 years ago.
Then I got that call to go to the Lighthouse in White Plains, New York. In those days, there was McGee something, a guitar/harmonica duo. [Thielemans is probably referring to the blues duo Brownie McGhee and Sonny Terry.] That's a different thing that I could do. Then I see him do that and I had never seen a blues harp. Then I bought myself 12, one in each key because on this, you can play in one key. I called that fellow from the jingle. "Sir, I think I can [do the gig.]"
Q: You didn't tell me how you initially found the harmonica, why you began to play the harmonica.
Toots Thielemans: That's a good question. That was in Belgium. I was a student. I tried to get a diploma, but I was so bad in mathematics. Somebody said, "No, no, that's not for you." So I bought a harmonica and it cost two dollars maybe in '35. I was 15 years old. I didn't know anything about music and certainly not jazz. French music in those days was Josephine Baker and I played all those songs. I had some knowledge, some note knowledge from the accordion. I played the accordion when I was 4, 5, 6 years old. That's why my song "Bluesette" is a mixture of musette [a type of French music] and blues.
Q: One thing that occurred to me is that your instrument is so portable. Do you carry it with you most times?
Toots Thielemans: No, but I sleep with it next to me. For instance, my night table will be here. And if I'm in some town, even at home when my wife gets up early and I'm still laying in bed or I'm sick in bed, I can still play. Or if you're in Kansas City at the Holiday Inn and you can't sleep at four in the morning, put the blanket over my head and play. A trombone, you can't. It's fantastic.
 "BLUSETTE"
Q: We have to talk about "Bluesette."
Toots Thielemans: Many people recorded it and if I go to Japan or Brazil, they sing with me, they whistle or they hum with me.
Q: Did you sense its popularity when you first wrote it?
Toots Thielemans: No. I didn't write it; it happened to me. You don't write a song like "Bluesette." Twelve bars. That is the nucleus of the song and that's what I wrote down on a piece of paper not to forget it.
I was sharing a dressing room in 1962 at the Brussels University where I flopped so famously in mathematics and my dressing roommate was Stéphane Grappelli. My idol of all time, of course, is Django, but I'd never played with him. And here I am with my [other] idol in the same dressing room. And he was so elegant. And then I played [the song] on the guitar. I warmed up on the chords of "Bluesette" and I whistled it. And I just wrote it down. And then I called it "Blue-ette." That's the name of a flower in the fields, le bluette, the blue cornflower here.
Then in Sweden, I needed a song, I needed a number for a show. I was doing show biz and even monologues in Swedish. I had become popular. I needed a song, [and I told the show's producer that] I have this song here, it was in my guitar case. I had a piece of paper with the beginning of "Bluesette." I wrote [the chords] quickly for the piano player. "What do you call that?" "Blue-ette." "That's the blues, ain't it? Put the 's' in there." See, this is fate really. There's always somebody to help you. Stéphane inspiring me.
Q: Are you saying that when you were in the dressing room with Stéphane, that was the first time you had played that melody?
Toots Thielemans: I found it opening my guitar, tuning my guitar. But the beboppers already played the blues, used those chords on the blues. Cannonball, he used those [chords] and the pianist, Ray Bryant used that tune. The changes, the chord structures, I knew, but I put the melody to it. I put it in the elevators.
SOLOING
Q: I wanted to ask you about how you approach a solo. What makes a good jazz solo?
Toots Thielemans: A good jazz solo? I don't know if you can put the stamp on what is a jazz solo. It's playing on the chords. Playing a variation on the melody.
I don't know a good jazz solo. We have to get really specific what is jazz and again, what is a blue note. The main ingredient of jazz is that blue note.
I can't answer. A jazz solo? What's jazz and what makes a solo a jazz solo? It's a big thing to answer. I don't know. For instance, if you want to show off, then you put too many blue notes or you make a caricature, you become a clone. A clown and a clone. Okay.
It's very important to go back to your question. What makes jazz? Jazz is that feeling. To me, whatever is called jazz, if you call it jazz, certainly, it has to contain or be really full of that ingredient, that African-American ingredient, where it came from. It's a horrible thing to say but without the slaves being brought to America, we wouldn't have Billie Holiday, we would not have had Louis, we would not have had Michael Jackson. You see, maybe it's sacrilegious to use that because it's a human right's violation. Bah! Without that there violation, I would be playing I don't know what in Belgium and Louis Armstrong would have played what in Africa?
Q: How do you continue to be creative?
Toots Thielemans: In those more than 60 years, look what happened. In '45, there was no Charlie Parker, no Dizzy. There was a hurdle for the musicians from the Benny Goodman age, so to speak. Bebop -- they couldn't play, they couldn't negotiate that. Many could but many also could not. Then after bebop, there comes Miles Davis. And John Coltrane. Oh, and I love Brazilian music. They call me Super Toots in Rio. We went in November, a couple months ago. But Brazilian music is sort of a river that runs parallel to jazz and once in awhile, they meet and there's some kind of blue note. For instance, the simplest Jobim melody, "One Note Samba," is pure bebop. Of course, it's not pure bebop, but the skeleton of the melody is the same.
AUDIENCES
Q: I want to ask you about audiences. How do you relate to your audiences and is that an important connection?
Toots Thielemans: No. I close my eyes and they like it or they don't.
Q: So you're not necessarily watching for reactions.
Toots Thielemans: It makes me feel good when people are there. It doesn't matter how many sometimes. An audience of two people can give you more than an audience of 5,000.
Q: Have you always loved performing?
Toots Thielemans: Well, there's a Jekyll and Hyde in me. My career is a mixed salad. What I play, from Midnight Cowboy to "Sophisticated Lady" and John Coltrane. I play all that stuff. I practice.
Q: And the Sesame Street theme.
Toots Thielemans: But a lot of people don't know. I'm never on camera doing that thing.
Q: And you wrote it, didn't you?
Toots Thielemans: No. Joe Raposo wrote all those songs. It was not even one hour of work and I made $37, I think. Because it was a nonprofit making a radio show or TV, no commercials, and you just get union scale. Union scale, one hour, was $37 in those days.
Q: The rest of the world thanks you because everybody knows that song.
Toots Thielemans: But if I play it, then the place falls apart. The jazz police [say], "Don't do that because you're a serious musician." I am, I try to be. I tried to play bebop but with bebop, you don't make a cent. If I just stuck to the jazz idiom and bebop, you don't get a house in Belgium and two cars and nice living.
The jazz police -- I love that, the jazz police -- would say, "Don't play that, man." But I play songs, I play Gershwin, I play "Over the Rainbow," and some film things I did, like Midnight Cowboy. You can do those things in one of the big hotels in Brussels and sleep at home. Even if from Brussels we play in Rotterdam or Amsterdam, where we do often for North Sea Festivals. I have a little band, it's all rehearsed, and I have my own soundman. If we have to play eight o'clock in Amsterdam, okay. Leave Brussels at 5 PM, get there and play, get changed, have a little eat, play nine o'clock. At 11 you're finished. At one o'clock you're in bed at home in Brussels. And you've made more money than here [in the U.S.] in a week. If you go from New York to Boston, you sleep in Boston. If you go from New York to Rochester or Philadelphia, you sleep there.
But even when we play the Gershwin things or "Summertime" or "I Love You Porgy," it's not a complete prostitution. I can still play Duke Ellington, pretty close to what I enjoy. And my songs, you know.