Quincy Jones
Bandleader, Trumpeter, Composer, Arranger, Producer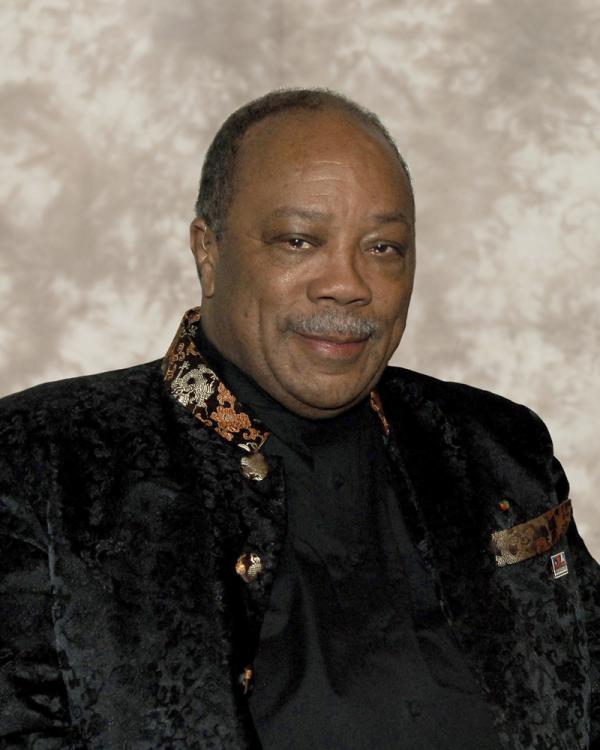 Bio
"It is my esteemed honor to be named a 2008 recipient of the NEA Jazz Master Award. One of the things that I am most grateful for in my life, after my children of course, is that I was born at a time where I was able to witness and play a role in the growth of the only true indigenous American art form, jazz."
Quincy Jones has distinguished himself in just about every aspect of music, including as a bandleader, record producer, musical composer and arranger, trumpeter, and record label executive. He has worked with everyone from Dizzy Gillespie, Miles Davis, and Count Basie to Frank Sinatra, Aretha Franklin, and Michael Jackson.
Born in Chicago in 1933, Jones was brought up in Seattle. He began learning the trumpet as a teenager. He moved to New York City in the early 1950s, finding work as an arranger and musician with Count Basie, Tommy Dorsey, and Lionel Hampton. In 1956, Dizzy Gillespie chose Jones to play in his big band, later having him put together a band and act as musical director on Gillespie's U.S. State Department tours of South America and the Middle East. The experience honed Jones' skills at leading a jazz orchestra. Jones moved to Paris, France, in 1957 and put together a jazz orchestra that toured throughout Europe and North America. Though critically acclaimed, the tour did not make money, and Jones disbanded the orchestra.
He became music director for Mercury Records in 1960, rising to vice president four years later. Also in 1964, he composed his first film score for Sidney Lumet's The Pawnbroker. After the success of that film, he left Mercury Records for Los Angeles to pursue what became a highly successful career as a film score composer. To date he has written scores for more than 35 films, including In Cold Blood, In the Heat of the Night, and The Italian Job.
In addition to his film scoring, he also continued to produce and arrange sessions in the 1960s, notably for Frank Sinatra on his albums with Count Basie, It Might As Well Be Swing in 1964 and Sinatra at the Sands in 1966. He later produced Sinatra's L.A. Is My Lady album in 1984.
Returning to the studio with his own work, he recorded a series of Grammy Award-winning albums between 1969 and 1981, including Walking in Space and You've Got It Bad, Girl. Following recovery from a near-fatal cerebral aneurysm in 1974, he focused on producing albums, most successfully with Michael Jackson's Off the Wall and Thriller, and the "We Are the World" sessions to raise money for the victims of Ethiopia's famine in 1985. In 1991, he coaxed Miles Davis into revisiting his 1950s orchestral collaborations with Gil Evans at the Montreux Jazz Festival, conducting the orchestra for Davis' last concert. Jones holds the record for the most Grammy Award nominations at 79, of which he won 27.
In the 1980s and 1990s, Jones ventured into filmmaking, co-producing with Steven Spielberg The Color Purple, and managing his own record label Qwest Records, along with continuing to make and produce music.
Selected Discography
This Is How I Feel About Jazz, Paramount, 1956
Bossa Nova, Mercury, 1962
Walking in Space, A&M, 1969
Miles Davis/Quincy Jones, Live at Montreux, Warner Bros., 1991
Quincy Jones/Samm y Nestico Orchestra, Basie & Beyond, Warner Bros., 2000
Interview by Molly Murphy for the NEA
January 10, 2008
Edited by Don Ball
FROM CHICAGO TO SEATTLE
NEA:  When did you first get interested in music?
Quincy Jones:  I was in Chicago. We wanted to be gangsters because everybody was gangsters. My father worked for the Jones Boys, and we just wanted to be gangsters because everybody had a machine gun and a stogie, and that's what we wanted to do. Everybody in Chicago, the white and black, you know, Dillinger, Capone, the Jones Boys who my father worked for. You follow people that you think have their eye on how to be successful with your life, you know. You can be wrong too, but that's what we all do. And then I was lucky when we went out to Seattle, and we were in our gangster period, and broke into an armory, which was our recreation center. And I walked over, broke in a room and saw a piano and almost closed the door and then went back in and touched that piano. And every cell in my body said you're going to be in music the rest of your life.
NEA:  Really?
Quincy Jones:  Yep. Eleven years old.
NEA:  And you hadn't really been playing at all?
Quincy Jones:  Never. Never, and that was it. I said, "This is it." And I came from a family where I didn't have a mother. Me and my brother we never had a mother. That's pretty traumatic.
NEA:  When you were in Seattle you met some great musical mentors.
Quincy Jones:  Oh, absolutely. Bumps Blackwell, Ray Charles, Clark Terry, Count Basie, all these guys.
I used to play hooky and go down to the Palomar Theatre because that's where all the musicians were: Billy Eckstine, Bobby Tucker, Sammy Davis, all the musicians. I just wanted to be around great musicians because that's the way you learn, to be around guys that really know what they're doing. I stood the watch and paid attention, and shut up and listened. Basie kind of adopted me at 13. And Clark Terry taught me how to put my horn up so that when I play the high notes it didn't bleed. And he taught me, I think, 12 or 13 [things] not to do. I was just trying to find out who I was. And once I found who I was, hopefully it's to learn how to get good at it, and to get better.
You have to understand. When we were in Seattle, we didn't have a connection with them back east, so we'd wait for every band to come through to hear all the stories, to learn all the new songs that Miles Davis had written and Charlie Parker had written and Tadd Dameron, Fats Navarro, everybody. And we paid close attention. We really were music junkies.
NEA:  What about Ray Charles? How did you guys hook up?
Quincy Jones:  I was 14, and he had a friend take a string and draw it from Florida to the farthest place away from Florida, which is Seattle, and I met him when he was 16 and I was 14. We were friends our entire lives. We used to dream together. We didn't have any role models. There were no Michael Jordans, no Oprahs, no P. Diddys or Russell Simmons or any of that. My father worked for Joe Lewis, but I didn't want to be a boxer. And so I finally saw enough big bands and said, "That's the family I want to be with," you know. They were well-educated, fun, worldly, talented, well-traveled, experienced, and so forth. And I said, "This is the family I want to be in the rest of my life," and I was.
TRAVELING WITH HAMP
NEA:  So tell me about Lionel Hampton.
Quincy Jones:  Hamp heard some things I'd written, and he was a trumpet player, and he tried to get me to join his band when I was 15. And I got on the band bus right away so nobody changed their mind and my parents wouldn't have anything to say about it. And Gladys [Lionel Hampton's wife] got on and said, "Hamp, what's that child doing on the bus?"   And I was so upset. And she said, "Get him off here. Make him go back to school. We'll call him later when he gets his schooling."
And so three or four years later, I had a scholarship to Seattle University, and then to the Schillinger House of Music, which is now the Berklee School of Music. And Hamp called me six months after I'd been there and said, "Let's go." And I said, "I'm ready. I'm ready to go."
NEA:  What did you learn from watching him on the bandstand?   He was such an amazing performer.
Quincy Jones:  Everything we did was rehearsed and arranged back stage, with all these great musicians like Art Farmer, Gigi Gryce, Jimmy Cleveland, and Jerome Richardson. And I would write down eight bars of music for a group of horns, and I practiced before every session. It was like going to school. It's astounding, astounding. There's an old expression that most American jazz musicians shack up with music first, and then they court it and marry it later. That's exactly what happened.
At that time, Lionel Hampton was the biggest band. He was bigger than Louie Armstrong, Duke Ellington, or Count Basie. Hamp's band worked 325 days a year, and I was very lucky to be in that band, you know. I learned so much. And then they took me to Europe and that turned my life around.
EUROPE
NEA:  Can you talk about the reception to jazz musicians in Europe?
Quincy Jones:  Respect, respect. That's what we got was respect. In the States, it was always about black and white and black and white. When we got over there, it was about Armenians and Turks, and Cypriotes and Greeks, and Koreans and Japanese, and the Finns and the Swedes, and they didn't have time to bother with us, you know. And so you were left alone. I had a chance to study with the greatest composition teacher on the planet, Ms. Nadia Boulanger who taught Aaron Copland, who's Stravinsky's and Leonard Bernstein's mentor.
I didn't do that until much later after I'd been corrupted in night clubs, and she knew I was already corrupted, so she never preached to me. And we used to schedule my sessions out at the American School in Fontainebleau in the summer time. She'd schedule my sessions, our teaching sessions, at the end of the day, 6:00 and I'd go to get American canned peaches. She loved American canned peaches, and she'd bring the Beaujolais. She was a fantastic woman, Russian, French, and Romanian. An incredible woman, incredible, and we got very close. We disagreed on a lot of things. A lot of things she said I didn't want to hear because they sort of were against the principles of jazz. I didn't want to hear that. And I learned so much from her.
Nadia Boulanger used to tell me all the time, "Quincy, your music will never be more or less than you are as a human being." It's okay to play fast and all that other stuff, but unless you have a life experience, and have something to say that you lived, you have nothing to contribute at all. So I decided to live my life, and I did.
I went to Paris and Paris was on fire, you know. I mean, God, it was ridiculous. There was respect. I was learning. I was working with Nadia Boulanger studying, and getting a chance that I couldn't get in America to write for strings and big orchestras. (They'd hire me for horns, but never for strings and all, because they didn't think black musicians could write for strings.) So when I got the job with Barclay Records, we had a 55-piece orchestra. It was the house orchestra there, and Kenny Clarke ran drums. Don Byas, Lucky Thompson playing tenor, and the Double Six. That was a vocal group with Michel Legrand 's sister in it that did all of Brigitte Bardot's movies and so forth. And I had some of the best times I've had in my life in France, you know, in every way, musically, and I learned about food, about wine, about everything.