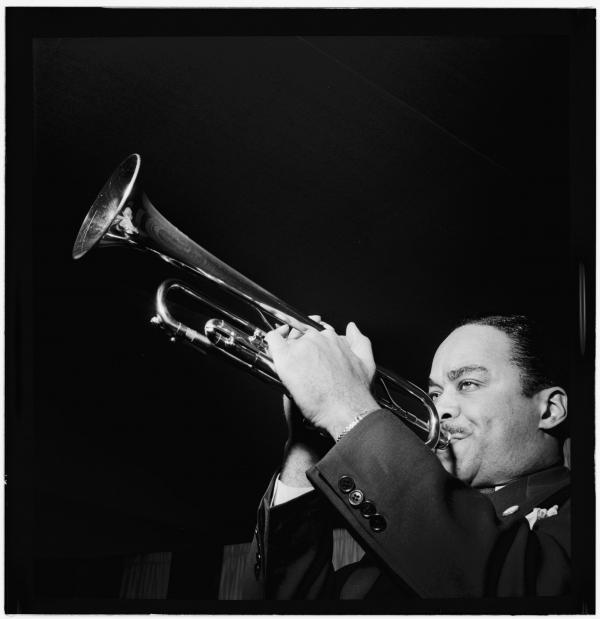 Wilbur "Buck" Clayton
Trumpeter, Composer, Arranger, Bandleader, Educator
Bio
A valued member of a variety of classic big bands, Wilbur "Buck" Clayton was versatile enough to thrive as a bandleader, session man, and trumpet soloist. Clayton first studied piano with his father beginning at age six, taking up the trumpet at age 17. He played in his church's orchestra until 1932 when he moved to California, taking various band jobs. In 1934, Clayton assembled his own band and took it to China for two years.
He joined Count Basie's band in Kansas City in 1936 at the height of its popularity, playing his first prominent solo on "Fiesta in Blue." He wrote several arrangements for Basie, including "Taps Miller" and "Red Bank Boogie," before joining the Army in 1943. Following his discharge, he performed around New York through the end of the decade. Jazz at the Philharmonic tours took him overseas, and he made record sessions with artists like Jimmy Rushing and wrote charts for Duke Ellington and Harry James. In the early 1950s, he partnered with pianist Joe Bushkin in the first of the influential Embers quartets. Other artists he worked with include Benny Goodman, Teddy Wilson, Eddie Condon, Sidney Bechet, and Humphrey Littleton. His ability to improvise in a variety of styles made him much in demand for sessions, especially with vocalists such as Billie Holiday.
Physical issues with his embouchure -- how the mouth forms against the mouthpiece of the instrument -- caused him to relinquish the trumpet from 1972 until late in the decade, when he was able to resume playing for a U.S. State Department-sponsored tour of Africa. By 1979, however, he stopped playing permanently. While he was unable to perform, Clayton wrote arrangements for various bands. That skill was fully exercised when he put together his own big band in the mid-1980s, playing almost exclusively his own compositions and arrangements. He also became an educator, teaching at Hunter College in the 1980s. He continued to freelance for the remainder of his career, spending much of his last two decades teaching, lecturing, and arranging. His autobiography, Buck Clayton's Jazz World, co-authored with Nancy M. Elliot, was published in 1987.
Selected Discography
The Classic Swing of, Buck Clayton, Original Jazz Classics, 1946
Buck Special, Vogue, 1949-53
Jam Sessions from the Vaults, Columbia, 1953-56
Buck and Buddy, Original Jazz Classics, 1960
A Swingin' Dream, Stash, 1988