William "Count" Basie
Pianist, Organist, Composer, Arranger, Bandleader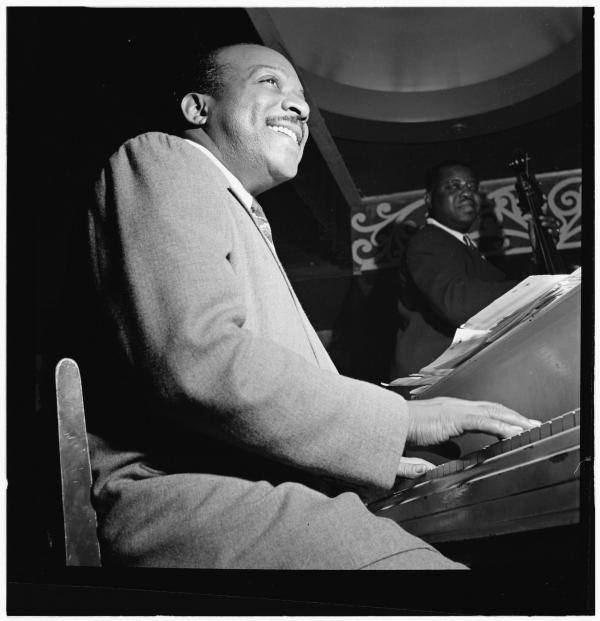 Bio
Though a pianist and occasional organist, William "Count" Basie's fame stems mainly from his history as one of the great bandleaders. Basie's arrangements made good use of soloists, allowing musicians such as Lester Young, Buck Clayton, Sweets Edison, and Frank Foster to create some of their best work. Although his strength was as a bandleader, Basie's sparse piano style often delighted audiences with its swinging simplicity.
Basie's first teacher was his mother, who taught him piano. Later, the informal organ lessons from his mentor Fats Waller helped him find work in a theater accompanying silent films. In 1927, Basie found himself in Kansas City, playing with two of the most famous bands in the city: Walter Page's Blue Devils and the Bennie Moten band. In 1935, Basie started his own Kansas City band, engaging the core of the Moten band. They performed nightly radio broadcasts, which caught the attention of music producer John Hammond. In 1936, Hammond brought the Basie band to New York, where it opened at the Roseland Ballroom. By the next year, the band was a fixture on 52nd Street, in residence at the Famous Door.
During this time the key to Basie's band was what became known as the "All-American Rhythm Section"––Freddie Green on guitar, Walter Page on bass, and Jo Jones on drums. The horns were also quite potent, including Lester Young, Earl Warren, and Herschel Evans on saxophones; Buck Clayton and Sweets Edison on trumpets; and Benny Morton and Dicky Wells on trombones. With a swinging rhythm section and topnotch soloists in the horn section, Basie's band became one of the most popular between 1937- 49, scoring such swing hits as "One O'Clock Jump" and "Jumpin' at the Woodside." Lester Young's tenor saxophone playing during this period, in particular on such recordings as "Lester Leaps In" and "Taxi War Dance," influenced jazz musicians for years to come. In addition, Basie's use of great singers such as Helen Humes and Jimmy Rushing enhanced his band's sound and popularity.
Economics forced Basie to pare down to a septet in 1950. By 1952 he had returned to his big band sound, organizing what became euphemistically known as his "New Testament" band, which began a residency at Birdland in New York. The new band retained the same high standards of musicianship as the earlier version, with such standouts as Frank Foster, Frank Wess, Eddie "Lockjaw" Smith, Thad Jones, and Joe Williams. Foster's composition "Shiny Stockings" and Williams' rendition of "Every Day" brought Basie a couple of much-needed hits in the mid-1950s. In addition to achieving success with his own singers, he also enjoyed acclaim for records backing such stars as Frank Sinatra, Sammy Davis, Jr., and Tony Bennett. Basie continued to perform and record until his death in 1984.
Selected Discography
The Original American Decca Recordings, MCA, 1937-39
April in Paris, Verve, 1956
The Complete Atomic Basie, Roulette, 1957
Count Basie and the Kansas City 7, Impulse!, 1962
The Basie Big Band, Pablo, 1975