Creative Placemaking Resources
Community development efforts in cities, towns, and rural places across the country have demonstrated that artists, designers, and cultural organizations can play an essential role in realizing community-driven transformation. Community development strategies that integrate arts and culture are better equipped to draw upon and support existing community assets, preserve and enhance the authentic character of place, and ensure equitable outcomes for local stakeholders. Creative placemaking, arts and culture can strengthen communities by helping to revitalize local economies, provide rich engagement for youth, advance educational outcomes, create spaces and places where people want to be, facilitate authentic engagement in community planning, reimagine uses for vacant properties, and improve the quality of life for existing residents. To learn more about Our Town, the NEA's creative placemaking grant program, see the Our Town Guidelines.
The following resources have been developed by the NEA and others to support creative placemaking practitioners in advancing positive, equitable change in their communities.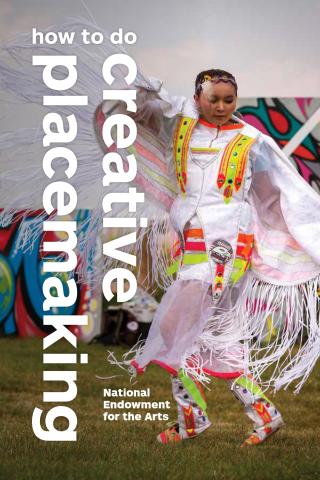 The following resources have been developed by the NEA and others to support creative placemaking practitioners in advancing positive, equitable change in their communities.
How To Do Creative Placemaking Book
This publication includes case studies and essays from leading creative placemaking thinkers describing the diverse ways that arts organizations and artists can play an essential role in making places better across America.
Exploring Our Town
This project profiles from more than 70 past-funded Our Town projects that were previously on the Exploring Our Town site will soon be found here. 
Evaluation Resources
Our Town Program Evaluation
The NEA is continuing to build toward a Program Evaluation of the Our Town program. In 2017, We plan to share forthcoming materials meant to support Our Town grantees and other practitioners as they evaluate the impact of creative placemaking projects in the communities where they are working.  
NEA Office of Research and Analysis Resources on Program Evaluation and Performance Measurement: Introductory resources on program evaluation for arts organizations, plus some sample evaluation efforts focused on past Creative Placemaking projects.  
A Framework for Understanding and Measuring the National Endowment for the Arts' Creative Placemaking Grants Program
Validating Arts & Livability Indicators (VALI): Commissioned from the Urban Institute, this report describes the methodology and findings of a study to validate the NEA's proposed Arts & Livability Indicators. These metrics use national, publicly accessible data to track outcomes of interest to communities engaged in creative placemaking activities. Tools include the report's draft "user's guide" to the indicators and their appropriate use, as well as three case scenarios that demonstrate how the indicators can be applied.
Our Town Knowledge Building
Through the Our Town Knowledge Building program, the NEA has invested in community development and arts membership organizations to build out knowledge on how to do creative placemaking. We encourage you to look at the past grants listed here.
The following are materials and resources that are emerging from current Our Town Knowledge Building projects:
Our Town Technical Assistance
The NEA and The Kresge Foundation partnered to launch of a pilot technical assistance program intended to expand support of creative placemaking. In collaboration with Local Initiatives Support Corporation, National Creative Placemaking Program (LISC) and PolicyLink, the pilot program provided direct technical assistance to 16 grantees across the country.
In order to share effective tools and lessons learned over the course of the technical assistance initiative with the entire field, LISC and the NEA have developed a series of How to Do Creative Placemaking webinars. The series offers practical and tactical advice for local leaders, artists, and community development practitioners; covering topics including partnership, community engagement, and evaluation.
Further resources and tools from the pilot technical assistance initiative are forthcoming.
Additional Resources
NEA Arts Magazine, Are You Ready for the Country: Creative Placemaking in Rural America
This issue of NEA Arts Magazine looks at the creative approaches rural communities have been taking with the arts to help improve their communities socially, physically, and economically.
Rural Arts, Design, and Innovation in America: Research Findings from the Rural Establishment Innovation Survey
Published by the NEA Office of Research & Analysis, this report is important for its groundbreaking work testing arts and economic impact theories in rural contexts.
Our Town: Supporting the Arts in Communities Throughout the United States
This article by NEA Chairman Jane Chu and NEA Design Director Jason Schupbach appeared in the Federal Reserve Bank of San Francisco's December 2014 Community Development Investment Review.
Beyond the Building: Performing Arts & Transforming Place
The "Beyond the Building: Performing Arts and Transforming Place" convening, which was held by the NEA with support from ArtPlace America in November 2014, focused on developing a better understanding of how performance-based arts organizations and the artists they engage practice creative placemaking and transform places through their artistic practices.
Creative Placemaking Publication
This white paper, written by Ann Markusen and Anne Gadwa Nicodemus, was commissioned in 2010 by the Mayors' Institute on City Design, a leadership initiative of the NEA in partnership with the United States Conference of Mayors and American Architectural Foundation. This publication was formative in the establishment of the Our Town program at the NEA.