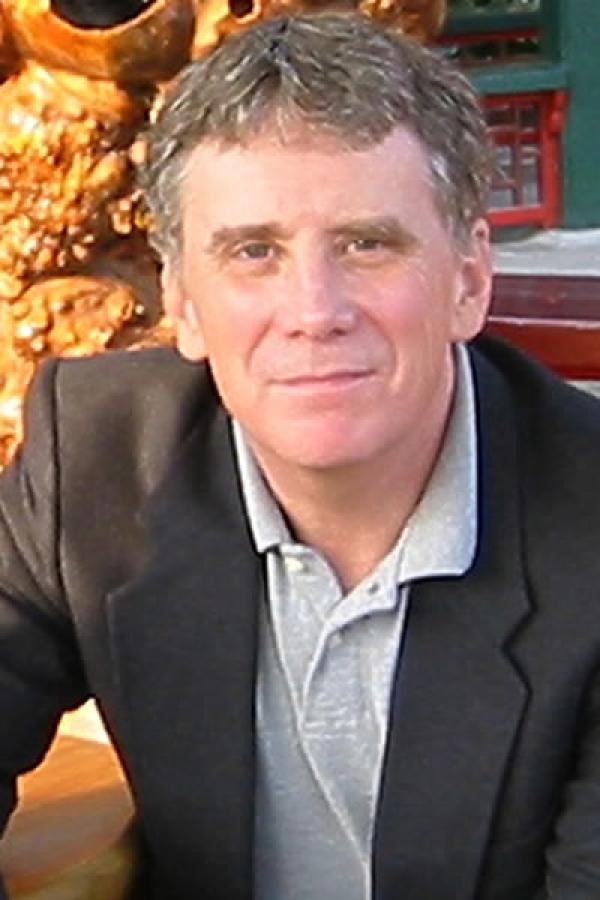 Bio
George O'Connell has taught creative writing and literature at numerous U.S. colleges and universities, as well as in China.  His honors include the Pablo Neruda Award in Poetry, Atlanta Review's International Grand Prize for Poetry, Bellingham Review's 49th Parallel Prize, Marlboro Review's 2003 Award in Poetry, and the 2007 China Journey Award. During a Fulbright professorship at Peking University, he and collaborator Diana Shi conducted a graduate creative writing poetry translation workshop, followed by their co-editing/co-translating the 2008 Atlanta Review China Edition, featuring work by two ancient and fifteen contemporary Chinese poets. Their translations from Mandarin have appeared in North America, Europe, China, and Hong Kong. In 2011, they contributed to Push Open the Window: Contemporary Poetry from China (Copper Canyon Press), sponsored by the National Endowment for the Arts. They recently completed Darkening Mirror: New & Selected Poems by Wang Jiaxin for U.S. publication. Honorary Fellow in the Centre for Humanities Research at Hong Kong's Lingnan University, O'Connell co-edits with Diana Shi Pangolin House (pangolinhouse.com), an international journal of Chinese and English-language poetry. Shi, with whom O'Connell will collaborate on the Lan Lan translation, is the recipient of the Chinese University of Hong Kong's Dawson Lee Memorial Prize in Translation, and also translates contemporary American poets for Chinese publication.
Translator's Statement
As mentioned in the "Art Talk" comments I offered to NEA's blog, classical Chinese and Japanese poetry had everything to do with my beginnings. Researching for an undergraduate East Asian literature class at University of Wisconsin, I first encountered translations by western poets such as Pound, Waley, and Rexroth. They conveyed so much—powerful resonance in few words, strict economy joined with an offhand, even casual grace, the spare Zen elegance of the pure stroke. I saw how the arrows of the shorter poems, time after time, struck dead center. At first I imagined art which looked so simple might be easy to create, until my own naïve attempts proved otherwise. But I had nonetheless stepped onto the path. The intensity and concentration of these poems shaped what followed, and among the western poets I read most, many had been likewise attracted. Though the literature I taught over the years was largely American and British, as were the models for my creative writing classes, I kept faith with my ties to Li Bai and Wang Wei, Basho and Issa. Then I taught a seminar on the influence of Japanese and Chinese work on 20th-century poetry in English, leading a few years after to a Fulbright professorship at Peking University. There I began my real work with Chinese poetry, in some sense repayment to the contemporary for the classical. 
Six years and many translations later, my collaborator Diana Shi and I founded Pangolin House, a new international journal of Chinese and English-language poetry. Our inaugural issue featured poetry by Lan Lan, whose From Here to Here: New & Collected Poems we had begun assembling and translating, confident that readers everywhere would love her richly compelling poems. In recognizing our previous work, and buying time for this current project, the NEA Translation Fellowship is a tremendous gift, advancing as well our efforts with Pangolin House as an intersection for these distinct poetries, East and West, presented bilingually. As anyone who's received an NEA Translation Fellowship knows, the real and enduring value of the honor is both personal and inestimable. It's a gesture from the world, and from one's own nation, that what we labor at in silence is sometimes heard.
SIESTA by Hu Lan Lan
[translated from the Chinese]
Noon. The village sinks

into bright midnight.
In the room, a draft coasts the spine of a dozing man,

the woman lying on a kang-mat, her child at her breast,

their fragrant bodies aligned with earth.
Cicadas drone. At the head of the trough a donkey

flicks its tail at mosquitoes and flies.
Under a squash trellis, a covey of chicks loll in the shadows,

their gold eyes now and then revolving.
The faint sounds of such motions—

the deepest silence in the world.
Kang: A brick platform, heated in winter, on which people in country houses sleep, first laying down a quilted cushion. In summer, the cushion is replaced with a cool, soft mat of woven grass or bamboo.
SOME THOUGHTS
[translated from the Chinese]
The idea of opposing art, a stick of lumber

confronting a tree.  Here entertainment and soirees

refuse the sounds of misery.

A fence hedging out a whole forest.
Art roaming the garden does not mean

the garden is art.  How similar,

all faces under tyranny are one.

Everything comes down to power and gold,

the market's rate of exchange.
For this let's have more urinals.

The printed van Gogh's truer than the wheatfield.

No need for shame at missing the small difference.

They, they.

Baudelaire wanted to beat up the poor

and maybe you, for what? 
Trade demands a smooth assembly line of concepts

from the ignorant, or a devious plot. No one

hears the nameless wanderer's cry,

his finger caught in the jaws of the vise.
Excerpt in Chinese
About Lan Lan
Lan Lan (Hu Lan Lan), born in 1967 in Shandong Province, north China, is one of China's most eminent and prolific contemporary women poets. Winner of most major Chinese literary awards, she has published nine books of poetry, five essay collections, several volumes of fairytales, and edited four anthologies. Her poetry, a powerful mix of supple and sometimes oblique lyricism, is prized for its rich sensuality, steeled irony, and compelling metaphor, all rooted in a profound vision of the natural world and its resonant mysteries. While her work vibrates with life, it is highly crafted, and brooks no superfluities. Whether set in the countryside of her home province, in Beijing's crowded neighborhoods, or on a Swedish shoreline, her poems carry both balm and testament.
Interview by Chad Luibl, July 23, 2013 
Today the NEA has announced 16 grants recommended to support literary translation projects that will bring works of literature into English from 13 languages, including---for the first time---Bulgarian, Haitian Creole, and Macedonian. One of the projects receiving support is the translation from Mandarin of Chinese writer Hu Lan Lan's From Here to Here: New and Selected Poems by poet George O'Connell in collaboration with Diana Shi.
O'Connell is an award-winning poet and translator whose road to becoming a literary translator started with a chance meeting at a dinner party. His poetry and translations have appeared in a range of publications, including the American Poetry Review, Nimrod, and the Southern Poetry Review. He is also co-editor with Shi of Pangolin House, a journal of Chinese and English-language poetry. We spoke with O'Connell via e-mail about falling in love with the art of literary translation, the relationship between his work as a translator and his work as a poet, and how a word or a line-break can make all the difference.
NEA: Do you recall your earliest experience of the arts?
GEORGE O'CONNELL: Assuming you mean other than children's books, religious art and sculpture, or post office murals, the earliest would likely have been through texts in the public library, which is certainly where I first encountered serious poetry---Tennyson as I recall, and various art books. I would have been around nine or ten, old enough to ride my bike to the center of our suburban Chicago town. At home, I browsed occasionally through my mother's college Art through the Ages by Helen Gardner, and, more important to me personally, Myths of Greece and Rome. I don't recall its author, and may not have the title exactly, but its veiled lore and magical transformations fascinated. I also had a tiny crystal radio set, which required no batteries, with a single earphone. Late at night, the aerial wire clipped to my aluminum window frame, I'd lie in bed listening to one of the few audible stations. An unusual broadcast emanated from the city, playing for hours a mix of torch songs, schmaltzy-dreamy tunes, with the host, one Franklyn MacCormack, sometimes reading "poetry" in his sonorous voice. Most of it was popular, sentimental verse from the late 19th and early 20th century, but occasionally something more lively or compelling would slip in, say Robert Burns or a Persian poet. Often I fell asleep with this in my ear. I was also raised Catholic in the days of the Latin liturgy. As an altar boy of eight or nine, I'd memorized the acolyte's Latin responses, grasping some of their surface meaning. Thus quite early I tasted language as incantation, all the more mysterious for uttering it on dark winter mornings before dawn. Though I left all that behind a few years later, something must have entered my bones.
Perhaps because I read a great deal as a child, writing came more or less naturally. Once a fourth-grade substitute teacher accused me of having plagiarized an assignment in which I'd too vividly described a jungle. Though she eventually realized my innocence, I found the accusation secretly gratifying and encouraging.
My male-only high school offered no courses in art or music, but we read a few Shakespeare plays and some contemporary literature. The French teacher was both kind and gifted, leading us to the lusciousness of that language, part of the pleasure I found in poetry and later in other languages. I visited the Art Institute of Chicago with my mother once or twice, but my real exposure to art wasn't until university, when a new world opened through foreign films, music, literature, and the visual arts. I found Shakespeare's hall of metaphorical mirrors especially transformative.
NEA: Why do you believe it's important to support literary translation?
O'CONNELL: The isolation of literary American readers from the wealth of work outside the U.S. is more than unfortunate. It seals us off not only from other ways of being and imagining, but from understanding ourselves and our own culture more deeply, if only by comparison. Conversely, literary translation demonstrates that human beings everywhere have more in common than their differences, confronting as we do the shared joys and anxieties of existence, identity, mortality, and consciousness itself. The value of this awareness in a shrinking and increasingly polarized world seems obvious, both personally and nationally. In such an atmosphere, the NEA, PEN, and a few other institutions, often embattled by less visionary elements, encourage thoughtful exchange among residents of this planet, enabling fuller and truer knowledge of each other as human beings. In an atomized world, that remains one miracle whose effects simply can't be overstated.
NEA: Perhaps you could share with us some of your favorite or most influential poets? What poems do you often find yourself returning to and why?
O'CONNELL: If I confine myself to those poets from the more distant past, I'm constrained to list the usual names: Shakespeare, Whitman, Dickinson, Chaucer, Dante, Homer, though there are so many. For me personally, the classical Chinese and Japanese were enormously influential: Li Bai, Du Fu, Su Shi, Wang Wei, Li Qingzhao; Basho, Issa, Buson, Sei Shonagon. Reading them first in my undergraduate and early graduate years, translated by Pound, Waley, Bynner, Rexroth, Graham, Watson, and others, I had little idea how much this poetry would shape my aesthetic, and, in retrospect, my life. I am still struck by how modern, how timeless, the best of classical Chinese and Japanese work appears through the hands of its translators. These poets' spare refusals of the superfluous, their gaze toward the ordinary, and their charged ambiguities all became models for my own practice, however far I fell short. Partly the effects of the translations, but present in the originals, these qualities were those I prized most in the American poets I was then reading---Pound, H.D., Eliot, Williams, Rilke, James Wright, W.S. Merwin, Gary Snyder, early Bly, Richard Hugo. At the time, they confirmed and nourished my own youthful, hopeful predilections. This was also when I first read Jarrell, Lowell, Bishop, Nemerov, that outlier Robinson Jeffers, and my eventual teacher Donald Justice. One poet I return to as often as to Whitman is Theodore Roethke, both poets leaving me refreshed and re-centered. Roethke's intense yet profoundly physical spirituality entwines with the most elemental aspects of existence on this earth---its soil, its seeds, its waters, its lights and weathers---beholding and articulating its sacral essence. I should also mention my late friend and former colleague Robert Dana, a poet prolific to the very end, whose fine, powerful, accessible, and humane work will not only endure, but enjoy an ever widening audience.
NEA: You are a poet with an MFA from the Iowa Writer's Workshop. How did you become a literary translator?
O'CONNELL: I can answer this in two parts, the first perhaps more entertaining, the second more scholarly and historical. Quite by chance, I met a former director of the Iowa International Writing Program, Fred Will, at a dinner party in the summer of 2003. Though we had mutual friends, we did not then know each other. Having just returned from teaching at a university in Hunan province, he encouraged me to see China "before it changed forever," and provided contact info for a Chinese university headhunter. Six weeks later I arrived in North China, where I would spend the academic year as visiting poet and professor at a Heilongjiang Province university, essentially teaching modern American poetry to senior English majors and young faculty. This was also where I began learning Mandarin, Monday to Friday, eight to noon. At the end of the spring term, a few days before my plane took me back to the States, realizing I needed a few gifts for friends and relatives, I found myself at Panjiayuan, the Beijing flea and "antique" market. Though it later became even more touristicated, I came upon a stall selling genuine maobi, Chinese brush pens, large and small, some from the late 19th century. I bought several, one of which was yellow bone, inscribed with Li Bai's poem "Zhan Cheng Nan" ("War South of the Wall"). I recognized the characters for Li Bai, but could only read a bit of the text. I intended the gift for my friend and former colleague Robert Dana, then Iowa Poet Laureate, who shared my interest in Chinese poetry, and had translated some himself. Of course I thought I should translate the poem before giving him the brush. With the help of a few Chinese friends, I completed a rendering which I've never published, though it was one of my first Chinese poetry translations.
The second part of the answer's longer. When the Iowa Workshop enjoyed its post-war growth under Paul Engle, the curriculum actually included a translation workshop, the first in the English-speaking world. This feature expanded in the 1960s, partly under the aegis of the university's Comparative Literature program. Engle's idea, developed with the help of novelist Edmund Keeley, the eminent translator of the Greek poets Cavafy and Seferis, was initially to pair workshop students with native speakers of each language, either writers themselves or with literary sensitivity, in a tandem effort. When the International Writing Program (IWP) arose in the early 1970s, inviting accomplished writers to Iowa City from around the world, selected Writers' Workshop participants with some foreign language facility began co-translating the visitors' work into English. For many IWP visiting writers, this system produced some of the first really writerly English translations of their work, much of it later appearing in western literary journals. For young poets and fiction writers in the Iowa Workshop, the other half of the team, it provided a skill and a method for making publishable quality translation, an experience which shaped their literary tastes and careers. It also created an enduring international network of poets and writers for whom translation has remained an indispensable part of a life in letters. I should add that on the passionate side, it produced as well a number of actual marriages, some of which still survive. Personally, as I had some French in my background, I enjoyed the invaluable experience of working with two French poets resident in the IWP. Aside from high-school Latin, and French continuing into university, this was my initiation into genuine literary translation. As my first teaching position post-MFA was at Cornell College, quite near Iowa City, I maintained my IWP connection for some years, further enlarging my awareness of literature beyond our borders, and my live contact with translation. Even now, I feel a special kinship for IWP and its activities.
Regarding Chinese translation, as mentioned earlier, I'm certainly not alone among American poets drawn to and influenced by classical Chinese and Japanese poetry. At Hamilton College I taught a seminar in this literature, particularly as it affected 20th-century poetry in English. Arriving at Peking University for a 2005-6 Fulbright professorship, partly to lecture on modern American poetry, I met numerous Chinese poets in Beijing and elsewhere around the country. I soon realized that while there was no shortage of English translation from classical Chinese, very little was being done with what Chinese poets had written over the previous 20 years. The next term, specifically to address this need, I offered a graduate creative writing poetry translation workshop to select grad students in English and American literature, as well as young faculty. In this venture I was blessed to have as research associate a native Chinese speaker not only of acute literary sensibility but highly fluent in English. My future co-translator, Diana Shi, selected from the oeuvres of many contemporary Chinese poets about a dozen to render, atelier-style, over the course of the next semester. From these, and with uncanny skill, she chose specific poems she guessed might translate well. The class format was similar to a typical Iowa workshop, with worksheets of select student translations printed up each week for the next week's discussion and guided but collective revision. By the end of the term, after much labor, we had a fair stack of translations in various stages to further refine. Soon after, a serendipitous invitation arrived from Dan Veach, editor of Atlanta Review, whose International Poetry Award I'd been fortunate to win some years earlier. Dan sought someone to edit and translate a 70-page feature section of contemporary Chinese poetry for a special issue, and had contacted my friend and Peking University Fulbright colleague Professor John Crespi of Colgate Univeristy for advice. When Dan learned I was in China and running a translation workshop, his offer gave us a target and a venue for these efforts. Over the next 18 months, adding more women poets, and some from outside Beijing, Diana and I assembled and refined translations of fifteen contemporary Chinese poets, along with work by two ancient poets as "keynotes." This formed the core of the 2008 Atlanta Review China Edition, launched that spring at Renmin University. We were humbled that our work was well received, both in China and the U.S. After that, we continued translating and publishing these poets and others, many of whom had become personal friends. I also came to understand that this work allowed me to return in kind what I'd been given by classical Chinese poetry.
For poets outside the U.S., it's quite usual to translate. In China, where many of the most eminent contemporary poets are bi- or poly-lingual, this is also true. Wang Jiaxin, for instance, who was Luce Poet-in-Residence at Colgate University not long ago, has translated many U.S. and European poets into Chinese, notably Paul Celan. Xi Chuan, whose English is remarkably fluent, has taught at New York University, and recently finished translating a collection of Gary Snyder. Shu Cai, another English-speaking Beijing poet and editor, speaks fluent French, and is an esteemed translator of French poetry into Chinese---Reverdy, Char, Bonnefoy. European poets, of course, translate frequently. The Athens poet Anastassis Vistonitis is currently translating Wang Jiaxin into Greek from our English, while Miroslav Kirin in Zagreb, also fluent in English, is rendering Jiaxin and others into Croatian. While there are comparatively fewer American poet/translators, there are still a fair number, many working with collaborators. Still, the faltering state of foreign language education in our country is absurd in an ever more interconnected world. The need is certainly there since English is the door for translations everywhere. In my own case, while I enjoy languages other than English, I must confess that my shallow Mandarin would be simply insufficient to translate poetry without a native collaborator. But given that handicap, I'm happy to stand on the strength of our English translations as poetry.
NEA: In your opinion, what are the three most important translated books that everyone should read?
O'CONNELL: Only three? If I confine myself merely to poetry, and still exclude early English like Beowulf and The Canterbury Tales, there would be the Iliad and The Odyssey, counting as one, the three volumes of The Divine Comedy as another, and Rilke's Duino Elegies. (For the latter I'm especially fond of the American poet Gary Miranda's translation.) As long as I'm including by omission, let's also leave out the King James Bible, Tolstoy's War and Peace, and the treasure-house of Proust. Of course this is to say nothing of the great Chinese and Japanese classical poets, as noted above, though their work is scattered among many volumes. The Shi Jing, the immortal Lao Zi?
NEA: Can you briefly tell us about the project your NEA grant will support? Why did you choose this project?
O'CONNELL: We are assembling and translating From Here to Here: New & Selected Poems by Lan Lan, one of China's most eminent and beloved women poets. We began rendering her work in 2006, as part of our Peking University translation workshop, and came to know her well the following year. We've published our translations of her poetry in both the U.S. and Europe, and in January featured her work in the inaugural issue of Pangolin House (pangolinhouse.com), our new international journal of Chinese and English-language poetry. Despite her fame, and having won most of the important Chinese poetry prizes, she still struggles as a single mother with twin teenage girls, surviving largely by her pen and occasional teaching. While a few leading Chinese universities have invited real poets as faculty, her situation in Beijing makes this more difficult. Lan Lan is also known for her courage in speaking truth, at some personal risk, though her focus remains fundamentally aesthetic rather than political.
As I wrote in the NEA application… we believe western readers will embrace Lan Lan's deeply lyric impulse, her archetypal bond with the mysteries of the natural world, and her richly physical sensibility. She is known and loved for all this, but she also writes poems that are stark, unflinching testaments of a strong female voice, and others that cry out against those forces which subjugate so many. In an era when some contemporary poets everywhere tend toward the prolix and prosaic, Lan Lan practices the economies of classical Chinese poetry. Forged carefully word by word, her poems vibrate with life, but brook no superfluities. Her short, terse poem "A Poet's Work,"a miniature manifesto, concludes with these three lines: "A shadow arm swings its arc,/ stroke by stroke hammering the man/ into the silence of the anvil". The tension between the shrewdly chosen word and the surrounding silence is precisely what tightens poetry's string, then plucks it. Lan Lan's poetry may be staged in ordinary surrounds, domestic or otherwise. But its universality is often scored with bracing lyric obliquity, nothing less than her faithful rendition of actual poetic consciousness, tracing and advancing intensely focused thought and feeling, and translating its flux into language. Yet this is to say nothing of her music. A practiced vocalist, [a] mezzo-soprano, her poems are woven of song. It would be easy to say this music is irreproducible in English, but on lucky occasions we've witnessed emotionally parallel English harmonies and dissonances emerge in translation.
Whether set in the countryside of her home province, in Beijing's crowded neighborhoods, or on a Swedish shoreline, her poems deliver both balm and testament.
NEA: What responsibilities do you think a translator has when sharing an author's work, particularly work that has not been translated into English?
O'CONNELL: Of course there's a spectrum of translators, many intending or declaring faithfulness to the original. How each defines that virtue, however, accounts for great differences. Most of us learn very early, perhaps in high school, that minimally passable translation cannot be word for literal word. Beyond that, however, especially if addressing poetry, lie regions of taste, language facility, and poetic sensibility. As co-translators, our personal fidelity is not merely to the surface of the original Chinese poem, but to its craft and spirit---to what the poet might write if in full native-speaking command of contemporary American English. Among the differences between Chinese and American poetries, some arise directly from the interface between such disparate languages. Other differences, plain or subtle, engage varying, often unvoiced expectations of what constitutes good poetry in each literature's contemporary culture. The lines of these expectations may not only differ, but shift over time, and from faction to faction. Contemporary American poets, for instance, may be more likely to mute direct personal emotion than some contemporary Chinese. While this may be partly a western cultural restraint, or the habit of shielding the indeterminate post-modern mind from the all too palpable chaos of life itself, it is definitely part of the atmosphere through which poems are received in English. In the act of translation, if one wishes to afford the poem a fair reading from a serious western reader, some negotiation can therefore be advantageous. Although the actual resolution may be easy or difficult, the broad English dictional range expands alternatives while honoring the poet's intentions.
Since you ask for examples, in the Buddhist poet Yang Jian's muscular and compelling "Nanny Goats, Cows," which we were asked to translate for Copper Canyon's Push Open the Window anthology [published with support from the NEA], a refrain reads "我的心融化了" literally "my heart melted." The refrain occurs twice in the opening stanza, at lines 2 and 12:
On the hillside one year
my heart dissolved,
in my palm
the crumbling nuggets of goat dung
that was grass, green on the ridgeline,
green grass by the road.
I heard a nanny goat
slung head down
from the rack of a bicycle
calling like a girl
"Mama, mama..."
My heart dissolved
into the empty air,
into this human earth.
In this case, the verb "melted" would quite likely be heard by a sophisticated western reader as excessively emotional, clichéd, and sentimental, the dismissible stuff of bad pop songs. This could promptly and irrevocably undermine the poem's aesthetic and authority. Yet by altering the English verb to "dissolved", admittedly a slight change from the original, the question of sentimentality is softly sidestepped, the more neutral, less clichéd verb preserving the image the poet presents, and the readability of the poem. Not all such issues are resolved by simple dictional shift, however.
Poetry translations come in all forms. Some are essentially prose "trots" or "cribs," giving readers a rough, fairly literal sense of the original. Others are largely correct paraphrases or versifications, which inform, but for several reasons don't stir us as readers. These tend to be composed by westerners fluent in Chinese, but with little or no experience composing poetry themselves. Then there are those few, often composed by poet translators, which come to poetic life in the target language. Along the arc of poetry translation, each has its proper and useful place.
NEA: Translating Mandarin Chinese into English requires many more stages than, say, translating from a Romance language. You have described these stages as "unremarkable" despite the persistence and endurance the translation requires. Can you explain what you meant by that? Can you walk us through these stages?
O'CONNELL: I said unremarkable because I imagine other translators work similarly, and the broad outlines of our method seem obvious. Of course describing our method is no formula. The real art lies in what choices one makes in revision, through that conscious and semi-conscious play of one's own taste, ear, experience, temperament, dictional sensitivity, on and on. And those, just as in writing one's own poems, are both individual and partly veiled even as one makes them.
We begin with the entire poem in Chinese characters and punctuation as it was written. Beneath that we arrange the title and each successive line in a triad: Chinese characters, pinyin [transliteration of Chinese characters into Latin script], and literal word-for-word English, following Chinese word order. Beneath this, Diana places a separate rough rendering of the poem in English, following more or less normal English syntax. We then discuss at length the landscape of the poem, its various nuances and ambiguities, its tones, its connotations, the range of meanings for this or that word or idiom. As I begin constructing the English line to line, questions and conflicts soon arise, which we address as needed. Better understanding informs successive revisions, and the poem begins to take shape in patterns similar to writing an original poem, in which some sections come clear earlier than others. Similar too is the selection of language and phrasing for precision, resonance, metaphoric fluency, effective rhythm, clarity, avoidance of dysfunctional ambiguity, etc. Just as in one's own poetry, unfortunate rhyme rears more often than readers might guess, as does inapropos alliteration or assonance. Sometimes the most opportune spot for a line-break may present at a different point than in the original, only one of many such negotiations. Chinese sentences may also run on to a fair length, scarcely or wholly unpunctuated, when their digestibility in English may benefit from a judicious comma or two, or a break into two sentences. There is also the struggle to eliminate or erase intrusive vanity in tone that may creep into the translation, or the strut of needlessly elevated English diction. Finally comes the most difficult phase, assuming the poem has survived this far, of the last revisions, where the placement of a single word or a single line-break arrives by intuition, but in retrospect, proves decisive. The number of revisions varies unpredictably---we manage sometimes with five or six, but these are the exception.
Here's a look at a typically initial page in the process, along with a few more along the way until completion. The poem in this case is "My Sisters," which went through 10 drafts before completion. Most of the moves, I think, are self-explanatory. The final alteration, with draft 10, changes the preposition in the last line from "into" to "in." The closing image emerged quite stark in its graphic and palpable demonstration of mortality.
NEA: You work with a collaborator, Diana Shi. Can you tell us about the role of collaboration in your translations?
O'CONNELL: The history of American-Asian poetry translation amply demonstrates that the best art is often created by native English-speaking poets working with aesthetically skilled native source-language partners. This is particularly true when the target-language translator is less fluent in the source language than the average sinologist, as is frequently the case with American poets, including myself. It also seems clear that such poet translators tend to offset their source language deficiencies by literary skill in the target language---specifically in that dance of intention and surrender which dwells at the heart of poetry and the finest translation. When we're lucky, it's that which transfuses life into the process, yielding a new poem, reborn in a new language.
However familiar one might be with the give-and-take of poetry translation, or even poetry creation, it's useful to consider the challenges of actual composition. The poetic level of translation we work toward engages multiple ambiguities and resonances occurring in both languages, as well as linguistic and cultural connotations. This labyrinth is best threaded with an accomplished literary native speaker as co-translator throughout the entire process. Diana is conversant with the practice and aesthetics of both Chinese and western contemporary poetry, particularly American. By some small miracle, from the beginning of our professional relationship, our literary and aesthetic tastes coincided almost invariably. In our translational process we function as a team. After we discuss a particular poet's work, she selects individual poems likely to translate well, rendering an initial literal plus the pinyin, then a rough English translation, as described elsewhere in this interview. She reads and judges at numerous points through the poem's subsequent development, which often takes us through many drafts. We glance frequently at the original as the poem builds in English, correcting our course this way or that as we go. Her English facility and literary acumen is very high, so she advises not only on the fidelity of the final drafts to the Chinese, with all its nuances, but on the poetic character of the translation in English. She is, in short, indispensable.
NEA: You've said it's "uncertain" if a poem will come through translation well, and the process is often "arduous" and "unpredictable." Can you speak more about that uncertainty, the risks involved in translation? How do you recognize an "untranslatable" poem if such a thing exists, or how would you define it?
O'CONNELL: Some contemporary Chinese poems may present issues for modern western readers that impede a fair reading. These may have less to do with language or subject than with depiction of emotion in ways we might find excessive or sentimental. In other cases, repetition not evidently intended for effect may seem clumsy or heavy-handed. Fewer Chinese poetry readers are bothered by either of these issues, though they may swiftly disqualify the poem's authority for serious American or European readers. If a poem veers too far in these directions or others, we consider foregoing it. On the other hand, there are categories of supposed untranslatability that have more to do with sound. While the deeply musical Duo Duo's syllables charm even non-Mandarin speakers, most Chinese readers will pronounce Duo Duo simply untranslatable. They're right, up to a point. But one can, with patient persistence, create a Duo Duo translation that still dazzles and enchants, though its music rises from its English.
Fretting whether the English music parallels the original seems quite beside the point---it's simply what's available in our language. At any rate, Duo Duo's poems offer a rich imagistic tapestry, set with sudden juxtapositions or interwoven temporalities, striving less for clear narrative than a jazzy expressionism through multiple angularities. These aspects may be difficult to translate well, but they are in the end translatable. There are occasionally poems whose references are so particularly cultural or historical that their terms or contexts would be opaque to non-Chinese. Though we prefer an uncluttered page, it is always possible to use, for instance, an italicized Pinyin word or phrase, then footnote it. I should say that in today's China, with its cars and washing machines and superhighways, such issues appear less frequently.
If it's impossible to fully translate a poem, it is often possible to translate something. And in place of the untranslatable, the best translators often discover possibilities in the target language to offset or replace what's lost. I hold the view, heretical to some, that beyond cultural differences, the human condition everywhere is, after all, the human condition. Thus that translatable something may be very much indeed. If we remain open, there is more to be gained by cross-fertilization than we can easily say. I've come to believe the process is part of the earth's own evolution toward wholeness. When the wind and the words are right, literature, especially poetry, strikes chords deep within us that belong to the essence of life, shared by all, regardless of era or nation. It's then the words or characters uttered on the page, as Pound suggested, become vibrating nodes of possibility, images through which powerful thoughts and feelings rush in and out, having everything to do with what we are.
NEA: You said that translation "follows the risks and surprises inherent in writing an original poem." How does your work as a poet inform your work as a translator and vice versa?
O'CONNELL: I agree with the poet Hans Magnus Enzensberger's succinct declaration: "What is not itself poetry cannot be a translation of poetry." It's also wise to remember that all utterance, even in one's native tongue, is translation---from thought to word to phrase to line. In writing the original poem, the poet inhabits at least part of the time a space between sensation, recalled or imagined, and its incarnation as language. A good translator, guided by the signs and trailmarks of the original, enters such space as well, from which to see, hear, smell, feel, and taste those thoughts and sensations, then name them anew in the target language. This, I believe, leads to the truest translation, since it admits the observing mind to the living ground and emotional nexus from which the first poem sprang. We might even say this is where the secret shape of the poem resides, its inner source and occasion, beyond or above, beneath or between language. When the poet-translator imaginatively enters this place, breathing the free air of imagined sensation before naming, he or she has a far greater chance to bring any translation to life.
For poets who translate, the experience of passing their own original poems through such process, as well as the disciplines of craft, determine how well their translations operate as poetry. Among other things, craft teaches us to phrase with evocation and economy, the latter being one source of grace, and not coincidentally a chief legacy of Chinese and Japanese classical poetry. As Flaubert once asked in a letter to George Sand, "Why should the greatest compression of thought always result in a line of poetry?" Compression and excision leave room for the words that count, as the silence left by these removals amplifies the latent resonance of what's left. If we fail to handle the target language with craft and economy, or fail to potentiate syntactical drama, we are usually left with a paraphrase, not a poem.
In both original poetry and its translation we struggle to find words and phrasing which shape that complex verbal artifact we call a poem. Technically, in making or translating a poem, the struggle with language's limits and possibilities is largely parallel, as is the potential for discovery, because we are making a poem in either case. If each small success in translation feeds back the skill and faith through which it was accomplished, so do the skill and faith one calls upon in writing poetry. Fundamentally, if these arts are not identical, they're very close.
Just as creativity in the original language thrives on a healthy oscillation between conscious intention and subconscious impulse, between deliberately steering the language toward evocative accuracy and letting the words' own pressures fill the sails, so the most successful translators are equally involved in such a fruitfully erotic relation with the poems they translate. When we say a translation is faithful, I believe with the American poet and translator Jane Hirshfield that such fidelity is about an "attentiveness and flexibility...as individual as those that make for a good marriage." That is to say selfless love, a willingness to risk, and a certain abandon lie at the core.
NEA: At the NEA, we say "Art works," referring to works of art, the way the arts work on people, and also the fact that artists are workers who contribute to our economy. What does the phrase "Art Works" mean to you?
O'CONNELL: One of the difficult truths for students learning to write imaginatively, including the art of translation, is how much labor's involved, unless one's another Mozart, and even Mozart revised internally. Among the many poets I know and respect, however brilliant, all struggle with the work, recasting and refining until they get it right. This is how the compositional process accretes power and succinct grace, moment by attentive moment, and how larger forces, call them what we will, enter the artifact. It's this which allows us, step by step, and sometimes in one flash of utterance, to transcend our individual limitations. The work of writing is work, putting words in and taking words out, jockeying phrases, cutting what looked lovely in yesterday's draft, striving to capture, recreate, rematerialize, and somehow balance the whole truth of human experience as best we can. Of course while it's easy to demonstrate the financial spin-offs of symphony performance or museum attendance, literature bears on a culture more subtly. Stimulating and occasionally raising the consciousness of readers is nothing less than offering them fuller, deeper life. While it's foolish to be utilitarian, it's also undeniable that literature builds imagination, compassion, creativity, and flexibility in every field, including science, business, good journalism, and all the rest. No one can chart this effect, but the consequences of its presence, or its absence, are pervasive and evident everywhere.