Creative Forces: Clinical Therapy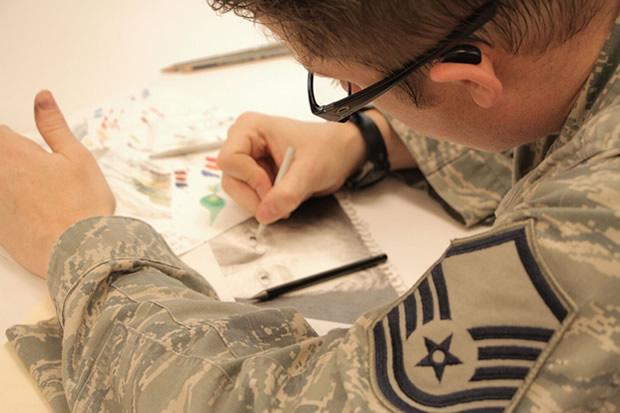 In clinical settings, creative arts therapists provide art, music, and dance/movement therapies, as well as therapeutic writing instruction, for military patients, veterans and their families. As part of Creative Forces, creative arts therapies augment the many different types of therapy offered as part of patient-centered clinical care. Creative arts therapies aren't "nice to have" capabilities in this model of care, they are "NEED to HAVE" services.
Creative Forces creative arts therapists deliver an estimated 1,000 treatment sessions per year, reaching about 200 new patients every year. Typically, a patient treated by a Creative Forces creative arts therapist has multiple sessions to ensure therapeutic goals are meet. National Endowment for the Arts-supported creative arts therapists delivered more than 17,000 treatment encounters in 2019.
The Arts Endowment funds creative arts therapists, associated research and performance measurement, equipment, and supplies at selected clinical sites across the nation, including telehealth services for patients in rural and remote areas. Administrative support for this work is provided by the Henry M. Jackson Foundation for the Advancement of Military Medicine. Military partners—the Departments of Defense and Veterans Affairs—provide a functional space for the clinical therapy sessions, patient referrals, collaboration on clinical care and research, as well as additional creative arts therapists.
Creative Forces' telehealth component connects creative arts therapists with patients in rural and remote places via video conferencing platforms. In 2017, the Arts Endowment partnered with the Rural Veterans TeleRehabilitation Initiative, an enterprise-wide initiative of the U.S. Department of Veterans Affairs Office of Rural Health (ORH) to deliver rehabilitation therapies to rural veterans wherever they are. Creative Forces partnered with the RVTRI to allow it to offer music therapy via telehealth at the North Florida/South Georgia Veterans Health System. Creative Forces subsequently implemented a similar program in Alaska, allowing patients from Basset Army Community Hospital in Fairbanks to receive creative arts therapies from providers working out of Joint Base Elmendorf-Richardson in Anchorage. In November 2019, the National Endowment for the Arts and ORH announced plans to expand the telehealth component of Creative Forces. Richard L. Roudebush VA Medical Center (Indianapolis, Indiana), G.V. (Sonny) Montgomery VA Medical Center (Jackson, Mississippi), and VA Northeast Ohio Healthcare System (Cleveland, Ohio) have been selected to join Creative Forces and the Rural Veterans TeleRehabilitation Initiative, in collaboration with the Veterans Health Administration Office of Rehabilitation and Prosthetics Service and National Program Office, Recreation Therapy Service, as the newest telehealth sites.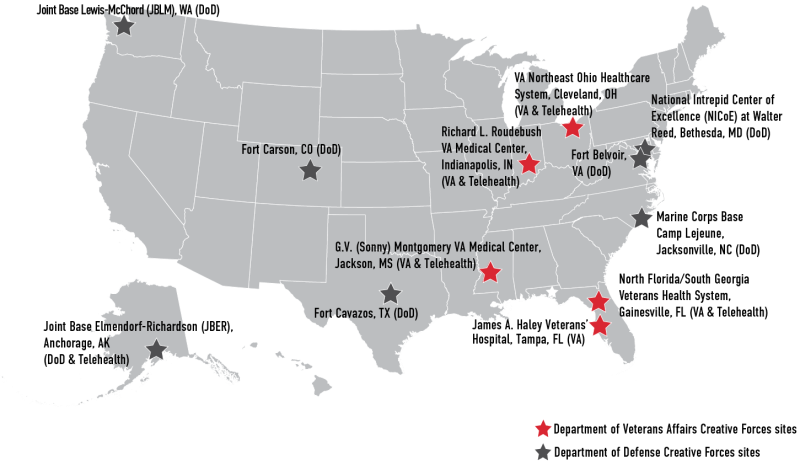 IMPACT
Creative arts therapies are non-invasive, non-medication-based, and reduce healthcare costs.  These treatments have wide-ranging impact:
PHYSICAL: Promotes physical rehabilitation -- improved cognition, memory, sensory-motor function, impulse control, concentration, and sleep.

EMOTIONAL: Promotes psychological health -- improved interpersonal and communication skills, management of difficult emotions (frustration, grief, anger), and reduced depression, stress, and anxiety.

ECONOMIC: Less time spent in medical care and therefore lower healthcare costs.
CREATIVE FORCES CLINICAL SITES
These are the Creative Forces clinical sites in alphabetical order by state.
Joint Base Elmendorf-Richardson (JBER), Anchorage AK
Fort Carson, CO
James A. Haley Veterans' Hospital, Tampa, FL
North Florida/South Georgia Veterans Health System, Gainesville, FL
Richard L. Roudebush VA Medical Center, Indianapolis, IN
National Intrepid Center of Excellence (NICoE) at Walter Reed, Bethesda, MD
G.V. (Sonny) Montgomery VA Medical Center, Jackson, MS
Marine Corps Base Camp Lejeune, Jacksonville, NC
VA Northeast Ohio Healthcare System, Cleveland, OH
Fort Cavazos, TX
Fort Belvoir, VA
Joint Base Lewis-McChord, Tacoma, WA