Veterans' Voices: Andrew Bell
Andrew Bell is a retired Army sergeant who is now going to school at the University of Arizona to earn a degree in family studies and human development.
At the beginning of my rehabilitation, I had a very hard time speaking. My sentences were broken, and it was often hard for me to think of the words I wanted to say. At times it was even difficult to form them. I can remember the frustration of those early days. One day my wife, Katie, played one of my favorite song from the musical Les Miserable. I found my words again. Tears came freely, and for that short small time I felt closer to myself than I had since my injury.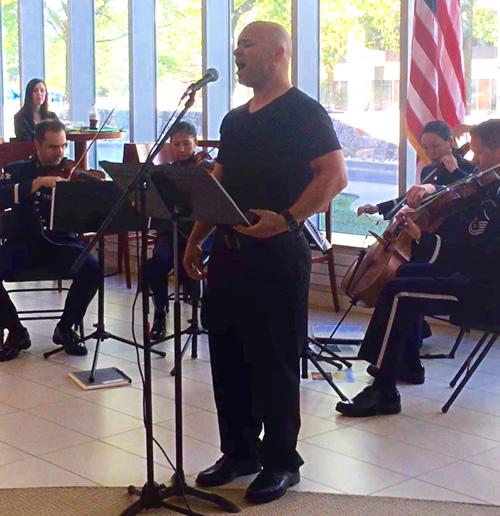 We were put in contact with a music therapist, Rebecca Vaudreuil, from the NICoE. From there, my passion for music from before my injury helped me find my words more readily over time. Through music therapy I was able to express my feelings of frustration, love, and thankfulness for the life that was my new normal. It helped me know and understand that even though my life was changed, it was by no means over. 
At the Walter Reed NICoE, I had the amazing opportunity to prepare and perform a number of different songs at regular times at the Creative Arts Cafe. This was a huge difference compared to other therapies I had. It afforded me the opportunity to not just find the expression of the many different feelings and emotions that I went through during my rehab, but I was able to share those feelings and those emotions with so many others during those Cafe performances. They will forever be dear to my heart, and one of my favorite things about my music therapy experiences. 
Music has always been strong in my heart and a huge part of who I am. Music therapy has given me new avenues to be able share my experiences and journey through rehabilitation. I have performed a number of times with MusiCorps, and since retiring, I have continued to sing at home and let music be a guide to becoming more confident—to reintegrate successfully into life with my new normal. I have also spoken with Rebecca, who is now working at Camp Pendleton, about the possibility of coming out there to perform at future events. 
Any chance I can get to help other service members improve their way of life through music and music therapy is of great importance to me. It has been such an integral part of my treatment and therapy that I personally know what it can do for others that have gone through, or are going through, what I did. 
Below are links to videos of my performances. The first was while I was still inpatient and I sang at the music room in the Walter Reed USO. I could not walk on my own and my speech was limited. The second video was of the same song, later in my rehab, about a year after the first. It was performed with the string quartet from the U.S. Air Force Band at the NICoE Creative Arts Cafe.
https://www.youtube.com/watch?v=dpcNyjU32MA