Veterans' Voices: Marcie McCammond
Marcie McCammond is a combat veteran who continues to create art and enjoys being a member of the American Legion and spending time with her family and service dog.
I think the reason service members choose to explore themes of self, family, and military is because those are the topics heavy on our hearts: the things we've seen, lost, or are missing. It is important for us to pick these themes and explore them to help us heal from those wounds. It creates a self-reflection that can turn into a talking point to explain things we might not have been able to talk about or express before. Also it is very healing to see other service members' masks. A lot of the masks have the same themes, which helps you feel like maybe you are not alone in your road to recovery, that there are others who share the same pain and again, this can open up a service member's mind to share and talk about their experiences. There is also a sense of pride for some in finishing their masks and having them join the other masks on the wall. Completing a task and doing something you haven't ever done before (like art therapy) can be an open door for trying new things to gain confidence in yourself.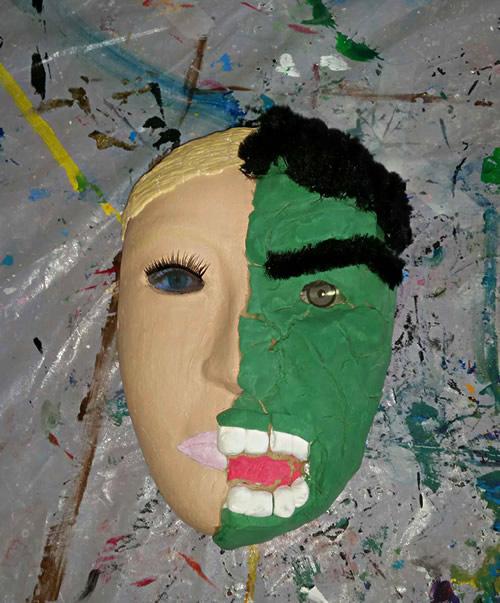 Art Therapy and other creative arts therapies have been lifesavers for me personally. Before my injury I could not draw. Somehow, after my head injury, I was able to draw and I loved it. Without art therapy and trying something new, I never would have had a positive thing come out of my injury. It gave me a new outlook, showing me that although there are things I am no longer able to do, there are new things to explore that I can do.
Art is not only something I find myself being good at, it is also something I use to decompress. When I draw and paint I am so relaxed I feel like I'm in a trance and forget any pain I may be feeling or stress I might be thinking about. When working on a project, I never want to finish it, because I love it from the time I start a project to the time I finish it. I enjoy creating it, messing up a line, and redrawing it until it's the way I want it. I like having control over being able to "fix" something and make it perfect in my eyes. I've learned lots of patience through drawing and painting, which is something I really needed to learn when starting out. I know not to hurry things and not to panic when things aren't going my way on the drawing pad. I try to take those lessons learned and apply them to other aspects of my life. I still have the ability to fix me and make myself perfect in my eyes and be patient with myself.
While I was in the military, there was such a stigma about mental health; I think most of us thought it was a bad thing to go and talk to someone. It's hard, however, to open up to a complete stranger when you likely have your guard up and don't want to share things that may be bothering you. On the other hand, I found it easy to participate in art and music therapy. Art and music are very soothing activities which keep our minds and hands busy, thus relieving some tension and allowing us to open up to some other topics. I find horse therapy to be the same way. I think nontraditional therapies like these are more effective than just talking about things and aren't as stressful as just sitting in a room being forced to talk to someone. I wish more avenues of these therapies were available to veterans and military communities. I also think having more of these types of therapies in the civilian community would help eliminate the stigma that getting mental health help is bad. These other therapies can be fun and even done in groups to help you open up to others. They can also give you something to do on your own for self-therapy. Providing these opportunities to more service members and their families, especially after deployments, is what I would like to see.