Veterans' Voices: Michael Schneider
Michael Schneider is a retired Marine master sergeant who continues therapeutic arts engagement through his newly discovered artistic skill of crafting leather goods.
Music therapy was a way for me to step out of my depression and comfort zone. My first music therapy session was one of the hardest things that I ever had to do in my life; it was the first time in over a year that I had to overcome something that I was scared to do. Prior to joining the United States Marine Corps, music therapy or music in general would have been easy. I never thought that music would be an avenue to healing, like it has been for me. When I was asked by my music therapist, Rebecca, what I would like to try, I said piano, because I always thought that the piano was a cool instrument. While playing the piano, I went back to what I know and love, which is singing. It brought me back to being the person that I once was and loved—not that I didn't love who I was as a Marine—but the music provided me with a sense of calm that I hadn't felt in years. The hour a week that I would spend in music therapy provided an outlet for me to forget about my injuries and the life around me and it put a smile back on my face—a true smile—one that would provide me joy to last until the following week.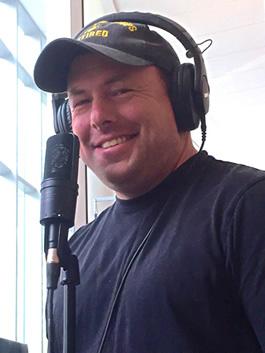 Music therapy not only affected me in a positive light, it impacted my entire family. This started in a family music therapy session, which was my last official music therapy session at NICoE in April of 2015. I brought my family in and my wife and two daughters worked with Rebecca to sing some of their favorite songs and my son wanted to play the drum kit. My son has neurofibromatosis, a condition in which nodules grow on the nervous system affecting balance and coordination. Rebecca introduced him to the drum kit and showed him how to play a rock beat on the drums in a very short amount of time, which inspired an immediate love of music in my son. Over the past two years, the family music therapy session has positively impacted all my children in more ways that I can explain. My entire family is touched by music: my eldest daughter plays the clarinet and now plays guitar and sings, my youngest daughter has started to play the violin, and my son is first chair percussion in his middle school band.
Music therapy incorporates a physical attribute to therapy, associated with the psychological component. Unlike the other therapies that are solely talk-based, music therapy provided an outlet to talk while performing a function that I could build on and keep the rest of my life. Singing was easy for me, but I had to challenge myself, so Rebecca introduced me to the ukulele. Let's just say that it definitely challenged my dexterity, coordination, and fat fingers! I felt better about myself, and my self-worth increased as I progressed and improved my ukulele playing. Before my brain injury, singing and musical theater was a passion for me. When I joined the Marine Corps, I essentially stopped all art for another purpose, but the brain injuries that I sustained opened up new pathways for me to heal. I used music to bypass the injured sections of my brain and to stimulate other pathways in my healing process. When I feel a seizure coming on, I reach out and grab my ukulele to calm my body, mind, and spirit, which helps subdue the seizure.
Rebecca has been instrumental in assisting to acquire instruments for my continued use and my children through different local and national organizations and programs (Semper Fi Fund, Warrior Cry, Yamaha Music and Wellness Institute, and Capital Concerts), which my entire family is grateful for. This year, on the Fourth of July, Rebecca connected us with Capital Concerts and made my son's dream come true. They coordinated the donation of a custom drum kit made for actor John Stamos, which he played with the Beach Boys during their concert performance! This is something that I would never have expected to happen, but it was a blessing and a unique opportunity that transpired from my participation in music therapy.
I was in a unique position as a patient at Walter Reed and the NICoE because I was initially slated to participate in the NICoE four-week program; however, I was unable to do the intensive four-week program due to my seizure disorder. So I became one of the first patients seen at NICoE for longitudinal outpatient services. I received top-notch and comprehensive care and also provided helpful feedback about the outpatient experience. Since my retirement from the Marine Corps in April 2015, I was blessed to remain in touch with my music therapist through weekly telemusic therapy sessions supported by the National Endowment for the Arts Creative Forces Military Healing Arts Network. Through telemusic therapy, I continue to integrate music into my daily life. To date, I have learned to play the ukulele, guitar, piano, and now aspire to play the drum kit that we received from Capital Concerts.
The arts helped my family and I see what music and art can do for us and other service members. In turn, I became a huge advocate of the arts by providing insight about the impact of creative arts therapies and continued arts engagement.
My injuries have provided a new found artistic skill and I have learned how to craft leather. I was never able to draw or express myself with a pencil or carving tool, but my injury allowed me to become open to things that I never experienced or had ability to do previously. I may never be an expert in any of the arts, but in my heart and in my soul, I know the arts saved my life.
(See also our Art Works Blog post on Schneider.)