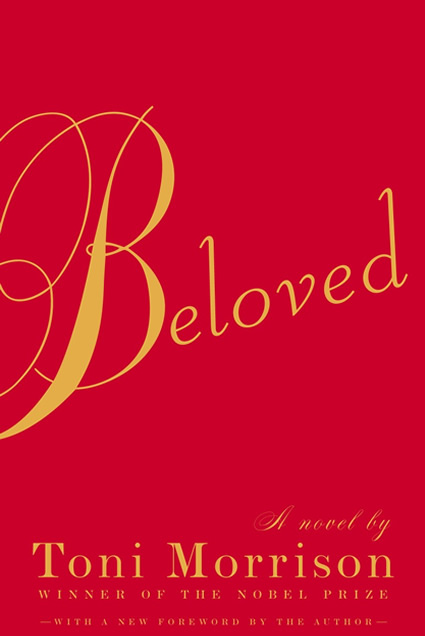 Overview
This title is no longer available for programming after the 2021-2022 grant year.
Without warning, Toni Morrison's Beloved ushers you into 124 Bluestone Road, a house where chairs move by themselves, kettles turn over, and handprints appear in cake icing from nowhere, left by a haunting presence which is both an actual ghost and the specter of America's unforgettable racial history. "Beloved originated as a general question, and was launched by a newspaper clipping," Morrison said of this novel. "Suppose having children, being called a mother, was the supreme act of freedom—not its opposite?" The question was sparked by an actual case reported in a newspaper, The Southern Baptist, in 1856: Margaret Garner, an enslaved woman who escaped to Cincinnati, Ohio, in the years before the Civil War, was compelled under fugitive slave laws to return to her owner in Kentucky, but killed her infant daughter rather than see the child returned to slavery. Under a dehumanizing legal system, her daughter could not even claim the status of human being: Garner was charged not with murder but with destruction of her owner's property.
From these spare and powerful ingredients, Beloved weaves a wholly unique reading experience—part ghost story, part romance, part domestic drama, part gripping chronicle of enslavement—to humanize the historical record through the lives of specific individuals:
Sethe, a determined young woman who has escaped across the Ohio River to Cincinnati;
Sethe's mother-in-law, Baby Suggs, a 70-year-old preacher whose freedom was bought by her son, Sethe's former husband, Halle;
Denver, Sethe's withdrawn teenage daughter;
Paul D, another survivor of the farm Sethe fled; and
Beloved, a mysterious young woman whom Sethe takes into her home.
We also meet a variety of secondary characters, both Black and white, such as community pillar Stamp Paid, a fisherman, handyman, and rescuer of fugitives, who come in and out of the narrative, richly bringing to life this historical period.
"My characters are not bigger than life, they are in fact as big as life, and life is really very big."
–Toni Morrison
Introduction to the Book
"When finally I understood the nature of a haunting—how it is both what we yearn for and what we fear—I was able to see the traces of a ghostly presence." –Toni Morrison
Beloved takes place both in a Reconstruction-era present and in pre-Emancipation flashbacks, a deliberate storytelling strategy. "If you focus on the characters and their interior life," Morrison has said, "it's like putting the authority back into the hands of the slave, rather than the slave holder." Employing a non-linear structure, Morrison's narration rotates a dazzling kaleidoscope of fractured memory, reflecting these survivors' daily effort "to start the day's serious work of beating back the past" (p. 86).
As the novel opens in 1873 in Cincinnati, Ohio, that past remains both yearned for and feared. Sethe believes the poltergeist haunting her home is that of her eldest daughter, not even age two when she died 18 years ago. Its supernatural attacks have already run off her 13-year-old sons, Howard and Buglar. Now that Baby Suggs, the mother of her missing husband Halle, has died, 124 Bluestone Road is occupied only by Sethe and her shy teenage daughter Denver. Sethe and Denver remain local pariahs, despite Sethe's steady kitchen job at Sawyer's restaurant in town.
Warily building a hopeful present in the two-story home rented to her by the Bodwins, a pair of white abolitionists, Sethe struggles to repress thoughts of Sweet Home, a farm where treatment of the enslaved became so brutal they finally risked escape. But "as if to punish her … for her terrible memory," Paul D, another survivor of Sweet Home, arrives on her doorstep. This all-too-powerful interloper disturbs Denver—who's excluded from the new couple's shared memories—as well the resident ghost. Though there is "not a house in the country ain't packed to its rafters with some dead Negro's grief," (p. 6) the power at 124 Bluestone Road is so forceful Paul D must engage it in physical battle, brandishing furniture until it seems to have fled. Persuading Sethe and a reluctant Denver they might share a future together, Paul D finds his effort to establish a family thwarted by the appearance of a mysterious runaway—Beloved, a young woman who appears from nowhere with smooth, dark skin, lineless hands, a deep voice, and who is the age Sethe's elder daughter would have been, if she had lived. It turns out this newcomer, who drinks water "as though she had crossed a desert," (p. 64) is even thirstier for Sethe's attention and her memories, and can ask questions that trigger recollections: "Where your diamonds?"
The arrival of both Paul D and Beloved in Sethe's household unleashes a torrent of memory—indeed, "rememory," so powerfully is it felt—illuminating such themes as the psychological aspects of time, the necessary risk of loving, and unexpected meanings of freedom. We piece together unforgettable events: Sethe's escape from Sweet Home farm and from "schoolteacher," a brutal overseer with pseudoscientific leanings; Denver's birth during this daring escape, thanks to the intervention of Amy, a white runaway; and Sethe's killing of her eldest daughter, when "schoolteacher" tracks them down in Ohio, just 28 days after their escape. We learn how Baby Suggs's freedom was won by Sethe's husband, Halle, and why Halle never met up with Sethe to ride the Underground Railroad; how Paul D survived a Georgia chain gang and a Cherokee encampment; what fates awaited other would-be escapees of Sweet Home; and how Sethe's Cincinnati community, which includes Ella, a pious churchgoer, and Stamp Paid, Sethe's initial rescuer, reacted when Sethe committed murder.
In every sense, the reader of Beloved learns about a spirit's survival. "It was not a story to pass on," Morrison's narrator warns about this mysterious young woman—Sethe's "best thing"—who becomes daughter, sister, and seductress in the story's present timeline. This novel understands the way memory, as embodied in Beloved's unforgettable cast of characters and its stunning web of lyricism, often proves irresistible, even as Sethe learns the crucial lesson that allows her to imagine a future: "You your best thing, Sethe. You are."
---
Toni Morrison, on How Beloved Came to Be (February 9, 2015 blog post)
Beloved opens with a description of occurrences at a haunted house. What techniques does the story use to render such events believable? Do you feel this aspect of the story works well alongside the novel's historical realism?
What does Denver's relationship to the haunting at 124 Bluestone Road say about her development as a young woman and about her personality in general? Why does she appreciate "the safety of ghost company"? (p. 45)
What messages does the novel convey in presenting the characters of Mr. and Mrs. Garner at Sweet Home as relatively benevolent slave owners? (For example, Mrs. Garner gives Sethe a wedding present; Mr. Garner calls his enslaved workers "men," defers to their opinions, and allows them autonomy.)
The scars on Sethe's back are described as forming a "tree" (p. 20, p. 93). What do you think is the significance of this repeated description, and how does it relate to this story's themes?
What is the significance and/or the effect of the timing of Beloved's appearance? (p. 60)
How does Beloved's relationship to Paul D change in p. 134-138? What does this say about Beloved's agenda, and what she may represent in this story?
Why does Morrison switch to the perspective of the slave catcher and "schoolteacher," on page 174, when they arrive to capture Sethe, rather than using Sethe's point of view? What effect does this have on our understanding of Sethe and the act of killing, and the situation of enslaved people of the time?
What does Paul D mean by "your love is too thick?" (p. 194) Do you agree with Sethe's answer? Why or why not?
On page 225, we learn that Sethe pilfers food from her restaurant job rather than stand in line with other Black townspeople at the general store. What does this behavior convey about Sethe's character, her past, and her relationship to her community?
In learning Baby Suggs's backstory, we encounter the question: "What does a sixty-odd-year-old slavewoman need freedom for?" (p. 166) Do you feel the novel answers this question, and if so, how?
For twenty pages, the novel's narrative style undergoes a radical change (p. 236 - 256). What do you think is the intent of this shift, and what effect does this have on the reading experience? Did you feel these passages were necessary and effective?
How and why does the intervention of the community and the arrival of Edward Bodwin result in Beloved's disappearance?
Why do you think the epilogue uses the refrain: "This is not a story to pass on"? Do you agree? Why or why not?