NEA Chairman Rocco Landesman's Statement on the Death of NEA National Heritage Fellow National Medal of Arts Recipient Arthel "Doc" Watson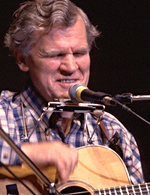 "On behalf of the National Endowment for the Arts, it is with great sadness that I acknowledge the passing of Doc Watson, recipient of both an NEA National Heritage Fellowship and National Medal of Arts. With his distinct flat-picking style of guitar playing, Watson brought new attention to the guitar and the role it plays in old time and bluegrass music. We join many in the music community and beyond in celebrating his life and many contributions to our country's cultural heritage while mourning his loss."
Arthel "Doc" Watson was born March 3, 1923, in Stoney Fork in western North Carolina, the sixth of nine children born to Annie and General (his given name) Dixon Watson. Watson contracted glaucoma when he was an infant, causing him to lose his sight by the age of two.
He entered the Raleigh School for the Blind at the age of 10 and stayed for four years. His musical education began at home with a new harmonica in his stocking every Christmas and, one day, a homemade banjo. Watson's musical education continued in the home through a battery-powered radio and a small windup record player with a stack of 78 rpm records his father had purchased from a neighbor. While at the Raleigh School for the Blind, he heard a classmate playing a guitar and learned a few chords himself.
In time, Watson was able to get a Sears Silvertone guitar with money he earned cutting wood. Around 1940, he bought a Martin D-28 from Richard Green, who owned a little music store in Boone, North Carolina, and let him have a year to pay it off. Pressure to make payments on his new Martin prompted Watson to sing on the streets for tips.
When Watson was 18, he joined a group that sometimes played on local radio stations. Before a remote radio broadcast at a furniture store, the announcer decided that "Arthel" was too cumbersome to use on the air. A woman in the crowd suggested, "Call him 'Doc,'" and the name stuck.
In 1947 Watson married Rosa Lee Carlton, the daughter of old-time mountain fiddler Gaither Carlton. They had two children, a son, Merle, and a daughter, Nancy. To earn a living, Watson tuned pianos and played music wherever he could, for local dances and over the radio.
In 1960 Clarence "Tom" Ashley told folklorist Ralph Rinzler about Watson, and asked Rinzler if Watson could join him on the recording session he was planning. Rinzler, quickly recognizing Watson's musical talents, agreed, but urged him to play acoustic guitar. The two resulting Folkways LPs, Old Time Music at Clarence Ashley's, Volumes 1 & 2, were highly acclaimed and helped to launch Watson's professional career.
Watson made his urban debut in 1961 at the Friends of Old-Time Music concert in New York, playing with Ashley, Clint Howard, and Fred Price. Watson's son, Merle, began playing backup guitar and in 1965 became his father's road manager and driver. Together, they toured nationally for more than 20 years.
After Merle's untimely death in 1985, Watson created an acoustic music festival in his honor, MerleFest, in Wilkesboro, North Carolina, today one of the most critically acclaimed old time music festivals in the world.
Watson is the recipient of seven Grammy awards. In 1988 Watson received the NEA National Heritage Fellowship and in 1997 he received the National Medal of Arts.
Contact
NEA Public Affairs
202-682-5570