NEA Literary Translation Fellowships Named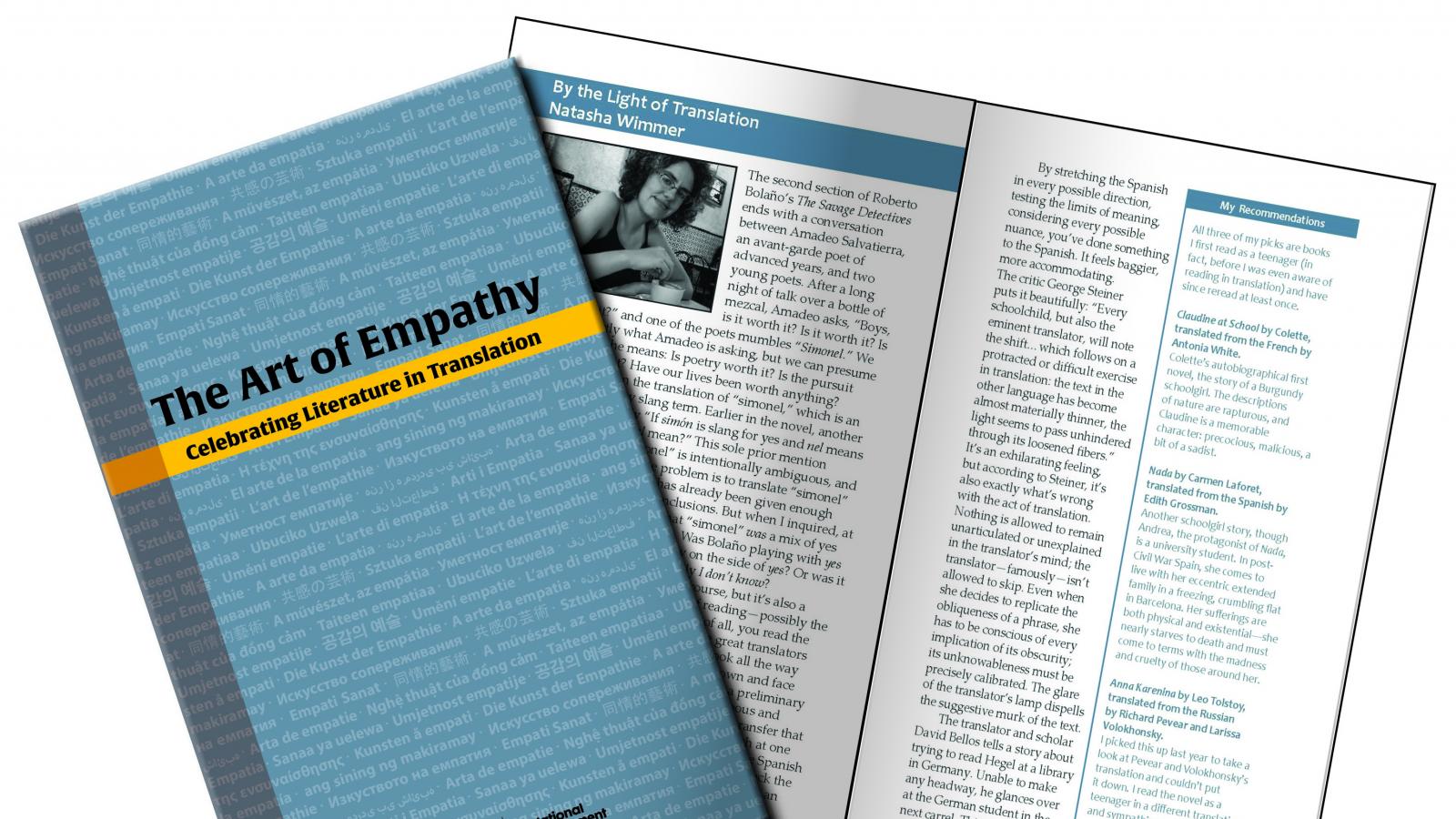 Washington, DC—Literary translators undertake the challenging task of bringing the authors who are renowned in their own countries to a new audience, exposing readers to global experiences, deep insights, as well as surprise connections. Today, the National Endowment for the Arts announced its latest efforts to support literary translation through $287,500 in recommended grants to 19 translators to support the new translation of fiction, creative nonfiction, and poetry from 12 different languages into English. This announcement coincides with the NEA's release of The Art of Empathy: Celebrating Literature in Translation, a collection of essays exploring the art and importance of literary translation.
"The NEA's long history of supporting literary translation is one of the most important ways we can broaden our nation's perspectives while also making the work of these talented writers and translators more available," said NEA Chairman Jane Chu. " Given the wide array of ethnicities and traditions in this country, translation helps bring us together and accept the differences among us."
Literature Translation Fellowships
Since 1981, the NEA has supported literary translators through fellowships. Including the new recommended fellowships, the NEA has supported 363 translators through 411 fellowships to translate literature from 66 languages originating in 86 countries. The new NEA-supported projects range from new translations of very old texts, such as the poetry of Mexico's Juana Inés de la Cruz from the 17th century to first translations of award-winning contemporary writers, such as Poland's Olga Tokarczuk.
Projects recommended for support include:
A $25,000 fellowship to Jeffrey Yang (Beacon, NY) to support the translation from the Chinese of City Gate Open Up, a lyrical autobiogaphy by poet Bei Dao. This project aims to translate the lyrical prose memoir of his childhood and adolescence in Beijing, where he was born in 1949. It is a book not only of the poet as a child, but of the metropolis itself, coming alive through the memories of its neighborhoods and residents, gardens, and temples, schools and music, and vibrant ways of life. Since the Tiananmen Square Massacre in 1989, Dao had been living in forced exile, moving from country to country, forbidden by the Chinese government to return to his homeland. The compulsion to write this book began in 2001, when Dao was allowed back into China to see his sick father.
A $12,500 fellowship to Niloufar Talebi (San Francisco, CA) to support the translation from the Persian of selected poetry, prose, and interviews by Iranian writer Ahmad Shamlou. Nominated for the Nobel Prize, Shamlou (1925-2000) was a poet, writer, encyclopedist, translator, journalist, editor, and human rights activist. He published more than 70 books, including novels, screenplays, children's books, volumes of poetry, short stories, and essays. This project will be a representative and comprehensive volume of his work throughout his 60-year career.
Click here for the list of fiscal year 2015 recommended NEA Literature Translation Fellowship recipients.
The Art of Empathy: Celebrating Literature in Translation
The Art of Empathy: Celebrating Literature in Translation brings together essays by 19 translators and individuals who help to make translated works available. This publication illuminates the challenges of literary translation as well as its importance in bringing new voices to American audiences. In her introduction to the book, NEA Director of Literature Amy Stolls writes, "Translation is an art. It takes a great deal of creativity and patience to do it well, not to mention a deep knowledge of a writer's language, place, and oeuvre. But it also takes fortitude, for translators are notoriously underpaid and underappreciated, their names often left off the covers of the books they create."
One of the common themes through the essays is the ability of translation to help us understand other cultures and ways of thought. Olivia E. Sears, president and founder of Center for the Art of Translation writes in her essay A Universe of Layered Worlds, "As communities in the U.S. become more diverse, it is no longer just the borders where we need metaphorical bridges; more and more these gaps need to be spanned within our own neighborhoods. Ironically, we have found that translation allows us to know each other better, and therefore feel more connected to one another, here at home."
The publication is available in both hard copy and PDF on the NEA's website.
In addition, on Saturday, August 30, 2014 from 10:55 a.m.–11:40 a.m. at the National Book Festival, the NEA-sponsored Poetry & Prose tent will feature a panel discussion on books in translation with author-translator Paul Auster and Natasha Wimmer (Roberto Bolaño's translator). Moderated by Amy Stolls, the panel will discuss the art of translation and its role in the literary world. More information about the authors appearing at the Poetry & Prose tent can be found at arts.gov.
NEA Content
The NEA's blog posts and podcasts are available to use for non-commercial purposes with credit to the NEA.
Writers' Corner provides insights into recipients of NEA Literature Fellowships. Recipients of Translation Fellowships, provide more detail about their projects, a sample of the translation and the original text, and insight into how they used their NEA support to advance their project. Recipients of Translation Fellowships from 2011-2014 are currently featured.
Podcasts with authors and translators including Natasha Wimmer.
Art Works Blog interviews with translators such as Esther Allen, George O'Connell, Johanna Warren, and David Hinton.
The National Endowment for the Arts was established by Congress in 1965 as an independent agency of the federal government. To date, the NEA has awarded more than $5 billion to support artistic excellence, creativity, and innovation for the benefit of individuals and communities. The NEA extends its work through partnerships with state arts agencies, local leaders, other federal agencies, and the philanthropic sector. To join the discussion on how art works, visit the NEA at arts.gov.
# # #
Contact
Liz Auclair, auclaire@arts.gov
202-682-5744