NEA Literature Fellows Presented at the 2016 National Book Festival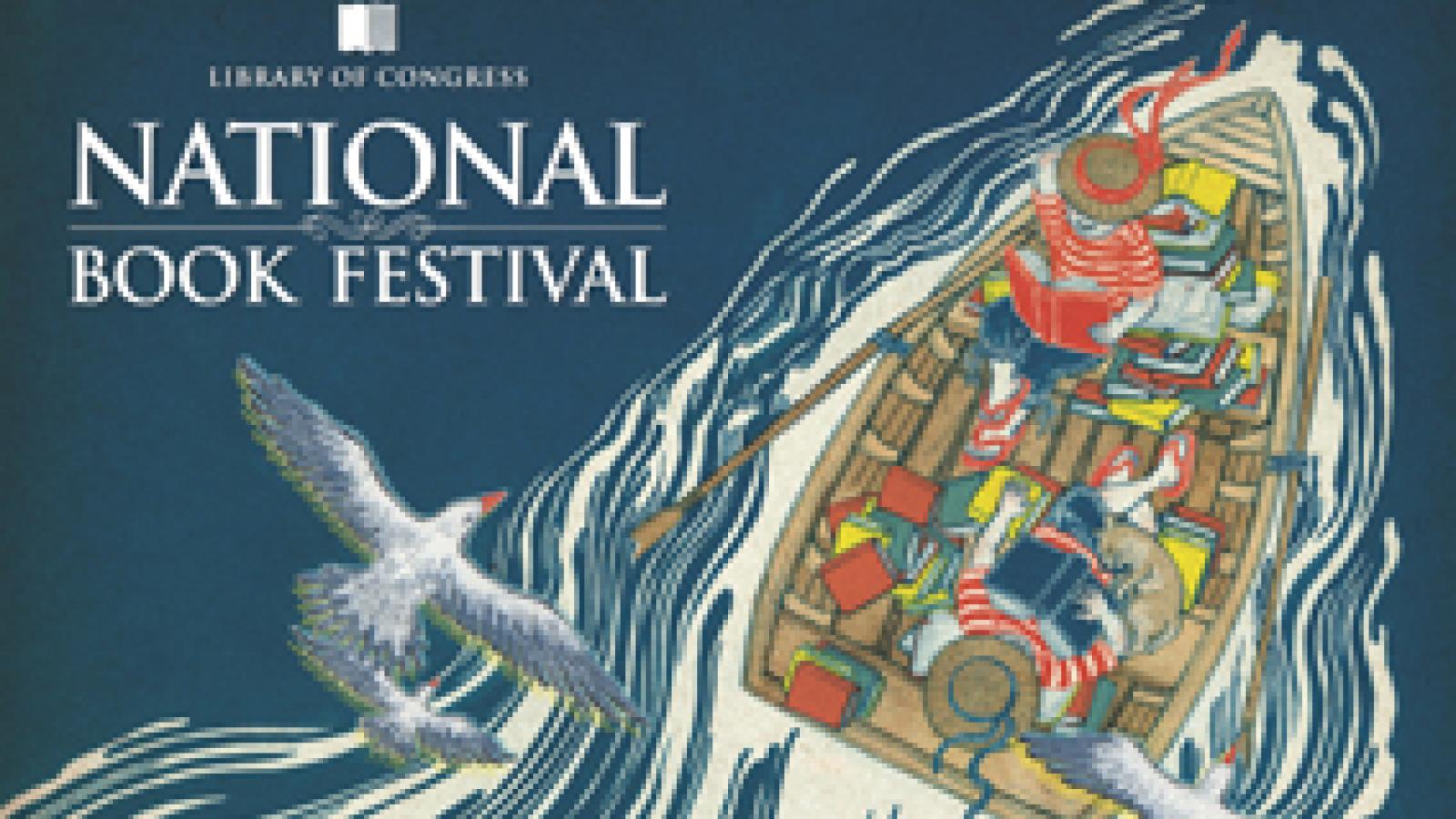 Washington, D.C. — The National Endowment for the Arts will sponsor the Poetry & Prose stage at the 2016 Library of Congress National Book Festival on Saturday, September 24, 2016, in Washington, DC. The Poetry & Prose stage provides an opportunity for visitors to hear from some of our country's finest writers and poets, most of whom are recipients of NEA Literature Fellowships. Follow @NEAarts and #NatBookFest on September 24 for updates from the Poetry & Prose stage.
The 2016 Poetry & Prose stage (room 145 A/B) will include a conversation with Joy Harjo (Conflict Resolution for Holy Beings) and A. B. Spellman (Things I Must Have Known); an interview with the writer and illustrator of A Wild Swan and Other Tales Michael Cunningham and Yuko Shimizu (who is also the artist of the 2016 National Book Festival poster); and presentations by Sandra Beasley (Count the Waves), Kaitlyn Greenidge (We Love You, Charlie Freeman), Marilyn Hacker (A Stranger's Mirror), Kelly Link (Get In Trouble: Stories), Ron Rash (Above the Waterfall), and Luis A. Urrea (The Water Museum: Stories).
In addition, the day will begin with poetry recitations by 2016 Poetry Out Loud National Champion Ahkei Togun of Virginia, second place finalist Marta Palombo of Georgia, and Neely Seams, West Virginia State Champion. A partnership of the National Endowment for the Arts, the Poetry Foundation, and the state arts agencies, Poetry Out Loud is a national arts education program that encourages high school students to learn about great poetry through memorization and performance.
That evening at 7:30 p.m. in Room 202, Level 2, the Library of Congress Poetry and Literature Center, the NEA, and Split This Rock will present the National Book Festival Youth Poetry Slam. Champion delegates from some of the nation's top youth slam groups—from Washington, Indianapolis, Des Moines, and New York will compete by performing new works on books and reading.
Seven of the authors presenting in the Poetry & Prose stage are NEA Literature Fellows: Sandra Beasley (2015), Michael Cunningham (1988), Kaitlyn Greenidge (2016), Marilyn Hacker (1974, 1985, and 1994), Joy Harjo (1977 and 1992), Kelly Link (2006), and Ron Rash (1994 and 2006). In addition, works by Joy Harjo, Kelly Link, and Luis Urrea are all selections available as part of the National Endowment for the Arts' Big Read. NEA Big Read supports community reading programs through grants to nonprofit organizations, broadening our understanding of our world, our communities, and ourselves through the joy of sharing a good book.
The NEA has supported the National Book Festival since its inception in 2001. This year's free festival will take place from 9 a.m. to 10 p.m. at the Walter E. Washington Convention Center, 801 Mt. Vernon Place, NW, in Washington, DC, and will feature more than 120 writers, poets, and illustrators. For more information about the National Book Festival and the Poetry & Prose schedule, visit loc.gov/bookfest.
About the National Endowment for the Arts
Established by Congress in 1965, the NEA is the independent federal agency whose funding and support gives Americans the opportunity to participate in the arts, exercise their imaginations, and develop their creative capacities. Through partnerships with state arts agencies, local leaders, other federal agencies, and the philanthropic sector, the NEA supports arts learning, affirms and celebrates America's rich and diverse cultural heritage, and extends its work to promote equal access to the arts in every community across America. This year marks the 50th anniversary of the National Endowment for the Arts and the agency is celebrating this milestone with events and activities through 2016. Go to arts.gov/50th to enjoy art stories from around the nation, peruse Facts & Figures, and check out the anniversary timeline. 
Writers' Corner — Awardees of Translation Fellowships provide more detail about their projects, a sample of the translation and the original text, and insight into how they used their NEA support to advance their project. Recipients of Translation Fellowships from 2011-2014 are currently featured.