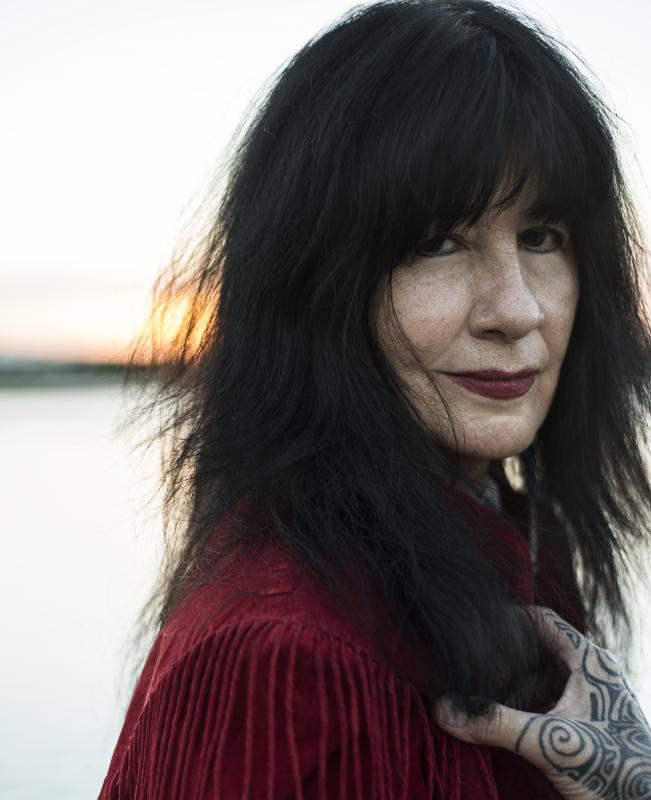 Joy Harjo has always been an artist. Before she could write words, she could draw. Before she could speak, she had music. Now an award-winning writer and musician, Harjo hardly recalls a time in her life when she wasn't surrounded by art. Her earliest memories are filled with the sounds of her mother's lilting voice and the jazzy strains of trumpet spilling through the car radio. "When Miles Davis was playing a solo," said Harjo, "I could see the whole universe." Music added new hues to the palette she used to color her world. As she grew older, words excited Harjo even more. She loved language and craved more of it from a young age. When she finished all the books in the first-grade classroom, Harjo's teachers sent her on to the second-grade bookshelves.
Harjo's voracious appetite for words has never dulled. Over the course of her career so far, she has published seven books of poetry, one memoir, and four albums of original music, in addition to many other projects. Her work is rich and profound, filled with phrases that linger in the air as they roll off the tongue. Through vivid natural imagery, she marries the physical and spiritual realms. Her ability to make the reader see and feel the seemingly intangible is unmatched. As such, Harjo has garnered numerous awards, honors, and fellowships throughout her impressive career, including two NEA Literature Fellowships
in Creative Writing, the Lifetime Achievement Award from the Native Writers Circle of the Americas, the William Carlos Williams Award for Poetry, the Rasmuson U.S. Artists Fellowship, a Native American Music Award for Best Female Artist of the Year, and in 2015, the Wallace Stevens Award. She has also served as a member of the NEA's National Council on the Arts and in numerous other advisory roles for the agency.
At 64 years old, Harjo remains an unstoppable artistic force. She is a creative polymath, having experimented and succeeded in nearly every artistic discipline. Although she is perhaps best known for her writing, Harjo is also a talented musician and playwright. She frequently performs with her band Arrow Dynamics, and plays the guitar, flute, horn, ukulele, and bass. Unlike most people, Harjo seems to thrive with a full plate. Currently, she is juggling a new memoir, a musical play, a music album, and a book of poetry. She uses a creative process she describes as horizontal, constantly drawing across disciplines and
experiences to create new work, rather than limiting herself to one form. "It gets a little hairy," she said, laughing, "because I have to have a life too."
But if balancing her many projects is a burden, Harjo hardly shows it. She effuses a contagious sense of curiosity and purpose. "I always had an awareness from the time I was very, very young that I was carrying something that I was to take care of," she said. "It doesn't necessarily belong to me. It was something much larger than me."
It is this rare sense of assurance in her work that drives her. In addition, Harjo deeply grounds herself in her cultural and ancestral history. Born in Tulsa, Oklahoma, Harjo is a member of the Muscogee Creek Nation. Her Native-American heritage is central to her work and identity—so much so that even her arms bear beautiful, intricate symbols of her tribe. Art literally runs in Harjo's blood. Her paternal grandmother Naomi Harjo was a talented painter whose work filled the walls of Joy's childhood home. Her aunt Lois Harjo also loved to paint, and both Naomi and Lois received their BFA degrees in the art form. Harjo's mother, although she had only an eighth-grade education, loved William Blake and taught herself the arts of poetry and music. She possessed a natural propensity for singing and performed occasionally with a country swing band.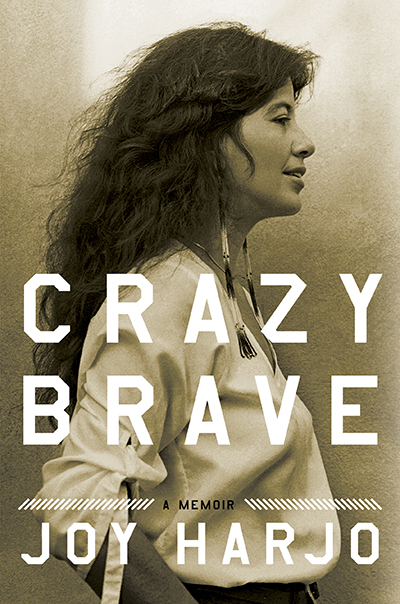 These influences equipped Harjo with the tools to make sense of her difficult childhood. Harjo's father walked out on the family when she was young, leaving her mother alone to care for Joy and her two younger siblings. Harjo's home was no less broken when her mother remarried several years later. Her stepfather was a controlling man with an unpredictable temper. In her 2012 memoir Crazy Brave, Harjo recounts stories of her youth, many of which were clouded by her stepfather's verbal and physical abuse. Drawing and acting classes were a much-needed escape from Harjo's oppressive reality. "Art classes saved my life," she said. During her high school years, the Institute for American Indian Arts (IAIA) provided Harjo a safe haven away from home. She flourished in an environment filled with creative people, of whom nearly all also came from Native-American families. There she also gained the technical skills and practice that would draw her to a career in art.
Harjo received her first NEA Literature Fellowship in 1977, when she was a single mother with two children, and had just graduated from the Iowa Writers' Workshop and was looking for work. She noted in 1993, after she had won a second fellowship, that with that first grant, "I was able to buy childcare, pay rent and utilities, and my car payment while I wrote what would be most of my second book of poetry, She Had Some Horses, the collection that actually started my career. The grant began the momentum that carried me through the years."
In the process of becoming the artist she is today, Harjo has been forced to confront her own demons and resist the pressure to conform to popular stereotypes. Writing is a vulnerable, even dangerous, act. Harjo took nearly 14 years to write her first memoir Crazy Brave. In it, she exposes the parts of her life some might strive to conceal—the hurt caused by her abusive stepfather and the challenge of being "other," as well as her later struggles of heartbreak and single motherhood. In facing the past and her own insecurities, however, Harjo learned to turn her enemies into her helpers. "Fear has been one of my greatest teachers," she said.
Throughout her career, Harjo has faced the additional challenge of not fitting into a conveniently packaged genre. She writes extensively about what it means to be Native American in a primarily non-Native country. Oftentimes, Americans think unique tribal backgrounds are one and the same. People don't want to hear about Native Americans unless they're feather-clad and dancing, she said. Harjo jokes that if she had put a dreamcatcher on the cover of her albums, she would have sold thousands of them.
Harjo's decision to take risks has paid off in the profound impact she has had through her work. In telling her own story, both the beautiful and the broken parts, Harjo has become a leader. Today she is seen as an icon of the feminist movement and a voice for Native peoples. While she says she never considered herself on the front lines of political action, she acknowledges that personal stories are inherently political. "Being alive is political. What you eat is political. Where you put your money is political. What you say and how you say it—everything is," Harjo said.
She strongly believes that telling stories and creating art is a pervasive ability that's not unique to those individuals whom society labels "artist." She said, "Everybody has a story about creation, so we therefore are part of the need to create. I believe everyone embodies that need to create, in some way or the other, but some of us take it on at a larger level."
Harjo puts this idea into practice. At various writing workshops across the country, she encourages new and seasoned artists to go after art forms that intrigue or inspire them. How? By surrounding themselves with experts. If you want to be a saxophonist, she tells her students, find someone who plays and learn everything you can. In a day and age when social media and digital distractions are an arm's length away, Harjo believes it especially important for people to learn how to "unhook." She urges her younger students in particular to unplug from media in order to concentrate deeply and mindfully on the task at hand.
That small tradeoff between digital connection and meaningful art is a worthy one. "Art carries the spirit of the people. Arts are how we know ourselves as human beings. They show us who we've been, who we are, and who we are becoming," said Harjo. In setting aside their smartphones for a minute, artists sew their own threads into the weaving of a broader cultural narrative.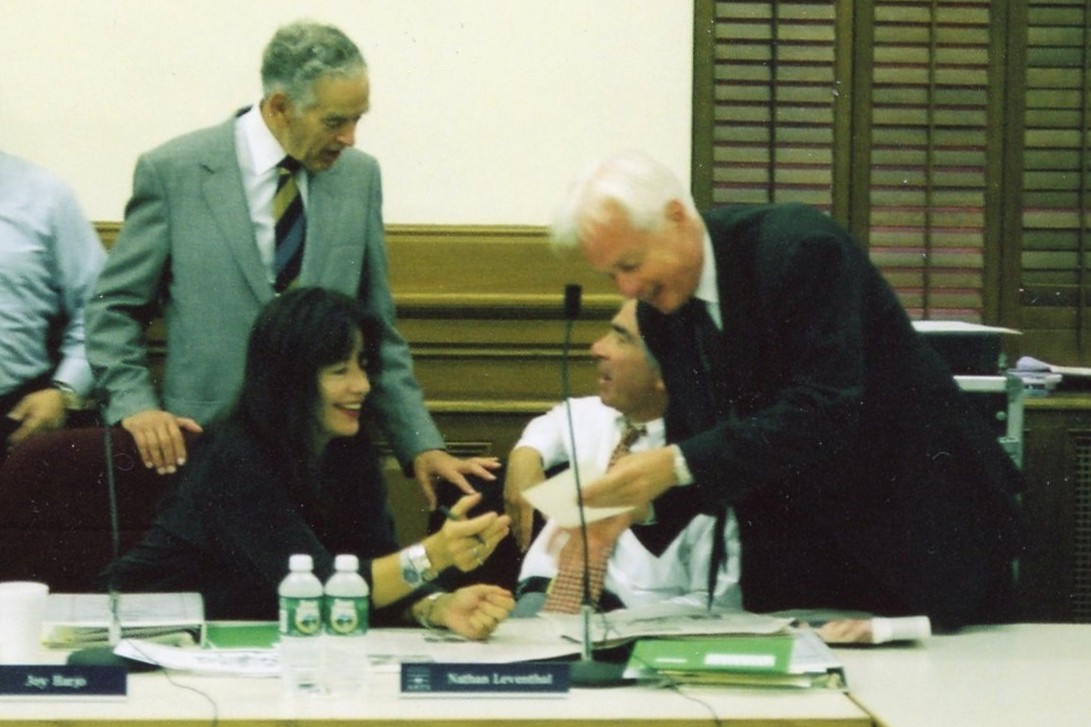 To this end, Harjo believes strongly in national support for the arts, and the role of the National Endowment for the Arts in particular within the country's cultural landscape. "As a member of the National Council on the Arts," she said, "I was able to witness the impact of arts at the national level." She said artists deserve a seat at the decision-making table. In her words, the NEA acts as the "cultural barometer" of the country, because when the arts thrive, the nation does too. One need look no further than Harjo herself to recognize the importance of art in promoting national cohesion, social progress, and cultural narrative. Her impact in these realms is proof enough of the power and importance of the arts—for the job of the artist is no extra. As Harjo herself said, "There would be no universities, no schools without what artists do. Higher thought is carried in different acts and products of art."