#NEABigRead Library Expands with Six New Additions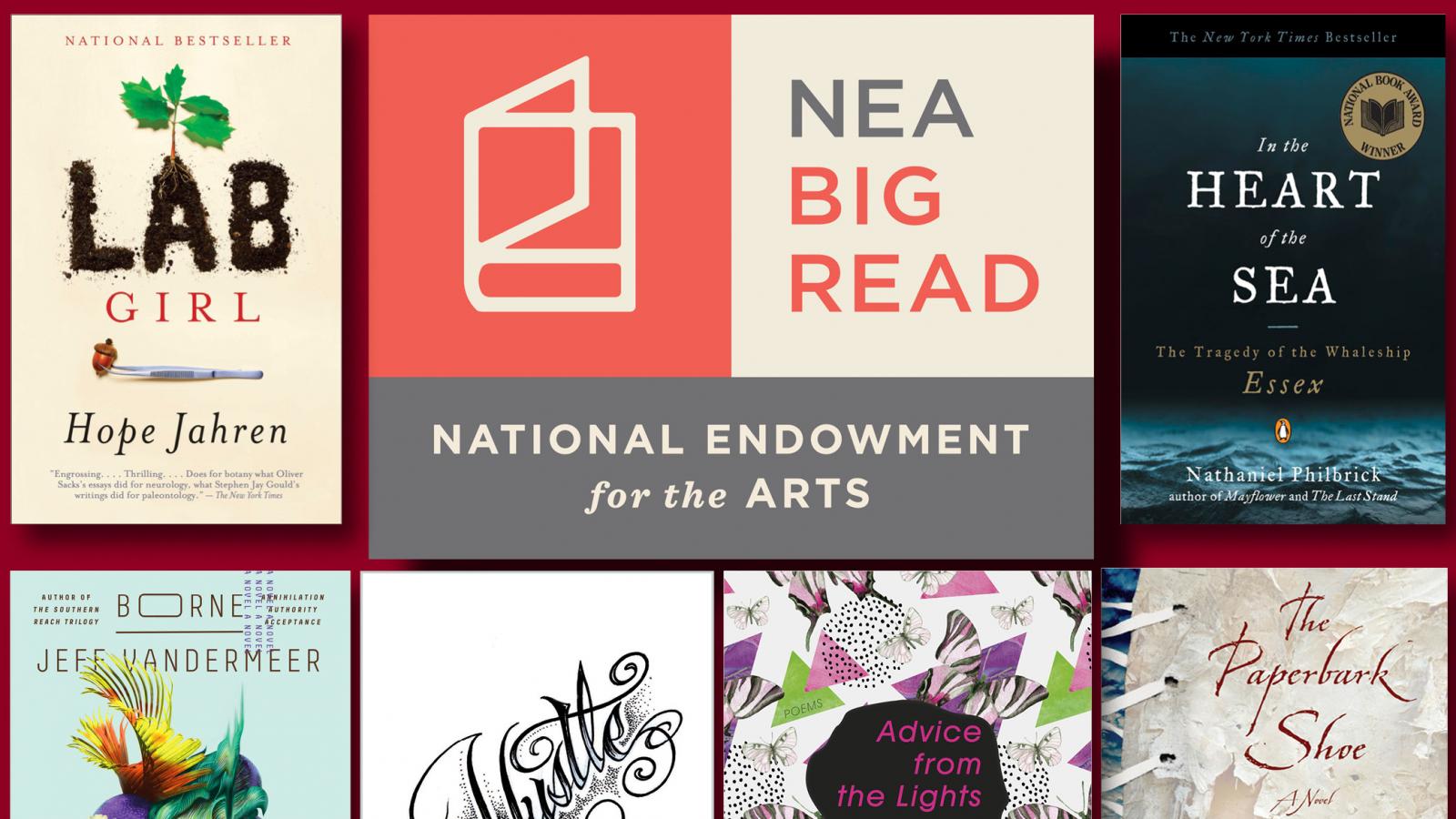 Washington, DC— Two poetry collections, one memoir, one creative nonfiction book, and two novels will join the NEA Big Read, an initiative of the National Endowment for the Arts in partnership with Arts Midwest. The NEA Big Read annually supports community reading programs across the country, each designed around a single book. Through the act of sharing a book together, participants have the opportunity to broaden their understanding of the world, their community, and themselves.
In total, 32 books will be available for nonprofit organizations to choose from in applying for a 2019-20 NEA Big Read grant. The six new additions are:
This timely collection explores the struggles and questions that can arise from an assigned gender identity that doesn't feel right, described through the lens of, among other things, inanimate objects, talking animals, and 1980s pop culture.
Borne by Jeff VanderMeer (novel)
In a ruined city overrun with hybrid creatures from a defunct biotech company, a woman nurtures a strange creature that grows into something she will both love and fear in this science fiction tale of love and hope and inevitable change.
Hustle by David Tomas Martinez (poetry)
Emblazoned with a tattoo on its cover, this collection examines the experiences of the poet's Southeast San Diego youth—his activity in a gang, the complicated dynamics of his family life, and eventually his discovery of poetry, leading him to reflect on what it means to be a man.
This is the true story that inspired Herman Melville's Moby-Dick about the crew of the 19th-century whaleship Essex that got rammed and shattered by one of the largest whales anyone had ever seen and the whalers' subsequent, harrowing fight for survival on the open seas.
A young woman passionate about trees and plants and other aspects of the natural world finds friendship in odd places, battles bipolar disorder, perseveres through setbacks, and ultimately becomes a wife, a mom, and a respected scientist in this inspiring and engrossing memoir.
Set during World War II in the Australian bush and based on the true history of Italian POWs sent there to work the farms, this story is told from the perspective of a woman with albinism and a troubled past whose secrets and desires will upend her and her family's isolated lives.
Visit the NEA's Big Read website for more information on the program, including book and author information, podcasts, videos, and community stories from past NEA Big Read grantees. In addition, the NEA will host a webinar on November 14, 2018 at 2pm ET about these six new titles.
"We are always looking to expand the NEA Big Read library with a range of new genres, perspectives, and experiences," said NEA Director of Literature Amy Stolls. "Communities can choose to explore, for example, the story behind Moby-Dick with In the Heart of the Sea, or get immersed in rural Australia and World War II history with The Paperbark Shoe, or dive into one of the books of poetry, a genre we know from NEA research is growing in popularity, particularly among younger readers. I look forward to seeing how communities embrace the new books and find ways to highlight and explore them together."
Guidelines are now available for organizations applying for grants to support Big Read projects between September 2019 and June 2020. The application deadline is Thursday, January 24, 2019. Full details on eligibility, how to apply, and application advice are available on Arts Midwest's website. Eligible applicants include organizations such as arts centers, arts councils, arts organizations, colleges and universities, community service organizations, environmental organizations, fairs and festivals, faith-based organizations, historical societies, housing authorities, humanities councils, libraries, literary centers, museums, school districts, theater companies, trade associations, and tribal governments.
About the NEA Big Read
Since the program began in 2006, the National Endowment for the Arts has funded more than 1,400 NEA Big Read programs, providing more than $19 million to organizations nationwide. In addition, Big Read activities have reached every Congressional district in the country. Over the past 12 years, grantees have leveraged more than $44 million in local matching funds to support their NEA Big Read programs. More than 4.9 million Americans have attended an NEA Big Read event, approximately 82,000 volunteers have participated at the local level, and 39,000 community organizations have partnered to make NEA Big Read activities possible. For more information about the NEA Big Read, please visit arts.gov/neabigread.
To select new books for the NEA Big Read library, the NEA collected suggestions from a variety of sources, including the public, NEA Big Read grantees, and past NEA Big Read panelists. The National Endowment for the Arts narrowed the list of suggestions based on the following criteria: the capacity to incite lively and deep discussion; the capacity to expand the range of voices, stories, and genres currently represented in the NEA Big Read library; the capacity to interest lapsed and reluctant readers and/or to challenge avid readers and introduce them to new voices; and the capacity to inspire innovative programming for communities. A committee of outside readers and community organizers reviewed the books and made the final recommendations. To suggest a book for the NEA Big Read library, visit arts.gov.
About the National Endowment for the Arts
Established by Congress in 1965, the NEA is the independent federal agency whose funding and support gives Americans the opportunity to participate in the arts, exercise their imaginations, and develop their creative capacities. Through partnerships with state arts agencies, local leaders, other federal agencies, and the philanthropic sector, the NEA supports arts learning, affirms and celebrates America's rich and diverse cultural heritage, and extends its work to promote equal access to the arts in every community across America. Visit arts.gov to learn more about NEA.
About Arts Midwest
Arts Midwest, a nonprofit regional arts organization headquartered in Minneapolis, serves audiences, arts organizations and artists throughout the nine state region of Illinois, Indiana, Iowa, Michigan, Minnesota, North Dakota, Ohio, South Dakota, and Wisconsin. One of six nonprofit regional arts organizations in the United States, Arts Midwest's history spans more than 30 years. Arts Midwest promotes creativity, nurtures cultural leadership, and engages people in meaningful arts experiences, bringing vitality to Midwest communities and enriching people's lives. Annually, cultural programs initiated by Arts Midwest reach close to a million people, enhancing the quality of life in hundreds of cities, towns, and rural areas. Arts Midwest's high-quality cultural activities, in a spectrum of artistic genres, reach school children, university students, families, and adults of all ages.
Contact
(media questions) Liz Auclair, auclaire@arts.gov, 202-682-5744
(application questions) Arts Midwest, neabigread@artsmidwest.org, 612-238-8010