National Endowment for the Arts Statement on the Death of National Heritage Fellow Clyde Davenport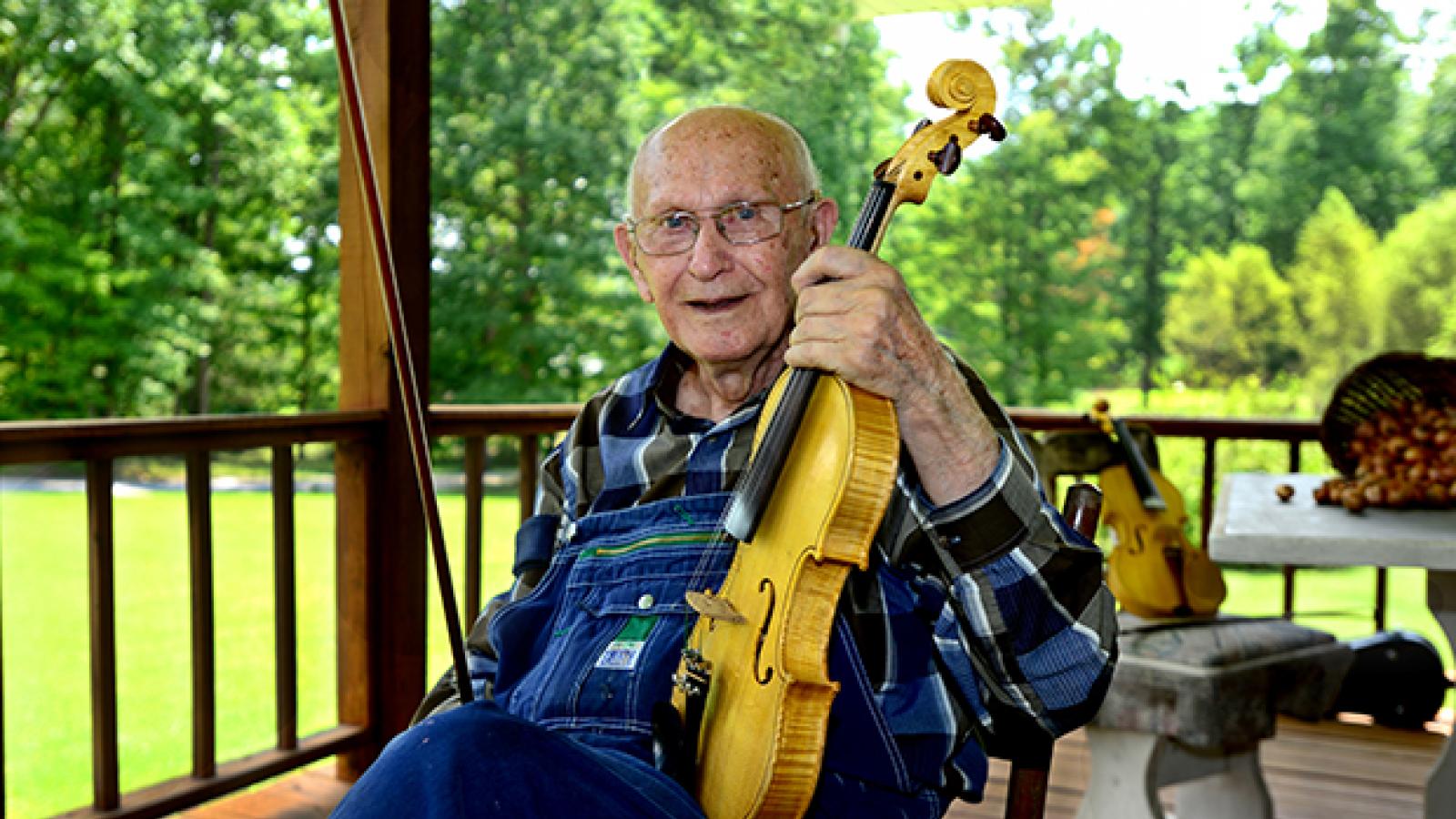 It is with great sadness that the National Endowment for the Arts acknowledges the death of Appalachian fiddler Clyde Davenport, recipient of a 1992 National Heritage Fellowship, the nation's highest honor in the folk and traditional arts.
Clyde Davenport was born October 21, 1921, in Mount Pisgah, in south-central Kentucky. He was raised in the Blue Hollow of Wayne County in the Cumberland Plateau region. When he was nine, Davenport made his own fiddle from barn boards, using hair from his family's mule for bowstrings. Within a few hours he was playing fiddle tunes that he had heard his father play. Soon he became interested in the banjo, which his father also played, and made his own and taught himself to play.
In his mid-teens, Davenport first heard the music of the widely admired fiddle and banjo duo of Blind Dick Burnett and Leonard Rutherford. He particularly admired Rutherford's long-bowing technique, which was typical of the region. His attraction to Rutherford's flawless technique led him eventually to make the fiddle his instrument of choice, though he was also widely recognized for his old-time clawhammer banjo playing.
The traditional fiddle music Davenport played is described as "lean, spare, sinewy." The traditional fiddling style of this region is solo, and often the fiddle is cross-keyed. In addition to solo tunes and quick-tempo breakdowns, he played the fluid blues in the style of Rutherford. He knew more than 200 fiddle tunes, many of which are rare tunes learned from his father, grandfather, and fiddling neighbors of earlier generations.
Intermittently throughout his adult life, Davenport made full-time work of making and repairing fiddles. His reputation as an instrument maker and repairman, as well as his playing, made him the center of the old-time music world in central Kentucky. Through his appearances at festivals, concerts, school programs, workshops, and music camps, Davenport enlightened thousands to the subtleties of old-time music.
In a recent interview, 2019 National Heritage Fellow Bob Fulcher, who made recordings of Davenport's music, said: "If there is an American style of fiddling, it's probably this style…The pacing and the timing of these solo pieces, it's like in ballad singing. It's up to that musician at that time about how long you want to sustain a note. And so, the richness of the old solo fiddle pieces is—I think is incomparable."