National Endowment for the Arts Statement on the Death of NEA Jazz Master Annie Ross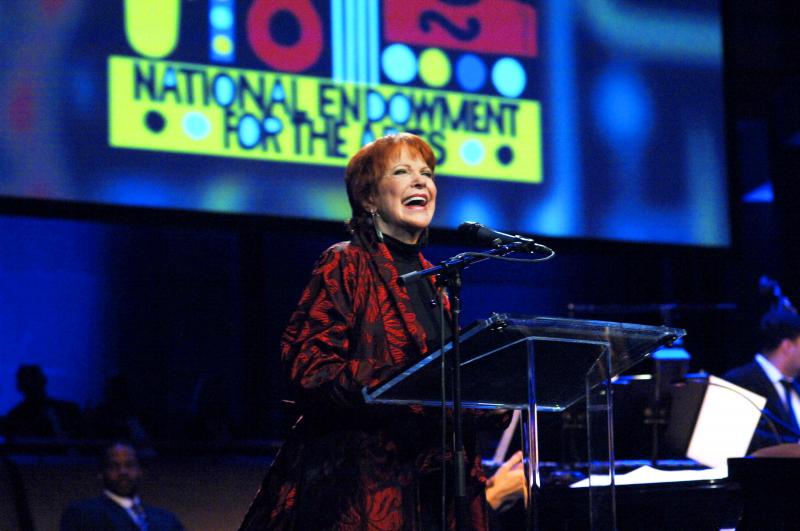 It is with great sadness that the National Endowment for the Arts acknowledges the passing of Annie Ross, recipient of a 2010 NEA Jazz Masters Fellowship, the nation's highest honor in jazz. As part of the vocal trio Lambert, Hendricks & Ross, she was one of the early practitioners of a singing style known as "vocalese," which involves the setting of original lyrics to an instrumental jazz solo. We join the jazz community in mourning her death while celebrating her life and many contributions to jazz.
In an interview with the Arts Endowment, Ross spoke about the improvisation of her live performances: "Nothing is in any way planned. I'll sketch a set that I want to do but, if someone else comes up with something on the stand, I'll say, 'Let's try it.' It could be something we've never, ever done before and then I tell them, 'That's jazz,' when it just happens. And the audience loves the spontaneity of it."
Ross was born in England and raised in Los Angeles. She landed a role in the Our Gang film series at the age of eight, singing a musical number on the show. Returning to Europe, she began her singing career, working with touring American musicians such as James Moody, Kenny Clarke, and Coleman Hawkins.
Ross returned to the United States in 1952. She settled in New York City and recorded Singin' and Swingin' with members of the Modern Jazz Quartet as well as an album with vocalist King Pleasure that same year. That recording includes a classic example of Ross' vocalese: "Twisted," which featured her treatment of saxophonist Wardell Gray's solo. It is perhaps her most famous song and has been recorded by Joni Mitchell, Bette Midler, and many others.
In 1953, Ross toured Europe with Lionel Hampton's band, performing alongside Clifford Brown, Art Farmer, and Quincy Jones. She eventually returned to the United States, where she teamed up with vocalists Dave Lambert and Jon Hendricks to record an album of Count Basie solos transposed for vocals, marking the beginning of the legendary group Lambert, Hendricks & Ross.
Between 1957 and 1962, the group recorded seven albums, including the one catapulting them into the spotlight: Sing A Song of Basie (1957). They toured all over the world and also appear in Dave Brubeck's musical theater piece The Real Ambassadors (1961). Ross left the group in 1962 and, two years later, she opened her own London nightclub called Annie's Room; a compilation of her 1965 performances there was released on Live in London (2006).
Ross was also an accomplished actress and appeared on stage in London and New York and in a number of films. Her most notable role was as the jazz singer Tess Trainer in Robert Altman's Short Cuts (1993).
For more information on Ross, including a full interview and short audio features, visit arts.gov. In addition, the Smithsonian Jazz Oral History Program, supported by the National Endowment for the Arts, has an oral history with Ross.
About the National Endowment for the Arts
Established by Congress in 1965, the National Endowment for the Arts is the independent federal agency whose funding and support gives Americans the opportunity to participate in the arts, exercise their imaginations, and develop their creative capacities. Through partnerships with state arts agencies, local leaders, other federal agencies, and the philanthropic sector, the Arts Endowment supports arts learning, affirms and celebrates America's rich and diverse cultural heritage, and extends its work to promote equal access to the arts in every community across America. Visit arts.gov to learn more.
Contact
NEA Public Affairs
publicaffairs@arts.gov
202-682-5570