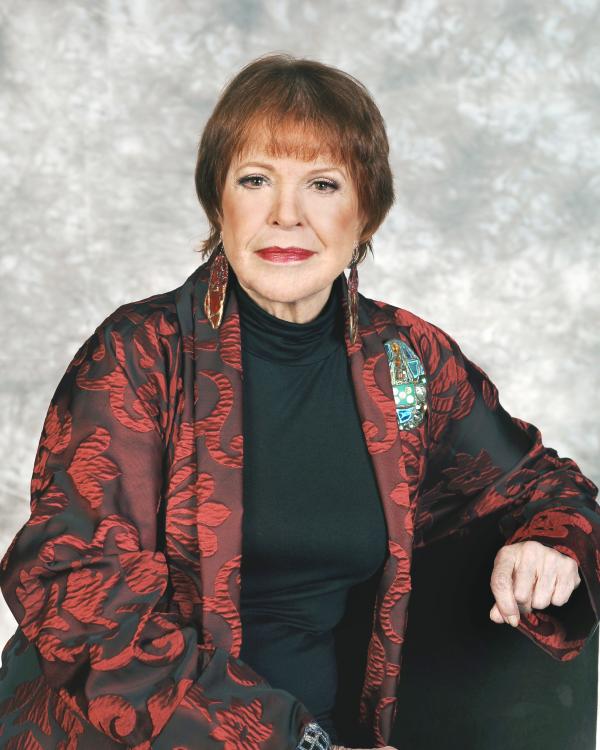 Bio
"Aside from my American citizenship, which I received in 2001, I can think of no greater honor I could receive from my country."
As part of the vocal trio Lambert, Hendricks & Ross, Annie Ross was one of the early practitioners of a singing style known as "vocalese," which involves the setting of original lyrics to an instrumental jazz solo. She was equally at home in the acting field, appearing in numerous films.
Ross was born in England, but raised in Los Angeles. She landed a role in the Our Gang film series at the age of eight, singing a musical number on the show. Returning to Europe, she began her singing career, working with musicians such as James Moody, Kenny Clarke, and Coleman Hawkins.
Ross returned to the United States in 1952, settling in New York City, and soon recorded Singin' and Swingin' with members of the Modern Jazz Quartet. Later that year she recorded an album with vocalist King Pleasure, including the classic example of vocalese, "Twisted," which featured her treatment of saxophonist Wardell Gray's solo. It is perhaps her most famous song and has been recorded by Joni Mitchell, Bette Midler, and many others.
In 1953, Ross toured Europe with Lionel Hampton's band, which included Clifford Brown, Art Farmer, and Quincy Jones. After several years in Europe, she returned to the States where she teamed up with vocalists Dave Lambert and Jon Hendricks on an album of Count Basie solos transposed for vocals. That was the beginning of the group Lambert, Hendricks & Ross.
Between 1957 and 1962, the group recorded seven albums, including the one that put them in the spotlight: Sing A Song Of Basie (1957). They toured all over the world and also appear in Dave Brubeck's musical theater piece The Real Ambassadors (1961). Ross left the group in 1962 and two years later she opened her own London nightclub called Annie's Room; a compilation of her 1965 performances there was released on Live in London (2006).
Ross also was an accomplished actress and has appeared in a number of films, such as Superman III (1983), Throw Mama from the Train (1987), Pump Up the Volume (1990), and Blue Sky (1994). Her most notable film role was as the jazz singer Tess Trainer in Robert Altman's Short Cuts (1993), in which she also sang. On stage, Ross appeared in Cranks (1955) in both London and New York, The Threepenny Opera (1972) with Vanessa Redgrave, and in the Joe Papp production of The Pirates Of Penzance (1982) with Tim Curry.
Selected Discography
Lambert, Hendricks & Ross, Twisted: The Best of Lambert, Hendricks & Ross, Rhino, 1957-61
Sings a Song with Mulligan!, EMI, 1958
Sings a Handful of Songs, Fresh Sound, 1963
Music is Forever, DRG, 1995
Let Me Sing, Consolidated Artists, Productions, 2005
Interview by Molly Murphy for the National Endowment for the Arts,
September 22, 2009
edited by Don Ball
COMING TO AMERICA
NEA: Can you tell me a little bit about your childhood? When you came to the United States?
Annie Ross: I came when I was four. I came by a kind of immigrant ship. We got the cheapest ticket, which was right in the bowels of the ship.
NEA: Do you remember it?
Annie Ross: Yeah. And I certainly remember when we were coming into New York. I think it took seven days or more to come. We went from Glasgow, Scotland, and I remember someone rushing in and saying, "We're coming into New York, you can see the Statue of Liberty." And that was thrilling but the thing was that, when you're an immigrant, you have to have the right papers, someone has to claim you in America. My mother would say, "Oh, I hope we're not sent back." And the thought of being told that we could actually be sent home was very frightening. They would send small little boats out with immigration officials trying to make it easier, I suppose, for the folks on Ellis Island, clearing some papers away.
Funnily enough, friends of mine, who live in LA, came to New York and said, "Annie, we're gonna go to Ellis Island. Would you like to go? "And I said, "Yeah, I'd love to go." Well, the minute I put my foot on Ellis Island, I started to weep.
NEA: When was this?
Annie Ross: This was about seven, eight years ago. And we bought a little videotape that plays as you go around, I think it was Tom Brokaw or somebody, and we went into the great hall. And I said, "You know, my memory, I was sure that this was red brick." And on came Tom Brokaw or whoever and they said, "Up until 19. . ." blah blah blah, ". . . this had been red brick and then they covered it with yellow tile" and that just made me weep more. I found the manifest from the ship I'd come over on and it was very, very moving. I really urge everyone to go to Ellis Island. It's historically incredible.
As a kid, I was raised really backstage and every noise, every light, was to be taken notice of. And I had a very good memory; I learned very quickly. The easiest things for me to learn are lyrics and so maybe that had something to do. And it was such a huge step to come here from there.
NEA: And so you came to New York -- did you go straight to California or did you stay here for awhile?
Annie Ross: My father had stayed the night on Ellis Island, something wasn't right with his data or information or whatever.
NEA: That must have been harrowing.
Annie Ross: Well, I was whisked away to my aunt's apartment and we lived in the apartment which was on 58th Street or something until I told the father of a little friend of mine that I heard he had a radio show and I should be on it. And they called up and said, "Where is she? We're waiting here for her."
My aunt said, "You're waiting for who? " And they said, "Ms. Short," because that's my real name. And she said, "Well, she's having a nap." And they said, "Well, could you get her up and put some clothes on her and bring her down to the studio? " And the man that I had spoken to as the father of my friend turned out to be Paul Whiteman, who's a huge orchestra leader, and they were having a contest for children. And the prize was a token contract with MGM. By token, it means it was a gesture. I went to LA and I went to MGM and I met everybody and I ate in the commissary, but it wasn't anything serious. It was a token contract. But my aunt, who was a very well-known singer, decided to move to California because she wanted to do movies. And, consequently, the war came and then I was in school and so I just stayed in California. My mother and father and brother went back to Scotland because they had four other children.
NEA: So how old were you when they returned?
Annie Ross: I was four and a half. And I didn't see them until I was 17. When I went back.
But my aunt was wonderful because she was a great singer and her name was Ella Logan. She introduced Finian's Rainbow to America and the first record she ever gave me, I was about five and a half or six, was Ella Fitzgerald, "A-Tisket, A-Tasket." I didn't know what she was doing but I knew that I wanted to do that. And so then I just continued being in LA.
My aunt was a great party giver so she would have huge parties, everybody would sing and play and you know. I didn't know that it was jazz, but I always went for it.
NEA: When did you realize that you wanted to be involved in music?
Annie Ross: It was around me all the time. It was fun when Johnny Weissmuller did the famous Tarzan yell for me. I mean, all that is fun, but the whole life in Hollywood was so phony. When my aunt got married, her husband bought a record collection and that was the first time I heard Billie Holiday. I ate it up.
And I had one of the first copies of the sheet music of "Laura." So, when the guys would come over to see my aunt, I had this music and they were amazed that I would know as much as I did because I read voraciously about all my heroes and the bands. My aunt -- we had a lot of disagreements, but she did expose me to wonderful stuff.
HEADING TO PARIS
NEA: And when you were 19, you went to Paris.
Annie Ross: No, I was 17. First I went to Scotland. I hated it. I adore it now.
NEA: So you went to Scotland to see your family, I assume?
Annie Ross: Yeah. When you're gone that long, your parents become strangers. I was made to write home as a tiny thing, but what do you talk about? I went to school, it was really nice, I have to go now because it's bedtime or whatever, you know? It became a chore rather than something I really wanted to do. So when I saw them, I saw them as strangers, you know? And judged them as such. But Paris was wonderful.
NEA: And what led you to Paris?
Annie Ross: There is a very famous songwriter called Hugh Martin who wrote "The Trolley Song," "The Boy Next Door," "Have Yourself a Merry Little Christmas." And Hugh loved me. He had met me at MGM and he somehow got in touch with me and wrote me a letter saying that he and his partner were coming to Paris and they want to form a trio and how would I like being part of the trio? Everything would be paid for. So I jumped at the chance, you know? Who wouldn't wanna go to Paris? And so I went there and I stayed in Europe until I was 21. And I made Paris my base and I went all over North Africa and places like that.
NEA: And when you say you went all over, were you performing all over?
Annie Ross: Sometimes I was performing, sometimes I was singing with the band. It was kind of a mixed bag. And then Hugh Martin got an offer to write a show in New York and it was a show he'd always wanted to do. Actually, it never opened. But he said, Annie, I wanna do this so badly and I'll give you some money to keep you, you know? And that's what happened. And he left. And I just stayed on and worked in Monte Carlo and all kinds of wonderful places.
NEA: And how did you meet James Moody and Kenny Clarke?
Annie Ross: Well, it was the exodus of black musicians, and a lot of musicians didn't feel that they were being appreciated properly and so they would go to Paris, where they were much adored by the French public. And Kenny Clarke, I met him and he had a band, he put together a band that Moody was in and I got to know Moody and then I made my very first record ever in Paris with Moody. And we're still very tight.
It was the first time that I got a chance, finally, to put into practice what I had learned and I got great help. Moody would bring over Debussy and say, "I want you to listen to this, that second chorus, Annie, he does a change that is so amazing." And it was wonderful. It was wonderful.
"TWISTED"
NEA: Could you talk a little bit about when you were asked to write lyrics to "Twisted? "
Annie Ross: I was trying to work as a waitress very unsuccessfully, and I spent all the money I made going to Birdland. I had a friend who was a piano player called George Wallington and his wife did publicity for Virginia Wicks (who is still, today, a great friend of mine), and her name was Billie Wallington, and she said, "I know a guy that owns a record company. I think you should meet him." And I did and he owned Prestige Records and he said, "Have you heard of King Pleasure? "I said, "Yeah." He said, "Could you write like that? "I said, "Sure." I mean, if he'd said, "Can you fly? " I would have said, "Yeah." And he said, "Well, here are a bunch of records. Pick out one. Take it home. Try to write words to it and, when you have, call me and you come over and I'll look over the words and tell you if I think you can do it." And I was back the next day. I had it.
NEA: Had you ever tried to write lyrics before?
Annie Ross: Oh, yeah. You know, I wrote songs. My school song I wrote and, at that time, the war was going on so I wrote about war bonds.  Then I wrote very melancholy songs. There was a song I wrote when I was about 13, I think called, "Slow, Sweet, Soft Summer Rain", and it was about lost love. I mean, what did I know about love at that age? And then, when I was 14, they had a contest in my school and the prize to write a song was going to be a record by Johnny Mercer and the Pied Pipers, of whom Jo Stafford was one. And the song would be judged by Dinah Shore and Johnny Mercer. And I wrote the song with a guy in school and we won.
NEA: Well, so why did "Twisted" appeal to you?
Annie Ross: The title was infinite possibilities. You could marry anything to it and it was the name signified, "Twisted." And it just occurred to me that it would be good as a kind of song about an analyst.
VOCALESE
NEA: Were people using the term vocalese at that time?
Annie Ross: No, they didn't know what to call it. I think it was Leonard Feather who actually coined the phrase.
NEA: And can you, for those who are not familiar, can you tell us what vocalese is?
Annie Ross: Supposing you take a wonderful instrumental, you write words to what the soloist does. Wardell Gray, who did "Twisted," I learned all his solos and wrote words to it.
And I've written a song. I want to do it so bad for the [Arts] Endowment, and it's called "Music is Forever." The premise is that, when we listen to you, you live, you're not dead. And so hopefully I'll be able to do that [at the awards concert].
NEA: Well, when you are singing vocalese, how are you relating to the instrument to which you wrote the lyrics?
Annie Ross: I'm not. I'm thinking about remembering the words. It's very difficult, and then skipping all the octaves going from the lower octave to three octaves higher, placing it in your mind, hearing it in your mind.
LAMBERT, HENDRICKS & ROSS
NEA: Lambert, Hendricks & Ross has been called one of the best vocal groups in all of jazz history. So how did you hook up with Dave Lambert and Jon Hendricks?
Annie Ross: I had met Dave very briefly, and then I went over to see a friend, and he said, "Why don't you stick around because I've got these two guys," and he named Jon and Dave." They have an idea to do an album about Count Basie." I stuck around and they came in and they demonstrated what they would do, how they wanted to do it, and I was fascinated. I'd already done "Twisted," but it was another kind of opening up.
The guy that I had gone to see had a tiny record company, and they wanted him to do an album but he didn't have the funds or it cost a lot of money. So they got a group of session singers to do a few tunes in the studio. The producer was Creed Taylor, and I was a little miffed because I thought they should have had me, but they didn't know me that well. And, finally, they rang and said, "Listen, could you maybe come down and coach them to swing? "I thought, you can't teach somebody [that]. I said, "Okay" so I went down and, for about an hour, I tried. They hit every note perfectly but it didn't swing, it didn't have the Basie swing. And so the money had been spent, the producer was tearing his hair out and finally Dave Lambert, who was very into electronics, he said, "I have an idea." He came up with multi-taping. I didn't know what he was talking about, but I said, "Oh, yeah, definitely."
NEA: And had anyone done that?
Annie Ross: No. Well, Les Paul and Mary Ford had done [some. ]I don't know what they used -- I guess they used double track.
I didn't see how Dave was going to pull it all together. But hearing back first with just one track and then with two tracks and three tracks, I mean, it was the most incredible moment. It was magic. And I knew we had something great.
And I called Miles when I got home, and I said, "I want you to listen to something and tell me what you think." I had just started this track and Miles said, "Wait a minute, wait a minute, hold it. Mingus, pick up the phone." So Charlie Mingus picked up the phone and they went crazy. And I knew we had something fantastic.
NEA: What was the writing process like between the three of you? Was it very collaborative?
Annie Ross: Well, Jon wrote all of the lyrics brilliantly. Dave would put it all on paper. We had virtually no rehearsal. We would gather at Dave's little flat on Cornelia Street and he would be at the board writing all the stuff out. Jon would be reading a paper and I would be reading the paper or doing a crossword puzzle. And then, finally, after about two hours, we'd get up and we'd try it out and then we spent a lot of time listening to the band, listening to the instrumentals. But it came very naturally to us. We didn't have huge rehearsals all day long.
NEA: And why did you decide to leave?
Annie Ross: It was time. Working so closely, things develop. It's like a marriage. It just happened.
NEA: And you went to England?
Annie Ross: Yeah.
NEA: You started your own place, the Metropolitan Room.
Annie Ross: Well, that's when I got married and we found a venue and big crowd of us would gather every weekend to paint it and it was a great club but that was of its time, as so many things are. We didn't have any funds but I had to be there every night, you know, because it bore my name.
I introduced sometimes. And people would come down, they want to see you. It was a party every night, which is good and bad.
Basie came, Earl Garner came, Joe Williams worked there. You'd find yourself getting made up about 10:00 at night and you had to go, which meant that you didn't get home until six in the morning. But how can you refuse someone who is your idol? I mean, you'd be crazy if you did. And it's part of the gig, you know?
The booking, I didn't do anything. I remember we had an incredible menu. It had bread and gravy on it, which the people loved. And I got too emotionally involved. The waiters were wonderful. They told me they used to try on my gowns after I left. I cried because they fired the cook because he put whiskey into the chili or something -- I mean, he was a drunk but I felt personally responsible for him.
AUDIENCES
NEA: Do you have a core audience? Is it a New York audience?
Annie Ross: Yeah. Yeah. Wonderful.
NEA: And how do you relate to audiences?
Annie Ross: I ask them questions. Nothing is in any way planned. I'll sketch a set that I want to do but, if someone else comes up with something on the stand, I'll say, "Let's try it." It could be something we've never, ever done before and then I tell them, "That's jazz," when it just happens. And the audience loves the spontaneity of it.
NEA: You have done so many different kinds of things, such as stage acting and different kinds of music, do you consider yourself a jazz musician at your core if you have to put labels on things?
Annie Ross: If you had to, yeah.
NEA: Well, for people who are not intimate with jazz, can you talk a little bit about what sets jazz apart for you?
Annie Ross: The spontaneity. If you can convey a memory where someone can be listening and say, "Oh, my god, yeah." If it makes you wanna snap your fingers and tap your foot, that's a real good sign. And then, in balance, chord structure, the makeup of chords. I can't read [music], but I can sing down chords so that if I'm teaching my piano player -- who's a wonderful piano player, Tardo Hammer -- he can play the music as written, but I can change the chords because I hear it a different way. And that's how he gets the chord changes that he gets.
NEA: How do you keep your voice in shape? Do you practice?
Annie Ross: No. I do all the wrong things but it's my joy. It's like if I feel awful and I don't wanna go to work, I can sing. I can feel like the lowest of the low and I get myself together and I go down and I get up and I sing and I feel so great. I feel so much better. It's the cure, you know? And so I'm so lucky, at my age, to have this gig that I love to do. It's wonderful.