National Endowment for the Arts Statement on the Death of NEA Jazz Master Cándido Camero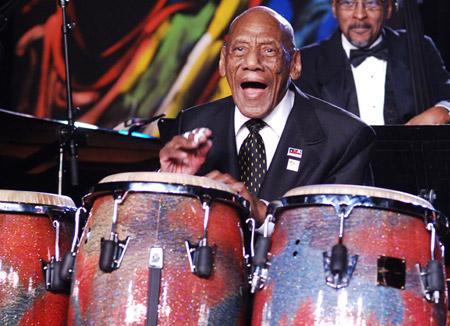 It is with great sadness that the National Endowment for the Arts acknowledges the passing of percussionist Cándido Camero, recipient of a 2008 NEA Jazz Masters Fellowship, the nation's highest honor in jazz. So well-known and respected, he was known by jazz aficionados by first name alone -- Cándido. He was credited with being the first percussionist to bring conga drumming to jazz and was also known for his contributions to the development of mambo and Afro-Cuban jazz. We join the jazz community in mourning his death while celebrating his life and many contributions to jazz.
Born in Havana, Cuba, in 1921, Camero first began making music as a young child, beating rhythms on empty condensed milk cans in place of bongos. He worked for six years with the CMQ Radio Orchestra and at the famed Cabaret Tropicana.
In a 2008 interview with the National Endowment for the Arts, Camero described his connection with audiences: "The idea is to please the people not to please me. I enjoy seeing and knowing they enjoy what I'm doing, so we both can enjoy it; they by listening and me by playing."
He came to the United States in 1946 with the dance team Carmen and Rolando, and very soon after was playing with Billy Taylor, who wrote in 1954, "I have not heard anyone who even approaches the wonderful balance between jazz and Cuban elements that Cándido demonstrates."
By the early 1950s, Camero was a featured soloist with the Stan Kenton Orchestra, with whom he toured the U.S. playing three congas (at a time when other congueros were playing only one) in addition to a cowbell and guiro (a fluted gourd played with strokes from a stick). He created another unique playing style by tuning his congas to specific pitches so that he could play melodies like a pianist. He became one of the best known congueros in the country, appearing on such television programs as the Ed Sullivan Show and the Jackie Gleason Show.
He recorded and performed with seemingly everybody in the jazz field, including such luminaries as Tony Bennett, Miles Davis, Dizzy Gillespie, Lionel Hampton, Slide Hampton, Charles Mingus, Wes Montgomery, Gerry Mulligan, Charlie Parker, Sonny Rollins, and Clark Terry. Among his many awards are the Latin Jazz USA Lifetime Achievement Award (2001) and a special achievement award from the American Society of Composers, Authors and Publishers as a "Legend of Jazz" (2005). He was subject of the 2006 documentary, Candido: Hands of Fire.
For more information on Camero, including a full interview, visit arts.gov. In addition, the Smithsonian Jazz Oral History Program, supported by the National Endowment for the Arts, has an oral history with Camero.
About the National Endowment for the Arts
Established by Congress in 1965, the National Endowment for the Arts is the independent federal agency whose funding and support gives Americans the opportunity to participate in the arts, exercise their imaginations, and develop their creative capacities. Through partnerships with state arts agencies, local leaders, other federal agencies, and the philanthropic sector, the Arts Endowment supports arts learning, affirms and celebrates America's rich and diverse cultural heritage, and extends its work to promote equal access to the arts in every community across America.
Contact
NEA Public Affairs, publicaffairs@arts.gov