Cándido Camero
Percussionist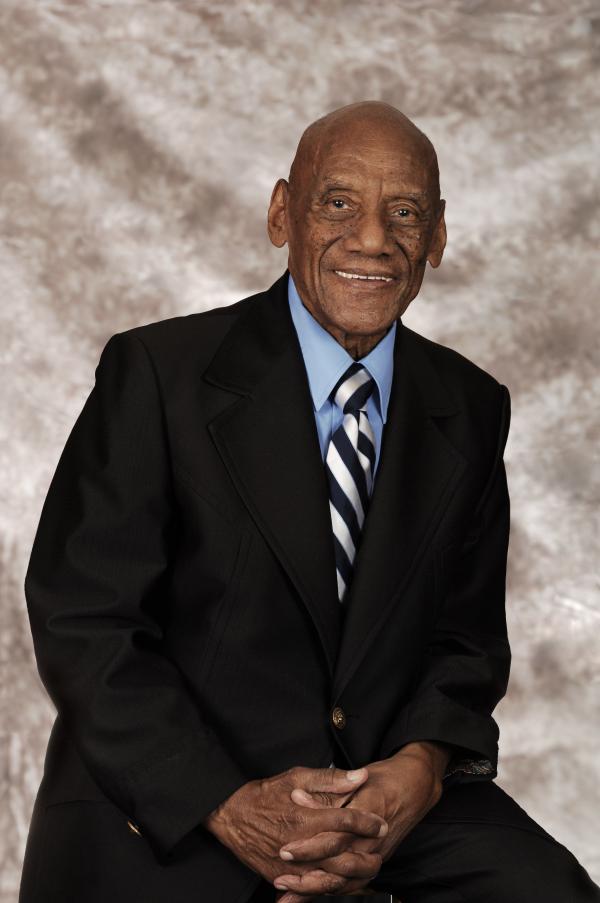 Bio
"I have no words to express how honored and proud I am. I feel extremely happy to be recognized with such [an] important distinction after 60 years in my professional career, naming me, NEA Jazz Master, the nation's high[est] honor for this uniquely American art form. I feel very humble to receive this recognition. It is as seeing an impossible dream come true. I thank the NEA and the United States of America."
So well known and respected, his first name alone—Cándido—was all that is necessary for jazz aficionados to know who he was. Credited with being the first percussionist to bring conga drumming to jazz, Cándido Camero was also known for his contributions to the development of mambo and Afro-Cuban jazz.
Born in Havana, Cuba, in 1921, Camero first began making music as a young child, beating rhythms on empty condensed milk cans in place of bongos. He worked for six years with the CMQ Radio Orchestra and at the famed Cabaret Tropicana.
He came to the United States in 1946 with the dance team Carmen and Rolando, and very soon after was playing with Billy Taylor, who wrote in 1954, "I have not heard anyone who even approaches the wonderful balance between jazz and Cuban elements that Cándido demonstrates."
By the early 1950s, Camero was a featured soloist with the Stan Kenton Orchestra, with whom he toured the U.S. playing three congas (at a time when other congueros were  playing only one) in addition to a cowbell and guiro (a fluted gourd played with strokes from a stick). He created another unique playing style by tuning his congas to specific pitches so that he could play melodies like a pianist. He became one of the best known congueros in the country, appearing on such television shows as the Ed Sullivan Show and the Jackie Gleason Show.
He recorded and performed with seemingly everybody in the jazz field, including such luminaries as Tony Bennett, Miles Davis, Dizzy Gillespie, Lionel Hampton, Slide Hampton, Charles Mingus, Wes Montgomery, Gerry Mulligan, Charlie Parker, Sonny Rollins, and Clark Terry. Among his many awards were the Latin Jazz USA Lifetime Achievement Award (2001) and a special achievement award from the American Society of Composers, Authors and Publishers as a "Legend of Jazz" (2005).
Camero was the subject of the 2006 documentary, Candido: Hands of Fire.
Selected Discography
Billy Taylor, The Billy Taylor Trio with Candido, Prestige/OJC, 1954
Candido, Verve, 1956
Brujerias de Candido: Candido's Latin McGuffa's Dust, Tico, 1971
Candido Camero/Carlos Valdes/Giovanni Hidalgo, Conga Kings, Chesky, 1999
Hands of Fire, Latin Jazz USA, 2006
Interview by Molly Murphy for the NEA
January 10, 2008
Edited by Don Ball
FIRST INSTRUMENT
NEA:  Was there any kind of situation that you can remember where you would have heard jazz that made a big impression on you?
Candido Camero:  When I was four years old I was still in the school, in kindergarten, and I used to run to the house after school to listen to the radio, mostly just because I always liked the jazz, the music. And one of my uncles from my mother's side (he was a professional bongo player), he kept asking me if I wanted to become a musician. I said, "Yes, I would like that."   So he got me two empty cans, the condensed milk, and he put on a skin like a regular bongo, and that was my first instrument, when [I was] four years old.
NEA:  Two cans of condensed milk?
Candido Camero:  That was my first pair of bongos. And then my father told me how to play the tres. Tres is a Cuban lead guitar. My grandfather taught me how to play a bass by ear because I don't know nothing for do-re-mi. So that's how I started. When I was fourteen years old, then I started being a professional. I used to play dances and weddings and birthday parties, and I used to get one dollar a day.
I was playing bass and they had the piano, they had a trumpet, and a conga. But because I don't know how to read music I said, "Okay I'm going to switch to the congas."   That was 1940. That's when I started playing the congas. That would take me all over the world, playing congas.
NEA:  And it was because you didn't know how to read music?
Candido Camero:  Exactly. Because, at that time, for me to stay in the group without [being able to] read music wouldn't be good. They don't want to keep me. But then when they put one conga in the group, I said that I wanted to play the conga. I only had to listen to the arrangement.
NEA:  And did you ever learn to read music?
Candido Camero:  No, never. You have to learn the music, the arrangement, and once you learn that everything is going to be easy.
COMING TO THE UNITED STATES
NEA:  Tell me about some of your first professional experiences. How old were you when you started?
Candido Camero:  As a professional, when I was 14 years old. That's when I started playing as a professional.
NEA:  Were there other kids of that age playing professionally?
Candido Camero:  Not too many.
NEA:  Tell me about the first times you played with the American jazz musicians.
Candido Camero:  I came from Havana, Cuba, to New York City, United States, with a dance team by the name of Carmen and Rolando. And when I finished the concert with them, then I stayed by myself. I used to go to 52nd Street where they have on both sides of the street one club next to another, they have all the jazz musicians, big names. That was very exciting, that.
NEA:  And it was 1946?
Candido Camero:  1946, yes, 52nd Street. Yes.
NEA:  Did you introduce yourself to musicians or did you ask to sit in?
Candido Camero:  No, when I finished my concert with the dance team, a friend of mine took me to the Palladium Ballroom and Tito Puente, Machito, Graciela [Grillo-Perez] were playing there. And one friend introduced me to Dizzy Gillespie because [Gillespie] was looking for a conga player. So he asked Machito and Tito Puente to let me play one set with them and he liked the way I play. So then [Gillespie] asked my friend if I can go with him to the Downbeat Club -- Dr. Billy Taylor was playing there. So when I played one set, the owner of the club liked me so much, the way I played, he signed me for one week with option, and that became a year-and-a-half. Every week I had to sign a new week and the option. Billy Taylor was housed there and I played with him that year-and-a-half. But every week they changed the group and I played with every group and I recorded with them. Yes, more than 100 all together.
My first recording in the United States in the jazz field, that was with Billy Taylor Trio. That was recorded in 1954. That was when I was playing with Billy Taylor in the Downbeat Club and that was a good experience because of that combination between the Latin beat, Afro-Cuban beat, and jazz beat on the drums. That's what made the record so exciting and especially one tune they call " Mambo Inn ."   That was with Dr. Billy Taylor's trio.
NEA:  Do you remember who else was in Billy's band?
Candido Camero: The bass player, I just heard he passed away, was Earl May. Last week he passed away. And the drummer was Charlie Smith. He also passed away, a long time ago. And then one of the other albums is Brujerias de Candido , that was in 1971 when we recorded that. Tito Puento played the timbales. Then another record that I like very much is Candido, Carlos Valdes, and Giovanni Hidalgo, called The Conga Kings. That was recorded in 1999. That was a good recording also. Now the new one they call Candido: Hands of Fire. That was recorded a year ago, and the new documentary of my life also was called Candido: Hands of Fire. So those are the things that I remember the most. Yeah.
CANDIDO'S STYLE
NEA:  What was it like to try to combine the sounds of Cuban jazz with the entire tradition of American jazz?
Candido Camero:  The feeling is different when you play. On the beat the feelings are much more different. Yes.
NEA:  Very different and so you had to adjust your approach to your instrument.
Candido Camero:  That's right, yes, right.
NEA:  Do you have any preference for types of music when you play?
Candido Camero:  No, as long as it's good music I like it. Yes, everyone.
NEA:  And you also developed new techniques for your instrument.
Candido Camero:  Right, yes, I got that idea from the symphony orchestra. I used to go to the concert to hear the music and I saw the tympani player make rolls on the tympanis and to finish together with the same note that was playing. So that's where I got that idea to play the three congas to play melody.
NEA:  So you can tune them?
Candido Camero:  I started to do that, yeah. I had to tune three different keys, and I started doing that in 1940.
NEA:  And no one had done that.
Candido Camero:  Before, no, [they] only played one conga. Everyone was good, very good, every one of them, but [they played] only one conga and then two congas later, but I was the first one to play three congas.
NEA:  I keep reading this term called coordinated independence.   What is that?
Candido Camero:  I used to do one thing with the left hand and a different thing with the right hand. And also I was the first one. Very, very hard to do that.
NEA:  It's almost like making the instrument become like an orchestra. I hear people equate a piano to being an entire orchestra because you can do so much with two different hands. It's like you've doubled your capacity.
Candido Camero:  Right, it's the same, the piano. And with the piano, the left hand plays one thing and the right hand plays a different thing. That's what I try to do now.
AUDIENCES
NEA:  So when you're playing is it important to you to establish a connection with your audiences?  
Candido Camero:  Yeah, that's my idea to be involved with the audience. That's my idea because if they don't like what I'm doing, they get up and go. The idea is to please the people not to please me. I enjoy seeing and knowing they enjoy what I'm doing, so we both can enjoy it; they by listening and me by playing.
I've been all over the world. And everywhere I go, people say, "When are you coming back, when are you coming back?" So I've been lucky, I feel very proud. It's a privilege for me to be able to do that, but I'm going to be 87 this coming April.
NEA:  Was it a surprise to be named an NEA Jazz Master?
Candido Camero:  Well, the reaction from me is it's like a dream come true. That's how I describe that. As long as God wants me to keep doing this, I'll be doing it, but this is like a dream come true. It's quite an honor. I'm very proud.