National Endowment for the Arts Statement on the Death of NEA Jazz Master Jimmy Cobb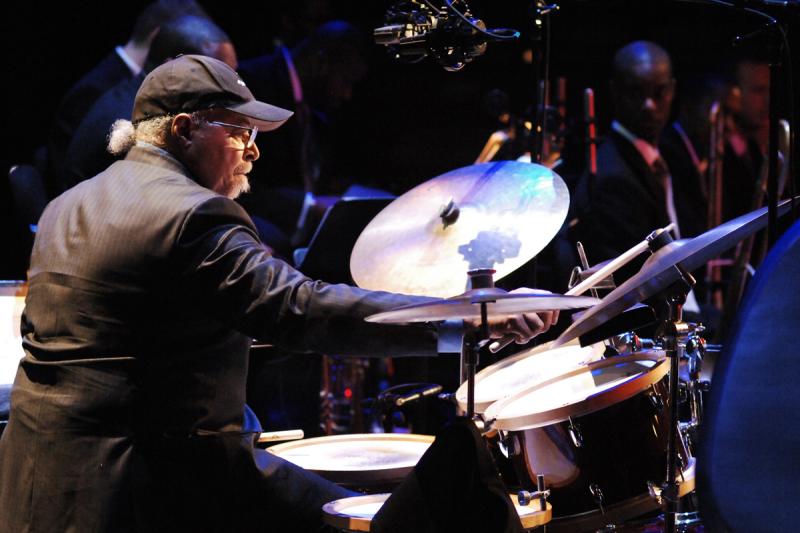 It is with great sadness that the National Endowment for the Arts acknowledges the passing of percussionist Jimmy Cobb, recipient of a 2009 NEA Jazz Masters Fellowship, the nation's highest honor in jazz. An accomplished accompanist and soloist, Jimmy Cobb was best known for being a key part of Miles Davis' first great quintet in the late 1950s. We join the jazz community in mourning his death while celebrating his life and many contributions to jazz.
In a 2008 interview with the National Endowment for the Arts Jimmy Cobb described how he developed his sound: "Most people, when you start out, you start out emulating somebody. Do what they do. You'd heard something that sounded good and you liked it, you'd try to play that. You did that for a while; some people get out of it, and some people don't.… After a while, that kind of gives you a style, because you take different things from different people's playing that you like, and then you put it together for your stuff, and then you probably wind up in the long run with some kind of a style of your own."
Largely self-taught, Cobb spent his younger days in his hometown of Washington, DC, playing engagements with Charlie Rouse, Frank Wess, and Billie Holiday, among others. He left DC in 1950, joining Earl Bostic, with whom he cut his first recordings, before finding work with Cannonball Adderley, Pearl Bailey, Dizzy Gillespie, Clark Terry, and Dinah Washington. In 1957, Cobb began playing with Miles Davis, eventually becoming part of a formidable rhythm section that included Paul Chambers on bass and Wynton Kelly on piano. Between 1957 and 1963, Cobb played on some of Davis' most noted records: Kind of Blue, Sketches of Spain, Someday My Prince Will Come, Live at Carnegie Hall, Live at the Blackhawk, and Porgy and Bess, among others. In 1963, Cobb left the Davis band to continue working as a trio with Chambers and Kelly. The trio disbanded in the late 1960s, and Cobb worked with singer Sarah Vaughan for nine years. He then freelanced for the next 20 years with artists such as Nat Adderley, Ron Carter, George Coleman, Ricky Ford, Hank Jones, David "Fathead" Newman, Sonny Stitt, and Nancy Wilson.
Cobb released his first CD (and music video) for the A&E network in 1986. In 2006, Cobb was produced by Branford Marsalis for the Marsalis Music Honor Series, recorded around Cobb's 75th birthday. He has released several albums as a leader—New York Time, Cobb's Corner, and West of 5th—playing with musicians such as Roy Hargrove, Hank Jones, Christian McBride, and Cedar Walton. Cobb led the Jimmy Cobb "So What" Band, celebrating 50 years of Kind of Blue and the music of Miles Davis, and traveled the international circuit.
Cobb taught master classes at The New School for Jazz and Contemporary Music in New York, the University of Greensboro in North Carolina, at Stanford University's Jazz Workshop and San Francisco State University, both in California, as well as at other national and international educational institutions.
For more information on Cobb, including a full interview and short audio features, visit arts.gov. In addition, the Smithsonian Jazz Oral History Program, supported by the National Endowment for the Arts, has an oral history with Cobb.
About the National Endowment for the Arts
Established by Congress in 1965, the National Endowment for the Arts is the independent federal agency whose funding and support gives Americans the opportunity to participate in the arts, exercise their imaginations, and develop their creative capacities. Through partnerships with state arts agencies, local leaders, other federal agencies, and the philanthropic sector, the Arts Endowment supports arts learning, affirms and celebrates America's rich and diverse cultural heritage, and extends its work to promote equal access to the arts in every community across America. Visit arts.gov to learn more.
Contact
NEA Public Affairs
publicaffairs@arts.gov
202-682-5570