National Endowment for the Arts Statement on National Medal of Arts Recipient Olivia de Havilland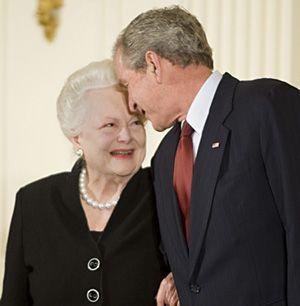 It is with great sadness that the National Endowment for the Arts acknowledges the death of Olivia de Havilland, recipient of a 2008 National Medal of Arts for her lifetime achievements and contributions to American culture as an actress.
Born in Japan to a British father and his actress wife, Olivia de Havilland attended high school in Santa Clara County, California, graduating in the spring of 1934. She won a scholarship to study drama at Mills College that fall; over the summer, she understudied as Hermia in Max Reinhardt's production of A Midsummer Night's Dream. She eventually played the role at the opening night performance at the Hollywood Bowl in September, and later toured the production at several California theaters. Within three months she was signed by Warner Brothers to play Hermia in Reinhardt's celebrated film version of the play—with a cast that included James Cagney, Dick Powell, and Mickey Rooney. She was simultaneously signed to a long-term contract, and soon appeared in films such as Alibi Ike, a baseball picture written by the master American humorist Ring Lardner. Those were followed by performances in three screen triumphs that defined 1930s cinema: Captain Blood (1935), Anthony Adverse (1936), and The Charge of the Light Brigade (1936).
She is perhaps known best for her portrayal of Melanie Hamilton in Gone with the Wind, a role that earned her a 1939 Academy Award nomination for Best Supporting Actress. Her resume also includes Westerns like Dodge City (1938) and The Santa Fe Trail (1940), both with Errol Flynn.
A conflict over Olivia de Havilland's contract with Warner Brothers sidelined her film career during the mid-1940s. However, she changed the rules in Hollywood substantially by taking legal action that forced the studios to limit contracts to seven years. Her victory in that case was seen as a major step for film actors' rights.
She received an Academy Award nomination for her portrayal of a woman suffering a mental breakdown in The Snake Pit (1948), and she received two Academy Awards for Best Actress for her performances in To Each His Own (1946) and The Heiress (1949), an adaptation of Henry James' novel Washington Square. After completing The Heiress, de Havilland spent several years on Broadway. In 1955, she moved to France with her second husband, Pierre Galante. In addition to the National Medal of Arts, de Havilland's other honors include the Academy of Achievement Award, the American Legion Humanitarian Medal, and the John F. Kennedy Center for the Performing Arts Gold Medal in the Arts for Artistic Achievement.
In a 2010 podcast with the National Endowment for the Arts, de Havilland discussed Hollywood's golden era of filmmaking: "Our nation was going through very, very difficult times and the interesting thing is that movies seem to give people something they desperately needed in a bad time. We were all united as a country in surviving these eras of great seriousness."
To listen to the full podcast with Olivia de Havilland, visit arts.gov. You can also listen to Olivia de Havilland on the audio guide for Washington Square, which was previously a part of the NEA Big Read.
About the National Endowment for the Arts
Established by Congress in 1965, the National Endowment for the Arts is the independent federal agency whose funding and support gives Americans the opportunity to participate in the arts, exercise their imaginations, and develop their creative capacities. Through partnerships with state arts agencies, local leaders, other federal agencies, and the philanthropic sector, the Arts Endowment supports arts learning, affirms and celebrates America's rich and diverse cultural heritage, and extends its work to promote equal access to the arts in every community across America. Visit arts.gov to learn more.
Contact
NEA Public Affairs
publicaffairs@arts.gov
202-682-5570