National Endowment for the Arts Statement on the Death of National Heritage Fellow Kenny Sidle  
It is with great sadness that the National Endowment for the Arts acknowledges the death of fiddler Kenny Sidle from Newark, Ohio, recipient of a 1988 NEA National Heritage Fellowship, the nation's highest honor in the folk and traditional arts.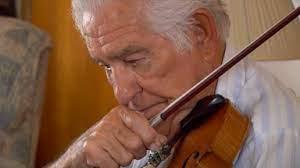 Sidle was born on July 20, 1931, in a log cabin in Licking County, in central Ohio. His father, Vernon Sidle, and uncle, John Cromer, were both fiddlers and encouraged him to play the instrument from a very young age. He continued to hone his skills as he grew up, and in the 1950s, started playing professionally for local radio shows and for square dances, though he never became a full-time musician.
Through the years, Sidle developed a distinctive "contest" style, which featured improvisation with many separate notes, but was also smooth, melodic, and sophisticated. His music reflected some Texas and Canadian influences, although it was difficult to place Sidle in any single line of development. His fiddling displayed technical precision while retaining the warmth and excitement of traditional fiddling. These abilities, combined with his affable personality, made him immensely popular among musicians, callers, dancers, and his community.
Traditions: Ohio Heritage Fellows presented a video story about Kenny Sidle in 2016 that features the musical life of Kenny Sidle. In his down-to-earth way, Sidle believed that "bluegrass music comes right down to the real story of American life."