NEA Statement on the Death of NEA Jazz Master Ramsey Lewis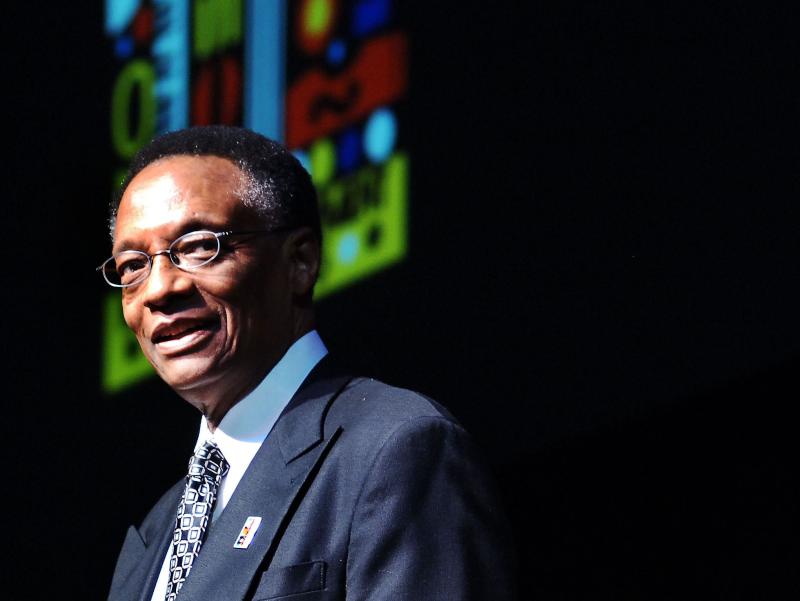 It is with great sadness that the National Endowment for the Arts acknowledges the passing of pianist Ramsey Lewis, recipient of a 2007 NEA Jazz Masters Fellowship, the nation's highest honor in jazz. With a style that sprang from his early gospel experience, his classical training, and a deep love of jazz, Lewis built a decades-long career as one of America's most popular performers.
In a 2006 interview with the NEA, Lewis spoke about how he strives to connect with his audience: 
"I know you have to believe in what you're doing, you have to believe in your music, believe in your ability, believe that what you're doing is honest and truthful and real. I think that comes through, the honesty, the truthfulness, and what that's about, through the notes. People seem to feel what's going on onstage. More times than not, people say, 'You guys seem to be having so much fun up there.' Well, we are. People feel that, and they see us having fun, and they just join in."
Born in Chicago, where he continued to make his home, he began taking piano lessons at the age of four and credits his teacher Dorothy Mendelsohn with awakening him to the communicative power of music. He recalls her telling him to "'Listen with your inner ear,' and 'Make the piano sing.' These concepts were revelations!"
During those early years, though, Lewis had no experience with jazz, except for the records his father would play at home from artists such as Duke Ellington, Art Tatum, and Meade "Lux" Lewis. He was already 15, and an accomplished gospel pianist, when a fellow church musician, Wallace Burton, asked him to join his band and helped Lewis learn the fundamentals of jazz. With his very first trio album, Ramsey Lewis and the Gentlemen of Swing, Lewis captivated a large and diverse jazz audience. By 1965, he was one of the nation's most successful jazz pianists, topping the charts with "The 'In' Crowd," "Hang On Sloopy," and "Wade in the Water." He won three Grammy Awards and the Recording Academy Governor's Award (2000), and earned seven gold records and three honorary doctorates.
Expanding his career through teaching, programming, and work in radio and television, he also became an ambassador for jazz. Lewis has served as Art Tatum Professor in Jazz Studies at Roosevelt University; as artistic director of the "Jazz at Ravinia" series of the Ravinia Festival in Illinois; and as host of a weekday morning drive-time radio show on Chicago's WNUA-FM, for which he was awarded R&R's 1999 and 2000 Personality of the Year Award. He hosted the syndicated Legends of Jazz with Ramsey Lewis and was the co-producer (with PBS television station WTTW-Chicago) and host of a television series of the same name, which featured emerging and established jazz musicians.
Active in community affairs, especially on behalf of youth, Lewis helped organize the Ravinia Festival's Jazz Mentor Program. In recognition of his activities, he was featured as the "Person of the Week" on ABC Nightly News in February 1995 and received the prestigious Lincoln Academy of Illinois Laureate Award in Springfield, Illinois, in April 1997. 
Visit the NEA's website to read an interview with Lewis, and listen to short audio features with him.
Contact
NEA Public Affairs, publicaffairs@arts.gov