Art Talk with Gabriel Ayala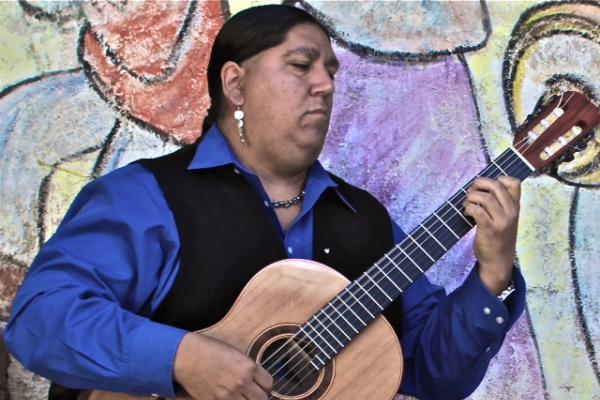 Gabriel Ayala, at work. Photo by Marty Haviik.
As noted on his website, "Gabriel Ayala is at the forefront of a new generation of Native Americans making a career performing classical music." Ayala is deeply passionate about music and, in particular, the classical guitar. He's invested in all kinds of musical genres, so much so that he's managed to invent a new style, something he calls, Jazzmenco---a fusion of jazz and the classical Spanish guitar that accompanies Flamenco. His dedication to the art of making music has earned him a lot of praise over the years, including high marks from the former governor of Arizona herself, Janet Napolitano, now Director of Homeland Security.
In this piece, you'll not only hear Ayala discuss his work and why he makes art, but you'll else get to hear his performance of "Fantasia Original" by Jose Vinas, a contemporary of Frederic Chopin. 
Transcript of Guitarist, Gabriel Ayala
Gabriel Ayala: Speaking Yaqui, he then translates.
Hello, my name is Gabriel Ayala. I am from the Pascua Yaqui tribe,
located in Tucson, Arizona. I am a classically trained guitarist. I
have been playing the guitar since an early age. In my late teens, I
picked up the instrument after playing several different instruments
from piano, cello, saxophone, I was in choir for some time, and guitar
was just the last instrument that I picked up and the one that I was
drawn to most. I remember strumming the guitar for the first time. I
had actually had it for a year and never played it. And after having
the guitar for a year, got it restrung up, and the first time that I
strummed it, I knew that that was my instrument. That it was going to
be my voice, the way I would express myself. I play classically trained
guitar or I am a classically trained guitarist, meaning that I perform
composers such as Johann Sebastian Bach, variations by Mozart,
transcriptions by many composers of that sort. And it's a genre that I
really wanted to elevate to. I just didn't want to be a rock and roll
guitar player or a blues guitar player. I wanted something to really
challenge me, even more so. And when I started playing the classical
guitar, it was exactly that. It was a big challenge, and it's something
that I was, you know, up for the task. I used to practice up to 10
hours a day on any given day, just because of my drive, my perseverance
in wanting to accomplish this. What does it feel like when I play? I
love being on the stage. I love being able to perform in front of five
or 5,000. For me it's the same feeling. It's that feeling that I'm
giving something back. I'm sharing a gift that the Creator has, I
guess, you say bestowed upon me, and it's one that I like to try to use
for the better. And when I'm on stage, I like to talk about the
important issues in life. And for me, that's always been about
protecting our children, being an advocate for education, trying to be a
positive influence and show our youth that, you know, you don't have to
have all these addictions in your life. Myself, I am drug free,
alcohol free and even tobacco free, and that's something I'm very, very
proud of.
I created a style called Jazzmenco a couple of years a go. I was
listening to a lot of jazz music, and flamenco at the time, and decided
that I didn't want to just imitate every other guitarist out there, so I
decided that I wanted to actually create a genre of my own, which is a
big task, but again, something that I was really motivated to do. For
me, Jazzmenco is the rhythmic or the chordal structure of jazz with the
improvisational style on top of the rhythmic structure of traditional
flamenco music. And it's very rhythmic, very expressive, especially as a
classical musician. We're usually taught that we can only play the
notes that are on the page, and that's it. So being that I'm playing a
style of music that I can actually just improvise and play what my heart
feels is really incredible, and it's been a lot of fun and luckily
people have really been enjoying this. In my community, I try to be a
positive influence, one that is bringing, you know, joy and hope to our
children. For the past years, the last four years I've been doing
benefit concerts for our tribe, for our kids that, around Christmas that
they can receive, you know, gifts and I donate my time each year, and
it's really a great thing. It's something that has evolved into myself
having a scholarship in my name here in Tucson at one of the
universities. And they approached me and asked me to put a scholarship
in my name, the Gabriel Ayala Native American Scholarship. And it's
very flattering to be able to know that I'm giving back directly to our
youth that they can, in hopes have a better tomorrow, have that
opportunity to seek out higher education.
I recently performed at the Why Make Art, here in Tucson. It's a
forum of a panel of distinguished artists here, composers, myself as a
guitarist and it was a really neat thing of why make art. And
underlining it, for me, why make art is because it's a healing. It's a
healing to share with others. It's amazing how art can bring out those
emotions in people that they didn't even know that they had and help
release them, whether it be a sad one or a happy one, I think is a very
positive thing. I was actually asked to perform at this forum. I
performed a piece by Jose Vinas, a song entitled Fantasia Original, the
Original Fantasy. And this song is-- he is a contemporary of Chopin,
and so this guitar piece sounds more like a pianistic composition, and
it's one of my favorite songs to perform. It's features also on one of
my CDs, and it was just a real blessing to be able to showcase my art
there, my medium of music. And I think that was the best way to express
why art matter, literally because we want to perform, we want to
showcase that. I always end my concerts with a
very simple phrase, and I'll leave it with you all. I'll say love your
children, honor your elders, and respect your woman. Speaks Yaqui. Thank
you very much.