Catching Up with Girlstories Leadership Theatre

Girlstories Leadership Theatre participants perform their summer production of The Dream We Dare. Photo by Fran Powers


The first time we featured Girlstories Leadership Theatre (GLT) on the Art Works blog, the Tampa-based organization had just received a National Arts and Humanities Youth Program Award from First Lady Michelle Obama. Eighteen months later, Girlstories continues to thrive. A component of parent organization Powerstories Theatre, GLT empowers middle school girls through theater workshops and performances based on their own personal stories. Today we're catching up with GLT Director Janice Nepon-Sixt, who opens up about the organization's recent achievements, future plans, and special serenade by Josh Groban.

NEA: We last spoke with you after you received a National Arts and Humanities Youth Program Award in October 2010. What has the award meant for Girlstories?

JANICE NEPON-SIXT: We have been go, go going since that time! We had a wonderful community celebration of the award in October 2010 where we received a proclamation from the mayor of Tampa. We had several requests for performances stemming from that, including one at the City of Tampa's 15th Annual Women's History Month Celebration where Mayor Iorio spoke to our girls informally, at length. Later, when she did her speech to the crowd, she inserted a personal story because of one she had just heard onstage from one of our girls.

The award has given us more credibility with funders. Just recently Powerstories Director Fran Powers made a presentation. After some remarks, she held up the photo of herself and our student receiving the award from First Lady Michelle Obama, and there was an audible response of pleasure from the committee!

We had our first annual Powerstories Gala last year, and are deep into preparation for this year's gala happening next month. At the first one last year, Victoria Kennedy, a member of the President's Committee on the Arts and the Humanities, gave a speech, and her husband was in attendance. We were also very excited to have Traci Slater-Rigaud at the event. It was a lovely evening, highlighted by performances from our girls' troupe and our women's theater.

Terrifically exciting was being chosen by Josh Groban, the international singing star, to be honored at his Tampa concert in 2011. It was such an incredible "moment" for us when in a darkened arena with a spotlight on our Girlstories Leadership Theatre girls, with thousands of people in attendance, Josh Groban sang If I Walk Away TO AND FOR US! We were Mr. Groban's guests at the concert, and he introduced us and spoke of our work before his song dedication. His foundation later gave us a generous donation. We are performing this song at this year's gala.

NEA: You mentioned that you have "exciting developments" to report since your last interview with Art Works. What have been a few highlights?

NEPON-SIXT: First of all, since winning the award, we have changed our name from Girlstories Theatre Project to Girlstories Leadership Theatre (GLT). Our new name more correctly identifies the important work we are doing with girls. We use theater and storytelling as the medium to help girls become strong leaders and mentors, as well as wonderful team members. We have strengthened the leadership component of our curriculum.

We recently received some terrific funding that is allowing us to double the program! Using the successful model already in progress, we are now creating a second whole troupe in a county of Tampa where there is very little existing arts programming. This second GLT will have separate staff, its own performances, etc.

Also, Powerstories Theatre is moving into our own studio space in June! We will now have a wonderful location with street traffic and visibility where we can hold auditions, workshops, rehearsals, open mic nights, and small productions, as well as house our offices. We know this will facilitate an even greater community presence than we already have.

NEA: If we spoke again in another 18 months, what other news do you expect or hope to report?

NEPON-SIXT: We will be able to say, "The girls performed at the White House!" We teach girls to DREAM BIG, and this is one of our big dreams. We have already taken concrete steps towards this goal.

In 18 months, our existing programs will still be flourishing. While we consistently strive for improvement, we know it is essential to keep putting energy into maintaining what is already going very well. In 18 months our second program, which is just beginning, will have finished its second summer intensive. It will be flourishing as well!

We are actively working on developing a system for other cities to start their own GLT. The board is researching this right now. Our mission does state "worldwide," and in 18 months we hope to more widely be achieving this goal. The first step will be to actively work on building our third GLT in an additional county, and hopefully we can report that we have acquired the funding and have found the right partners to begin that third program.

We know that our big dreams require adequate funding. In 18 months, we want to be able to report that our major fundraiser (the gala) is now attracting big dollar corporate sponsors. Several of these told us this year to come back next year!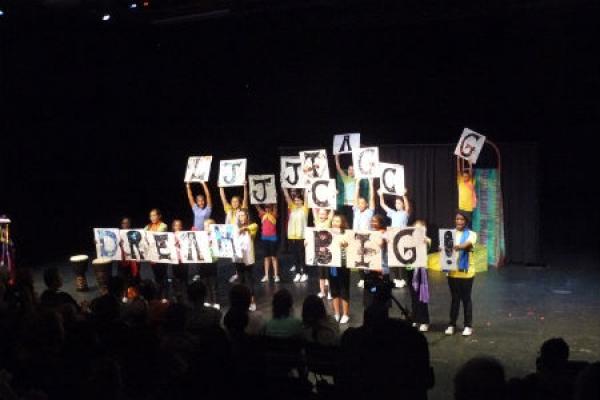 Girlstories Leadership Theatre participants perform their summer production of The Dream We Dare. Photo by Fran Powers


NEA: A lot of recent conversation at the NEA has focused around the concept of innovation. How do you consider Girlstories to be innovative?

NEPON-SIXT: While there are many drama programs available, there are few with the focus that we have of leadership through theater. We downplay the "diva" possibilities, and emphasize teamwork within our ethnically diverse troupe, as well as prepare them as effective mentors for the younger girls they will perform for and lead in workshops.

Also, at the heart of Girlstories is Powerstories' core understanding of the power of true stories. We help our girls find their own, unique story from their lives to shape into one that younger girls can learn from. The stories are presented in a full-length show filled with song and movement and color!

NEA: How do you think the program would be different if it focused on young men instead of young women?

NEPON-SIXT: Boys are delightful people (I have two of my own!) and we wish there was time in the day to serve everyone! We do work occasionally with boys and men, and those have been powerful experiences. It is important to work with one [gender] or the other, since when in a homogeneous group, people seem to open up more readily. This kind of sharing is not done as often with males, so more introductory type work may be required before they feel ready to share personal stories. But we provide a very safe arena for this to occur, and so people do find it comfortable to share. The stories of Powerstories are resolved stories, so as to give a gift to the audience. Both males and females need to be taught that focus. In so doing, they bring further understanding of their own experiences as well as giving the gift to the audience.

NEA: What do you think other youth organizations could learn from the Girlstories model?

NEPON-SIXT: It is important to find a focus. We decided to work with middle school girls for GLT, and we have not veered from this focus. We continue to build on our successes, and study and fine-tune areas that need tweaking. We constantly bring our focus back to our main goals.

Evaluation is essential. Always review the programs and make necessarily changes. Find the ways to evaluate your program (not always easy with the arts) and be able to articulate those results for others.

We teach the girls about leadership and we provide strong leadership ourselves. Give the girls something very meaningful to aspire to. Allow them to show their best side of themselves always.

Be unique. Our uniqueness is that girls tell personal stories onstage. Identify and celebrate the uniqueness of your own program.

Paramount in keeping a high-quality program is finding great staff and partners.

Strive for the best possible quality. We are a small, grass-roots organization and yet we have achieved big things! Allow yourself to dream big. Shoot for the stars!

NEA: What do you hope the impact of Girlstories can have not just on individuals, but on the larger community?

NEPON-SIXT: It is VERY inspiring to see young girls onstage telling their personal stories! Our target audience is younger girls, and they tell us how moved and motivated they are by the GLT troupe. We also perform for general audiences and adults tell us with tears in their eyes, how they have gained courage or insight from listening to the girls. In general, seeing young people so visibly using their voices for good enriches us all.

NEA: What, for you, is the power of personal stories? Why do you think sharing them can change lives?

NEPON-SIXT: I believe in the power of personal stories because I have personally experienced the clarity that working on them brings. Also, as a Seek and Speak Your Story facilitator for Powerstories, I have watched transformations before my very eyes. Finding and working on the story is powerful in itself. But telling the story to an audience is absolutely profound. There is just something about getting that validation that someone else has really heard you that is amazing. I strongly encourage the girls and the women to work through any "stage fright" and do it anyway! And wow, when they do, they are so thrilled! This is what makes us unique. We not only shape the stories but we stand up and tell them; as I said that is a transformative process. And giving the gift of our insight to the audience is so empowering. It is empowering for the teller, as well. Can you imagine the impact on a girl hearing applause from an audience after telling her personal story? The truth is when a girl finds her voice in that way, she is forever changed positively. We put girls onstage who would otherwise never have that opportunity.

Last year, Executive Director Fran Powers, Cheryl Flowers, a women's troupe performer, and myself were interviewed for the Daytime television show. I was then asked to sing a song. Quite appropriately, we chose one that was written for us; it is called, "Powerstories." The lyrics are perfect in answer to your question:

"Powerstories" by Janet Scaglione

There's power in a story
A message from the heart
There's power in a story
The voice of who you are

It helps to share your glory
It heals to share your pain
For the power of the story
Each one of us the same

There's power in your story
Tell it where you are

Each happy ever after
Every once upon a time
For I can learn from your life
And you can learn from mine

Give power to your story
Give voice to what is true
Let the power of the story
Simply begin with you