Postcard from New York and Charleston
At the Blue Star Museums launch event at the Metropolitan Museum of Art in New York City. From l-r: Brad Cooper, executive director of Joining Forces; Gunnery Sergeant Mark Butler, USMC Public Affairs, NYC; Emily Rafferty, president of the Metropolitan Museum of Art; NEA Chairman Rocco Landesman; Blue Star Families CEO Kathy Roth-Douquet; A. Dennis White, CEO and president of the MetLife Foundation. Photo by Melanie Einzig


Last week was Blue Star Museum week for us---we kicked off the third summer of the program with two great launch events. We started in New York City with a press conference at the Metropolitan Museum of Art. New York was a great choice for the launch, since it's probably the major museum destination in the country. Servicemen and women go there, Navy ships dock there, and to have the museums welcome them in this way, it's a big plus all around.

During the event, it was great to reconnect with Emily Rafferty, who's the president of the Met. Emily was one of the first calls I made when we had this idea for Blue Star. My chief of staff, Jamie Bennett said, "As long as you get Emily Rafferty and the Met, everything else will be pretty easy." I was about two minutes into what I thought was going to be a lengthy explanation of a phone call, when Emily said, "Sure, let's do this." She saw right away that this was going to be wonderful initiative. They've been great to have on board, and Emily and her staff were incredibly welcoming during the launch. Of course, we held the event in conjunction with my great friend Kathy Roth-Douquet, CEO of Blue Star Families, who's been our partner from the beginning. Brad Cooper, executive director of Joining Forces, was also there, as was Dennis White, the CEO and president of the MetLife Foundation. MetLife has been a big supporter of Blue Star Families, and this fall, those two organizations, along with the Theatre Communications Group, will be launching Blue Star Theaters. That initiative is separate from the NEA, but will enable servicemen and women to go to the theaters at reduced admission, so that's a very interesting project they have planned. All in all, we've received tremendous support from our partners, and from the First Lady, from Dr. Jill Biden, and from the administration as well.

After the press conference, we got to tour the Met. We went to the American wing, the Temple of Dendur of course, and got to be reacquainted with what's going on with the museum now, which is very exciting. The Met has really connected itself to its community, and has done a lot of outreach. Under Emily, they've really turned the page, and it's a much more open, welcoming, and diverse institution. It was a wonderful morning altogether.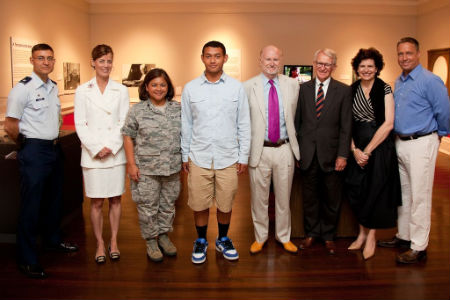 At Blue Star Museums launch at the Gibbes Museum of Art in Charleston. From l-r: Lt. Col Craig Punches, Commander, 628th Logistics Readiness Squadron, Joint Base Charleston; Suzanne Pollack, Blue Star Families Advisory Board Member; Lt. Col Maureen Robinson and her son, Shawn; NEA Chairman Rocco Landesman; Charleston Mayor Joseph Riley; Gibbes Museum Director Angela Mack; Army Wives cast member Brian McNamara. Photo by Scott Henderson


Then it was on to Charleston, where we went to the Gibbes Museum of Art and did Blue Star Museums, Part Two. We were hosted there by Angela Mack, the very dynamic and impressive executive director and chief curator of the Gibbes. She gave us a tour, and told us the history of the museum. They're in the midst of a major renovation project there: they're going to turn back the clock and restore the Gibbes to the way it used to be, once upon a time. I also met Suzanne Pollack for the first time. Kathy told me I was going to like her enormously, and I did. She is the mother of two marines and is very involved with Blue Star Families; she's an advisory board member to the organization. Sheri Lapan was there, who directs programs for Blue Star Families, and Ellen Dressler Moryl, the director of the Charleston Office of Cultural Affairs. Brian McNamara, from Army Wives, also attended; he's a very personal and engaging guy. He spoke very eloquently, and obviously he's very dedicated to military families and to issues concerning the military. He's always thrown himself into any opportunity he can to help military families, and he was an important part of that event as well.


Mayor Joseph Riley welcomed us all by giving a speech, and it was the most fulsome introduction I've ever received. We really are mutual fans of each other, and he could not have been more enthusiastic about the work that the NEA has done, not only with Blue Star Families, but in general. Creative placemaking is really a page out of Joe Riley's book, and I told him that whatever success we've had is by ripping off his initiatives and ideas. Joe Riley really is the Godfather of creative placemaking, and it was great to reconnect with him, he's a good friend. After Mayor Riley spoke, we did a tour of the museum. It's an impressive museum, and Angela is doing a great job there. We walked around with members of the military, and learned all about the Charleston Renaissance, and the history of the city's artistic culture.


A shower of confetti celebrates the start of the Spoleto Festival. Photo courtesy of Spoleto Festival USA


Our visit to Charleston coincided with the launch of the Spoleto Festival, which is a wonderful, 17-day long performing arts celebration. On Thursday night, we had dinner with Nigel Redden, who runs the Spoleto Festival, and his wife Arlene Shuler, who runs New York City Center, and whom I've known forever from my New York theater days. Nigel has done an amazing job of making the festival a very relevant and exciting must-go-to destination. It's very exciting.

That night we went to a production of Hay Fever, and the next day we officially kicked off the festival. It was the second time in two days that Mayor Riley introduced me, and again he was very fulsome and wonderful in his comments about us, which was fantastic. It was a very hot day, and it was the first time I've ever read a speech wearing sunglasses. Carlos Evans, who's the Spoleto board chairman, also made remarks.

After the festival's official opening ceremony, we went over to the South Carolina Arts Alliance annual luncheon. Nigel Redden made some remarks, as did Ellen Dressler Moryl, whom I had met the previous day at the Gibbes. She's the director of Office of Cultural Affairs, and since Joe Riley is the mayor, Charleston of course has a Cultural Affairs department---not every city does. I met also met Ken May, the executive director of the South Carolina Arts Commission, and Betty Plumb, the executive director of the South Carolina Arts Alliance, both of whom are very important South Carolina arts leaders. We all made remarks, had a luncheon, and got to know the people in the South Carolina arts establishment. It was a lot of fun. That night we attended an Alvin Ailey performance, which was a real treat. It was held in the Gaillard Auditorium, which is slated for a major renovation that's expected to be finished in 2014.

The next day, Saturday, we got to have dinner with Sloan and Margaret Gibson. Sloan is the president of the USO. The dinner was at their house on Tradd Street, which is one of the oldest houses in Charleston, built around 1740, I think. We got a tour of the house which is amazing. I don't think I've ever been in a dinner situation in a house that old. They used to have detached kitchens; now all the different sections of the house have been connected. It's decorated in the warmest and kind of low-key fashion, so that you really have a sense of the house the way it was, but it's also very obvious that it's being lived in at the moment. It was just a homey, welcoming, embracing experience. Margaret and Sloan did the dinner themselves, there weren't servants running around, and we got to sit there and really get to know them a bit as we had dinner. Then together we went over to a performance of Making Up the Truth, which was part of the Spoleto Festival. It was really a wonderful evening and hopefully we'll get to reconnect with the Gibsons, either in Washington or again in Charleston.

Debbie and I had such a good time in Charleston that we plan to go back as private citizens down the road, and it's a really great place to be. Charleston is, in my opinion, block for block, the most beautiful city in America. So many houses are from revolutionary and pre-revolutionary times. The city has incredible beauty and charm and an amazing amount of history. And not just Civil War history, but long before that. The harbor area is gorgeous, and the streets are so lovely. You make a right turn and you find yourself on this little cobblestone lane, with beautiful houses, and porches, and lawns, and gardens everywhere. It's an incredible place, and we look forward to going back as soon as we can.