Five Questions with…Our Town Grantees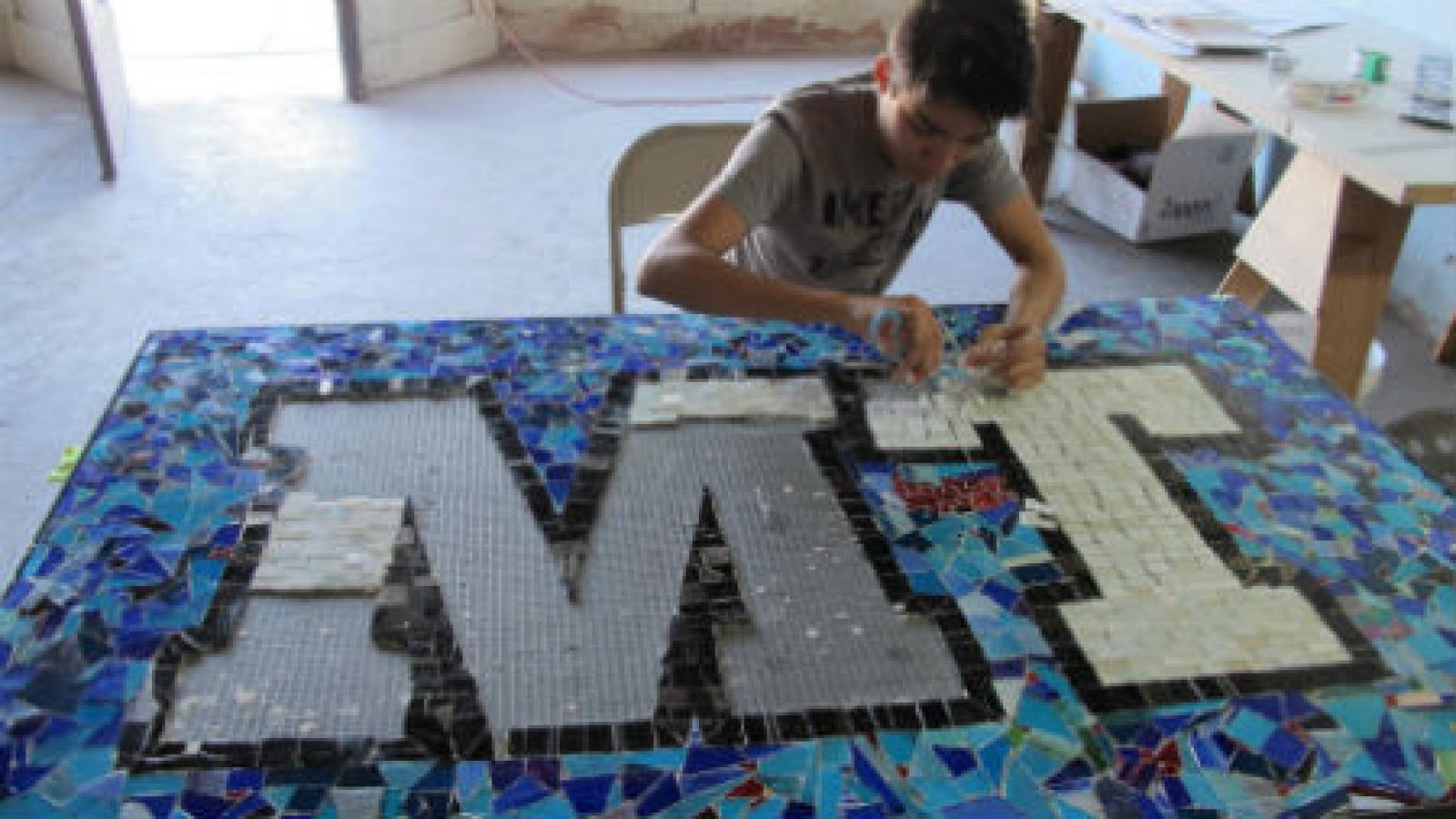 One of the neatest things about working at the NEA is seeing how many different ways a dollar can be transformed into art. For instance, the $4.725 million we awarded to our 2013 Our Town grantees will eventually be turned into a mural festival in Honolulu, public opera programs in Nashville, and a community arts center on a Sioux reservation in Grand Forks, North Dakota. Each project will use the arts to help turn these communities into more vibrant, lively places to live.

We recently spoke with two 2013 Our Town grantees about their forthcoming projects. The first, managed by Sylvia Imbrock, will create a new visual identity for rural Tieton, Washington, by creating unique mosaic signs for civic landmarks throughout town. The project will also train the next generation of mosaic artists by establishing a new mosaic studio and apprenticeship program. The second, led by Cate Ryba, will incorporate the arts into revitalization efforts of the low-income Northside neighborhood of Spartanburg, South Carolina. This grant will work in tandem with a Choice Neighborhood Planning Grant from the U.S. Department of Housing and Urban Development (HUD). Below, both women discuss the ins and outs of their Our Town funding.
NEA: How does this project capitalize on Tieton's unique identity?

SYLVIA IMBROCK: Historically, Tieton is an agricultural city—Tieton is one of the best places in the world to grow apples. Traditionally, apple labels are full of bright colors, loud typefaces, and bold fruit. The bright sunshine of Central Washington and the influence of Mexico all encourage a bold palette, too. Finally, we're surrounded by spectacular basalt formations and other minerals well-suited to tile work. The Tieton Mosaic Project will match bold designs reminiscent of our apple industry history to the local materials.


NEA: Why mosaics?

IMBROCK: Mosaics make sense in Tieton for a variety of reasons–the materials available, the strong aesthetic from the apple labels, the vibrant colors preferred in our sunny climate. Beyond that, mosaics are beautiful and enduring. They've been used around the world and throughout time—from the New York subway system to ancient Greece—to transform spaces and facades. We will draw from the tradition of mosaics, and contribute elements of Tieton's style to the tradition, too.

NEA: How do you view the intersection between art and civic life?

IMBROCK: In Tieton, the arts intersect with civic life in economic revitalization. We expect the Tieton Mosaic Project to become a self-sustaining architectural signage business that employs members of the local community, operating out of Tieton, marketed nationally. In terms of shaping public spaces, the signage will give Tieton a distinctive identity, creating a striking brand that will distinguish the city regionally and nationally attracting tourists and economic growth.

NEA: Do you think public art affects rural communities in a different way than it might an urban or suburban center?

IMBROCK: Yes, without a doubt, and for two reasons: 1) Our rural community is very small (pop.1200), so even small changes have a greater impact than they would in larger, busier city centers. In Tieton, a spacious city with small homes and buildings, a little change, a little elbow grease, makes a big impact. 2) Tieton is primarily an agricultural city. Tieton residents don't have regular, easy access to museums and galleries the way urban and suburban residents do, and distance limits our access to cultural outlets elsewhere. The Tieton Mosaic Project, among the many other efforts of Mighty Tieton (artisan business incubator), offers local creative and cultural opportunities.

NEA: How do you hope this grant will change your community?

IMBROCK: An attractive visual identity, more skilled jobs, a new enterprise contributing to a more diverse local economy, and enhanced public spaces are the changes that we will see through the Tieton Mosaic Project.

The Tieton Mosaic Project will create a strong visual identity for Tieton by developing a studio and workshop to make mosaic and decorative tile marqee signage and building facades for local public spaces.

Tieton doesn't have a strong historical architectural tradition. Buildings are workman-like cinder block-style from the 1940s-1960s. However, the town itself has a clearly defined core, with a beautiful park surrounded by four blocks of storefronts. A modest amount of graphically distinct signage executed in traditional craft materials will give Tieton a distinctive identity. This strong aesthetic identity will be used by the mosaic enterprise to share knowledge of mosaic traditions with apprentices and to make the signs for Tieton's public spaces.

Tieton's economic viability still rests on the apple industry, and always has, but slowly and bit by bit, thanks to Mighty Tieton and city leadership, new artisan businesses are moving to town and diversifying the economic base. We think that's a good, healthy sign.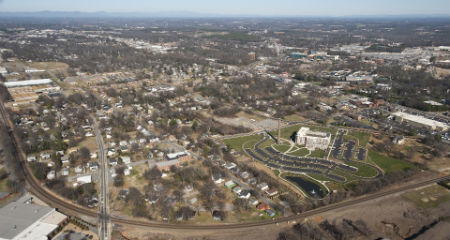 NEA: How does this project capitalize on Spartanburg's unique identity?

CATE RYBA: Spartanburg has a long history of supporting the arts. We have a $40 million cultural center that has several art museums and a large performance space. We have several colleges that have art departments that are very active in the community. We have lots of public art around town.

But the area where this arts district plan will focus historically hasn't had a lot of public art or artist housing. It's a mile away from our cultural center; it's a mile away from downtown. I think that this project will help bring some of the support and focus and interest in the arts that Spartanburg has in other places to the Northside of our city.

NEA: Why do you think art is important to include in revitalization efforts for low-income communities?

RYBA: Art is something for everyone. It's a great equalizer. It's really important to include in community redevelopment because it gives people opportunities to see themselves as creative people and their community as a creative place. I think a lot of times art is seen as [something] that's only for a particular socio-economic set of people. But what HUB-BUB tries to do is bring art to everyone; we try to make everyone feel like they can be an artist.

It's also a big part of education too, which is a huge focus in the Northside community right now. The elementary school in the Northside has the longest school year of any elementary school in the state. They're almost year-round. I'm hoping that part of this plan will include bringing different art-related activities to Cleveland Elementary School.

NEA: How will the Our Town grant complement your recent Choice Neighborhood Planning grant?

RYBA: This [Our Town] grant is part of much, much larger planning process for the entire Northside community, which is about 400 acres. The Choice Community Planning Process is looking at where can we put housing, where can we put commercial space, where can we put community parks. [It's] looking at what assets we have and what's missing. The city owns about 200 parcels of land in this area and most of it is vacant. So there's going to be a lot coming out of the ground from a building standpoint over the next ten years.

A part of what they're going to be looking at is what kind of creative assets are in the community. But [initially] this wasn't really a huge part of it at all. There wasn't an arts organization like ours working with the city to say, "How can cultural revitalization play a part in this process and also help with economic redevelopment?" [With the Our Town grant] we're able to bring in someone from the consulting firm that has been hired for the Choice Neighborhood Planning grant who specifically has a background in arts district planning and cultural district planning whereas before, we weren't going to be able to have that person.

NEA: How do you hope the Our Town grant will change the Northside community?

RYBA: This grant will help emphasize how the arts can be a part of making the Northside a more successful place to live. I'm hoping it will visibly change the community by [including] public art as part of the plan. I want the residents help us shape the place to include art and to include creativity in that planning process.

NEA: How do you view the intersection between art and civic life?

RYBA: I think a big part the intersection of art and civic life is about surprise and wonder and making people feel like where they live has a unique identity and a sense of place. And also just entertaining people, and making people think differently about the place where they live and about themselves. [It's about] making your community feel like a creative, interesting place to live.

NEA: Anything else you'd like to add?

RYBA: One thing I'd love to see explored with this grant is how can the Northside grow their residents artists. There is a bunch of old mill houses in that area that haven't been torn down and that the city owns. So could those be repurposed for inexpensive artist housing? I'm interested to see how we can grow our residential community for artists in that area, including for people that [already] live there. It's always a challenge with redeveloping areas that have a lot of low-income, financial challenges to make sure that people who live there and have lived there their whole lives stay there and feel a part of process. That's something that's really important, and I think is a big piece of this grant as well.