(National Medal of) Art Talk with Ernest Gaines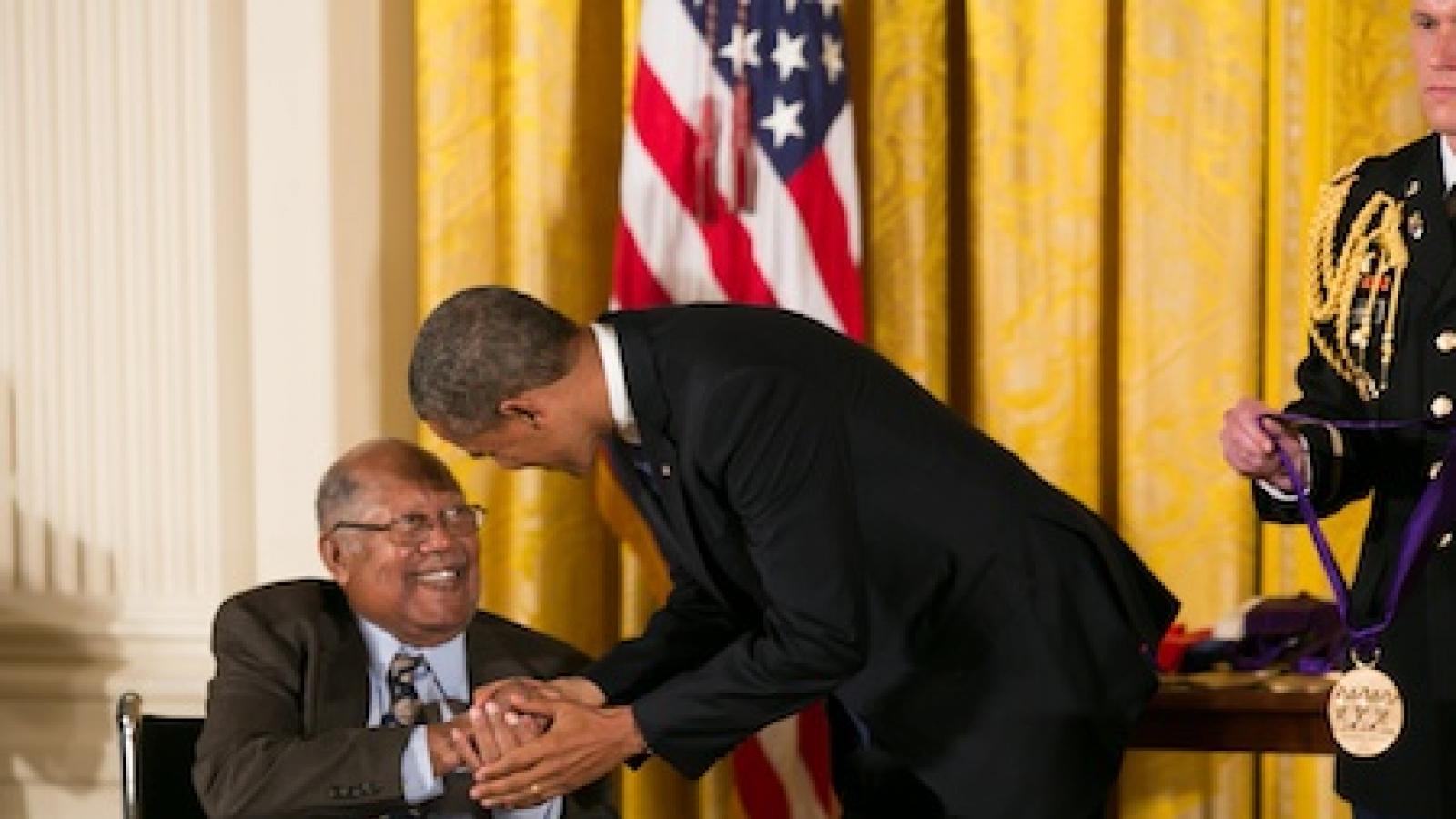 Listing all of Ernest Gaines's achievements would likely take up an entire paragraph or five. There's been a Guggenheim Fellowship, an NEA Fellowship, a National Book Critics Circle Award, and critically acclaimed books such as The Autobiography of Miss Jane Pittman, A Gathering of Old Men, and Big Read title A Lesson Before Dying. But despite his many accomplishments, the author describes his most recent accolade as his most precious. "To receive a National Medal of Arts from a black president of the United States at the White House was the greatest honor I think I will ever receive," he said.

It was an understandably full-circle moment for someone who was once barred from entering his local library in rural Louisiana, and who struggled to find African-American characters in the books he would come to devour. Gaines spent his youth living in the former slave quarters of an old plantation, helping his disabled aunt care for his younger siblings—experiences readers will recognize from A Lesson Before Dying. It wasn't until Gaines joined his mother and stepfather in California as a teenager that he discovered the magic of books, and began to write stories of his own. He went on to study writing at San Francisco State University and Stanford, and later taught writing himself at the University of Louisiana, Lafayette, where he still serves as writer-in-residence emeritus. We recently caught up with Gaines by telephone; excerpts from the conversation are below.

NEA: What do you remember as your earliest experience with the arts?

GAINES: My earliest experience with writing was in a library in Vallejo, California. I started writing when I was about 16 years old. I tried writing a novel at that time but failed of course. But I continued trying to write. Eventually I would get sort of successful at it.

NEA: When you were growing up, you found it difficult to find books written by African-American authors. How has that affected your writing?

GAINES: That little library in Vallejo, California, had hardly any books about or written by African-Americans, or the African-American experience. So I studied characters from other [books] and transformed them…. I tried to write about everything. But I was much more ambitious about the subject of the place where I came from: my friends, my family, the people I knew [in Louisiana]. I tried to put them and their experiences into books.

NEA: Can you elaborate on the relationship between your writing and Louisiana?

GAINES: I've said in interviews many times that though my body went to California, my soul remained in Louisiana. So I've been trying to write about where my soul is; all writers try to do that. Where I live now, my folks have lived here for five generations—the same plantation where I live now. That's the kind of thing that held me here; it's the source of all my work. Those people buried in the cemetery here about three-quarters of a mile from my house—[it's their] experience I tried to show in my writing.

NEA: One of the common elements in your stories is an older person trying to teach a younger person about life.

GAINES: Yes, that's one of the major themes in my work. I needed that when I was a kid growing up. So many young African-American youth need that teacher when his parents are absent; when the father's not there or the mother's not there. You need some kind of adviser or a teacher to help. My mother and my stepfather were always busy doing other things and I lived with an aunt for many, many years. I had to work alongside her to help her, and I was responsible for all my siblings.

NEA: Did that teaching of life experience come into play at all in your university teaching?

GAINES: I tried to help younger students who needed direction. They were trying to write and I was trying to help them realize what their dreams were.

NEA: What is the single most important thing you tried to impart on your students?

GAINES: To be honest with themselves, and to be true, and to try and look at people as individuals. The other thing I did is tell them to write as well as they possibly can, and as simply as they possibly can.

NEA: You've said in the past music is very important to you. Do you feel that music has affected your writing in any way?

GAINES: Music definitely affects my writing. I love music—all music, from Bach to Coltrane. I have a large collection of music in the archives here. When I'm writing, I like soft, quiet chamber music in the background. Later, I might like to listen to some blues or jazz. I want my sentences to have a certain rhythm; I think I get that from listening to jazz and listening to the classics and listening to the way people talk.

NEA: Did you grow up with music in your household?

GAINES: [In my early life,] I had church music, religious music, until I was about 15, 16 years old. And then I left Louisiana to go to California. There I encountered different kinds of music, especially the classics.

NEA: Can you talk about some of your other influences, both within literature and beyond?

GAINES: My greatest influence I think has been my aunt, who was crippled. She never walked ever, but she crawled over the floor. But she took care of us. She was very brave. She couldn't walk, but she could do almost anything. She used to wash for us, cook our food, press our clothes. She was just a very strong person. I've been influenced by listening to great music, I've been influenced by great literature, I've been influenced by art, paintings, watching a great athlete at work. But no one had greater impact on my life as a man or as a writer than did my aunt. I was the oldest of my siblings; she put me in charge of everything. I lived, I think, to please her. She's been dead since 1953 but there is not a day in my life when I don't think about her. Not one day has ever passed since she passed that I don't think of my aunt.

NEA: I understand she passed away before you were published. What do you think she would have thought of your career?

GAINES: I think she would have been proud of my career, especially of The Autobiography of Miss Jane Pittman. Maybe some of the other books she would not have cared for, but I think she would have been proud of The Autobiography of Miss Jane Pittman and A Gathering of Old Men.

NEA: Was she your inspiration for Miss Jane Pittman?

GAINES: I think through soul and strength, but not physically. She never could move and Miss Jane is walking all over the place. As a matter of fact, she tried to walk out of the state of Louisiana to Ohio but she failed. My aunt didn't have that kind of mobility. But Miss Jane's strength and courage and all that, I think I drew that from my aunt.

NEA: What's your proudest accomplishment to date?

GAINES: That my siblings and my family, wife, my friends, my colleagues, are proud of what I've done. That's the proudest accomplishment to me.

Read excerpts from our Big Read interview with Ernest Gaines, or check out our audio guide and video documentary on A Lesson Before Dying.