Art Talk with Jo-Anne Birnie Danzker of the Frye Art Museum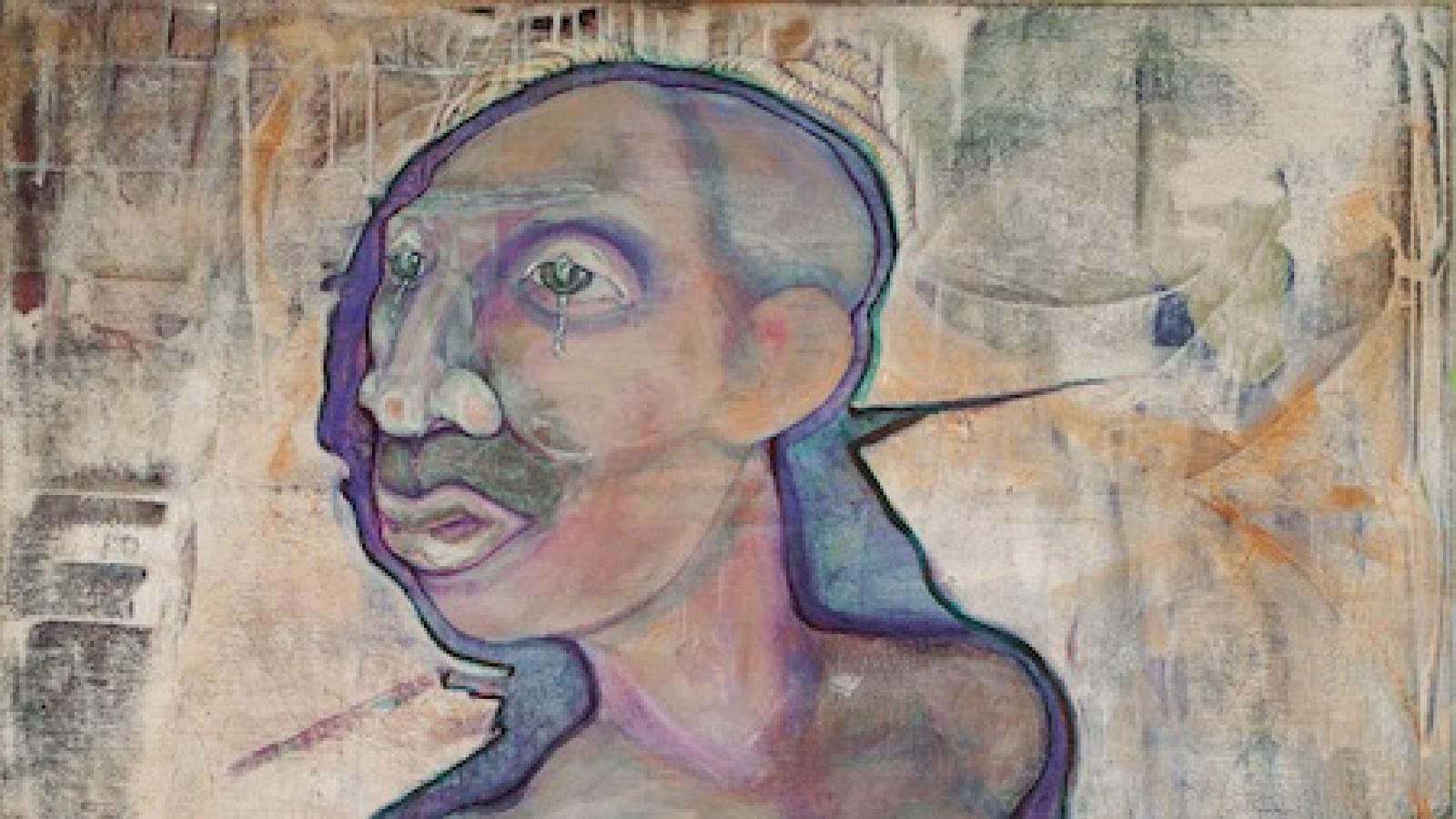 Today, we're taking a peek inside the Frye Art Museum in Seattle, Washington, one of more than 2,000 participating Blue Star Museums in the country, which means free admission through Labor Day for the nation's active-duty military personnel and their families, including National Guard and Reserve. This summer, the museum is hosting something of a family affair in two exhibits. Your Feast Has Ended, explores and critiques the appropriation of natural and cultural resources, and features the work of Nicholas Galanin, Maikoiyo Alley-Barnes, and Nep Sidhu—all members of The Black Constellation collective. The other exhibit, The Unicorn Incorporated: Curtis R. Barnes celebrates the work of Maikoiyo Alley-Barnes's father, an incredible talent and fixture of the Seattle arts scene for six decades. We'll hear more about the exhibits from Jo-Anne Birnie Danzker, who not only curated these two exhibitions (with Scott Lawrimore along with guidance from the artists), but who also directs the museum. Read on to learn why she thinks exhibit curation is like an opera. I for one have a new respect for this somewhat invisible art.

NEA: Before we get into the current exhibits at the Frye, can you tell us about the process of curation? Where do you begin? How do you know it's "complete?" 

JO-ANNE BIRNIE DANZKER: For much of my professional life, I thought of curating as having a beginning (an idea or a passion that insisted on being realized); a process (research, extended conversations with the artists); and a denouement or culmination (the exhibition, its accompanying publication, and its reception by the public and the press). Because of this drive towards denouement, and the desire to produce a "definitive" interpretation of the subject, it would be rare for me to undertake a second exhibition, or a third, with the same artist or artists. In recent years, however, I have come to understand curating and my own role in a very different manner. I now see curatorial projects as conversations that begin long before an exhibition, and continue long after an exhibition closes. In other words, my perception of my role has changed dramatically. Curating for me is now never "complete."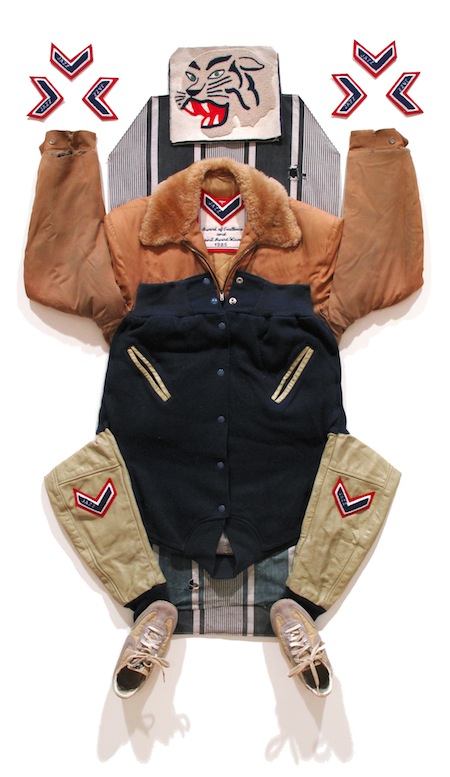 NEA: Is it fair to say a curator acts like a film director? If yes, how so?

DANZKER: In the past, I would describe exhibitions as operas. They have a cast of thousands, on-stage and off, are intensely physical, and require an astonishingly wide range of skills to make them happen in an ostensibly effortless manner. Like operatic productions, exhibitions tended to be highly personal and at times idiosyncratic interpretations of a well-known and much loved tale, especially when they address historical subjects.

In contemporary exhibitions of the late 20th and early 21st century, it became increasingly popular to see curators as the auteur or author of an exhibition. This notion was closely linked to auteur cinema and caméra-stylo (camera-pen) in film where film directors were seen as the true "author" of the movie. The corollary of this was, however, that the artist, the supposed subject of the exhibition, was relegated to a secondary role. In this movie the curator became the "star."

In my recent exhibition projects, I have wanted to counter the idea of the auteur curator by working with citizen curators and artist-based curatorial collectives, such as we had for our project Mw [Moment Magnitude] which, by the way, also included Maikoiyo Alley-Barnes and The Black Constellation. The present exhibition, Your Feast Has Ended, with Maikoiyo Alley-Barnes is therefore one of those extended conversations I mentioned earlier. One aspect of my recent curatorial practice that brings it back to the domain of opera is that it has become cross-platform—visual art, performance, production, rehearsal, specially commissioned artworks, music, dance, literary events, design, and arts engagement programs. Both Mw [Moment Magnitude] and Your Feast Has Ended have also included adornment.

NEA: It was cool to read that Curtis R. Barnes is essentially an embodiment of the Frye's mission to provide free access to arts education for kids. He even took his first classes at the Frye. And now, five decades later, you curated the first look back at his curious body of work. Talk about full circle.

DANZKER: If we abandon the notion of exhibitions as singular events and see them instead as ongoing conversations with the complex and diverse communities the museum serves, including the artistic community, the responsibilities of museums take on different imperatives. Then the work of a museum can be seen as providing support for artists of the future, as fostering a continuous and ever mutating discourse about artistic practice, and as presenting the work of artists of the city in a global context. As our museum offers free access to arts education for kids, and free access to the community to engage with both historical and contemporary art, the possibility of fulfilling these responsibilities becomes even greater. Many artists can't afford the high admission to public museums; free access means artists are one of our primary audiences. Presenting the work of Curtis R. Barnes more than 60 years after he took his first formal art instruction at the Frye Art Museum has been a privilege and a joy.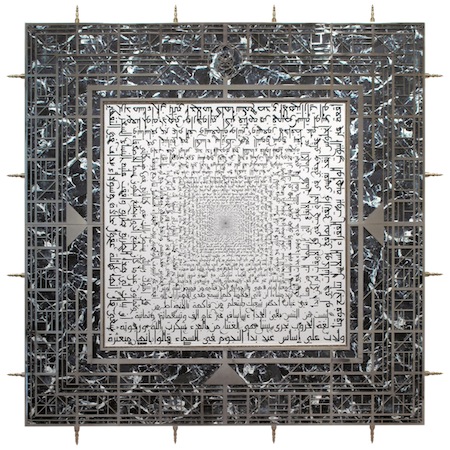 NEA: Beyond the father-son connection (Curtis and Maikoiyo), it appears that the main connection between these two exhibits—The Unicorn Incorporated and Your Feast Has Ended—is social commentary. Is that accurate? 

DANZKER: Profoundly important aspects of our society that are reflected in both The Unicorn Incorporated and Your Feast Has Ended include deadly force, the continuing impact of enforced displacement, loss of cultural heritage, and inequity in the allocation of resources both cultural and economic. Works in the exhibitions address these topics. The artists, however, are insistent that spirituality, its origins in the ancient past, and the richness of its presence in the life and work of the artists, are the heart of these exhibitions. It is the sacred in The Unicorn Incorporated and Your Feast Has Ended, and an insistence on a non-anthropological approach to an understanding of its diverse forms, that gives these exhibitions extraordinary vitality.

NEA: Speaking of social commentary, can you tell us more about Nicholas Galanin's Inert from Your Feast Has Ended?

Here are Galanin's own thoughts.  

NICHOLAS GALANIN: Inert was originally conceived for a traveling exhibition that dealt with humanity's impact on the environment. The inability to progress or move forward was the basic concept [of Inert]. It was created so that we could focus on those that are affected by society's sprawl. . . . I [also] look at this piece in cultural terms—mainstream society often looks at Indigenous or Native American art through a romantic lens, not allowing a culture, like my Tlingit community, room for creative sovereign growth. The back half of this piece is contained, a captured trophy or rug to bring into the home, while the front continues to move. It is sad, and the struggle is evident.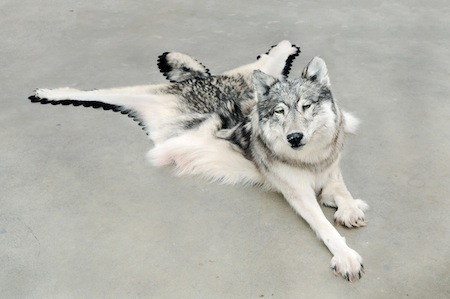 NEA: As noted above, Your Feast Has Ended combines the work of three artists: Maikoiyo Alley-Barnes, Nicholas Galanin, and Nep Sidhu. How much do you work with the artists while designing/organizing the exhibit?  

DANZKER: During the preparation of exhibitions curators work very closely with artists in all aspects of designing and organizing exhibitions. That ranges from the selection of works of art through to approving language for the exhibition labels and, in this case, curating the accompanying program.  That is one of the great joys of being a curator. In the case of The Unicorn Incorporated and Your Feast Has Ended, the conversations, friendship, and collaboration with the artists has changed my curatorial practice, and that of the Frye Art Museum.

NEA: What's the most challenging part to mounting a museum exhibition? 

DANZKER: There is no single challenge but multitudinous ones.  With each exhibition the challenges are different but never less complex.

NEA: On the flip side of that, what's the most rewarding aspect? 

DANZKER: The most rewarding aspect of any curatorial project is without doubt working with the artists. My life has been continuously enriched by the privilege of working closely with these extraordinary women and men.

NEA: Art museums matter because … 

DANZKER: In a world which is so often driven by excess, hyperbole, exquisite and shiny surfaces, and the quick and witty response, there is precious little space for thoughtful reflection on the joys of life, or for sustenance in those difficult times that each and every one of us face daily, or will face in our future. We want to provide respite and a place to breathe and reflect and grow, for everyone of all ages, and especially for military personnel and their families.