Art Talk with Poet Javier Zamora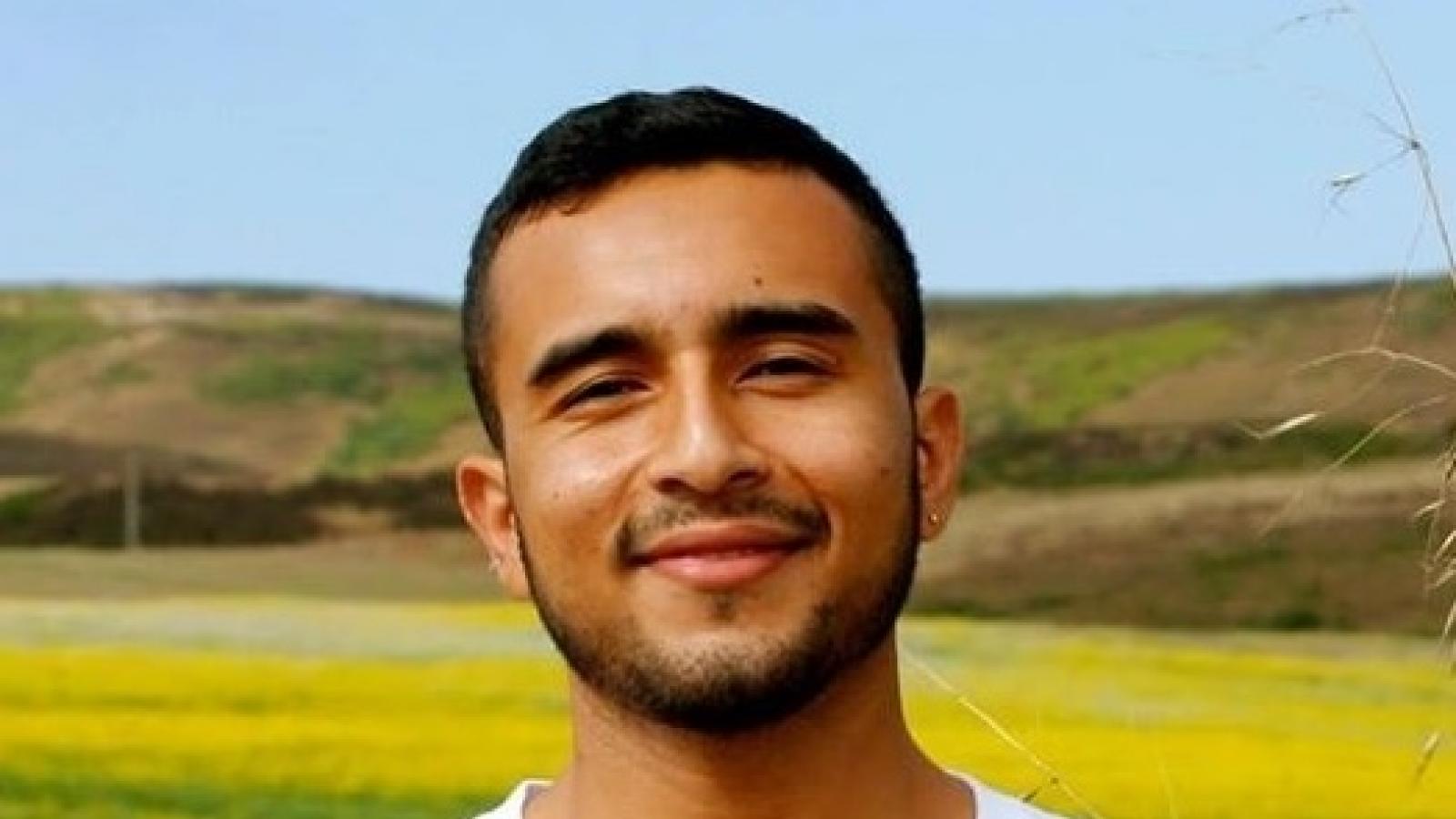 "I think in America we forget that writing and carrying that banner of "being a poet" is tied into a long history of people that have literally risked [their lives] and died to write those words." 
—
Javier Zamora


Poet Javier Zamora is obsessed with borders. There is the literal border he crossed when he first immigrated to the U.S. at nine, but there are also the borders between past and present, between personal history and national history, between childhood and adulthood. Zamora knows borders are places where people and voices can become irretrievably lost; the urgency of his poems comes from writing against that loss. As he writes in "If It Were," "…And if you come asking for us
again, we'll say us that have a voice, must speak for the voiceless."

Zamora is one of 36 poets who were recently awarded NEA Literature Fellowships in Creative Writing. Not surprisingly Zamora plans to use the funding to explore the border. As he said during our phone interview, "I have not actually been back to the Sonoran desert since I immigrated, and this money will allow me to go back to the physical border and be back in that landscape… to remind me of what it was then to immigrate as a nine-year-old." Keep reading to learn where Zamora sees himself in the family tree of poets, which poet inspired him to become a writer, and why poetry matters.

NEA: How did you become a writer?

JAVIER ZAMORA: Looking back my first instances of reading poetry, it was me memorizing a poem and reciting it in front of my entire school. I did it every year from first grade to fourth in El Salvador. I think that itself was ingrained in me. More recently there was a poet who came into my high school—her name is Rebecca Foust—and she came in to give a workshop. She brought 20 Love Poems and a Song of Despair and she told the entire class Neruda was 17 years old when he'd written that, and it was the top-selling poetry book of all time. It made me realize that I, too, a small 17-year-old could write poetry. And I started sending her poems and then she sent them back with revisions and then I sent them back to her and that has been my path.

NEA: What's your writerly obsession?

ZAMORA: Working on my first manuscript I realized that on the word level, I am obsessed with "water," "hair," and "hands." I had no idea that those were my actual obsessions. In broader sense, I knew I was obsessed with writing about the immigration, writing about the Salvadoran war—those are the big themes. But the coolest aspects of writing, consciously rewriting this first book and ordering everything and running the word counts was finding out those words that repeat a lot, or those things, and apparently water is something that I write toward. And mangoes. <laughs> And coconuts.

NEA: You're a writer of color, and you're an immigrant to the U.S. How do those two things inform your work?

ZAMORA: I am very conscious of those two facts and I want them to be completely evident in my work. I think it's in the conscious reason why I use a lot of Spanish in my own writing. I am a firm believer… that the personal is the political. I'm using my own story to hopefully shed light into this very complicated political situation we are living, which is the immigrant question that our politicians cannot figure out. I just want to humanize myself and humanize people from El Salvador and humanize immigrants overall. I'm writing toward that humanization of ourselves.

NEA: If you look at the world of poets and think of it as a family tree, who do you see as your ancestors?

ZAMORA: Like I said Neruda was my first idea of what a poet was. And then I would say my second person would be Roque Dalton who's Salvadoran. Along that same [vein] I would say Claribel Alegria. I would jump continents and say [Czelaw] Milocz and [Wizlawa] Szymborska and Adam Zagajewski. And then [from the United States] I would say Yusef Komunyakaa, Amiri Baraka, June Jordan, Etheridge Knight, and Sharon Olds. More recently, I would love to be aligned with poets like John Murillo, Natalie Diaz, Eduardo Corral, and Jamal May, poets like them.

NEA: In your family tree of poets, you named Salvadoran poets, poets from the U.S., and European poets. Do you see yourself as a Salvadoran writer, or do you see yourself as an American writer?

ZAMORA: That's a question I'm trying to answer myself. I was not born in this country so I wouldn't feel comfortable saying that I am 100 percent "American," or even know what that word means. But I also don't consider myself Salvadoran anymore because I don't live there; I live in this country. So I'm this weird in-between that I hope that poetry can bridge. I write a lot about my childhood and about nostalgia for my country, but I am very conscious that if I were to go back to that country it would not be the same and I would miss the United States…. I am not completely Salvadoran and I'm not completely American. So I would say that I would want to be classified as an immigrant Salvadoran writer.

NEA: You studied history and creative writing as an undergrad. How has your study of history informed your work as an artist?

ZAMORA I think that if it weren't for history I would probably not be a poet today. I know that Neruda had a big influence on me and he's a very historical poet. As an undergrad I majored in history and made the decision [to minor in creative writing] late in junior year primarily because I was studying the history of El Salvador, the Salvadoran Civil War and… something clicked in the productivity of my [poetic] work and in the authority of my work.

There's this fact I will never forget: Prior to 1980, which is before the official outbreak of the Salvadoran Civil War, there were less than 50,000 Salvadoran immigrants in this country. And after the war ended, one-fifth of our population was displaced in this country… So it became a very political thing and it also contextualized my family's own migration and my own being in this country, which untapped my entire flow of creativity. I've never written as much as I have [when I made that discovery] and I'm still crafting those poems today, trying to capture that bridge, that politicalness, that historicity, and my own identity in one poem.

NEA: You have recently completed a graduate writing program at New York University. There is an ongoing vigorous debate about the benefits of masters-level creative writing programs, particularly for writers of color. What's the most important thing you took away from being in that program?

ZAMORA: I think it was just the privilege to write. I was fortunate enough to be one of the funded students in the program, and I also got to teach elementary school kids. Teaching these fifth-graders, who I'll go on the record and say they've been my best students and the most creative students I've ever had, really inspired me. Those fifth graders really showed me what it was to be imaginative and I think that's what's impacted me the most from my time [earning my] MFA. Not necessarily the classroom itself, but the time to read and be inspired by the people you admire, like Yusef Komunyakaa and Sharon Olds and Charles Simic, and also to teach other people poetry. The MFA has a lot of problems, specifically for writers of color as those articles portray. I think there is a lot of work left to be done so writers of colors feel comfortable in a workshop setting, which I believe every workshop should strive for, a comfortable and open space where writers can share their most intimate poems.

NEA: Why does poetry matter?

ZAMORA: I believe it matters because it reminds us of our feelings. It reminds us that it's okay to feel and to tap into our emotions. And if we're not in tune with our emotions, we are not living. And it matters because there's a history of all the poets who have risked their lives [ to write]. I think in the United States we forget that writing and carrying that banner of "being a poet" is tied into a long history of people that have literally risked [their lives] and died to write those words. And I think that when we forget that, that's when poetry will stop mattering. But I don't think people have.

NEA: Any parting words?

ZAMORA: I'm very humbled and very grateful to be a part of the NEA's long history. It still hasn't sunk in and I don't think it ever will sink in. I don't even know how to talk about it. I'm just thankful to the people who chose my little poems. Thank you.