The Power to Change Our Communities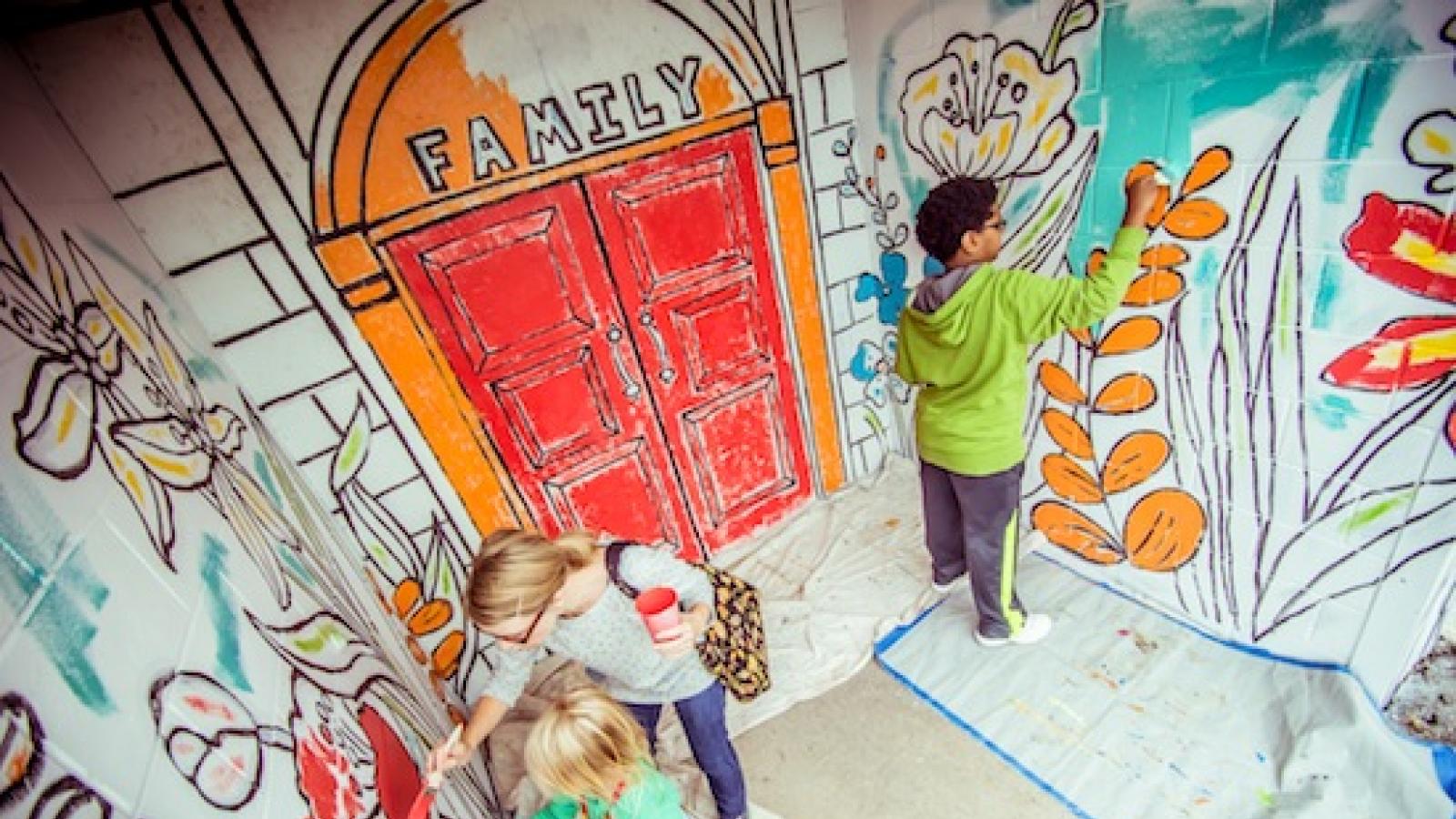 "[W]e all have the power to change our surroundings, we all have the power to tend to something overlooked, unlovely, or in need of repair in our neighborhoods, and we all have the power to make our place better." – Laura Zabel
I'm always interested in reciprocity between artists and communities. Which is what is exciting to me about arts-based community development (or community development-based art.) The win-win is baked in. In order to be effective, I believe arts-based community development needs to be about authentic relationships where both the arts and the community development sides of the partnership have something to learn. This work should be the work that we do together because we cannot do it alone: to build places that are equitable and healthy, community developers, artists, and community members must build deep and lasting relationships.
For community developers—people who work on issues like affordable housing, small business support and the health, safety and economic opportunity of neighborhoods--working with artists means new tools and strategies to help them achieve their goals. Artists can bring a sense of transformational possibility and often have the ability to attract people and attention and dollars to issues and opportunities in new ways. For our partners in the community development sector one of the most persistent challenges is community engagement and input. Some of the most exciting and effective projects for these partners are creative projects that engage residents in providing feedback, input or engaging them in imagining the future of their community in positive productive ways.
For example, one challenge of affordable housing development is that often a new development gets announced and then (because timelines for big capital projects are lengthy) there is a long period of time where the site is fallow, and the surrounding community doesn't see any progress on the project. Often residents are also concerned about what new affordable housing will mean for their neighborhood. Over the last year, Project for Pride in Living worked with Artist Organizer Oskar Ly to turn these two challenges into opportunities. Along with other artists from the community, Oskar designed projects that invited neighbors onto the future site of their new development in St. Paul, Minnesota, which will include 108 new units of housing, retail, and public plaza space. These projects invited people to engage in creative activities and conversations that asked them to express their definition of "home."
Throughout the year these projects provided ongoing activity and physical changes to the site, giving the site a sense of momentum and vibrancy, even before any real construction started and provided opportunities for neighbors to express their own ideas of home, build a sense of community ownership of the site and positive reminders that this new development will ultimately be not just physical structures but people's homes. There is a great video about the project here where you can learn more and hear from the artists in their own words.
For artists working within the community development field can mean new context and meaning for our work--a way to use our existing skills in service of our own neighborhood and community. The beauty of this is that it can take the form of large-scale, long-term projects like Oskar's and it can also be simple acts of intention--such as performing gigs at local businesses to help attract new patrons. For artists I think this work presents an opportunity to reknit our work into the fabric of our communities. To make our work accessible and relevant to the every day lives of our neighbors. There are many different reasons to make art and many different definitions of success, all equally valid. For me place-based, community-engaged work provides an opportunity to find our way back to the origins of artistic expression and to feel our craft is vital, integral, and useful.
For example, in Fergus Falls, Minnesota, artists have been working for over a year to design creative projects that connect to the historic preservation and reuse of the former state mental hospital or "The Kirkbride." The issue of what to do with this historic and enormous property had become contentious and emotional for the community. By partnering with community development and historic preservation leaders, local artists have been able to establish themselves as key partners and allies, using their creative skills to engage their neighbors in imagining the possibilities. Now, after many years of community division, the right people are at the table and have changed the narrative of the building's future. The Kirkbride is now on the verge of a renaissance, with plans to convert it into a hotel, apartments, and restaurants, with art and artists a core part of the redevelopment. You can learn more about this project here.
For residents, the opportunity to participate in arts-based community development means new ways to have their voices heard and recognized and new opportunities to tap into their own creative capacity. We often forget that artists and community-development professionals are also community members and I believe that arts-based community development is most effective when it is led by artists and community developers who are also residents or stakeholders in the community themselves. For residents who don't yet identify themselves as artists or community developers, creative projects can build new social capital and networks in a neighborhood in unique way. Art can bring people together across social, economic and cultural divides and create new relationships quickly and effectively. It can give us a tool for expressing our voice and opinion in powerful, productive ways.
A community organizer said to me once that before working with artists he always believed his job as an advocate for his neighborhood was to "drive things into the embankment." Essentially he believed his only power was to try to stop bad things from happening. After working with artists he saw that there were ways that community members can mark their place, express their voice, and make change in productive, creative (and fun) ways. One of the first projects that happened in our Irrigate initiative was a stained glass installation in a chain link fence. Every time I drive by this piece of art I am reminded that we all have the power to change our surroundings, we all have the power to tend to something overlooked, unlovely, or in need of repair in our neighborhoods, and we all have the power to make our place better.
Laura Zabel is the executive director of Springboard for the Arts, a community development organization run by and for artists in Minnesota. Springboard shares stories and tools nationally through the Creative Exchange.
Want to learn more about arts-based community development? Check out the announcement of our most recent round of Our Town grants!