Preparing Children for Art Museums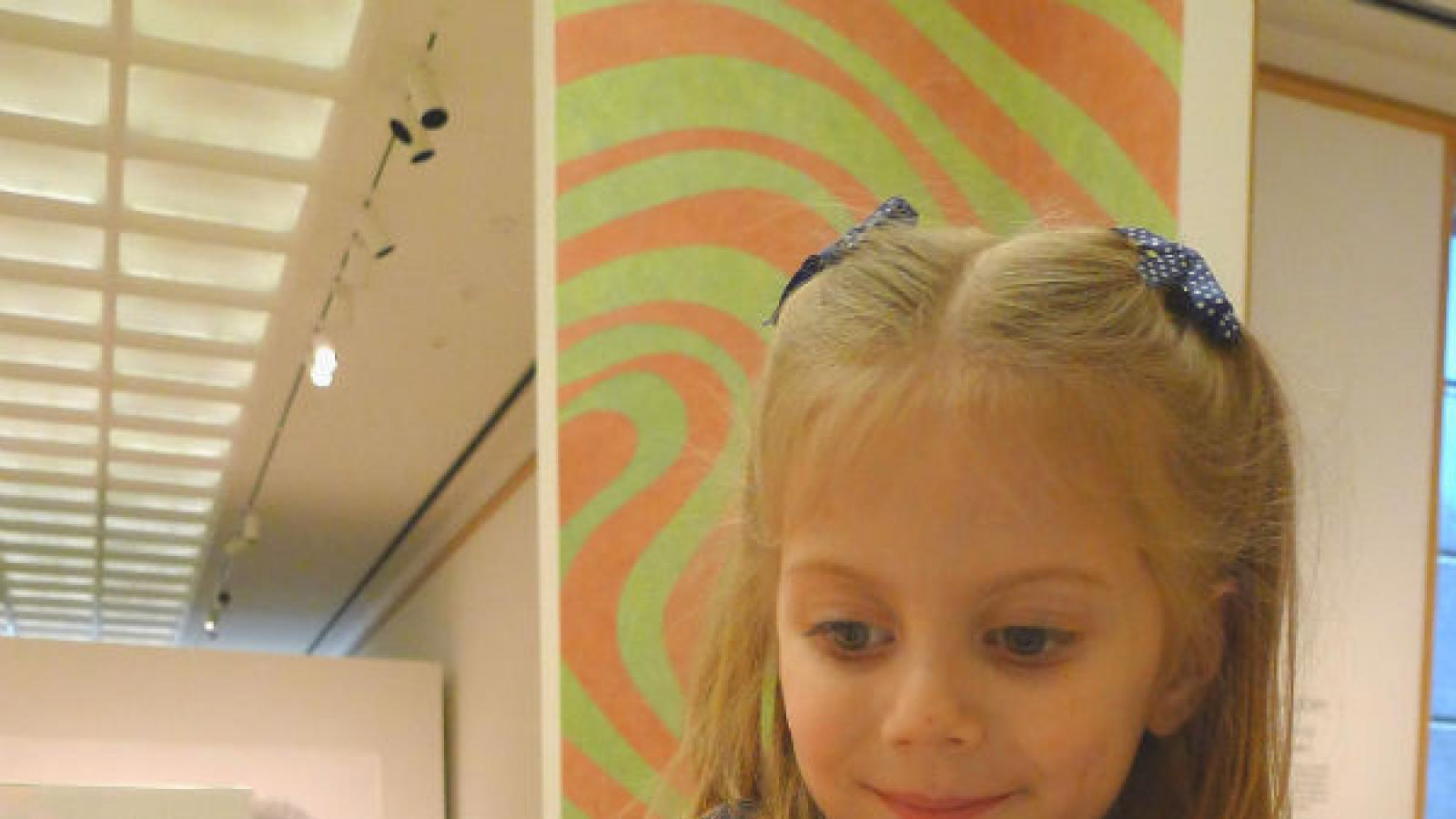 Without a doubt, stepping into an art museum can be overwhelming for a kid: there are rules to follow, unfamiliar artists' names, and subject matter that might not seem relatable at first glance. Which is why preparing a child ahead of time can be crucial to ensuring the experience is positive. With a little advance planning, art museums can be extraordinarily rewarding for children, and can help lay the foundation for an interest in the arts. (Read more about the benefits museums can offer children.) We asked educators from Blue Star Museums to share advice on what adults can do ahead of time to prepare children for their upcoming visit. Here's what they had to say.

"Decide ahead of time which exhibition(s) you most want to see at the museum—don't try to take in too much. Look online and if possible, show your child a picture (pictures) of artwork you will see at the museum. Print and let them carry a picture (or two) if you can, and 'hunt' for your find. A picture will serve as a starting point to talk about the artwork: why it is appealing, what it is made of, what's the story, etc., and how the 'real thing' differs from the picture." —Susan Hogan, Hawai`i State Art Museum Educator, Hawai`i State Art Museum

"Visiting a museum is a special occasion for adults and children to enjoy shared learning experiences.  To prepare for your visit you could talk to them about the art in your own home. Choose your favorite work of art in your home and tell your children what you like about the art and how it makes you feel. Ask your children to share their thoughts about the work of art that you like and to talk about what their favorite work of art in your home is. Then, when you and your children visit an art museum together, you can talk about which works of art are your favorite and why." —Katherine Cox, Education Director, Huntington Museum of Art

"Art museum visits for everyone, but especially families, are best with some preparation. Check the website for upcoming family programs, such as Wichita Art Museum's monthly ArtVenture, and select a day that is geared for fun interaction and participation. Learn about the specific theme, activities and current exhibitions connected with the special family program. Spend time the day prior of your visit to talk with your child about what you will see and do at the museum. Read from a children's book that highlights the fun of a museum visit to help to encourage a great experience (How to Take Your Grandmother to the Museum or Night at the Museum are just two examples). Speak with your child about their questions and expectations of the museum visit. Remember to share yours as well with your child." —Courtney Spousta, Curator of Education, Wichita Art Museum

"Bringing your child to an art museum can be one of the most eye-opening and educational ways to spend an afternoon. Introducing them to the museum through a youth art event or class is a good way to engage them on their level in a fun, peer-oriented manner. After the program they will be more interested in exploring the museum's collection as an entertaining activity that expands on what was learned earlier." —Kerry Kuhlkin-Hornsby, Director of Education, Columbia Museum of Art

"I always recommend parents do a bit of research first when planning a visit to a museum. Find out what the current exhibitions are, and give your child a choice of which one(s) she or he would like to see. (You might need to find and review books or videos about some of the exhibition topics if a child doesn't have previous knowledge of them.) Plan your itinerary, including when you plan to stop for snacks or lunch, and review it with your child before your visit. To avoid "museum fatigue," limit your visit to one or two exhibitions instead of trying to see the entire museum. Bring a sketchbook and pencil for sketching in the galleries or writing about things they particularly enjoyed." —Laura Howick, Director of Education, Fitchburg Art Museum

"Something as simple as just looking at things—tools, works of art, toys—followed by talking about them can prime children to fully experience works of art in a museum. Rarely are we offered opportunities where close observation of an object is encouraged, and is then followed by a meaningful discussion of what we've seen. This is often fundamental aspect of a museum visit, and without this sort of experience, some can feel out at sea. Creating chances for children to practice these skills before a visit can help foster an environment where sharing observations, analysis, and opinions about a work of art becomes a natural part of any visit." —Matt Timme, Mirken Coordinator of Education and Public Programs, Colby Museum of Art

"To ensure the best possible art museum experience with children—prepare yourself first!  Find out what is on view in the galleries, what interactive experiences the museum offers, and what programming is available for children. At Cranbrook Art Museum, we offer special all ages art-making experiences for visitors to explore the current exhibitions with an interactive touch. Most art museums have family activities and interactive experiences, so find out what great things are happening before you visit. 

Now that you're prepared, get your child excited about what they'll see and do at the Art Museum. You've found out what's on view—now help your child explore the information too! Let them get excited for a few artworks, so the trip to the Museum is filled with joyful exclamations of "I saw that before!" Most objects in art museums can't be touched – so explain why before you go. Many of the object in the art museum are the only one in the whole world – and we wouldn't want it to get damaged from us touching it. There are many ways art can get damaged, including from the oils in our hands (even after we've washed our hands, we can leave oily fingerprints on a mirror!). 

It's always fun to have a special art museum sketchbook with a pencil so your child can draw art they see during their visit to the museum—and you'll have a special record of your child's memories of your visits to the art museum. While this preparation takes a little time—it creates a much more memorable experience for your child—and you!" —Kelly S. Lyons, Curator of Education, Cranbrook Art Museum

"It is vital that children are exposed to a variety of cultural experiences in their formative years. A great way to prepare kids for museum visits to the Racine Art Museum and RAM's Wustum Museum is to talk to them about what they might see in advance and how to navigate an art museum. Exhibition content is posted on the museum's website, allowing adults to preview the information prior to the museum visit. Explaining to children in advance behavioral expectations (such as no touching) allows children to be prepared before their visit. This should be handled in a way that encourages the child to be respectful of the art and to understand the importance of museums and the creative culture. Adults can use this opportunity to teach kids about the power of connecting with their visual surroundings and how we can all do our part to appreciate and take care of our local art resources, as they are part of our communities and pieces of our history.

Kids are naturally going to behave as kids. They should be encouraged to ask questions and to talk about the art they see and how it affects them. Having a sketchbook or drawing materials for kids to actively engage in the museum provides an outlet for them to be expressive. Another activity that encourages the child's mind to be actively involved is a scavenger hunt. Adults can easily make a sheet prior to the museum visit,  with general questions that can be answered in any art museum setting such as: 'Find your favorite piece of art,' 'Why is this YOUR favorite?,' 'Find a piece that you would like to write a story about and write a short story,' 'Is there a piece of art that you do not like and why?,' 'How many art pieces have the color blue?,' etc. This is when those sketchbooks come in handy!" —Tricia Blasko, Curator of Education, Racine Art Museum

For more tips from educators, see why museum educators think it's so important to take children to museums.