Art Talk with Sarah Sense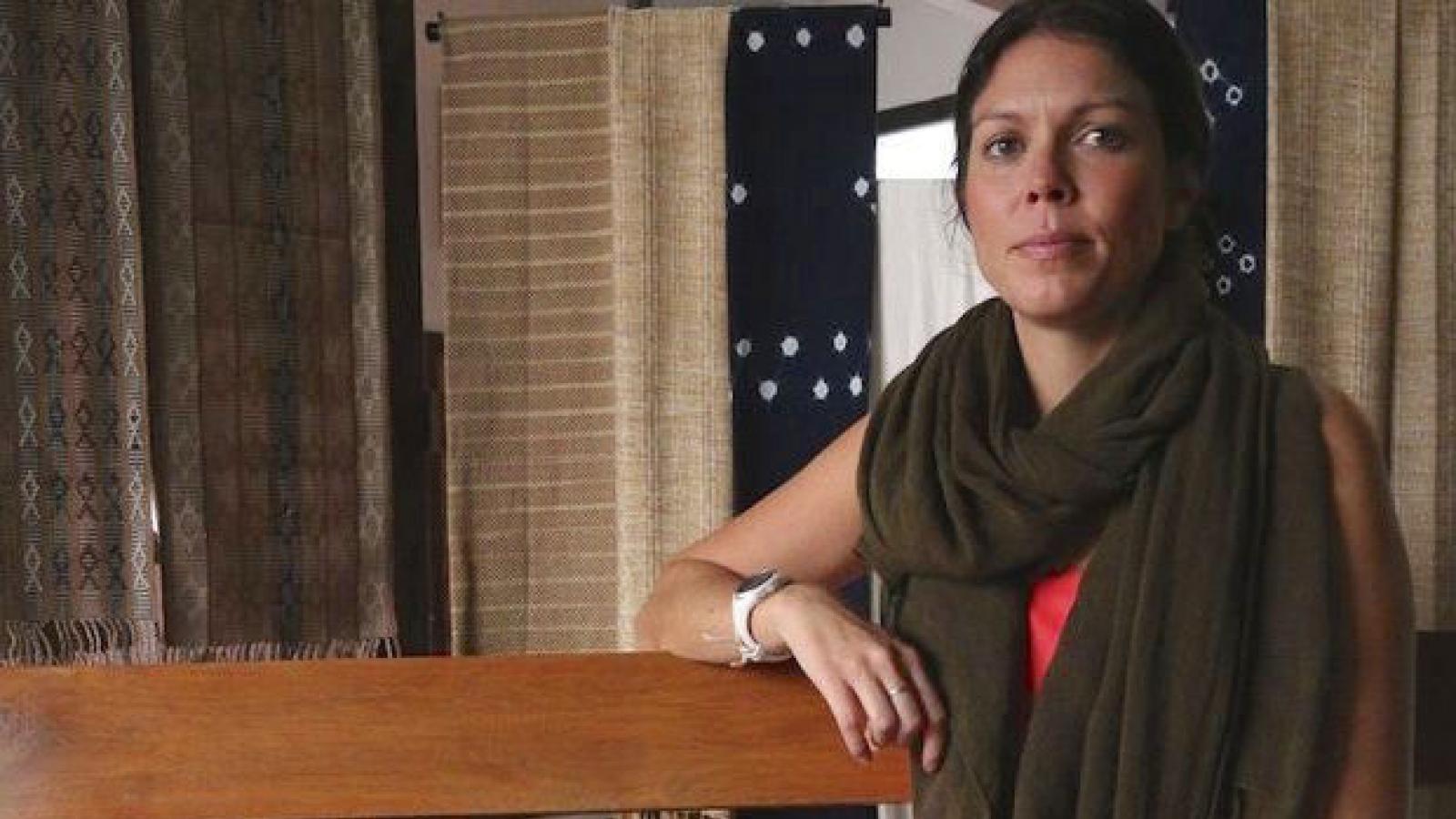 When we think of Native-American art, we often picture traditional pottery, baskets, or paintings. Native-American artist Sarah Sense, however, has taken some of the techniques used to make traditional Chitimacha baskets and modernized them to create two- and three-dimensional woven pieces using her own photographs and ancestral designs to create tribal patterns. Raised in Sacramento, Sense's maternal grandmother is Choctaw from Oklahoma and her maternal grandfather is Chitimacha from Louisiana. From her grandmother, she gained a love of baskets and an interest in practicing basket weaving herself. With the blessing of the Chairman of the Chitimacha tribe, Sense began practicing her variation of the traditional method during graduate school at Parsons the New School for Design in 2004. She has since traveled across North America, Central America, South America, Southeast Asia and the Caribbean to learn more about the artwork of Indigenous people all over the world. We spoke with Sense via Skype from her residence in Ireland about her background and inspiration, the challenges that come along with modernizing a traditional art form, and the surprising link between her Choctaw ancestors and her current home.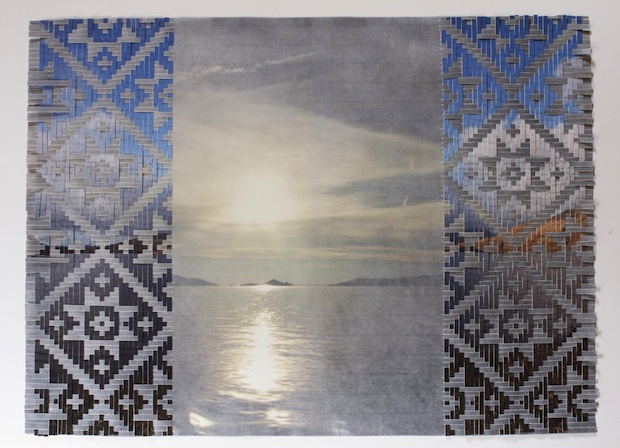 NEA: Can you talk about your background and what inspires you?

SARAH SENSE: When I was in my late teenage years, I went to the Chitimacha reservation with my mom for the first time. She didn't grow up out there, and I didn't either, so it was an interesting experience for me to go back and meet family and make new friends that were part of this community that I hadn't been exposed to. It had a huge impact on me.

There were a few things that really inspired me, and one was definitely the landscape—the Bayou, the idea that this is where my ancestors are from, and it's not new land, it's not different land. This is the original land. I think the landscape became very inspiring for me and a big draw for me to continue going back there.

I think that the weaving tradition [also] felt very important to me mostly because of my grandmother. My grandma wasn't a weaver but she was a basket collector. She spent a lot of time in the last 15 or 20 years of her life traveling, from when she was about 65 to 80. She was traveling to collect baskets from all over the world and the United States and had a really beautiful basket collection. I think that had a big impact on me, always being exposed to her baskets and seeing how much she cared about them and loved them, and just the aesthetics of the weaving and what it meant.

NEA: You went to the Chairman of the Chitimacha Tribe to get permission to do your weaving. What was that like?

SENSE: I went to the reservation every summer. After doing a lot of research during my first year of grad school I went back in the summer of 2004 and I bought a basket from one of the basket weavers, and then I had a meeting with the Chairman at the time. I explained to him that I was really interested in doing [basket] weaving, that I'd been drawing and painting the patterns and doing the research. [I said] that I didn't want to be disrespectful in any way to anyone and that I knew how special and sacred this tradition is with those weavers that are practicing it today.

I knew that I wanted to do the weaving but I didn't know exactly what I would do except that I wanted to use different materials. I explained this to the Chairman, who's the head of the political sphere of the Tribe, and we had a really nice conversation about it. He gave me his blessing, and he shared some things with me and told me to move forward with it and that he was really supportive and happy to see what I would do.

NEA: What was the first weaving project you worked on?

SENSE: On that same trip, there was a tanning salon that I saw on the reservation called Native Tan. I took a photograph of it, along with other landscapes of the reservation and the Bayou… When I got back to New York, I was thinking about what it was that I could weave now that I had this blessing. My first weaving was the photograph of the Native Tan image. I had the basket, I had the blessing, I had the image, and so the idea came pretty naturally to me in that time. The process that I did was quite simple. I just changed the image in Photoshop to three different colors: one was black and white, one had a red tint, and one had a yellow tint. The Chitimacha basket colors are natural river cane, and dyed black, yellow, and red, so I wanted to create these same colors in the photographic images. I then wove with the patterns from that basket that I had bought by cutting the photographs into strips and then weaving them together using the traditional basket patterns in the basket. I didn't know how to talk about it yet, I didn't know what to call it, and it was a totally new thing.

I brought it to school, of course, and was encouraged to do more and very happily made a few more flat pieces and also baskets, and that was how I started weaving.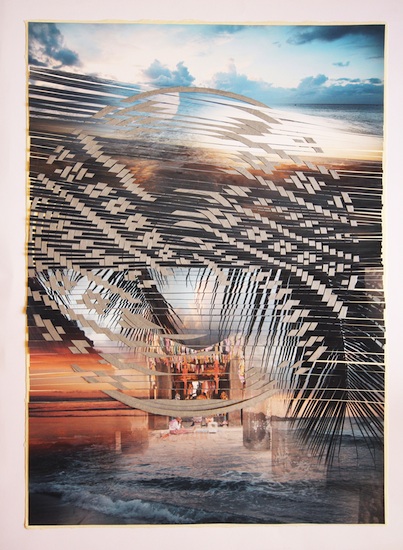 NEA: My next question is about the series Weaving the Americas and Weaving Water. What made you decide to travel?

SENSE: When I first decided to travel, [I] had this really romantic idea of going to every continent in the world and seeing what it was that Indigenous people were making and what the similarities were. I didn't have a lot of information on that apart from my own research and meetings with other Indigenous artists when I was in New York. After grad school, I was the Director and Curator of the American Indian Community House Gallery in New York. So sometimes I would have artists come in from Australia or South America, for example, and share their work with me. I thought, "Okay there's all this other work that's being made out there by Indigenous artists. Is there work that's being made that's contemporary, that's not completely traditional but different from the traditions that have been passed on?" That was my real motivation, I think. So the first step for me was to get to South America. I visited Buenos Aires for a few weeks, and then Costa Rica for a few months of Spanish classes. Shortly after I moved to Santiago, Chile, where I conceived the Weaving the Americas project. The premise of the project was to travel into Native communities in the Americas and meet with Native artists to learn about their community and their art. I began the project by doing artist interviews with Aboriginal artists in a residency at the Banff Centre in Canada, followed by interviews with artists who were a part of a show that I had curated for AMERINDA at the Wilmer Jennings Gallery in New York, and then with Chitimacha basket weavers in Louisiana. I then traveled to Guatemala City and took buses from Guatemala down to Santiago traveling into Native communities along the way to do artist interviews. I did a lot of research beforehand on where the Indigenous communities were. I went into communities, met the artists, did the interviews, but didn't know which artists I was going to meet beforehand. I just went into communities and started talking to people.

NEA: What sort of techniques were involved in these projects?

SENSE: I did quite a lot of black-and-white photo silkscreen prints. It ended up being 91 prints of three different images of North America, Central America, and then South America. Weaving the Americas has these large black-and-white photo silkscreen prints in the background, which I wove over with digital prints.

All of the material up until [Weaving Water] that I had used was photo paper, glossy or matte photo paper, just various paper that you would run through an inkjet printer, basically. But I never thought about using something that would speak to or relate to the basket's original source material, which is river cane, a species of bamboo. While in Thailand, I met with a paper maker in Lampang who lives and works in a bamboo forest. His beautiful paper was very inspiring to me as bamboo is the material that the Chitimacha baskets are made from. He made paper for me while I lived in Thailand, which I worked with for the Weaving Water pieces. The [bamboo] paper was woven with my photographs of the Caribbean and Southeast Asia, imagery that I documented while I was continuing my artist interviews for Weaving Water. I still use the bamboo paper in the work that I'm doing now.

NEA: What do you feel are the challenges of modernizing a traditional art form?

SENSE: I think those bigger challenges were early on. You know, the fear of offending a weaver. It was so important to me to be as respectful as possible. It was so [important] that everybody knew that I was doing something because I felt really called to doing it and that this weaving was not to replace traditional weaving, it wasn't to be disrespectful to the weavers. It was my own interpretation of what contemporary Native-American experiences are, and what my experience was—which is the engagement with my community, something that is a huge part of me that I didn't get exposed to until later in life.

Why did I have to do so much educating at home or on my own about the history of Native America? Why is it just totally brushed under the rug when it comes to art [and] basic education in the United States? I think I'm using the weaving process to tell these stories or to share information to get people thinking, I hope, or to at least create an educational platform. That's my challenge—to never lose sight of finding the stories or finding the artists who are telling the stories and trying to share it the best way that I can. I wanted to address these issues while still being extremely respectful of the weavers. That was the most fragile part of my weaving experience, and that was very early on.

My new challenge is, "Okay, now that I'm starting a family, what is it that I want my son to know? What do I want him to be exposed to? What traditions am I going to pass on to him?" That's a big deal.

NEA: I really think the whole story about the relationship with the Choctaw and the Irish in the 1840s is fascinating. Can you tell the story?

SENSE: The Choctaw Nation gifted Ireland money during the Irish Famine in the 1840s. This was a huge gift that amounted to about $20,000 by today's standards. This was only sixteen years after the Choctaw experienced removal from their land to Oklahoma on the Trail of Tears, a devastating incident where many suffered and died.

My grandma shared this story with me when I was young, but it wasn't until recently that I had the opportunity to travel to Ireland and research the story on my own, which culminated into a new body of work, Grandmother's Stories. While living in Ireland, I studied the famine and familiarized myself with one particular story called the Doo Lough Tragedy, which reminded me of the Trail of Tears. I traveled to Connemara to learn more about the Doo Lough story from the locals and take photographs of the landscape where the incident occurred. The pieces from this series incorporate my grandmother's stories that she recorded for me in word documents, that I then hand wrote onto the photographs of the Irish landscape and then wove together using Chitimacha and Choctaw basket patterns, including Choctaw baskets that my grandma gifted to me. The work was then exhibited in Oklahoma, which is where she is from and where the Trail of Tears ended.

NEA: And finally, the arts matter because…?

SENSE: The arts are really important because [they are] a platform, I believe, for creative people, for thinkers, for people who have a story to tell or valuable information. It's a platform for sharing information, it's a platform for sharing stories, for being political. 

Visit the NEA Pinterest page to see more artwork by Sarah Sense.