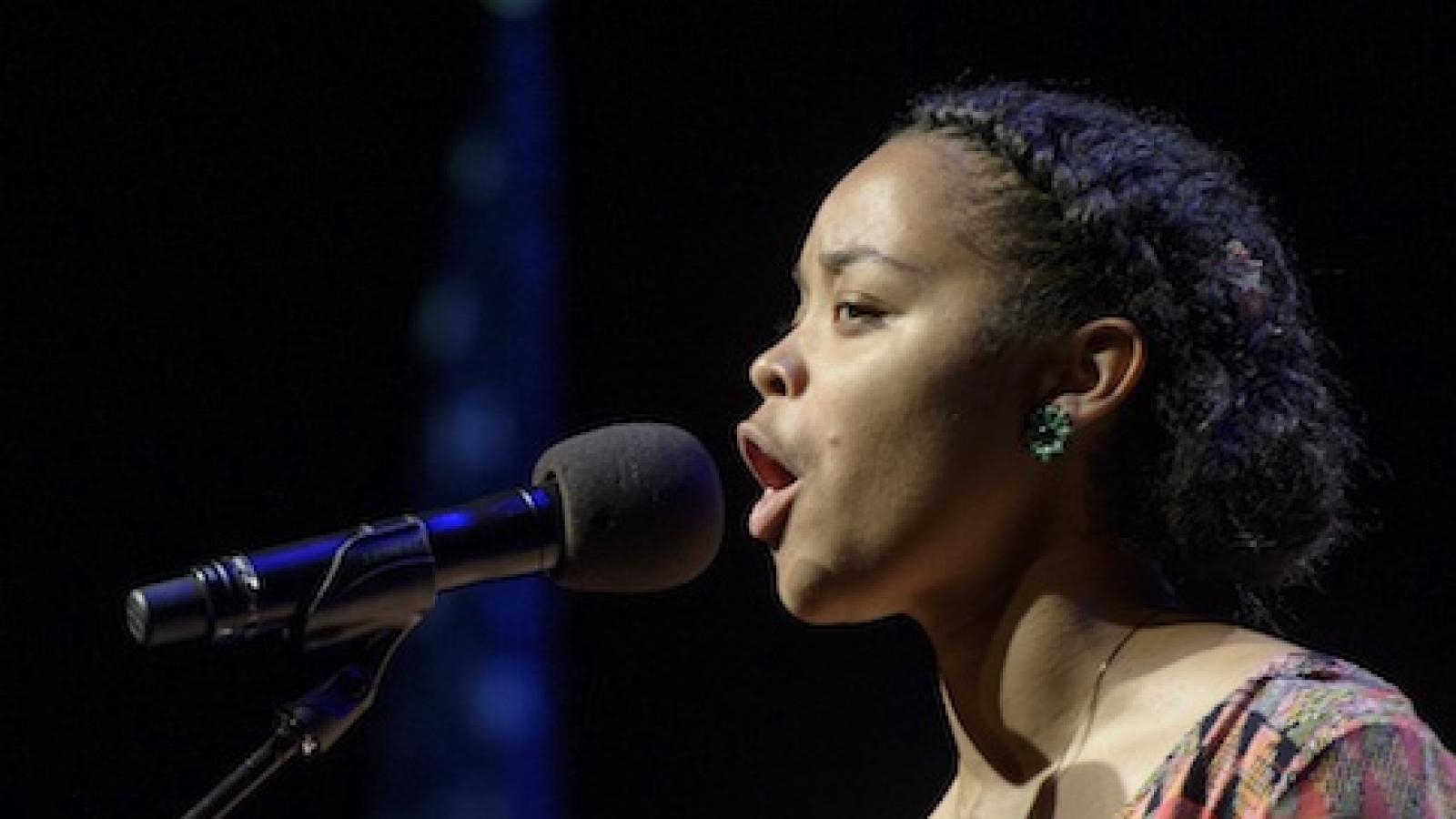 Anita Norman, our 2014 Poetry Out Loud National Champion, has proven that she knows a thing or two about reciting poems. As we get ready to crown this year's champ at next month's National Finals, we asked Anita to share her tips for reciting poetry. Even if you only want to share your poems with an audience of one, we guarantee these tips will help you keep the poems you love with you forever. 
I can remember choosing my very first poem, concerned about the level of complexity or whether someone else would have the same poem.
Later, I began to think of my pieces as vehicles of change. I wanted to tell a story, one that was both memorable and life impacting.
Find your own goals within each poem. Leave the audience thinking of your message, traveling on the poem's journey along with you.
While you may have one poem that you like more than your other two, displeasure or discomfort with material will come through during your performance. Something about it may seem unnatural or go misunderstood, so make sure you and several others understand what is being said. Number one piece of advice: love your poems.
After you've selected your poem, take the time to rewrite the piece as you would speak it. That means the stanzas will most likely disappear and various lines will be broken up differently than what's seen on the website. Memorize the poem only after you've personalized the format. This makes your presentation more fluid and gets rid of certain patterns and rhyme schemes that are discouraged in competition.
When I rewrote and then memorized my poem, I began to see new meanings and I was able to appreciate the words versus the rhythm. It made it easier to communicate the message of the poem more clearly when it was rewritten to be heard, not read.
Once the poem is memorized, the next steps are quite simply to practice, practice, and practice some more.
Make sure you understand every word within a line as well as every line within the entirety of the poem
If the poem has a tone shift, you should have a tone shift. Don't try to create a feeling that is not there. Let the poem tell you when to rise and fall because it most certainly has a tendency or vision of its own.
Work on using your entire mouth to pronounce words; I found this to help with articulation.
Believe what the author has written because only then will the audience believe you
Find at least three people with whom you share your poem before walking to the microphone. Person One should have the freedom to tear down or question  every aspect of your recitation. Person Two should help you piece those criticisms into something that satisfies the need for clarity and challenge. Person three should be less critical and more concerned with your own creativity when it comes to the poem
One person may meet all of the above for you; however, remain true to your own goals and wishes. No one else is up there with you on stage. No one can tell you how you should articulate a line. Listen to advice and take what suits you. Your being comfortable is essential to a strong recitation.
All in all, have fun, and think not of winning, but of the message of your words. They will carry you farther than you know, on and off stage.
Save the date to join us for the 2015 Poetry Out Loud National Finals in person or online April 28 and 29. Details coming soon.