Spotlight on MTA Arts and Design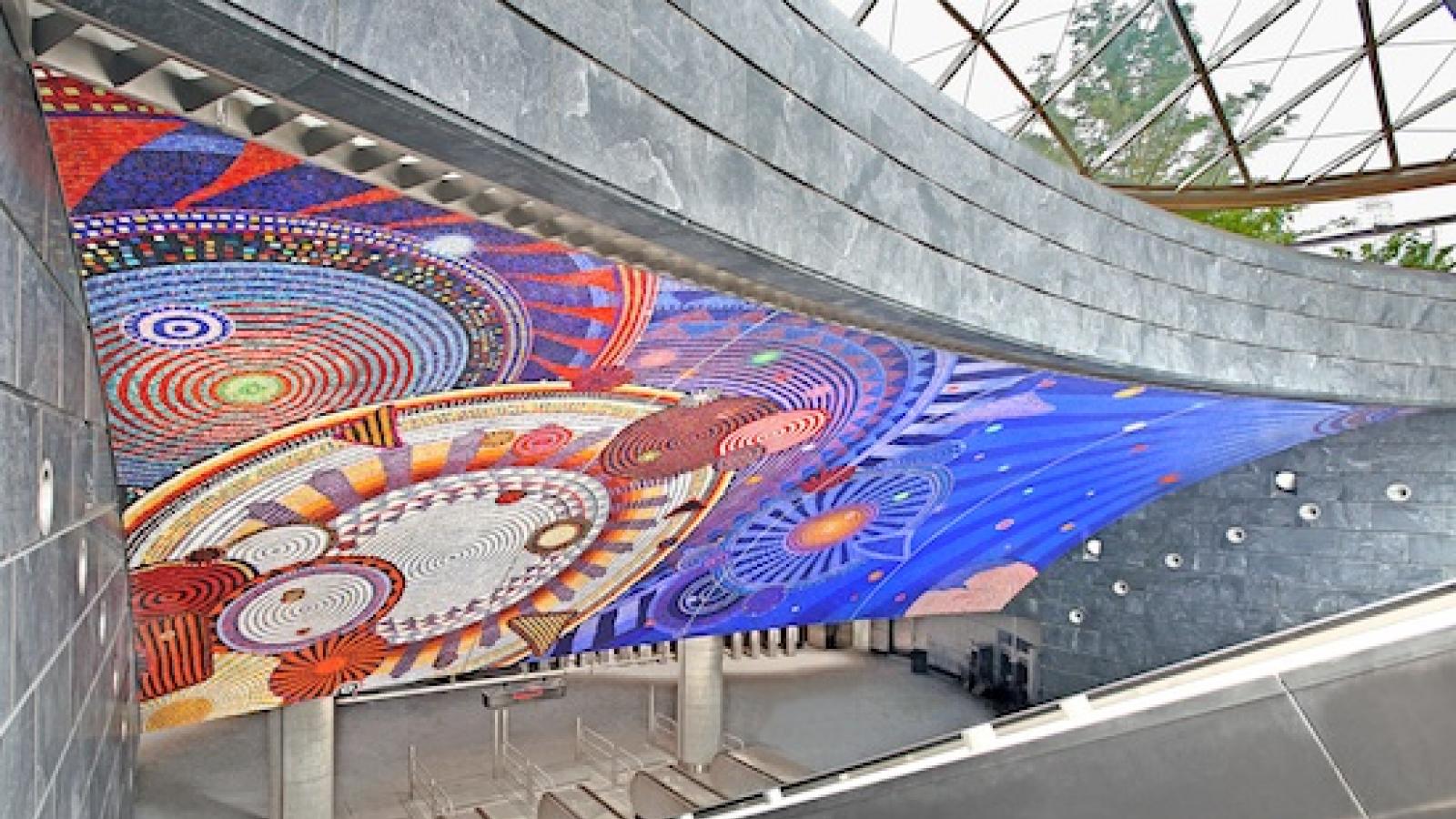 Want to see some great art while visiting New York City? Head down into the subway and then—look around. Thanks to the Metropolitan Transportation Authority (MTA) Arts and Design program—founded in the mid-1980s as Arts for Transit—the roughly 8.5 million residents and visitors who commute via subway, the Long Island Railroad, or one of the city's bridges and tunnels can catch a glimpse of art by Chuck Close, Elizabeth Murray, Roy Lichtenstein, Jacob Lawrence, Jean Shin, and many others while en route.

So why is New York City's transportation agency interested in serving up art to commuters? MTA Arts and Design Executive Director Sandra Bloodworth, herself a practicing artist, explained, "It's important to us because it sends the message that this organization really cares about the quality of your journey. And there are so many benefits: Your customers start to take ownership of this place, and they take better care of a place that they feel they have a connection to."

More than 260 installations, including mosaics, wind screens, and sculpture, comprise the permanent public art collection. The program also supports temporary works of art in other disciplines including music, graphic design, photography, and poetry. Music Under New York—which features NYC playing at selected stations—boasts roundly 7,500 annual performances. Poetry in Motion, programmed in partnership with the Poetry Society of America, pairs selections from award-winning poets together with artwork from the permanent collection. The latest addition to the MTA Arts and Design portfolio, a digital arts program, launched with the 2014 opening of Lower Manhattan's Fulton Center, which boasts all-digital signage and site-specific digital art work.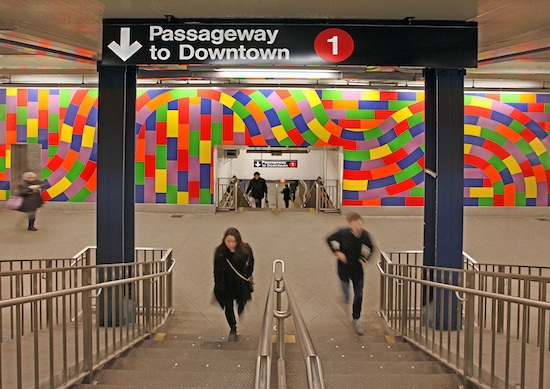 For both the permanent collection and temporary installations, such as photography projects, the MTA Arts and Design program is open to artists at any stage of their career. "We maintain a roster of artists, and we're constantly reviewing [portfolios] so that people have the opportunity to be considered for those temporary programs," said Bloodworth. For the permanent collection, the process starts with a call to artists that includes information on where the work will be installed. A panel of arts professionals then reviews proposals and selects a finalist for the commission with advisory input from community representatives.

Many of the works in the permanent collection are fabricated of ceramic, faceted glass, laminated glass, and other hardwearing materials. Bloodworth noted the materials are a historical nod to the transit system. "When we first started this program, we looked to the architectural history of the New York subway, and where man or nature had not intervened, the mosaics and terracotta were in mint condition. Unfortunately man and nature had intervened in a number of places, but we looked to that material knowing it had stood the test of time."

The city's transit users seem to have really embraced the program, according to Bloodworth. "I am very fortunate that almost any time I meet someone, almost every time I'm introduced as the director of MTA Arts and Design, I get to experience what this work means to those that use our system," she said. "It's almost nonstop that people will describe a particular piece or talk about a poem they saw or a photograph or a poster or a work by Sol LeWitt. They will talk about those emerging artists in their station, and they will talk about what that meant to them. That's an incredible thing--to impact a place like New York City."