Art Talk with Playwright Nilo Cruz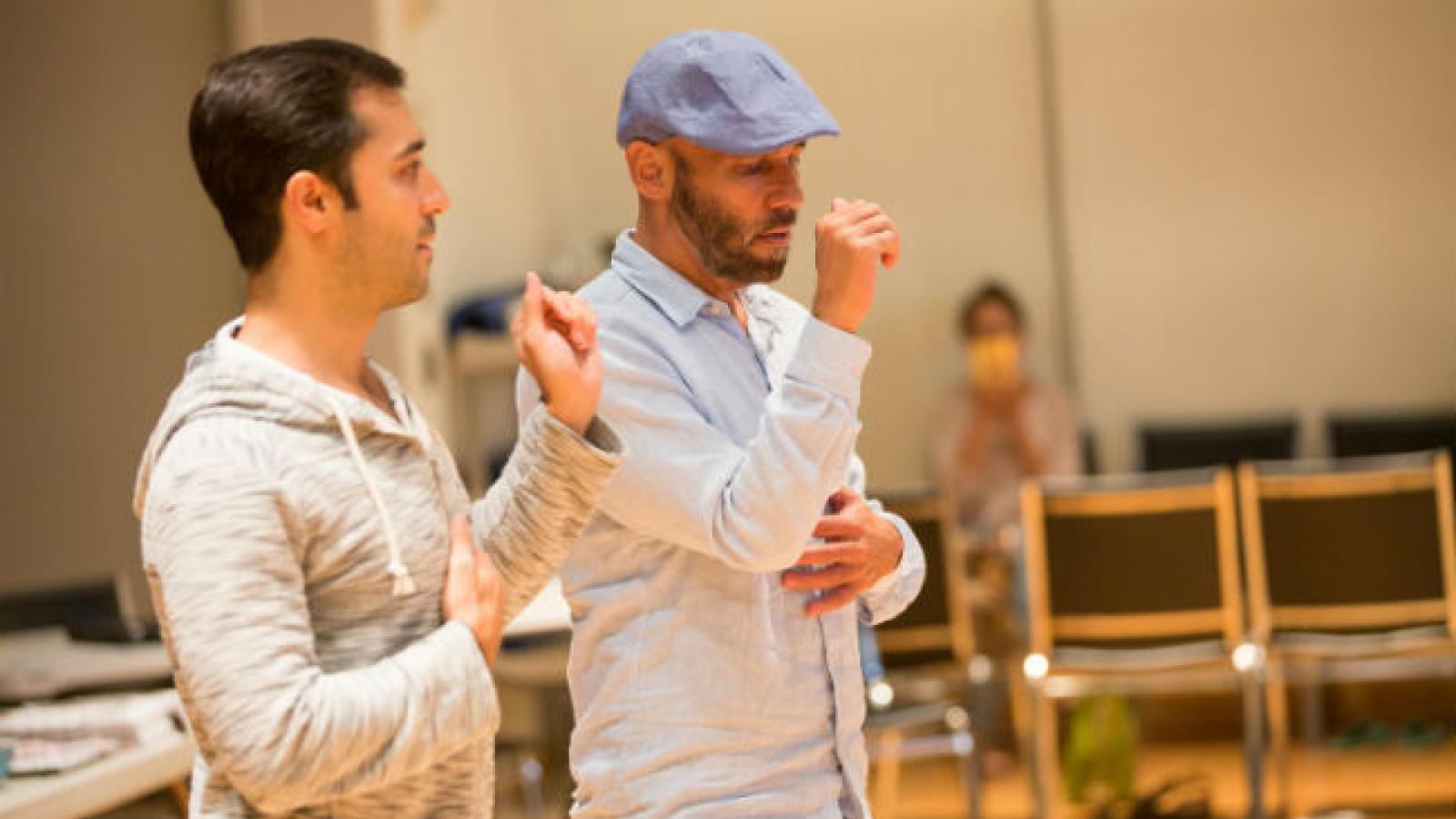 Since fleeing Cuba on a Freedom Flight in 1970, playwright Nilo Cruz has returned just once: in 1979, to visit sisters who initially remained behind. Though he resettled with his family in Miami at age nine, Cuba remains a central presence in Cruz's work, from his physical settings, to his linguistic rhythms, to the subtle murmurs of magic realism. These elements all contribute to a voice that has been described as "luscious," "evocative," "sensual," and "dreamlike,"—it is so distinct, in fact, that he won the 2003 Pulitzer Prize for Drama for his play Anna in the Tropics, making him the first Latino so honored. The play was written through a fellowship from the NEA/TCG Theatre Residency Program for Playwrights, one of two such NEA fellowships Cruz has received.  

Based in Miami, Cruz has written 13 other plays and a musical, as well as texts for musical orchestrations and the libretto for Bel Canto, an opera based on the eponymous Ann Patchett novel. Last month, he premiered his newest play, Bathing in Moonlight, which focuses on a woman hurt by the housing crisis, and her deepening relationship with a Catholic priest. We recently spoke with Cruz by phone about his relationship with language, how he finds his characters, and the challenges that remain in terms of diversifying theater.

NEA: One of the most consistent things that comes up in any discussion of your work is the poetry of your language. Can you talk about your relationship with language?

CRUZ: I think it's a combination of my own identity as an exile in this country, and also the influence that I've had with writers that I love who are not afraid of lyricism on stage. I'm referring to writers like Federico Garcia Lorca, Chekhov, Tennessee Williams, and Shakespeare. A lot of [early, historical plays] were written in verse, and they were full of imagery. I think it's important to continue that tradition. Just because we're part of the modern world doesn't mean that we can't find the poetic in the modern world.

More than anything, I am interested in beauty. I think with beauty comes poetry, comes the lyrical. I think beauty is concerned with justice. When one reads a play like Antigone, one identifies with the main character because Antigone is searching for justice. I think there's beauty in that quest, and there's lyricism to be found not only with the words that are chosen but with the situation. So beauty doesn't just come from the spoken word or from the written word, but from an array of things—the situation or what is unsaid. It's curious how poetry functions for the stage; it functions in so many ways.

NEA: You mentioned your experience as an exile…

CRUZ: I think a writer is like an exile in some ways, because we look at things from the outside, from boundaries. It allows us to have certain kinds of perspectives, and not just to report on something the way that a journalist does. 

NEA: To continue with lyricism, you've written a number of texts for orchestral movements as well as a libretto. How does your work in music and theater influence one another?

CRUZ: I think they're very similar, but one has to be aware when one is working for music, one is serving another art form. So one has to be a little bit sparer, a little bit more economical, because you do have to leave room for how the music lifts the word off the page and raises it to another level. So one has to be mindful of the presence of music and what it does to the word.

NEA: Do you consider music to be a source of inspiration for you?

CRUZ: Yes. I listen to a lot of music when I'm thinking about a play. Not when I'm writing the play, because it could be somewhat distracting. I can get extremely emotional, and that gush of emotion might impede the writing process.

NEA: You've taught playwriting at Brown, the University of Iowa, and Yale. What are some of the most important lessons that you try and teach your students?

CRUZ: I think it's very important to create a safe environment for students where they feel they can experiment. I don't teach through textbooks at all. I give an array of writing exercises so they can explore their imagination and the art form, and so they can start building something, sculpt it, and ultimately have a play. They're more like exploratory exercises so they can look at the subject matter they're interested in through several directions.

For instance, visualize your character not on a stage but in his or her actual environment. Perhaps another character appears with some bad news. What is that bad news? [My students] need to figure out what the news is, how it has a trickle effect, and where the effect leads the characters. So basically, my approach to playwriting is more character-driven than plot-driven. I don't believe in entering a play with the plot. I believe in entering a play through characters, developing the play through the characters, and then later on discovering the plot. It is a process of exploration more than anything.

NEA: Can you walk me through your own personal creative process?

CRUZ: The way I look at teaching is very much related to my own process as a playwright. I can only teach in the way that I know how to write, because it's a process that works for me. I might be writing a play and then I realize the need for research, so I would give myself an exercise that has to do with research. It's all related.

NEA: How do you meet your characters? How do you develop them?

CRUZ: For instance, I have a priest in this play. Although I'm Catholic, I didn't really practice Catholicism because I grew up in Cuba, and during that time we were not allowed to practice religion. So when I encountered the character of Father Monroe in Bathing in Moonlight, I had to do research. I went and bought a biography of this Father Alberto, and biographies that had to do with other priests as well. So I take a little bit from here and there, and then I sort of create a composite that becomes the character. Of course I also leave room for the imagination, and other things that are intriguing to me. Like I thought that my character needed to be charming and he needed to have a sense of humor, which a lot of priests do. But I also felt that this was a very progressive priest who wanted change within the church. These are character traits that I thought were important, and by keeping these things in mind, I was able to create that particular character. 

With the character of Marcela in Bathing in Moonlight, I knew at the beginning that she had lost her job and she was losing her house. Then I started to look at her personal life, and I realized that she had a love of music and she was a pianist, and that at one point her piano had been sold by the mother so her brother could have money to travel to the Dominica Republic to go to medical school. These are things that I discover along the way. I didn't know this at the beginning. So again, I think for me playwriting is a whole process of exploration. It's about finding out information as you write. I know there are writers out there that maybe could write a play in one sitting, or a screenplay. I can't. It takes me a while because I like to explore my characters and the lives of my characters. That's how I create the full canvas. It's not unlike what painters do. They do a series of studies before they enter the actual painting.

NEA: That's with any kind of art form, I would think. Every draft is a study in itself.

CRUZ: Yes, absolutely. Of course, once one version of the play is written, then comes the process of rewriting, and the process of reading the play out loud with a group of actors to see how the play is operating, to have a feel for the rhythms of the play and the plot points and, again, to look at characters as well. It could be that there are moments that the character could actually contradict himself or herself. But that happens with humans. That's a natural thing. I think that's beautiful when you also find contradictions, or you find ambiguity with your character. Ambiguity is a good word in the world of art.

NEA: Much of your work takes place in either Miami or Cuba, but you also spent several decades in New York. How does living in the environment you're writing about—and conversely, being away from it—affect your process?

CRUZ: It's about creating this distance. I've also written also about Spain, I've written about Latin America, I've written about New York as well. But I think you always have to create distance as a writer in order to look at the work in a different light, and also in order to be able to frame the work. Now, how do we do that? It's very different in the way that visual artists create distance. You can create distance by walking away from the work and having a little bit of distance, taking time to look at the work in a new light. You also create distance by allowing yourself to enter the world of imagination, which I think is very important. Try to imagine the world with a question—"What if?" I think that's a very important question to be asked with every play that one writes, especially when you're veering away from reality and using aspects of fiction. I think that's primordial when it comes to creating distance. "What if this had happened?" "What if this person had done this?" "What if this character enters the life of this other character?"

NEA: You were the first Latino to win the Pulitzer Prize for Drama. Since then, what further progress do you think has been made in terms of diversifying theater? Conversely, what barriers do you think still exist?

CRUZ: There are other Latinos that have won the Pulitzer since then: Quiara Alegría Hudes, and now Lin-Manuel [Miranda]. But I think there's still some kind of xenophobia in the field. I think one of the problems is that theaters are catering to their subscription audience and they're trying to feed them what they think the audience likes instead of challenging them. Challenging their audience means about presenting work that is not just related to that group of people.  I think we should be presenting work that has to do with characters that come from different ethnic backgrounds. I think we need to be looking at work that is also not just written by American writers. We need to look at what writers in other parts of the world are doing. I think we also need to look at the classics and learn from the classics as well. A season that might be more exciting [might include] a play by an Iranian writer, or a play by a writer who is from Latin America, or a writer who is from Latin America but lives in the United States. Part of the theater is to look at human behavior and look at the way we are reacting to the world, but not necessarily the reactions that an audience is expecting. So I think we need to challenge our audience.

NEA: What about in terms of diversifying theatre audiences? According to NEA research, roughly 80 percent of all theater audiences are white.

CRUZ: I think we do need to go out and do outreach. More than anything, we need to invite a new generation to come see theater. We need to invite schools to see plays, and I think we need to become part of the curriculum at school. For instance, if a theater is presenting a play about science, how can we invite students from the science department to come see the play?

It's a little tricky too: Because I am a Latino writer, theaters put a lot of pressure on reaching out to the Latino community to come see my work, which I think is great and they should do that. But at the same time, I write plays for the world.  I'm not just interested in reaching out to the Latino community; I'm interested in the Asian community; I'm interested in the Haitian community here in Miami. So how can we bring all these communities to see the work? It's a complicated question.

I'm the artistic director of a theater company here in Miami, Arca Images. We're doing plays in English and in Spanish. Sometimes when we have a play in English, we have an audio system in which non-English audience members can listen to the play in Spanish, and vice versa. We're trying to reach out to different kinds of communities by providing simultaneous translations. [Maybe] we can go into banks, we can go into big institutions. There's a football game and they buy all these tickets for their employees, but that doesn't happen in theater. Why can't we be excited about theater the same way we're excited about sports?

So I think it's important to make the work accessible to people, and to do that kind of legwork. But it's also a lot of work for theater companies to do that. At my theater company, there are only two of us—the executive director and myself. I write the plays or I look for the plays to be performed, and sometimes I even look for [props] that we need in a play. So it's a lot when you also have to go out and try to bring the community into the theater, you know?

NEA: I do not envy you that challenge. Last question: Why do we need the arts?

CRUZ: The arts—especially theater—are a way of observing human behavior and learning from that behavior. I think it's a way of looking at ourselves, and at the way we live and how others live, and understanding humanity. It's also a way of getting in touch with our emotions, and I think that when we get in touch with our emotions, we get in touch with our humanity, and when we get in touch with our humanity we get in touch with our spirituality. It's about beauty, and I think beauty is essential in life. The arts are one of the most generous virtues that we have, and it betters our lives as human beings.